Jayne Mansfield had the perfect Instagram bathroom before Instagram.
We Accept the Kitsch We Think We Deserve
What's so alluring about carpeted, pastel bathrooms anyway?
Jayne Mansfield had the perfect Instagram bathroom before Instagram.
If you would like to buy a bathtub, the normal, un-bespoke type they sell at hardware stores like The Home Depot, you don't have many choices in terms of color. "Arctic White." "Ice Grey." A shade Kohler has decided, in a textural misstep, to call "Cashmere." But if what you're after is a slightly emaciated pink, a pistachio, the serenity blue of 10mg of Valium—procuring an option aside from the standard feels like an impossible feat. Then, obviously, you turn to the internet.

Towards the end of the 1920s, bathroom fixture manufacturers like American Standard began to introduce colored selections to their offerings. The trend surged post-World War II, in the flush of the era's new consumerist optimism. ("Modern as tomorrow," says a Kohler ad from 1959, depicting a cornflower blue tub and toilet.) Companies like Sears were selling mail-order houses made to be erected from kits. Tiles in shades christened "Lemon Ice", "Sea Coral," and "Starlight Blue" were especially suited for these dollhouse suburban sprawls. Not everyone could have what Jayne Mansfield had: pink shag on the ceiling.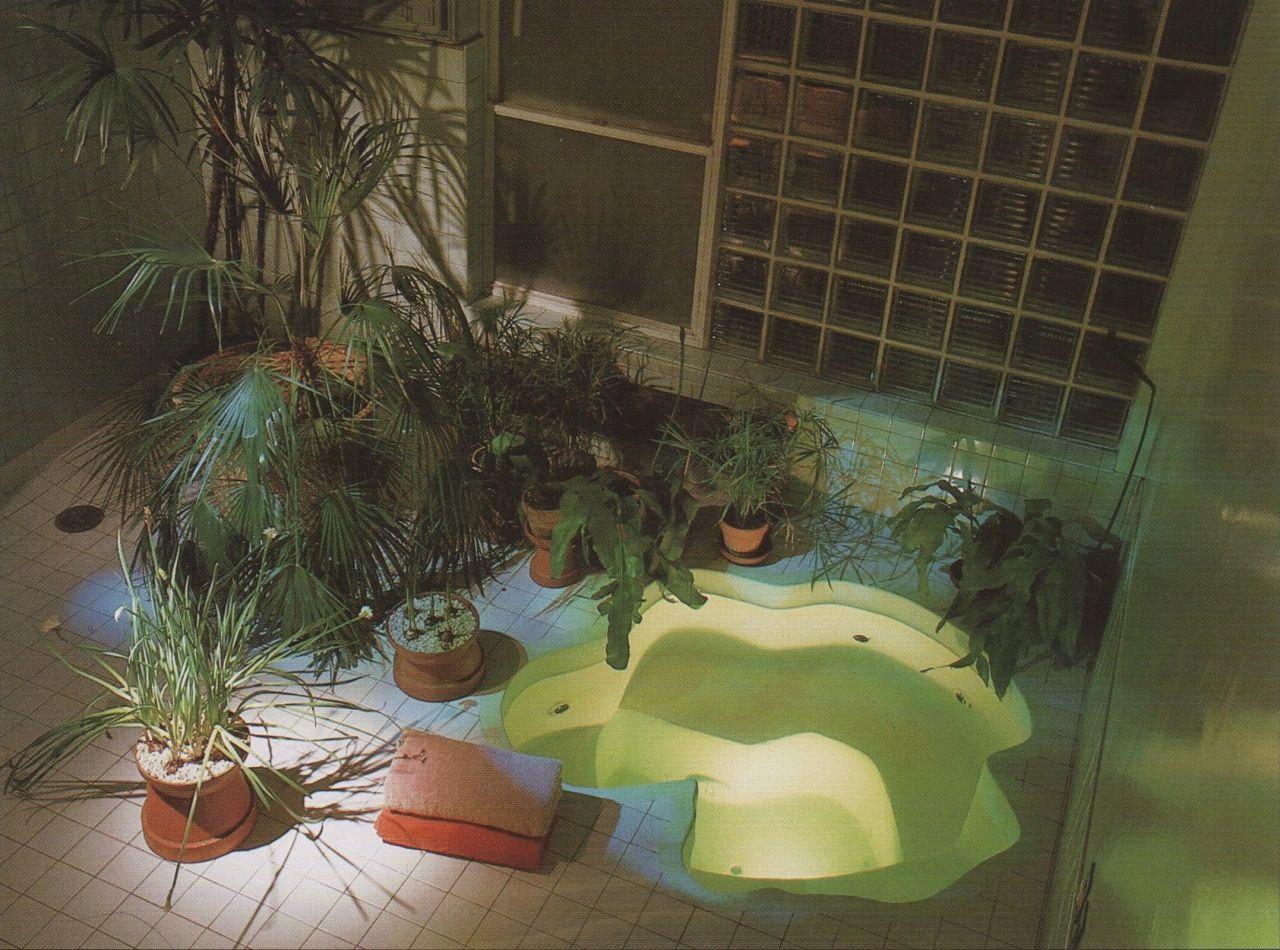 These now-salvaged toilets and sinks, looking to be re-homed, are a recurring search of mine on eBay: eerily beautiful and incongruous to the moment, like dinosaur bones surfacing in the Badlands. Like fashion, it is the mode of interior aesthetics to be resurrected in cycles. A few years back, a Memphis revival bubbled up for a moment. It's since filtered out to a neutered '80s vibe that has New York and LA people resurrecting lacquered credenzas and leather chaise sectionals, influenced by Instagram accounts memorializing plant-crowded lofts and pastel sunken tubs surrounded by glass blocks and wall-to-wall high pile carpet.

I understand the compulsion. I've been steadily collecting a cache of JPEGS of bathrooms designed with various levels of dated chutzpah, mostly sourced from aimless real estate searches (Los Angeles; Palm Springs) and Pinterest's self-serving algorith: the "More ideas" tab. My own bathroom is the unremarkable white budget prefab of a New York City rental. This activity is thus limitless, and satisfying. And it's not about a tutorial, an inspiration, or a utilitarian reference for application. They exist to be looked at, evidence of the bizarre gamut of how we've defined "sanctuary," dedicated to either the most basic of human activities (washing, using the toilet), or the most restorative (soaking in a bath, applying makeup, talking on the phone).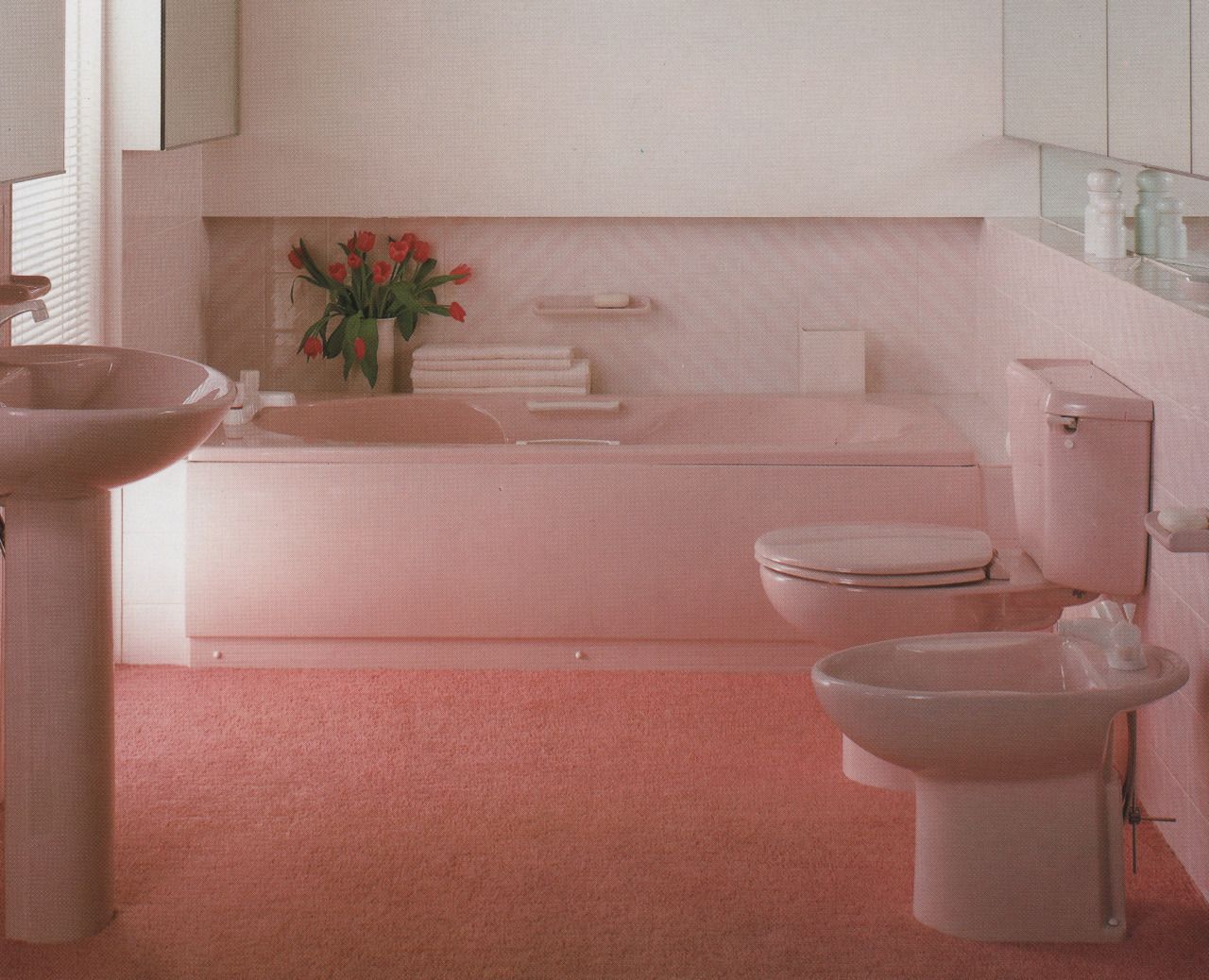 Many of these rooms are perplexing (that carpet! extraneous bidets!). But there is a personality, authenticity, and integrity to them as delightful peculiarities of the ways we used to decide to live. They're a rebuke to not just the diluted Scandinavian modernism that's corporatized its way into coffee shops and fast casual restaurants, but the proliferating breed of hyperbolic manufactured environments designed with UGC (marketing speak for "User Generated Content") not just in mind, but in purpose.
The Madonna Inn, a midcentury hotel in San Luis Obispo, California, is a roadside attraction off the 101 that has become a site of particular pilgrimage. If its appeal was once about luxuriating in the charm of its oddball interior design—a kitsch level I equate to that of a couple's massage—now it is about Instagramming it. Grimes shot a music video there in 2015. I have eaten in the Gold Rush Steak House, pruned in the Jacuzzi, and spent one night in Room 173; the "Floral Fantasy." The stationary, ice buckets, tennis court, and sugar in the shakers in the restaurants are all varying strains of pink. You can stay in a space with the walls and the shower constructed of artificial jungle rock complete with a waterfall, or with tiles patterned like a bandana patchwork quilt, or with gilt mirrors encircled by ceramic blooming flowers.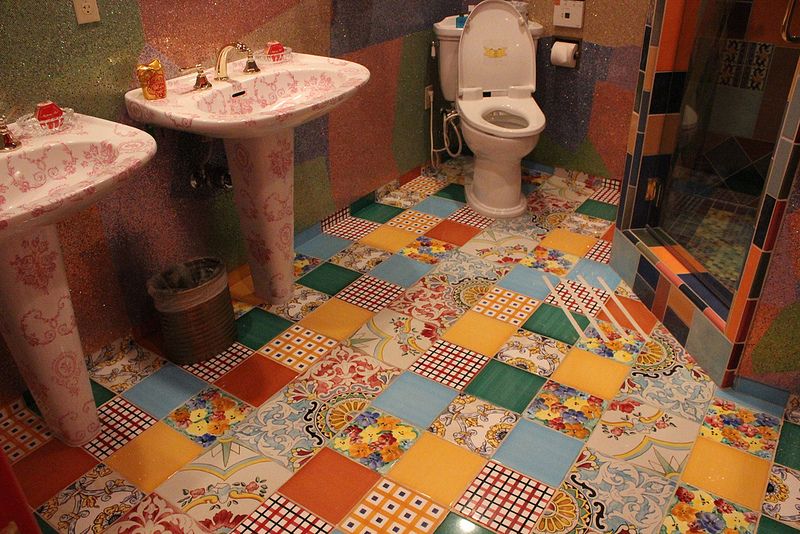 Spending even just one night, the corporeal reaction is like the discreet rush of being overserved, the dizziness of a bad gin cocktail, the equivalent of a slice of diner pie struggling under an outsize dollop of Cool Whip, (or the Madonna's signature baked good—the pink Champagne cake).

I feel similarly about washing my hands under a gilded, engraved faucet fashioned like a swan at the Ritz in Paris with accompanying cut-crystal looking taps, or when looking at photographs of Cindy Adams's poppy-painted powder room in her Upper East Side penthouse, recently published in New York Magazine. The feeling is like Liberace, "Too much of a good thing is wonderful."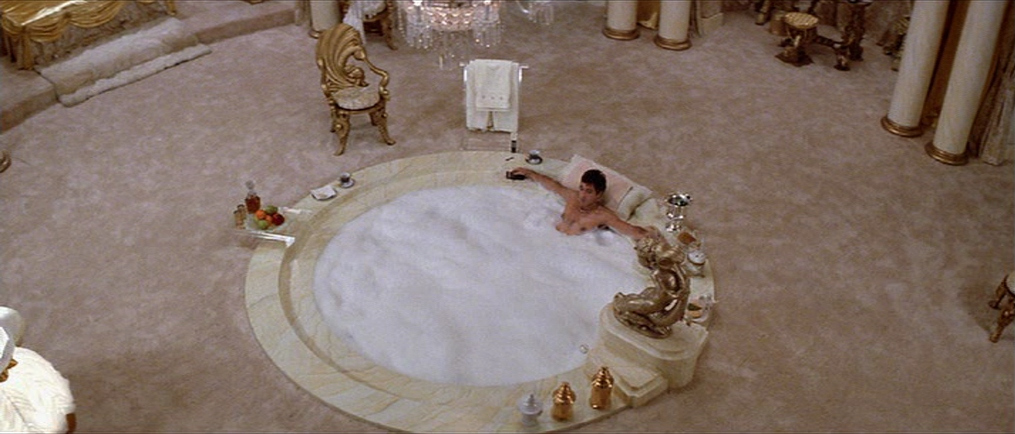 Brian de Palma's Scarface is a study in excess. Aside from the acting, the violence, the drugs, perhaps the most ostentatious form of abundance is the scene with Al Pacino-as-Tony Montana submerged in a marble-rimmed perfect circle of a bubble bath, smoking a cigar, remote in hand and flanked by a litany of Too Much-ness: gilded cherubs, gilded columns, a bowl of fruit, a neck pillow, Champagne in a bucket, a television. The bath is more indoor Jacuzzi than tub. But what's more important is what surrounds it: massive square footage of clean, unsullied, creamer-than-cream carpet. What happens when he gets out of the tub? That action is offscreen, but the imagined sensation is the luxurious padding of bare foot hitting plush, comforting carpet, like your mouth on Meret Oppenheim's fur-lined Object cup and saucer.
The international Association of Certified Home Inspectors has their own list of advantages and disadvantages of carpet in the bathroom, with reverence to mold concerns:
Advantages of Carpets in Bathrooms

They make bathrooms appear more warm and inviting.
They are softer than tile and many people find them comfortable on bare feet.
Bathroom slip hazards are reduced. It is easier to slip on hard bathroom surfaces, such as tile, than on carpet.
Installation is generally quick and inexpensive.
Disadvantages of Carpets in Bathrooms
The pad beneath the carpet may soak up large amounts of moisture. Some of the common ways that carpets may come into contact with moisture in bathrooms include:

Steam from the shower will condense on the carpet.
Water splashes from the tub or shower.
Water sheds from shower/tub occupants as they step onto the carpet.
Water splashes out of the sink.
Water drips from the vanity.
Water leaks from the toilet.
Consequently, commercial buildings do not allow carpet in bathrooms. It is against code.
The appeal of these rooms is that they exist in the naive archival state of their own creation, unless they come to life in locations specially engineered to be flattened into images again. I see many of these places not in person, but on Instagram, where I know that their very conception was fabricated with digital appearances in mind. Once such place is Annabel's, an exclusive private member's club in London. I know, from a Vogue article written last year by Plum Sykes, the top floor women's bathroom includes, "pink onyx carved in the shape of oyster shells; the taps, gold swans; the ceiling, a carpet of silk roses in pale pinks." I also know that, barring some extreme stroke of luck, I will probably never go there. But is the frivolity designed for the rare user of the onyx oyster sink, or for the person who will never rest their iPhone on the ledge of the onyx oyster sink? The remove creates the tension of fantasy. And in photos, the fantasy looks the same.