Photograph by Michael Hauptman, courtesy of Black Frame.
Can "The Handmaid's Tale" Go High Fashion?
Vaquera interrogates the aesthetic of oppression in a collaboration with "The Handmaid's Tale."
Photograph by Michael Hauptman, courtesy of Black Frame.
Part of fashion's function is to tell us what's next—whether that be a new skirt length, an obsession with floral prints, or a dalliance with a new subculture—but rarely is the picture a grim one. Visions of the apocalypse aren't exactly dancing in Bergdorf's buyers' heads, after all.
But last Thursday, the underground-ish collective Vaquera—Patric DiCaprio, David Moses, Bryn Taubensee, and Claire Sully—presented a collection in collaboration with the dystopia du jour, Hulu adaptation of The Handmaid's Tale, Margaret Atwood's 1985 novel about a future in which a totalitarian, patriarchal regime overthrows the American government and makes women state property. The aspirational quality of the runway may seem at odds with the show's themes of oppression—those red robes and horse blinder bonnets don't exactly say, oppression: get the look!—but Vaquera's models stomped in tattered red garments, white suffragette aprons, and suffocating face-to-toe mesh that played with concepts of how clothing oppresses or liberates the person beneath it.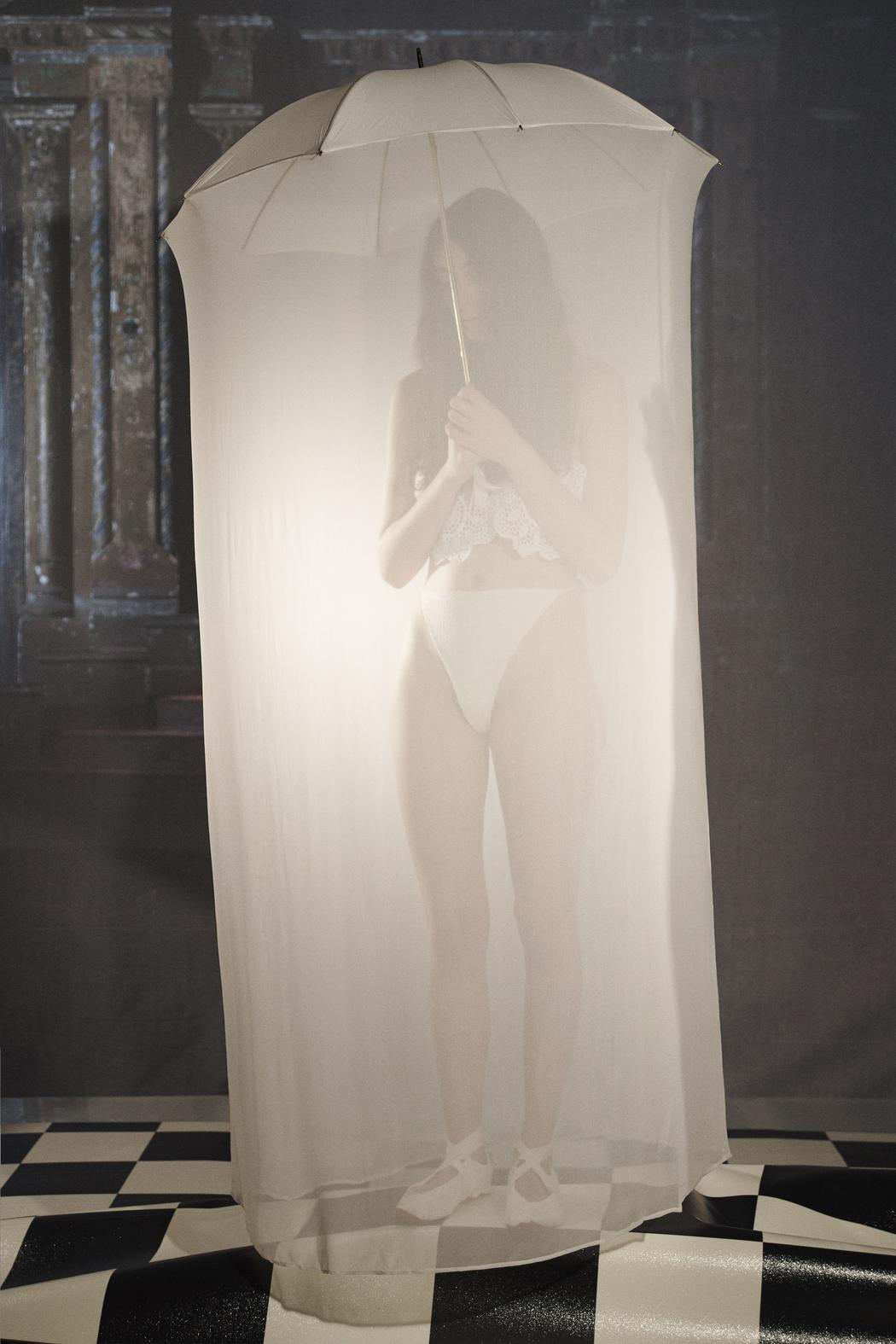 For Vaquera, the runway is a space primed for disruption. "The runway is a really weird thing to begin with because people are sitting in an audience watching people walk back and forth," said Taubensee, impossibly flushed and young, in an interview after the show. "So to play off of that is really kind of easy, because it's already really bizarre." They said they owe part of that to choreographer Remy Maelen, who asked the models to walk with an aggressive hunch, and part to their models, who were found by their casting collaborator Walter Pearce: "We like models that have angst and personality," Sully said.
Facing the photographers' pit, the models smashed flowers, ate tangerines, and made out. "There are already so many rules so to break—all you have to do is make one misstep," said DiCaprio. "So it's fun to just break them all."
Curiously, all the looks shared the same shoe—a medieval slipper with a winkle picker toe and ballet ribbons, in the television show's fire engine hue or blinding white. The designers compared them to Converse, a ubiquitous do-it-all shoe that's been coopted by countless subcultures and yet retains an iconoclastic aura.
It's a compelling contradiction. Can something be both delicate and harsh? And it suggests a tyrant's clothing is sometimes none too different from the people they rule over, which feels true to the moment (Uber's controversial C.E.O.'s daily uniform isn't so different from that of the company's drivers). And all that stomping: what does it mean when something vulnerable is used for aggression? No one should go so far as to say that footwear will bring us world peace or whatever, but Vaquera's fashion is demonstrative of a creative interrogation that the fashion world, which feels newly buzzing with political energy, is craving right now.