Photo courtesy of Simone Rocha.
Why Models Are Wearing Veils at Simone Rocha
Veils at Simone Rocha, Erdem, and Rodarte have us all asking, "Who is she?"
Photo courtesy of Simone Rocha.
London Fashion Week is officially underway, and one of the hottest themes to emerge thus far is beautiful obscurity. Simone Rocha sent models down the runway in hats topped with face-obscuring, lace-edged veils reminiscent of Spanish mantillas and Princess Diana's wedding lewk.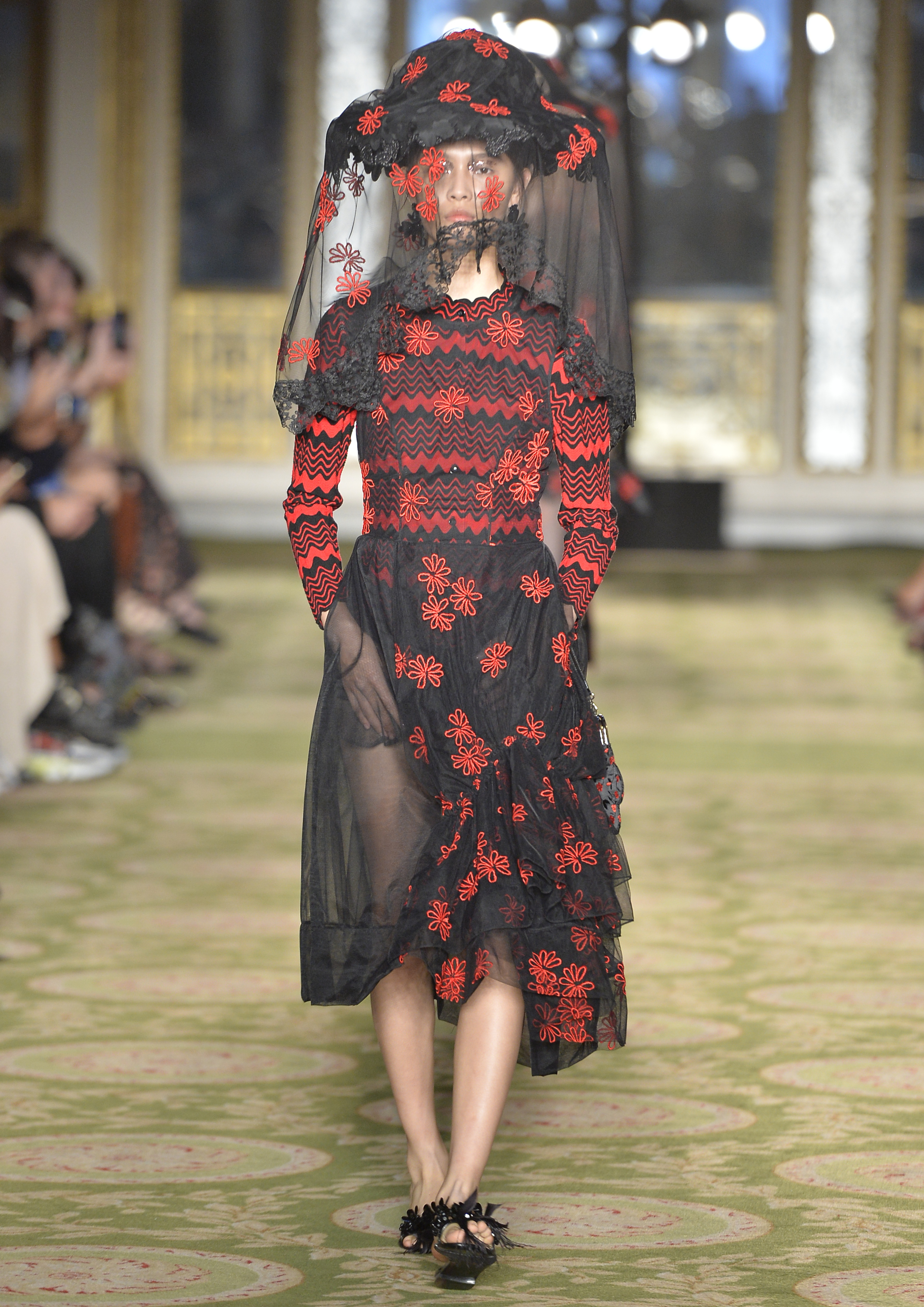 Veils weren't restricted to headwear in the dramatically dour collection, which drew inspiration from Rocha's Chinese heritage with Tang dynasty portraits; dresses printed with the portraits were just barely glimpsed from under the scrim of sheer black fabric.
The veils also served as a veiled (heh) reference to the Tang dynasty look of "a wide-brimmed hat with a gauze veil hanging from the brim to the shoulders," according to Charles D. Benn's China's Golden Age: Everyday Life in the Tang Dynasty. "The fabric of the veil was a gauzelike material, and the fancier veils were adorned with jade and kingfisher feathers," Benn writes. Women wore the veils to avoid men's gazes. At one point during the Tang Dynasty, they were required by law to protect women's "decency."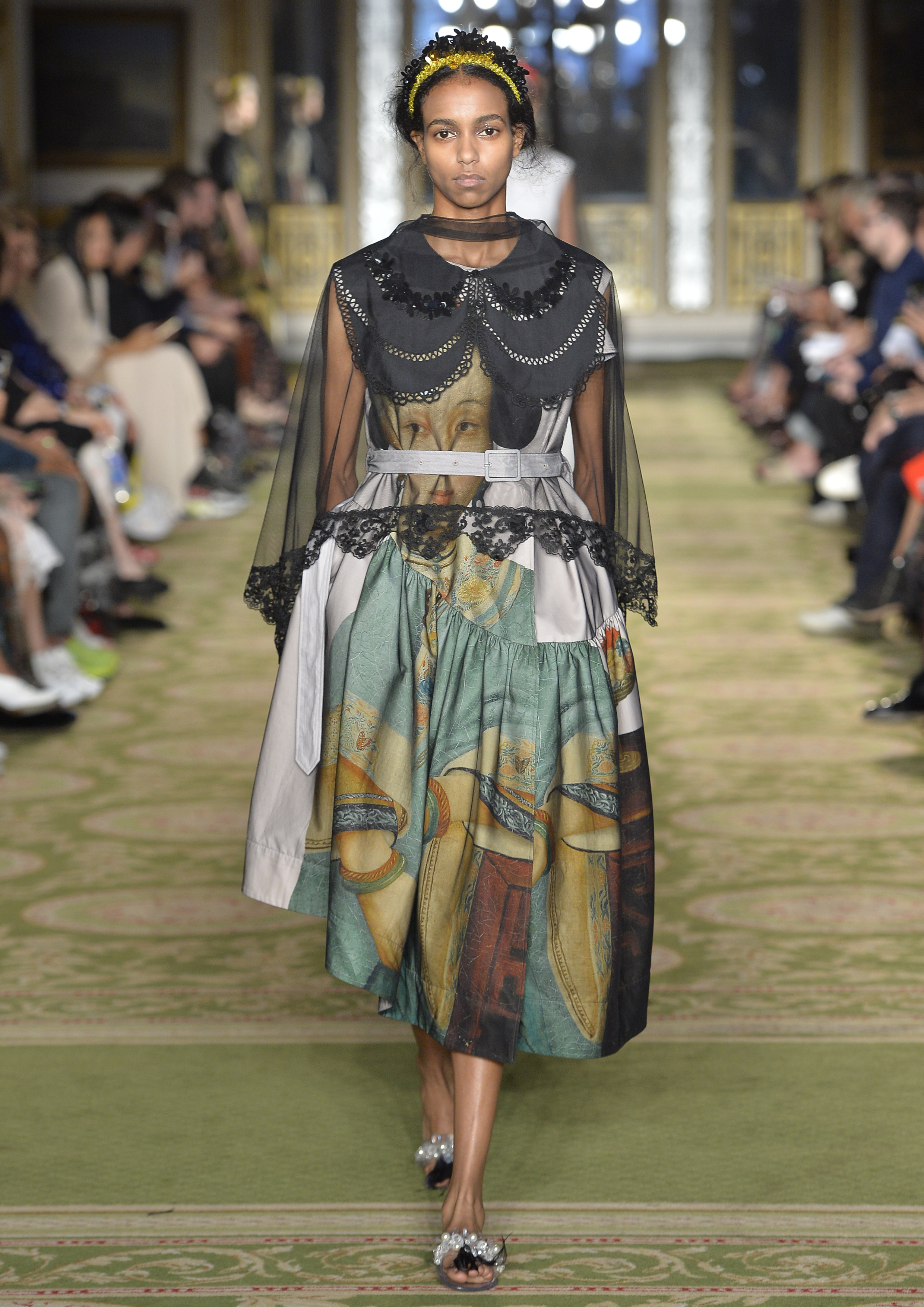 Decency—or lack thereof— was on Rocha's mind at other moments of the collection. "I was thinking about portraits of concubines from the Tang dynasty in the 16th century," Rocha told Vogue, adding, "I found a copy of one in a market in Hong Kong. We started playing with imitating the imitations." Rocha's assertive color palette of red, black, and white also appears to draw inspiration from Tang portraiture.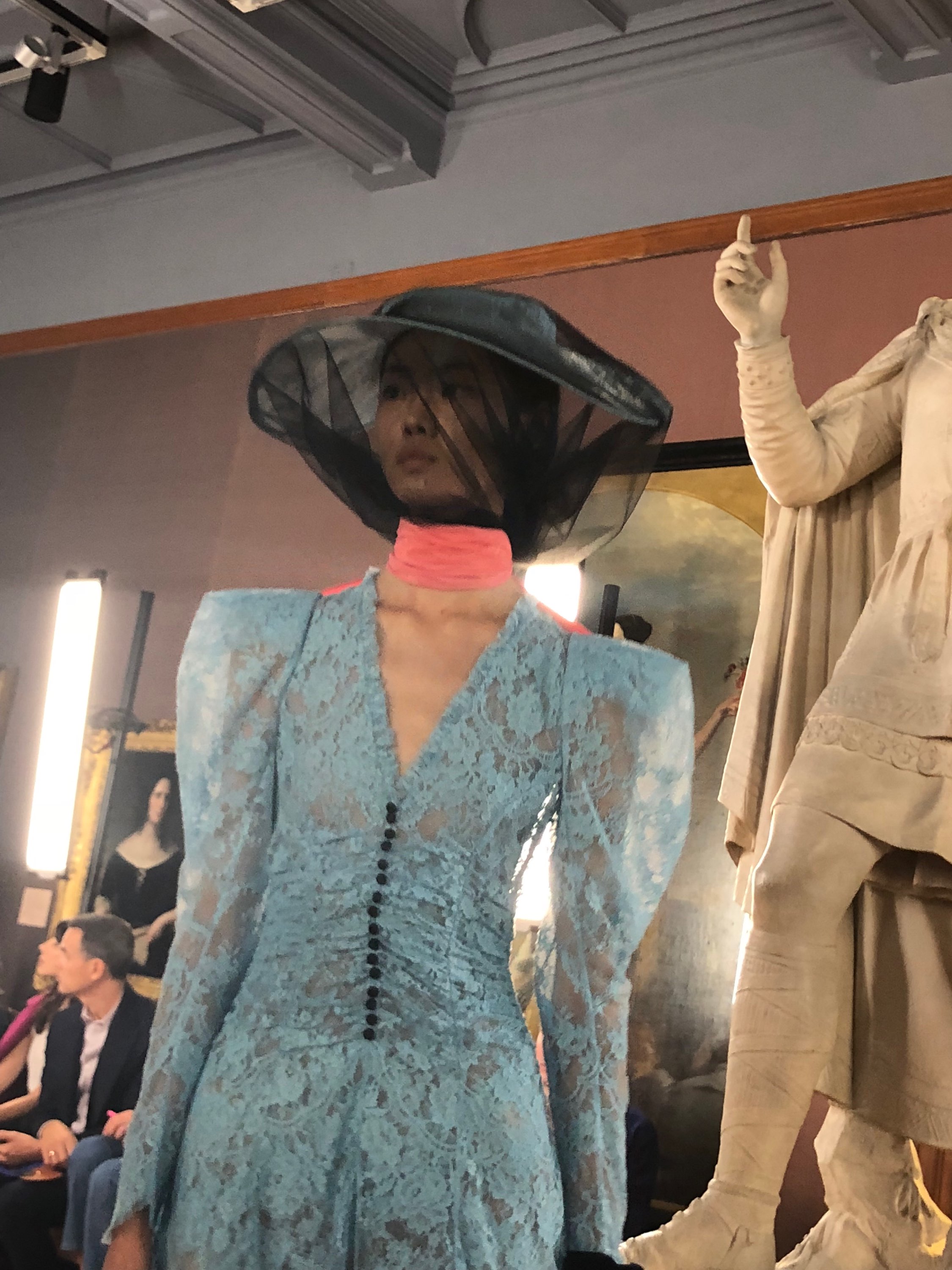 Victorian beekeeper couture wasn't the sole province of Simone Rocha. Erdem made use of the sexy, sorrowful aesthetic as well, wrapping broad-brimmed hats in veils paired with gloomy floral prints, corset bodices, and thick fabric chokers reminiscent of that horror story you heard at camp about the girl with the green ribbon around her neck (masterfully reinterpreted by Carmen Maria Machado).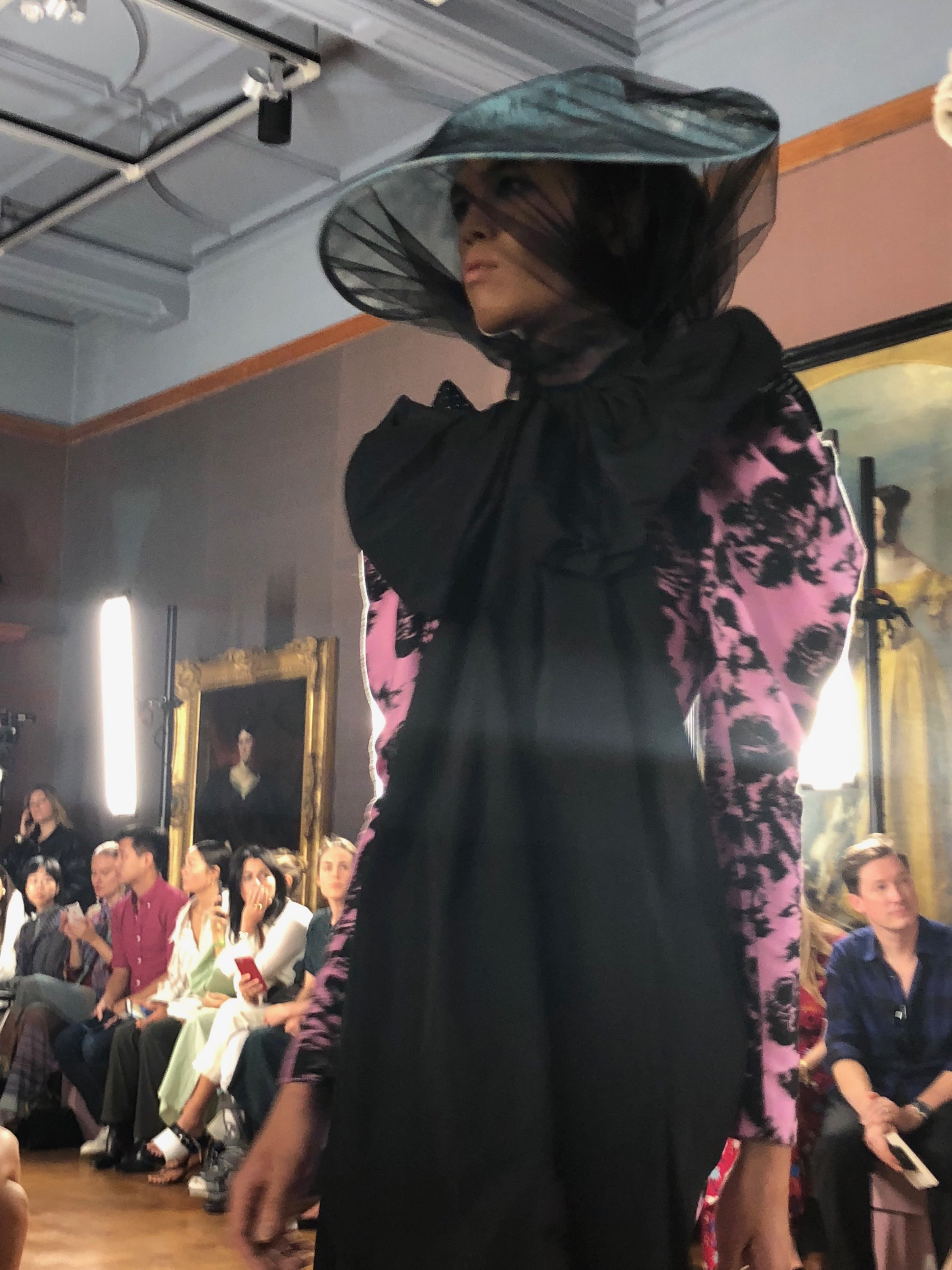 Basically, picture what Jane Eyre might wear to Mr. Rochester's funeral, if she were on 20mg of Lexapro and sort of stoked about her new single life.
Let's just hope the veils at Erdem and Simone Rocha aren't vintage, as nineteenth-century dyes and chemicals sometimes caused grief-stricken women to suffer from "skin irritation, respiratory illness, blindness, and even death," Racked noted in March.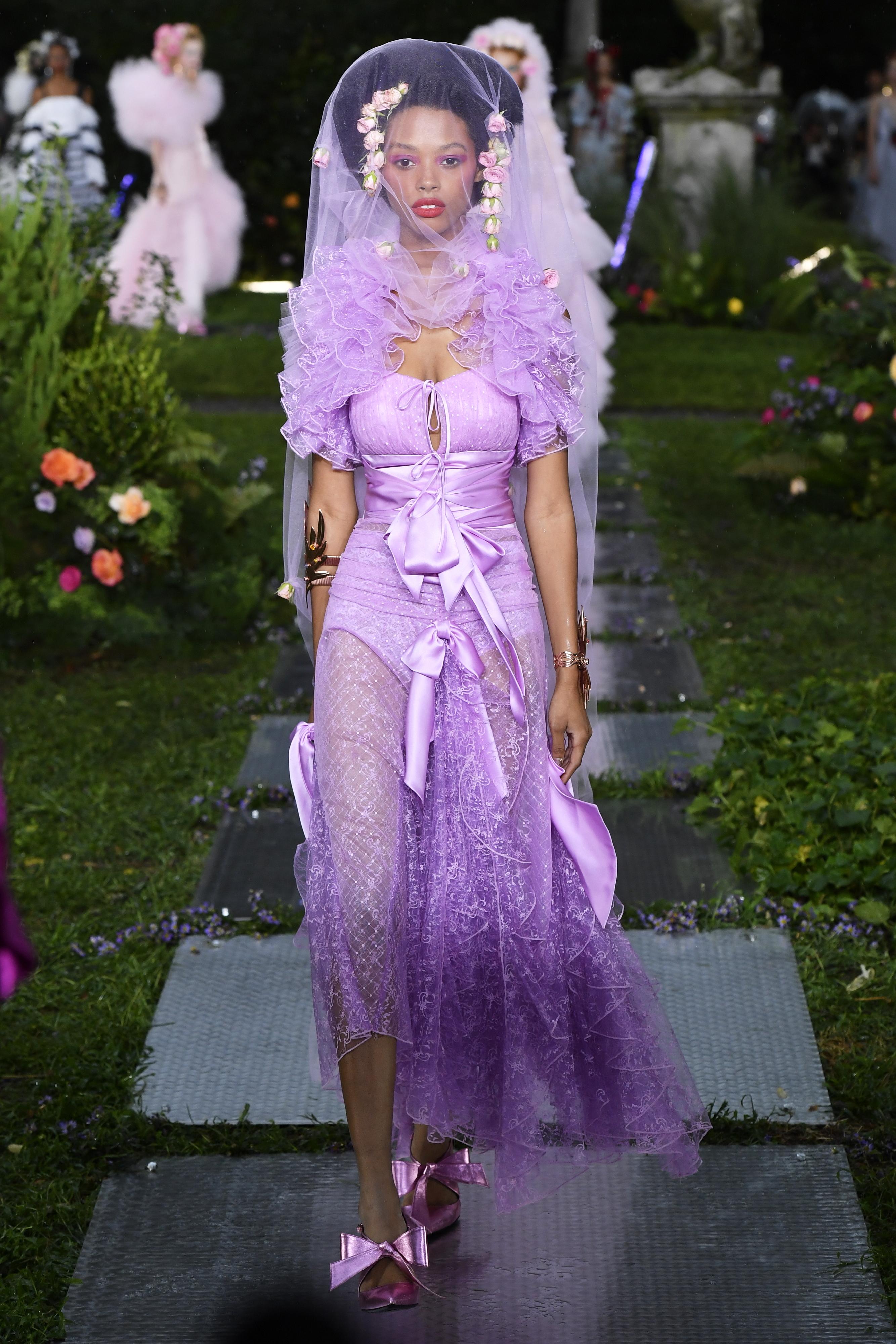 Full-length romantic veils were also spotted stateside last week at Rodarte's sexy, spooky cemetery show, providing satisfaction for the "three is a trend" hard-liners. In the midst of a "naked under blazer" fashion moment, there's something ineffably sexy about the simple veil, whether it's draped over a hat or anchored by flowers. "Come find me," the veiled models seem to beckon. "I'm right here, under all this netting."