"Lizzie" Shows Us the Erotic Side of Fussy Edwardian Fashion
The 2018 adaptation of Lizzie Borden's story is full of high-collared, buttoned-up dresses that would fit in on a Batsheva runway.
Photo via IMDb.
Lizzie Borden lived with her parents in a small New England town until she killed them in 1892. In the new film adaptation of her story released this month, the bare bones of the Borden story promise to engage the current fascination with all things that are both true and criminal, but it's the involvement of Chloe Sevigny, who is always au courant, that makes the well-storied crime feel very of the moment.
Alongside Sevigny, Kristen Stewart plays Bridgette, Borden's Irish maid and secret lover. This take on Borden goes well beyond deranged daddy killer. Here, she is poised as a sort of feminist rebel in calico.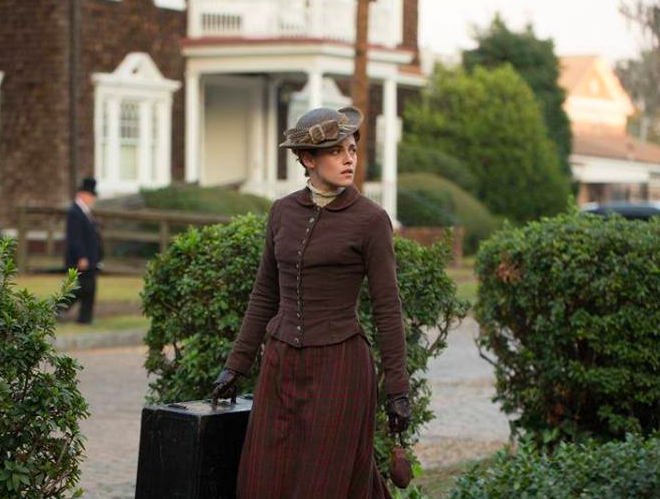 If the film's politics feel contemporary, its clothing is trendy. Lizzie's costume designer, Natalie O'Brien, told Fashionista about her commitment to accuracy: Sevigny, also the film's producer, hoped to use all authentic vintage costumes in the movie. "Like 1890s authentic vintage," O'Brien said, "and that's very difficult to maintain—and even to obtain—so we were definitely like little warriors hunting for every kind of piece."
Sevigny has been researching and working on Lizzie for the past decade, and was collecting nineteenth century dresses along the way. (One such dress makes its way into the film: a deep beige frock accented by black piping and printed with black polka dots that Lizzie wears when the police arrive at the Borden home and murder scene.) The Borden-era calicos and ruffles represented in the film resemble the currently beloved Batsheva dress, of which Sevigny is a devoted fan.
Of course, the costumes are desirable outside their runway trendiness: while watching the movie, I scrawled in my notes, "I covet that nightgown." In this nightgown—white, with a lace high collar buttoned by a pearl, and horizontal ruffles delicately shaping the bodice, which was sashed by a light blue ribbon—with her red, draping curls and lit only by candle, Sevigny appears like a fairy angel from an Alphonse Mucha painting. The visual pleasures of the period piece can produce personal flights of fantasy that extend beyond the satisfactions of a cultural trend piece.
Lizzie's costumes aren't just pieces to lust after—they're also pieces to lust in. One of Bridgette's duties is to dress Lizzie, and as their attraction mounts, this domestic routine becomes a sexy one. A close-up shot details the dozen buttons that trim Lizzie's leg-of-mutton sleeves. Bridgette slowly clasps each one. Here, their bodies can touch, their mouths hang open, and they could kiss; they almost do. Getting dressed together is a sort of make out session without the kissing—foreplay in reverse. And when Lizzie's sister walks in on them, they don't have to stop. Clothing acts as a barrier that guards against, but also allows for, homoerotic contact.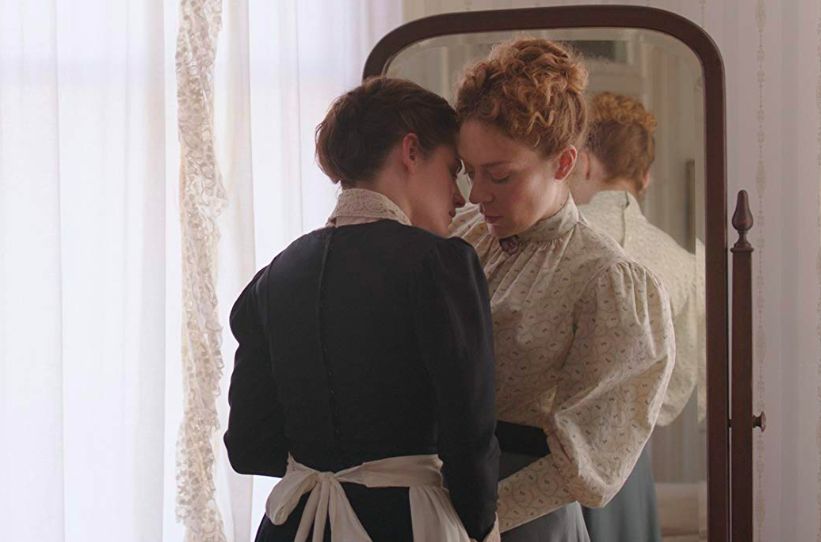 The many buttons that signal modesty and the concealing silhouettes both are among Edwardian fashion's most conspicuous features, each reminding contemporary viewers of the regressive values of the era. Modesty was not only symbolic of purity but also meant to protect it. Similarly, the detailed designs, laborious to undo, were meant to prevent unwanted contact. They assume the wearer's chastity rather than their lust. And yet, these fashions and the hierarchic social customs attached to them loosen Lizzie and Bridgette's desires. The style is at once liberating and restricting.
When Lizzie and Bridgette do finally get to touch where they want to, they don't take off their clothes. In the barn, the women lean against a bale of hay and entangle their limbs, their conjoined form striped by the shadows of the barn's wooden slats. Lizzie's light brown calico dress, dotted with deep brown and pink flowers and, of course, puff sleeved and ruffled, looks rich next to Bridgette's sullen gray, simple woolen maid's uniform. As the women waded through the layers and depths of their skirts to reach each other, I was reminded of how ironically erotic Edwardian clothing is. The highest of high necklines is suggestive of exactly what it covers. The lady doth protest too much.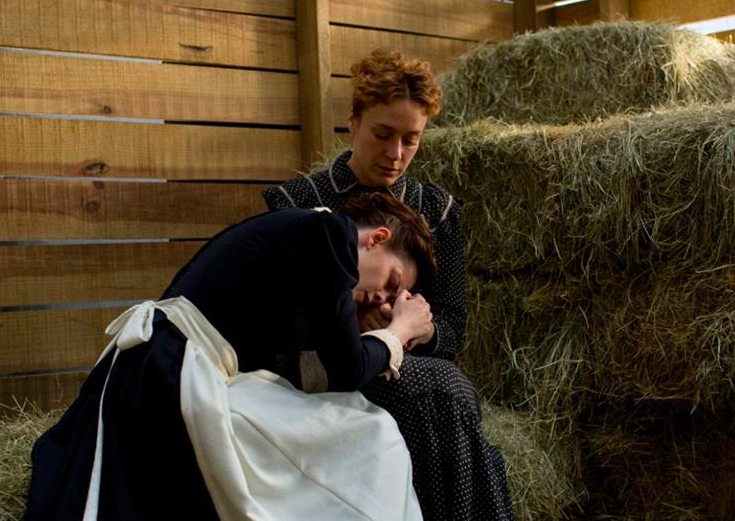 Edwardian modesty fails to deliver on its patriarchal promise of protection from men—even Lizzie's complicated and burdensome dresses are illusory as safety nets. When Lizzie confronts her uncle about scheming for her inheritance, he violently pushes her many-layered skirt aside and digitally rapes her. And if Lizzie's gilded costumes are penetrable, Bridgette's plain ones are all the more so. Mr. Borden creaks up the stairs to the maid's quarters at night to rape Bridgette. Her nightgown, ankle length, dolman sleeved, and high-necked— lace here being the dress's one intricacy— isn't made for alluring bedmates. And yet, the nightie doesn't armor against Mr. Borden either.
But Mr. Borden isn't just murdered for raping Bridgette. Lizzie's father had been peering through barn's slats, and in spite of the narrow lace covering their necks, Lizzie's gigot arms, and the large number of skirts between them, his naked eye demystifies the ruffles beneath their dresses. "You are an abomination, Lizzie," he later tells her, confirming to her that he knows what he saw. Bridgette will be fired and Lizzie will be sent away.
At the start of the pivotal murder scene, which happens in a revealing flashback, Bridgette nervously washes windows outside while Lizzie ceremoniously strips to kill indoors. On the one hand, the choice to murder in the buff is a practical one— no bloody clothes for evidence. But nudity also implies sex (although Lizzie and Bridgette could make a case against this), and the murder here does, too: murder is, after all ,the most transgressive act, and as she buries the hatchet, so to speak, into her stepmother, Lizzie basically cums. Afterwards, Lizzie walks down the large varnished wood staircase, completely naked, covered in blood. She becomes a mythic madwoman hell fury angel, the tightly pinned curls loosening from her head to create a halo. She looks all powerful, otherworldly, and completely free.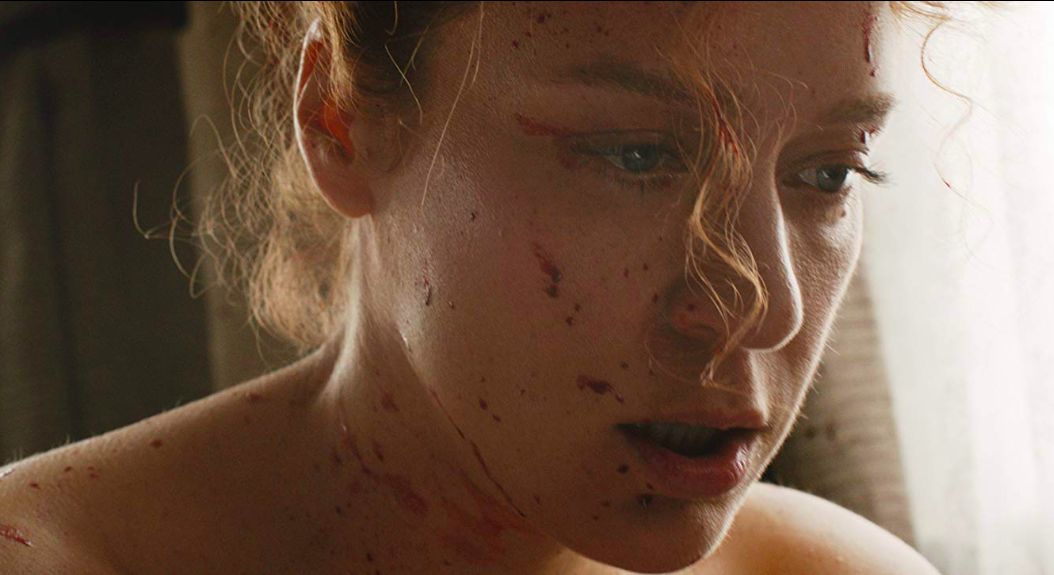 Lizzie then gets dressed in a calico pie crust collar top, white and stippled with blue flowers, which matches her A-line blue skirt. But getting dressed in the fashion of her time doesn't mean she loses the naked power she had earlier. She sits below a pear tree, signaling to Bridgette, who is still washing windows, that she should enter the Borden house, strip, pick up the hatchet where Lizzie left it, and kill Mr. Borden. Bridgette goes through these motions, but the scene is interrupted midway when it cuts to Lizzie again. Bucolic under the tree, Lizzie's expression is the same one she wore in the nude. Even her post-murder halo remains, with her baby hairs glowing in the sunny soft afternoon light. Freedom, then, doesn't come at the cost of your clothing.
Back inside the house, Bridgette is looking less well than Lizzie. Naked and shivering in front of Mr. Borden, she holds the ax with none of the confidence with which Lizzie had brandished it. Thankfully, Lizzie enters the scene to finish him off for Bridgette. She grabs the hatchet and murders her father, splattering herself (and her beautiful outfit) in his blood.
The pair of murders, nude and then clothed, suggest that the fashions of the era aren't inherently restrictive, nor are they inherently liberating. Patriarchal values are ideologically sewn into the garments that contain Lizzie, but the garments themselves don't limit her. In the buttoned-up, Batsheva-esque costumes that visually define Lizzie, ambiguity abounds.