They Are Here: 40 Temps, 8 Days at Tate Modern. Photo by Indre Neiberkaite, courtesy Tate Modern and the artists
This Performance About the Gig Economy Works Overtime
Artist duo They Are Here's project at Tate Modern riffs on zero-hours contract work.
They Are Here: 40 Temps, 8 Days at Tate Modern. Photo by Indre Neiberkaite, courtesy Tate Modern and the artists
The fifth floor of Tate Modern's Blavatnik Building is an echoing, open-plan project space with vast windows. Through them, the view across the Thames takes in the flashy starchitected towers of the City, London's financial district. For Helen Walker and Harun Morrison, the artists behind a new performance calling out questionable employment practices, the positioning is significant. Over eight days, the space is hosting a rotating cast of temporary workers hired to carry out activities they would otherwise enjoy in their spare time, including playing chess and video games, operating remote controlled cars, reading tarot cards, listening to music. They're also talking to visitors about life in the precarious gig economy. Working together as They Are Here, Walker and Morrison's 40 Temps, 8 Days reflects on the cost-cutting measures that see large organizations increasingly replace permanent jobs with workers from a pool of casual labor.
From Uber and Deliveroo drivers to caregivers employed on zero-hours contracts, a growing proportion of the UK's labor force is dependent on casual employment, often running more than one job at a time. Enthusiastically touted as a flexible way of working in which you get to be your own boss, the gig economy leaves workers without job security, guarantees of employment, or sick or holiday pay. Failure to work is often penalized. And the insecurity of life as a temp is an issue that affects those in the creative sector as much as any other. "40 Temps, 8 Days is born out of lived experience," Morrison told me. "We've both worked in non-art contexts on zero-hours contracts."
The temps for They Are Here's performance were hired through The Adecco Group, a Zurich-based multinational that provides "tailored workforce solutions" through over 5,000 offices around the world. Tate has an existing account with Adecco, which the artists used as a kind of 'found object' from which to construct their work. "What's interesting about institutions like Tate or the National Gallery is that once you have a staff of a certain size you can no longer exist beyond the larger economic tides," Morrison commented. "We're acting like a virus in a pre-existing system." They Are Here cite a poignant quote by Felix Gonzalez-Torres, who died of an AIDS-related illness in 1996: "The virus is our worst enemy but should also be our model in terms of not being the opposition anymore, so that then we can attach ourselves to institutions that are always going to be there."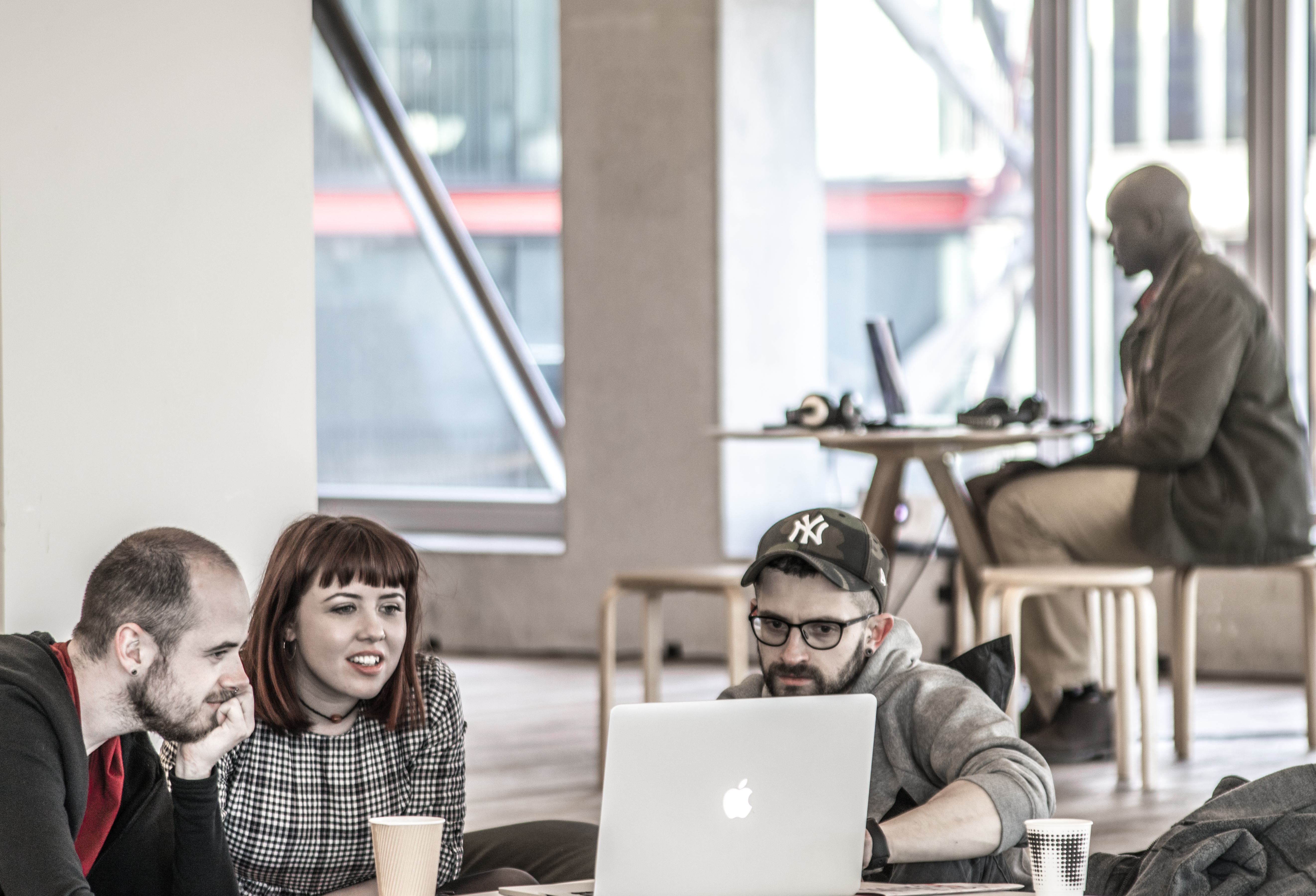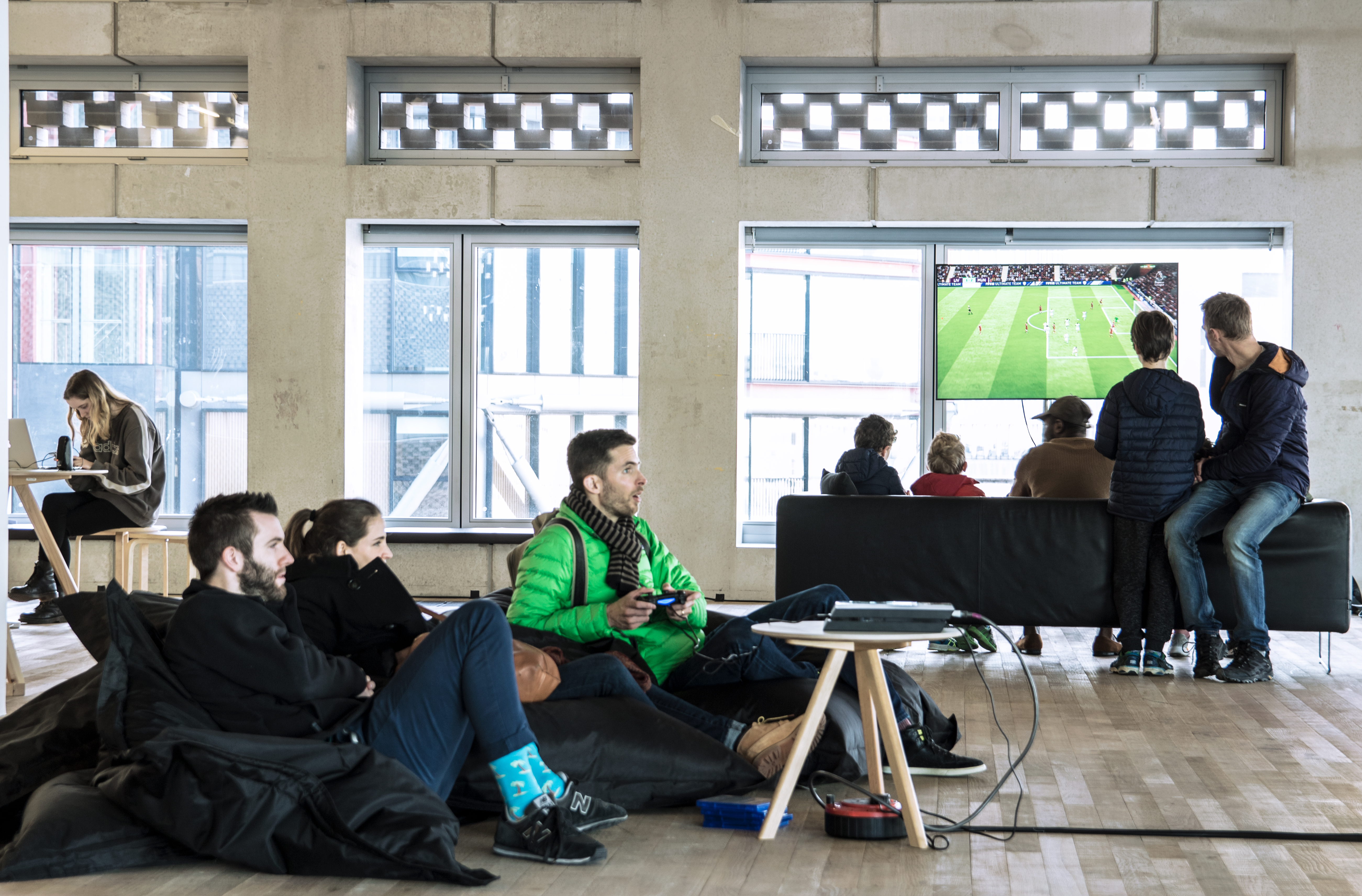 (A statement from Tate's HR department clarified that the gallery group normally recruits Adecco temps for "administrative cover, and they work in a range of departments from Accounts to HR, Curatorial, Collection Care, Finance, Learning and Development. We don't use Adecco for gallery staff.")
A brief created for Adecco by the artists outlined the temps' role in upbeat corporation-speak: "We have an exciting opportunity to work at one of the world's most reputable art galleries, Tate Modern. However, you don't need any experience of art or to have been to a gallery before." Applicants needed to be "sociable, passionate and knowledgeable" about their chosen hobby activity and "comfortable and open to interacting with individuals" who might have opposing points of view.
Walker and Morrison don't meet the temps until their day of the performance, but an hour is built into the beginning and end of each session for a prep and debrief. To avoid a human zoo-type spectacle, they've been scattered around the space, and instructed to dress in casual clothing so they become indistinguishable from visitors. "There's a distinction between staging people and staging relationships," clarified Morrison.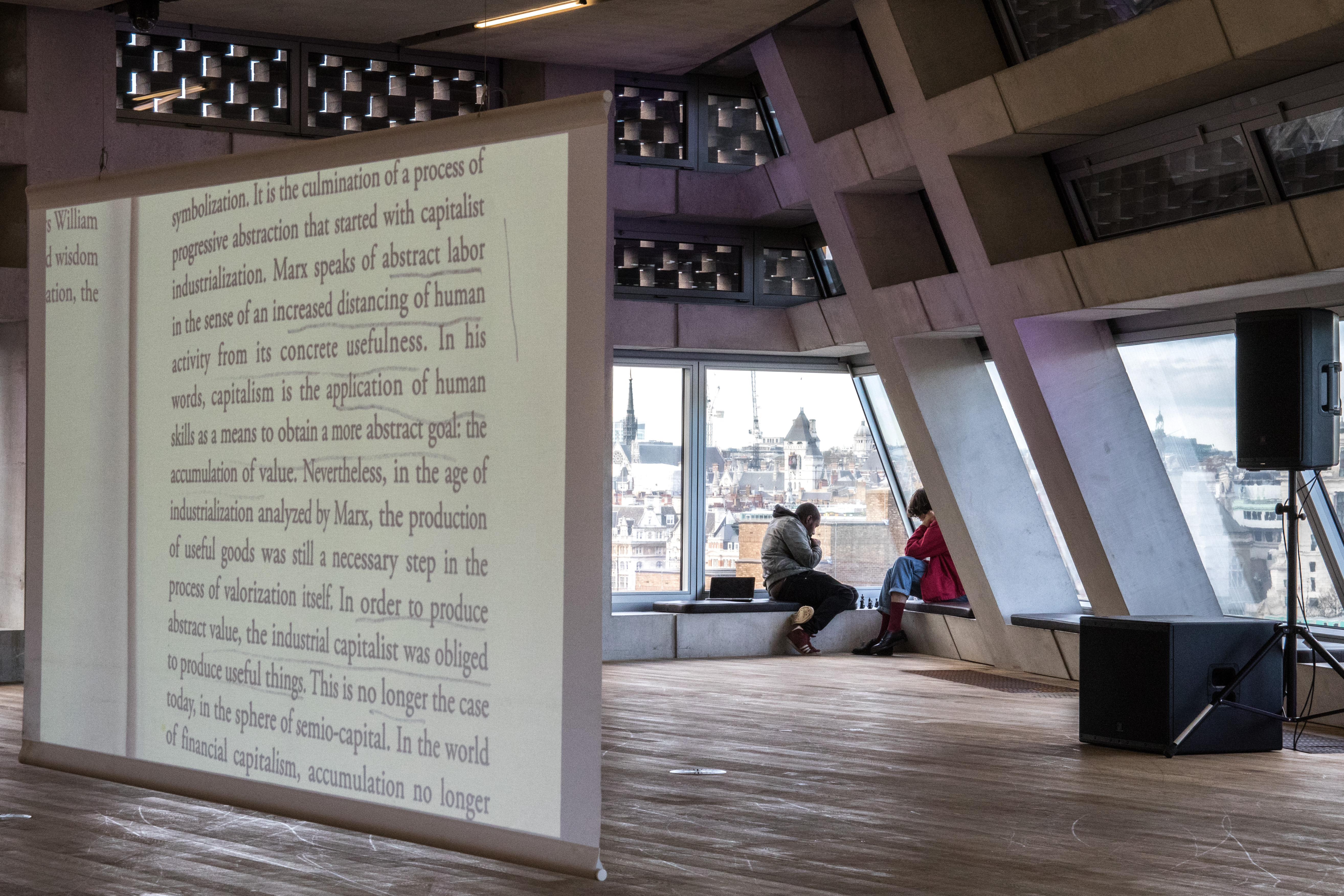 40 Temps, 8 Days is the latest in a series of "relationships" staged by They Are Here. In November, their work The People Behind the Financial System was performed in Stockholm. This facilitated encounters between invited individuals from the financial sector members of the wider public. When it was first performed in London, politicians, stockbrokers, coders, and security van drivers were among those that turned up to converse with a public often suspicious of the city's comparatively unregulated financial sector. In Stockholm, one attendee discovered that a participant was CFO of the housing company responsible for their poorly maintained apartment, and took them to task. "These are spaces that provide an opportunity to voice concerns," says Walker.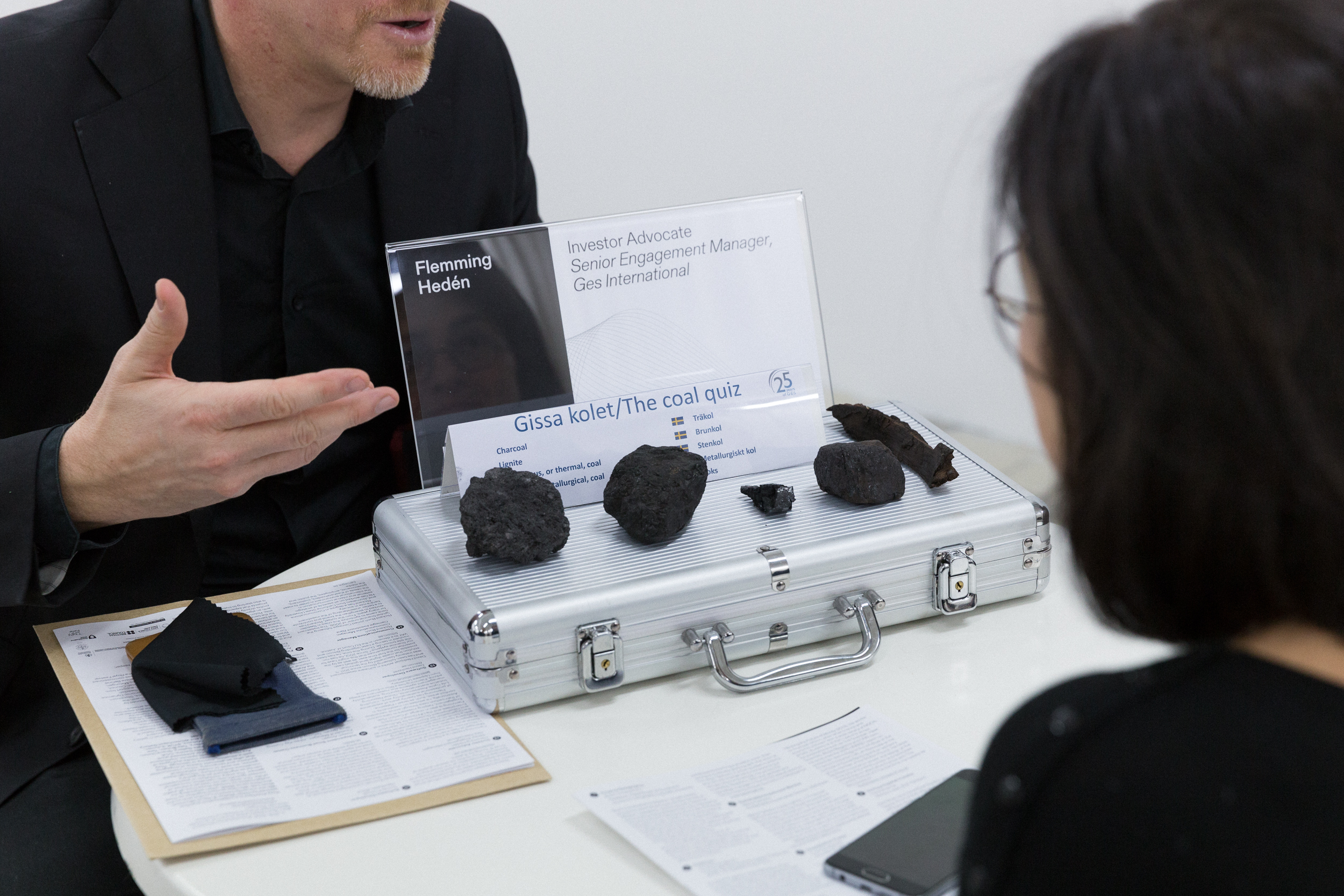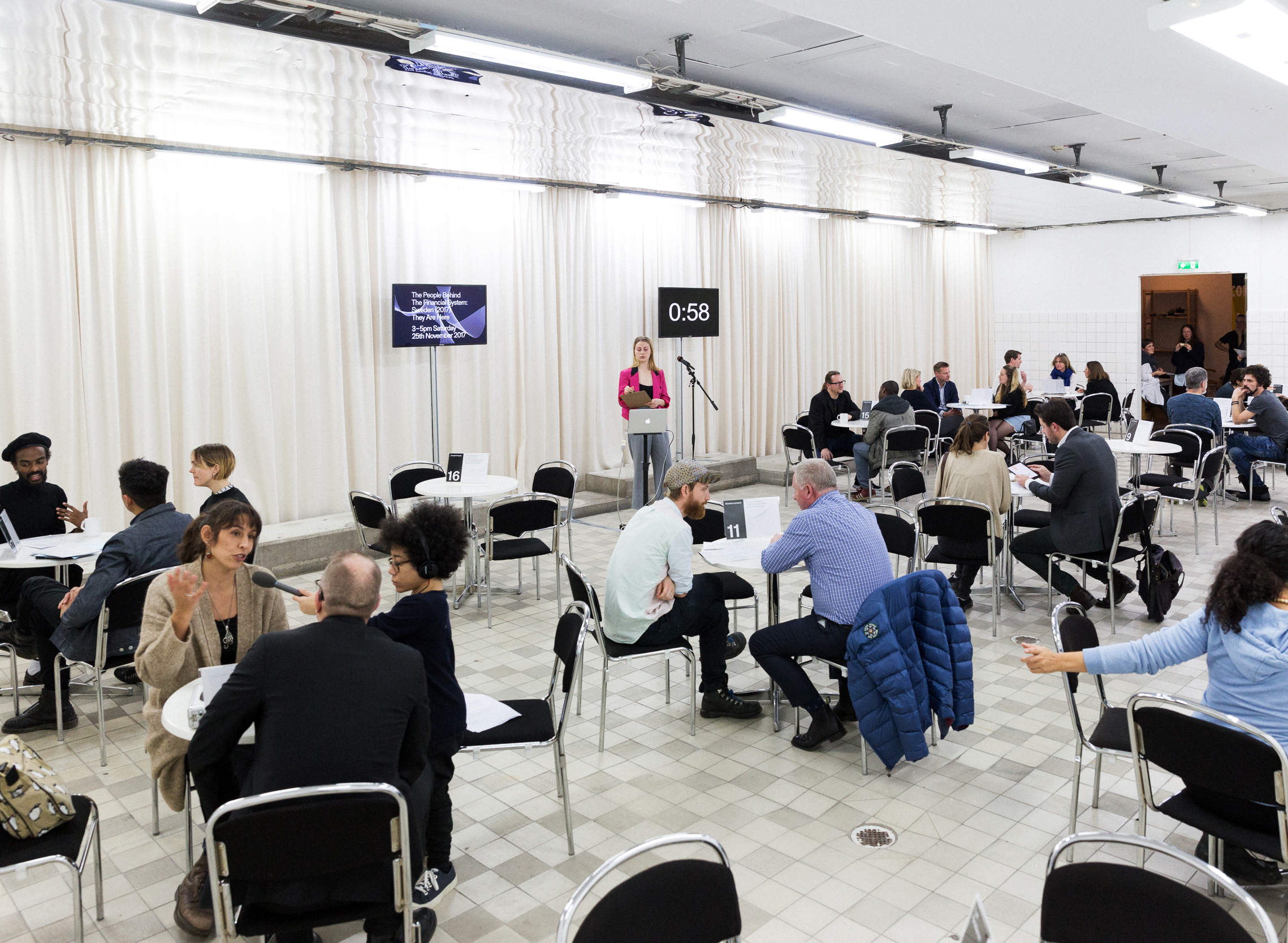 In the Precarity Centre series, first presented in 2016, They Are Here repurpose art galleries as ad hoc social centers, bringing vulnerable local residents together with the arts community and public sector workers. Events included repair workshops and discussions on social housing and mental health. At Tate, the five temps hired for day one—a day of chess—included a saxophone player and a business student. For both, temp work was a means to an end—a necessary survival tactic in a prohibitively expensive city—rather than a career choice. "We're all many things," observed Walker. "We all have multiple jobs and multiple existences: it's a very common thing, especially in London."
Paying an hourly rate of £10.50, the extent and duration of the performance—the 40 Temps, 8 Days of the work's title—were precisely dictated by its budget. "We're trying to make explicit the forces that are often hidden," explained Morrison. "For us, site specificity extends into the hidden economic relationships happening in the space." And by poignant coincidence, 40 Temps, 8 Days opened on the day a survey was released suggesting that most artists in the UK earned less than £5,000 a year after tax (and most in the US less than $10,000). "We're in a precarious position as artists," says Walker. "It's a privileged one, but a precarious one."
They Are Here: 40 Temps, 8 Days is on view at Tate Modern, London, through December 10.