Photo by Juergen Teller Courtesy of Chanel
Girls! Girls! Girls! at Chanel's Metiers d'art Show
Virginie Viard's latest, shown to an audience of one Kristen Stewart at the appropriately named Château des Dames, may be her best collection yet.
Photo by Juergen Teller Courtesy of Chanel
Kristen Stewart leaned against a marble wall inside the Château de Chenonceau, known as the Château des Dames after the women responsible for its construction, design, and protection, in the French Loire Valley region. She senses something is happening, walk towards a wooden bench takes her hands out of her pockets, and holds her trousers while sitting down. Now that its only guest is ready—with her legs uncrossed—the Chanel Metiers d'Art show can begin.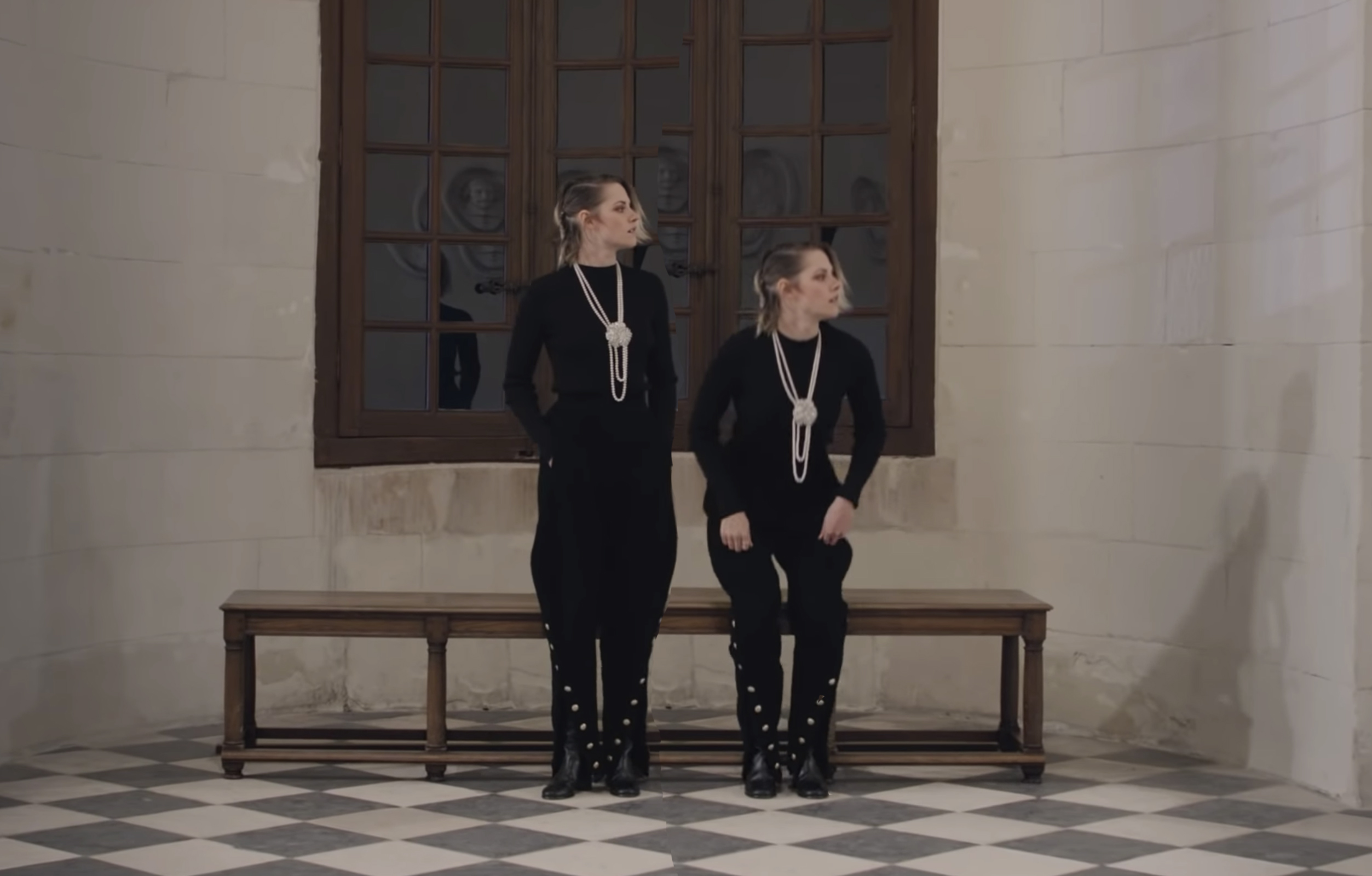 Oh, and what a show it was! The iconic black and white checkerboard floor in the main gallery, which was previously host to both glamorous parties by Catherine de Médicis and a hospital during WWI before becoming the setting of our main event, immediately appeared in short sequined skirts, which worn over shiny silver leggings lent the collection an unmistakeable '80s feel. And yet the clothes didn't feel retro or costume-y rather, a fresh expression of how a cool girl dresses, which should always be the heart of a Chanel collection.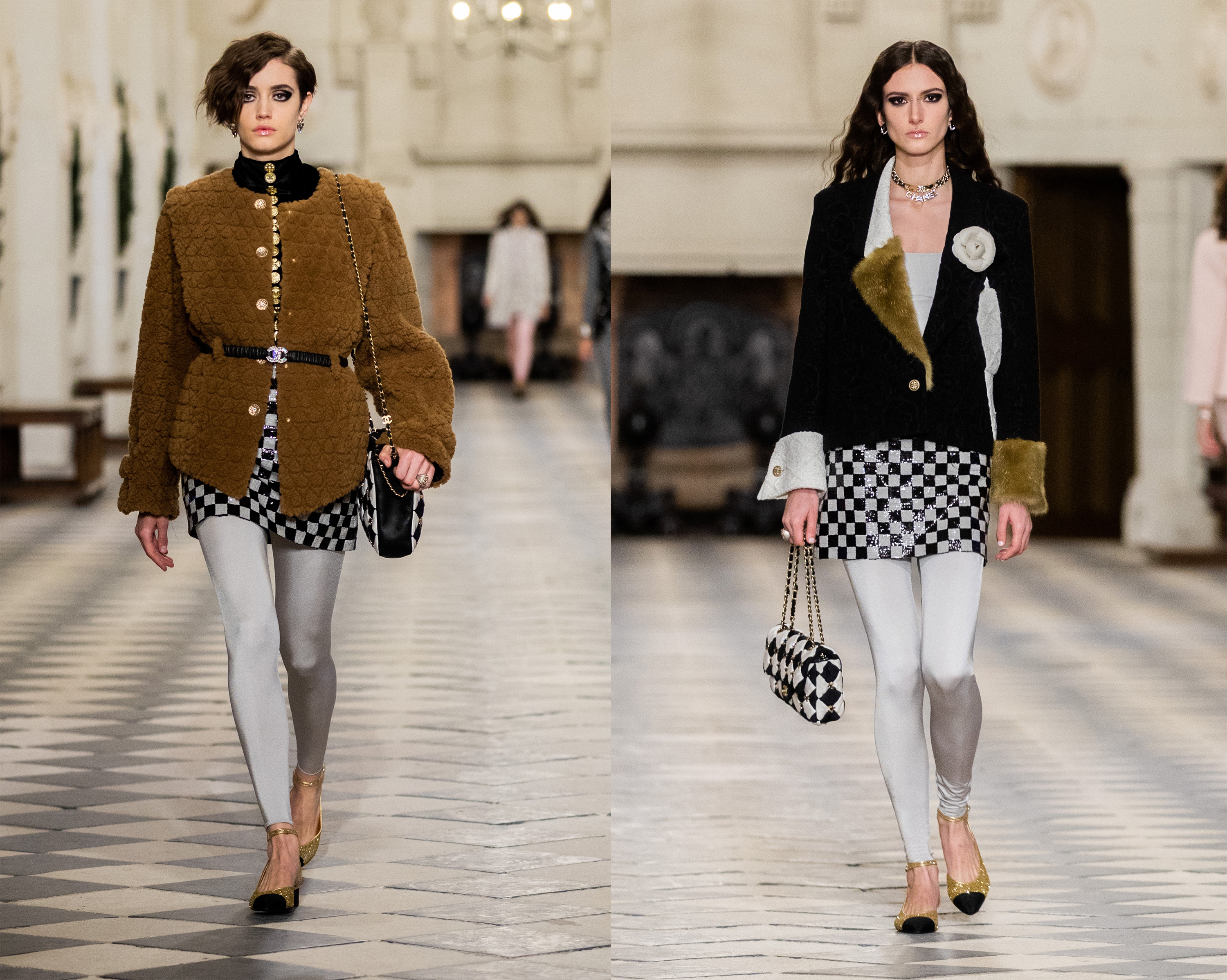 Two jackets at the beginning of the show immediately made me sit up straighter and pay closer attention. First, a black, single breasted jacket with a deep-V asymmetric collar made up of cream jacquard and green fur on the right side. The contrasting fabrics repeated again on the cuffs; the jacquard as an oversized french cuff with a matching gold button, the green fur on the other. Directly after it came a quilted brown collarless fuzzy jacket adorned with gold buttons, and a thin black belt with a jeweled interlocking C's belt buckle. They were both worn with the checkered skirts, the shiny leggings, and the fabulous gold glittered classic cap-toe sling-backs. I immediately imagined the long life either one of those jackets would have in a lucky woman's closet, how they could pair it with any pair of jeans—their favorite or the ones they wear when they think they won't run into anyone they know— or with sweatpants, or even with shiny leggings and the jacket would do all the work of making them look put-together. The jacket their daughters would eventually find in their closet and start wearing, not because it's Chanel, but because it's cool and they've never seen anything like it, and they love the way they feel wearing it.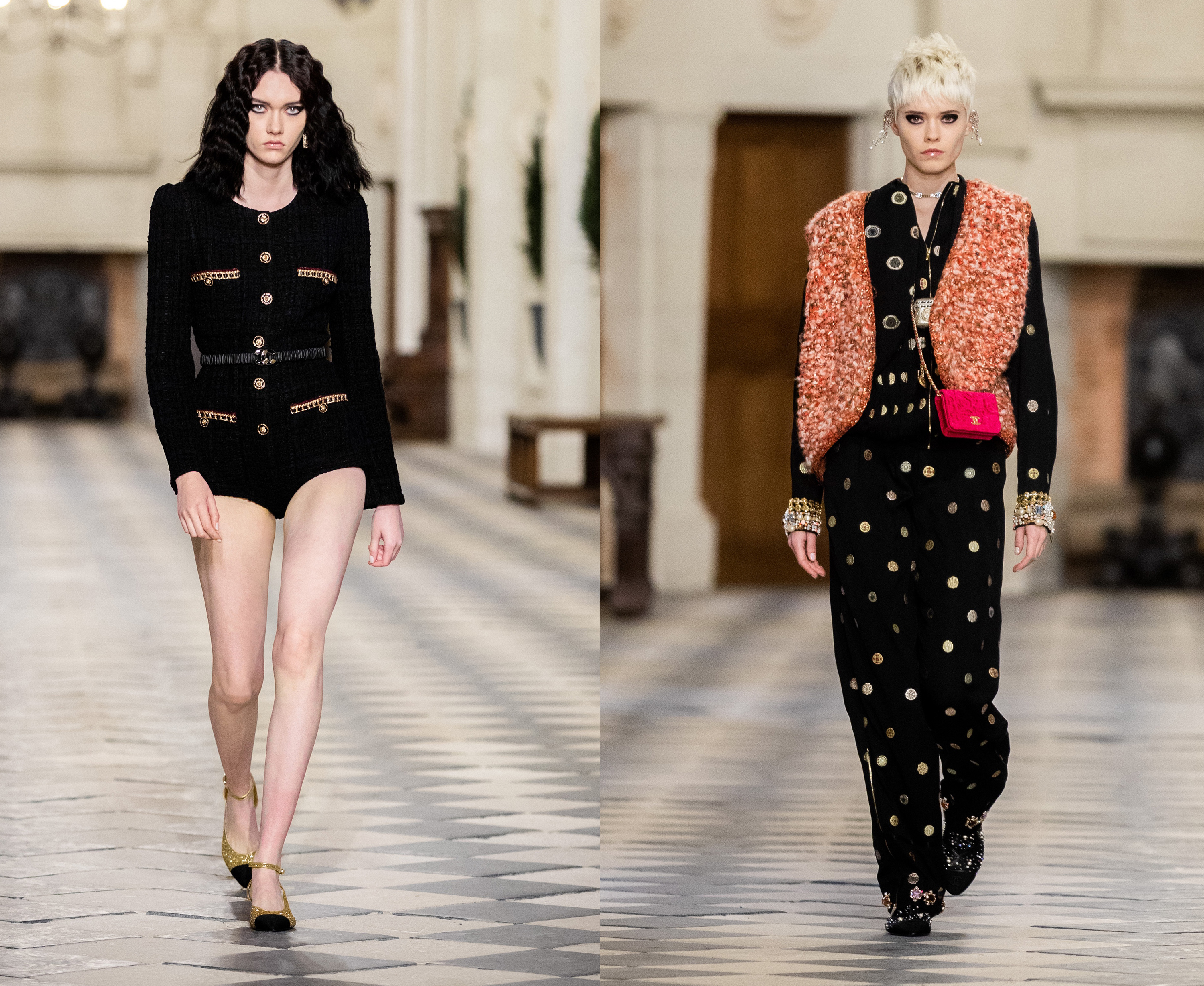 After the jackets came a perfect romper and a perfect jumpsuit. I am not a person that enjoys wearing a singular garment that encompasses a top and a bottom, but I do appreciate them on other people. In the beforetime I might've thought, cute, but where would one even wear such a thing? (not that not having a place to wear something has ever stopped me from making a purchase), but now, a short-shorts romper version of the classic Chanel tweed suit is the most sensible garment I could ever think about wearing. The ease of a pajama, and the luxury of Chanel—plus who cares about having to completely undress to pee when one is forever confined to their own house? Opposite the short-shorts romper, was a long, possibly velvet mechanic suit, covered in gold coins, and an excess of pearls and other bijouterie at the cuffs. There is absolutely nothing not to love here. And yet it is the little knitted vest thrown over it that for some reason totally kills me. It reminds me of the way bros throw their quilted vests over everything and call it a day, and it also reminds of the hazard vests construction workers wear. It's very practical! It's not matchy-matchy. Maybe that's where its charm lies?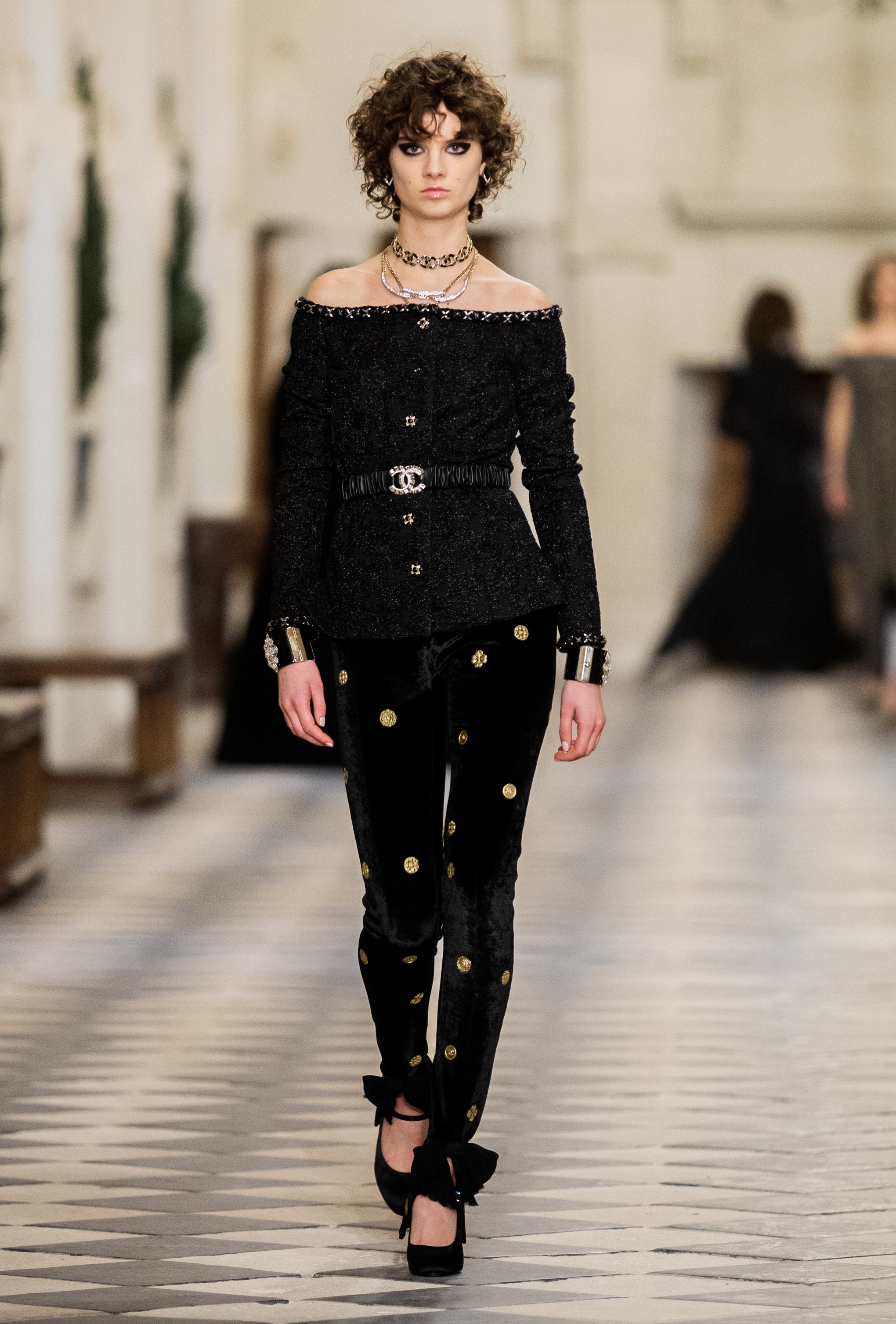 That same "throwing anything I own on, because it's all Chanel and it all looks good together without really having to think twice about it energy" permeated the rest of the collection. Leggings and catsuits continued to make an appearance under high-low hems, proper skirt suits, and slits cut up to there. Then it was suddenly nighttimes, and the clothes got sexier, weirder, but no less fun. An off-the-shoulder tweed jacket worn with skinny velvet leggings embroidered in gold coins was the best possible recreation of Sandy's iconic black outfit at the end of Grease, and no one should ever attempt to be inspired by it again because it will never be better than this. I will be shocked if this does not make it on to Miley Cyrus at some point during her new rocker chick phase (and I mean this sincerely). It's good ok! You know it's good.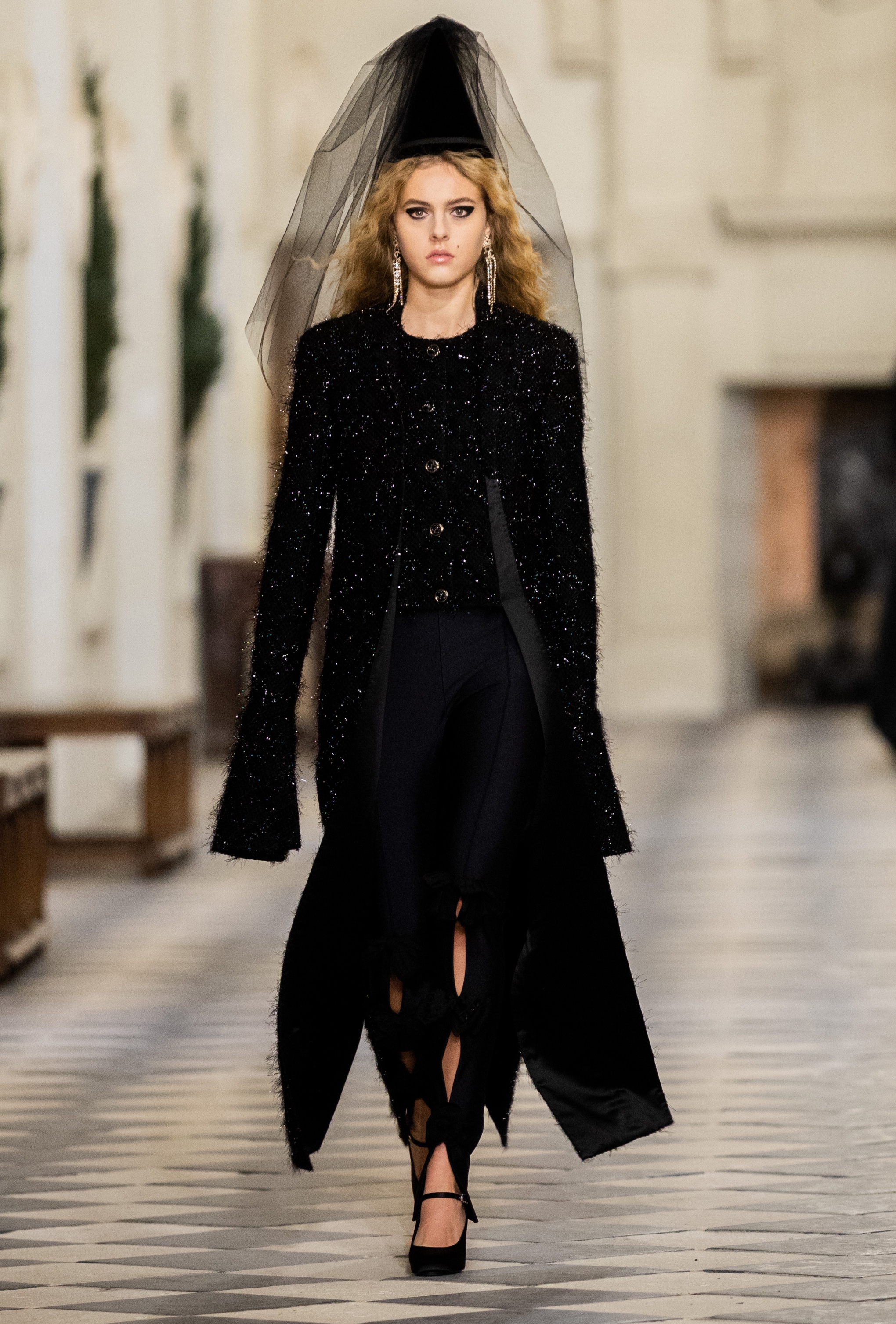 And then there was more, oh god so much more. A sparkly tweed long jacket worn over a cropped version buttoned all the way up to the neck (love to take off my Chanel jacket to reveal my other Chanel jacket directly underneath!), and paired with peek-a-boo detailed leggings. Topping off the whole thing? A tall pointy hat with a layer of tulle blowing in the wind. Yes, a witch hat. A Chanel witch hat! An unsurprising development if you look at the image at the top of this post, featuring Virginie Viard and the show's models, standing in Chanel outside the Chateau, looking like the women thought to be witches, except not only did they not drown, they flew away to their own little castle in the middle of the French mountains and never again had to deal with pesky mortals. When at the end of the show Viard came out to take a bow, and Kristen Stewart stood up to give her a solo standing ovation, it was in a way a perfect representation of the way we were all watching the show, alone in our homes sitting in our couches. It was a more glamorous version, for sure, but it was the perfect ending to this magnificent show.