I Will Follow These Craigslist Chairs to the Ends of the Earth
Mentally, I am here.
Kartell Dr. No Armchairs by Philippe Starck, at sea. Photos via SWEETERFAT on Craigslist.
Welcome to the first installment of "Actually, This is Art," an impassioned breakdown of cultural artifacts that are, most definitely, art.
It's been a big week for Craigslist furniture listings, relatively speaking.
But little do they (read: the culture at large) know, I have been perusing Craigslist furniture listings for months now, on the noncommittal lookout for maybe a coffee table, or a bar cart, or something else I don't really need but like to imagine would spruce up the space that I have now spent an entire human gestation period inside almost exclusively, with no end in sight.
As I scroll through the listings, opening countless purple-peace-sign-marked tabs in my browser that I will then leave open until the application crashes days later, I like to peer into other people's homes, to take a look at the stuff they're getting rid of, which is sometimes surrounded by the stuff they're keeping. I like to see what home furnishings people can fit into the familiar dimensions of a New York City apartment, especially now that I'm not doing much visiting of other New York City apartments these days. Most descriptions offer the same explanation: "Item is less than a year old, only selling because we're moving."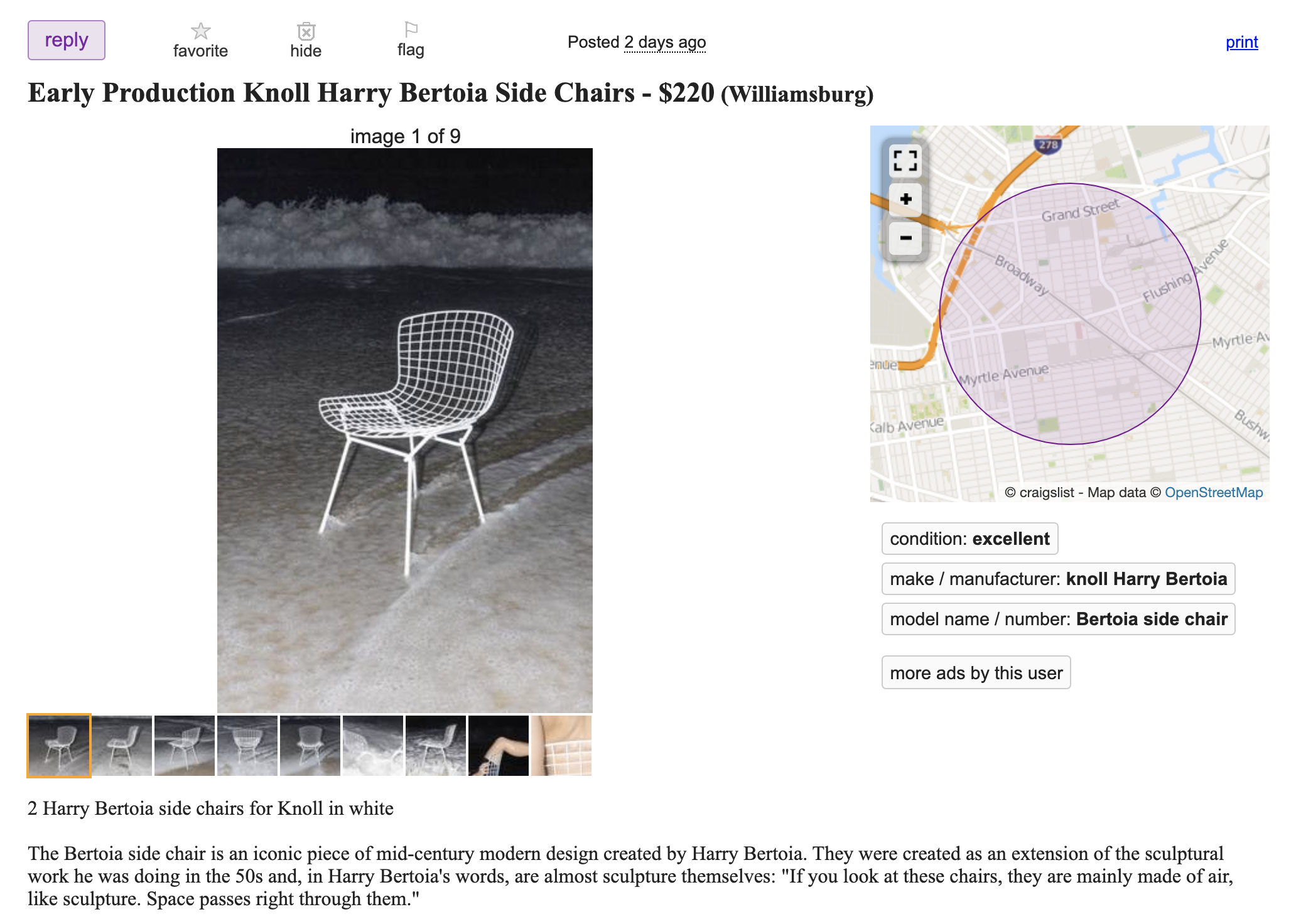 Then, something stopped me in my tracks. First it was one listing, then two, then three, all for iconic mid-century chairs, except the chairs were photographed not in an apartment but on a beach, in the water, at nighttime. There they were, caught in the throes of surf under dark sky, stark and lush in the camera's heavy flash as if this Craiglist shoot were the freaking "Criminal" video, occupying a reactionary visual space somewhere somewhere between a "Drunk in Love"-era Beyoncé and Jay-Z in the sand and G.O.B. Bluth trying to throw a letter into the ocean. Are these chairs for sale meant to be sexy or goofy, and why are they kind of both?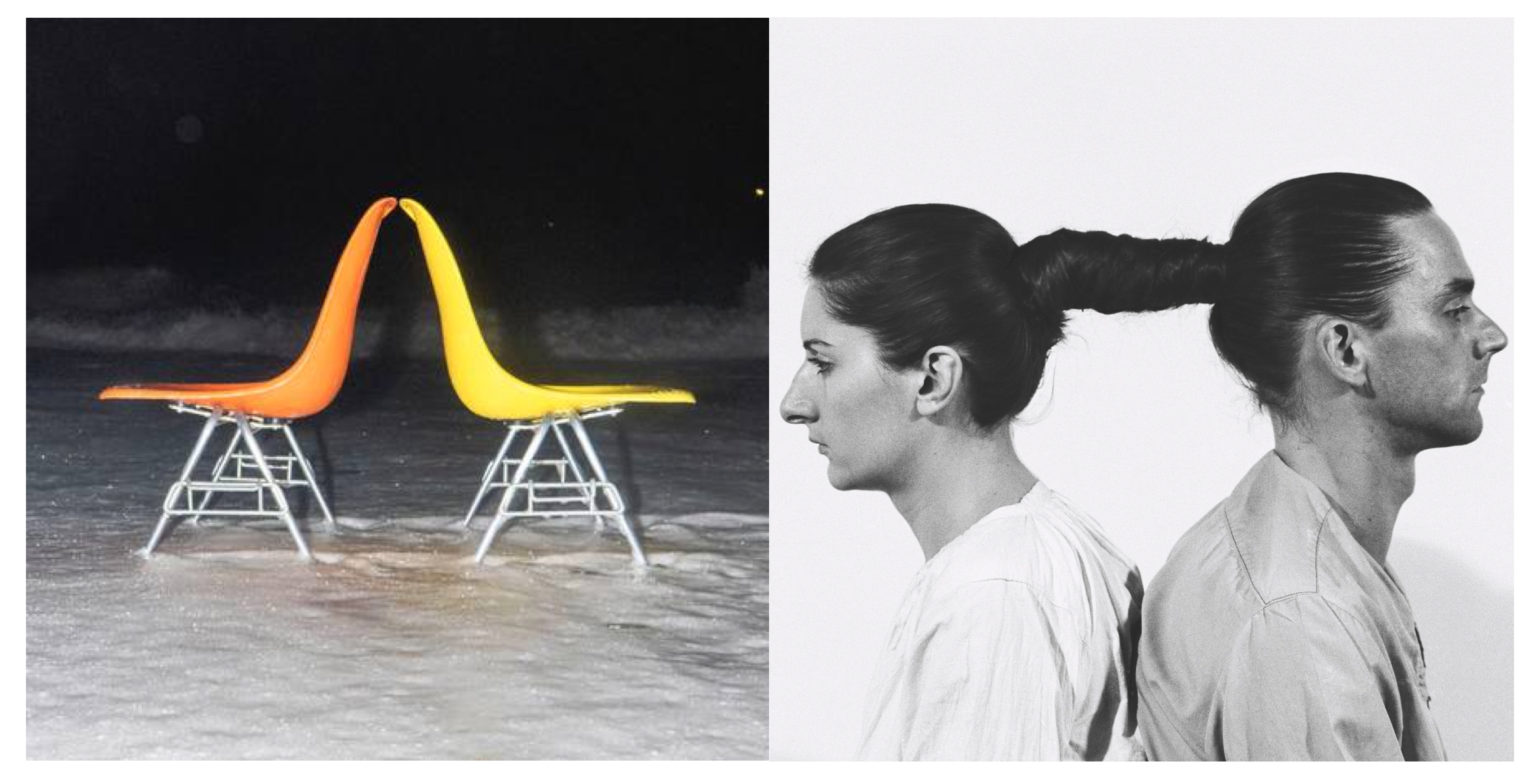 In one listing, two DSS side chairs, one lemon yellow and one tangerine orange, sit back to back, legs planted in the shallow sea foam—a furniture incantation of Abramović and Ulay, literally fused by their agonizing bond in Relation in Time (1977). In another, a pair of wire Harry Bertoia side chairs, photographed at an appropriately chaotic angle, become engulfed by the surf. Absolutely bonkers. I had to know more.
In yet another listing, an aqua Dr. No armchair contemplates the sea, surely bracing itself for inevitable waves. In the listing photos, an anonymous sitter does the same. One shot later, a disembodied index finger points at the chair—j'accuse…!—as if to scold it, perhaps, for being in the ocean in the first place. As if the chair simply found itself there on its own, just as I had found myself, time and time again, on the Craigslist "for sale > furniture - by owner" page. Are we all lost at sea?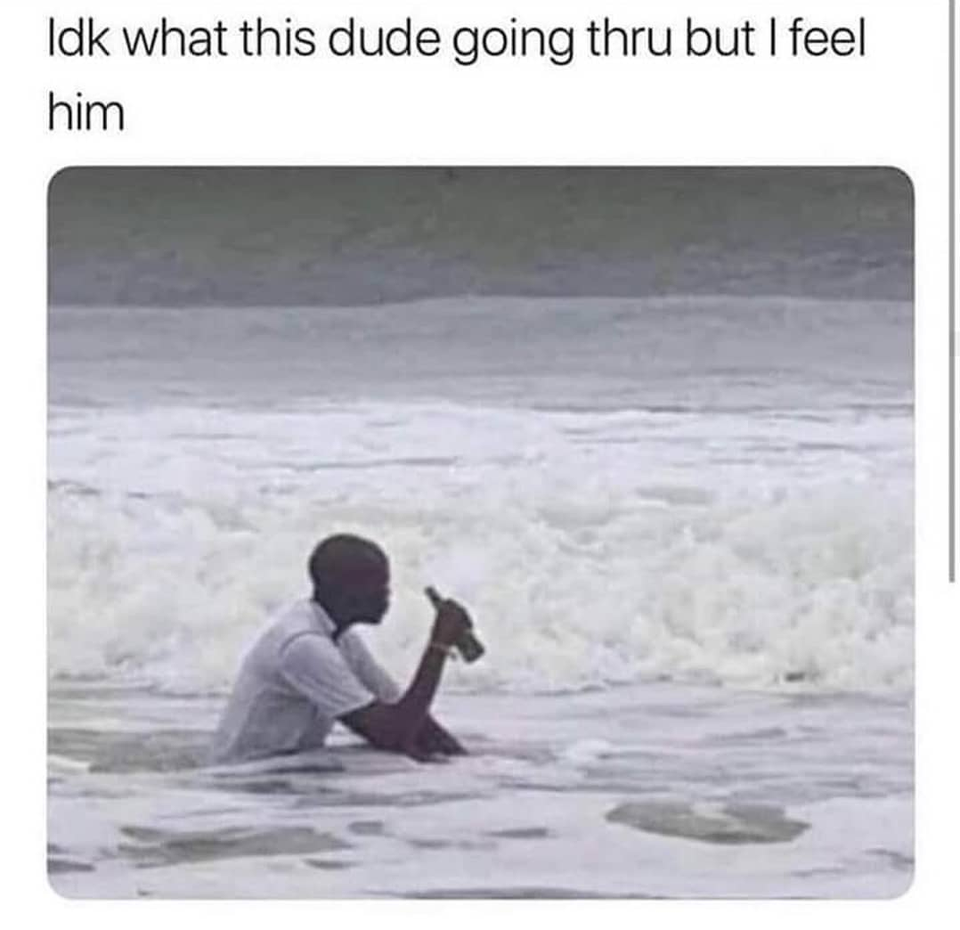 I remain completely mesmerized—transported, even—by the decision to take these chairs to the edge of the ocean to photograph them for a Craigslist listing. However, it didn't take long to find a (very New York) explanation: the seller appears not to be an enterprising citizen merely trying to spice up their furniture listing, but rather of an extratextual entity called SWEETERFAT, describing itself on Instagram as "curations & experiments in negotiating space." Ostensibly based in Williamsburg, an Instagram post describes the project's latest furniture drop as a study in "order and disorder, chaos and tranquility," photographed in two "locations as contrasting considerations of salt": the ocean and at a salt storage facility. Context or no, amidst the glossy parquet floors and CB2 stock photos that abound on the "brooklyn > for sale" pages, these chairs, like Venuses rising from the froth of the sea, are a window to a different world. It's a world that ultimately ends up back with someone buying a chair that will sit in their Brooklyn apartment, but still.
Tagged: