Watching Gucci's Strange Utopia On Screen
For Gucci's latest collection, Alessandro Michele and Gus Van Sant collaborated on a film, titled "Ouverture of Something That Never Happened."
"I promised that things would be different. I told you we need to slow down, we need poetry, we need to talk about different things," said Gucci creative director Alessandro Michele recently in a Zoom chat with Vogue. "And I found a travel companion… I learned from Gus [van Sant, the film director] a great lesson, that it's possible to work with other people, to blend different languages, that it's possible to experiment. Working in a multidisciplinary way was really nice. I needed experimenting and that was an experiment." He is talking about GUCCIFEST, the ambitious film project released last week that replaced the Italian label's fashion show for the Pre-Fall collection.
The creative director had long forecast his desires to disrupt the prescribed fashion schedule in favor of a more experimental approach that reflected the iconoclastic and irreverent nature of his collections, and this season, he enlisted van Sant to co-direct an anthology of short films. Entitled Ouverture of Something That Never Happened, these seven films are available for streaming alongside other short films featuring the work of emerging designers such as Collina Strada and Mowalola.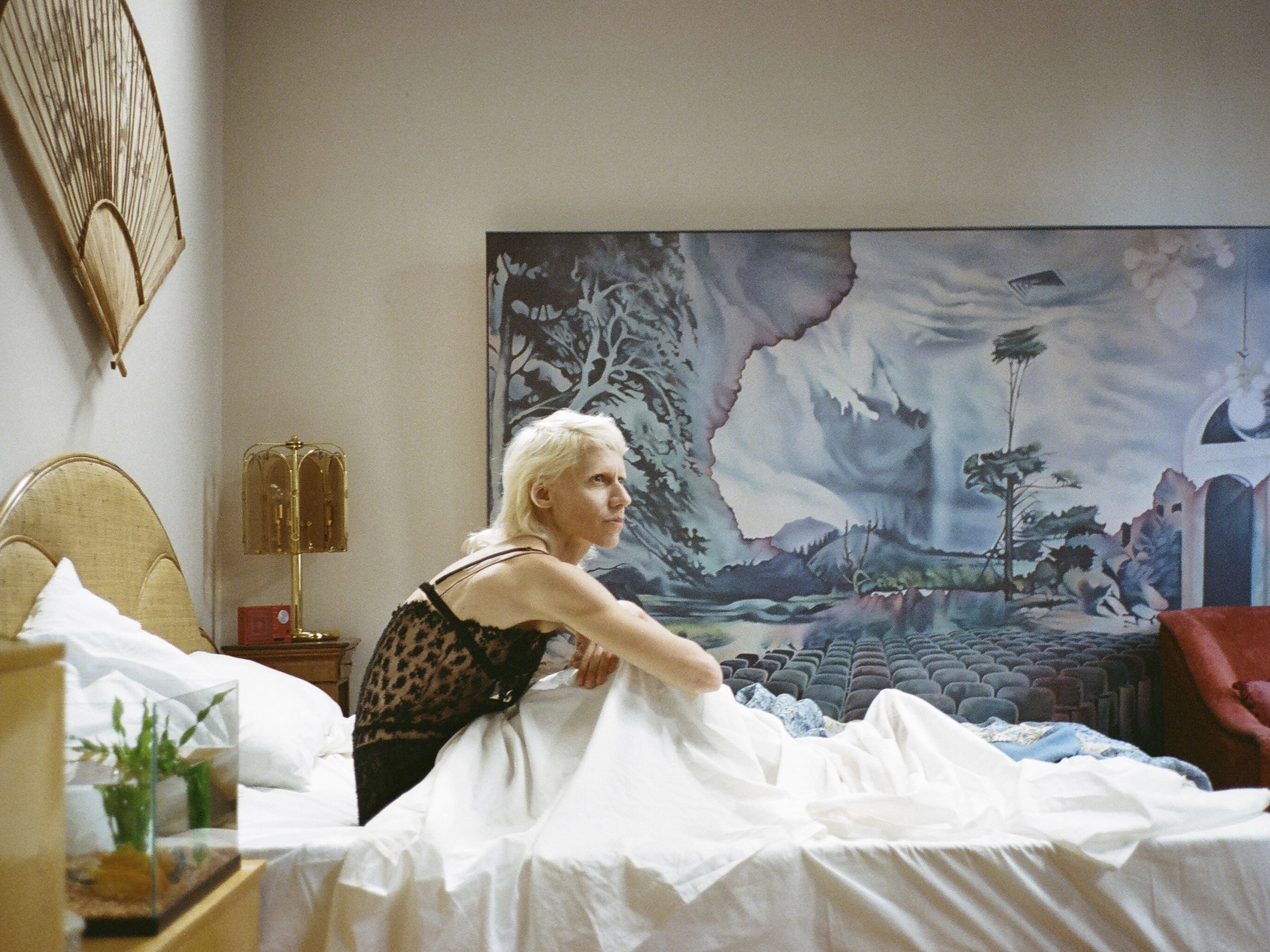 Ouverture's seven vignettes exist in a pastel dreamland in a classic Italian city, seemingly spared by the carnage and grief of the last years but still concerned with issues of sexuality, communication, and most importantly, artistic expression. Starring the Italian actress and performance artist Silvia Calderoni as "Silvia," the first episode is centered around her morning and a televised interview with noted queer philosopher Paul B. Preciado. Dressed in an elegantly retro suit, Preciado begins to directly talk to Silvia though the television, as the theorist elaborates on their ideas about modern gender identity and the ways that "languages and practices define how we are going to relate to ourselves and to others. That is, they define the possibility of referring to ourselves and to others."
As the films continue on, we come to understand that Silvia's world operates with a sense of surreal, dream-like logic that draws her into different situations that allow her to explore the ways we connect and communicate through words. She talks with a secret admirer via collaged letters (on Gucci stationery, naturally) and connects to her eccentric neighbors through the music they play on a sunny afternoon. We also accompany her to the post office, a local café, and the theatre; the mere prospect of just being in those spaces and interacting with strangers seems more luxurious than the Gucci clothing on screen. Silvia's explorations of the written and spoken word—and most critically, the way we shape ourselves, our relationships with others, and our identities through words—culminates in an emotionally resonant moment where she is spurned by an ex-lover after pleading to them through an apartment doorbell speaker. Crestfallen, she hitches a ride on a motorcycle that takes her through a lit-up Roman evening. Arriving at a nondescript side street, she walks past the townhouses, and the road transforms to a theater set that depicts the same street at nighttime. Silvia emerges on stage, seemingly reinforcing the idea that art is not only all around us but the most potent form of communication with our fellow man in times of trouble.
The entirety of Michele and van Sant's world is idiosyncratic and beautiful, from the clothing and the romantic Italian settings to the graceful manner in which the characters interact in the film. The scenes are cloaked in pastels until the last films, which emerge on screen in gorgeous, technicolor jewel tones that highlight the growing importance of feeling and emotion as Silvia moves through her journey. The light colors of the Italian interiors morph into the kaleidoscopic hues of the theater, the glowing city lights, and the luscious velvets, brocades, and tulles of Michele's collection. The sensuality of Ouverture is due mostly in part to Gus van Sant and his auteur vision of the everyday. Captured in a series of minimalistic long takes that van Sant compared to his shocking 2003 film Elephant, the director captures Silvia's daily motions with no interruptions except for close-ups on the faces of those on-screen. She is seen truly experiencing her life through sound, movement, and touch. A particularly memorable instance of this occurs in the first film, where Silvia is lounging in an unmade bed and peers through a fish tank. We first notice the feeling of rolling around in sheets, hair mussed with the morning light amplifying the comfortable wakefulness of that moment. Silvia's face is doubled in the reflection of the tank, giving the viewer a chance to gaze into her eyes and notice the inquisitiveness that is broadcast on her face throughout Ouverture. It's a truly lovely moment that highlights all the possibility that this new film format allows in fashion: not only are we buying the clothes, but we're buying into the phenomenological experience of wearing and living in those clothes.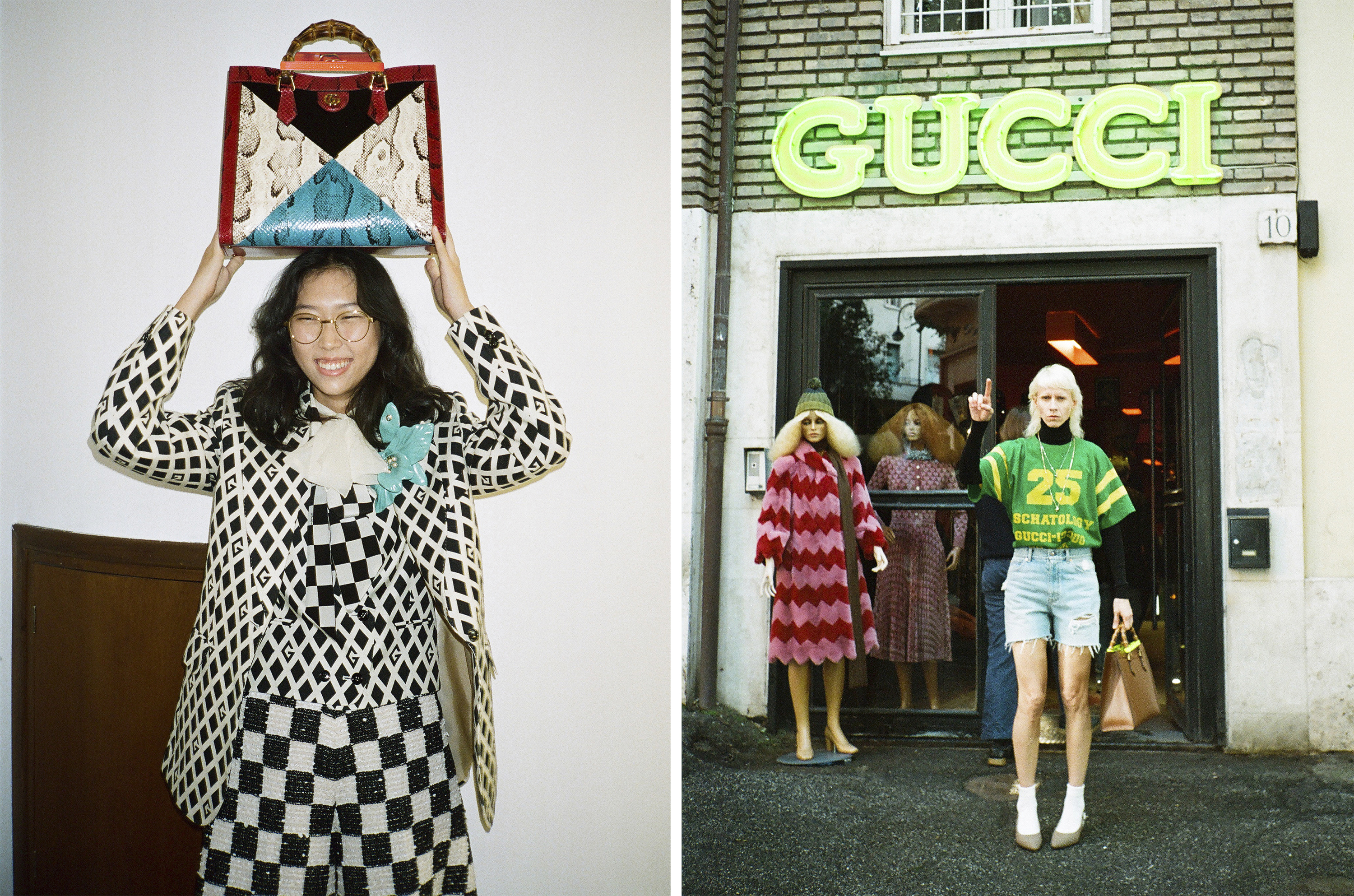 The manner in which van Sant captures Michele's clothing is beautiful, letting the viewer get caught up in the phenomenological experience of wearing Gucci. The collection itself is emblematic of the self-expressive ethos that Michele established with his 2015 appointment as creative director of the house: a somehow harmonious mix of highbrow couture and lowbrow vintage quirk. It is a look that is at once effortless and thought-out to the very last stitch, sequin, and earring. Alongside her equally eccentric neighbors and friends, Silvia is dressed head-to-toe in Gucci's most ornate clothing—an '80s-inspired sequined two-piece and a show-stopping sheer jumpsuit with a heart-shaped bralette immediately come to mind. To further tie the film back to the storied fashion house, there are cameos from Gucci regulars: playwright Jeremy O. Harris is one of Silvia's supportive friends, and Florence Welch is a mysterious woman that places handwritten riddles in the pockets of vintage clothing for unsuspecting buyers to find. Billie Eilish and recent Michele muse Harry Styles also make small appearances as ephemera to crowded scenes and serve as small references to a real world of sorts.
"Which new horizons do arise when fashion leaves its comfort zone? What life do clothes get when they stop walking down the catwalk?… These are the questions that come to my mind in a present that is uncertain, but pregnant with premonitions," said Michele in a press release for the anthology. Michele and van Sant's Ouverture is this new horizon, allowing for a more expansive view of better living through an embrace of experimentation. Michele and van Sant's films ask massive, existential questions that remain unanswered for the better. The answers come from living and creating in spite of it all, and Gucci's new collection—from the tailored suits to airy dresses and kitschy heels—complements this exploration. The urge to create and feel in this moment is critically important, and art is a practice that can guide us through crises in ways large and small, even if it is just a way for us to acknowledge our confusion. Ouverture of Something That Never Happened embraces these human instincts—making it through our troubled times art, curiosity, and the clothes to match.