Surfing in Senegal's Endless Summer
A glimpse into the previously locals-only surfing paradise.
The sun had rusted Moustapha Ndiaye's black hair so that it was red at the tips, which only added to the neighbors' perception that he must be crazy.
Every afternoon, Ndiaye would leave his friends and family as they sat around their shared bowl of the traditional Senegalese lunch dish of rice and fish. Instead of wasting time eating, "Patina," as he is known to most everyone, would leave the seaside neighborhood of Ngor Village and wander off shirtless, with a surfboard under his arm.
"I would walk off into the bush with my red hair and my surfboard, and people would ask why I did it," he says. "I did it because I loved it."
The time was the early 1980s, and the place was the West African city of Dakar—Senegal's capital—where Patina was the first native resident to take up the sport.
Today, it's hard to imagine Ngor Village surrounded by "bush" forest, as Patina remembers it. Instead, multistory apartment buildings crowd the sandy neighborhood streets, and a half dozen restaurants and even more small businesses sit near the coast. But in Patina's youth, Ngor was a village edged by the sea on one side and trees on the other. The trees may be gone, but the Atlantic Ocean remains, as does Patina and his surfboard. He's no longer considered crazy, and is instead regarded as a pioneer of what is a blossoming surfing scene in Dakar.
The city made its surf-world debut in 1964 in the seminal surfing film Endless Summer. In the opening scenes, two American surfers begin a voyage around the world, landing first in Dakar and swimming off to surf a break just off of Ngor Island. Patina was born that same year, so perhaps it was destiny that he would become a surfing star too.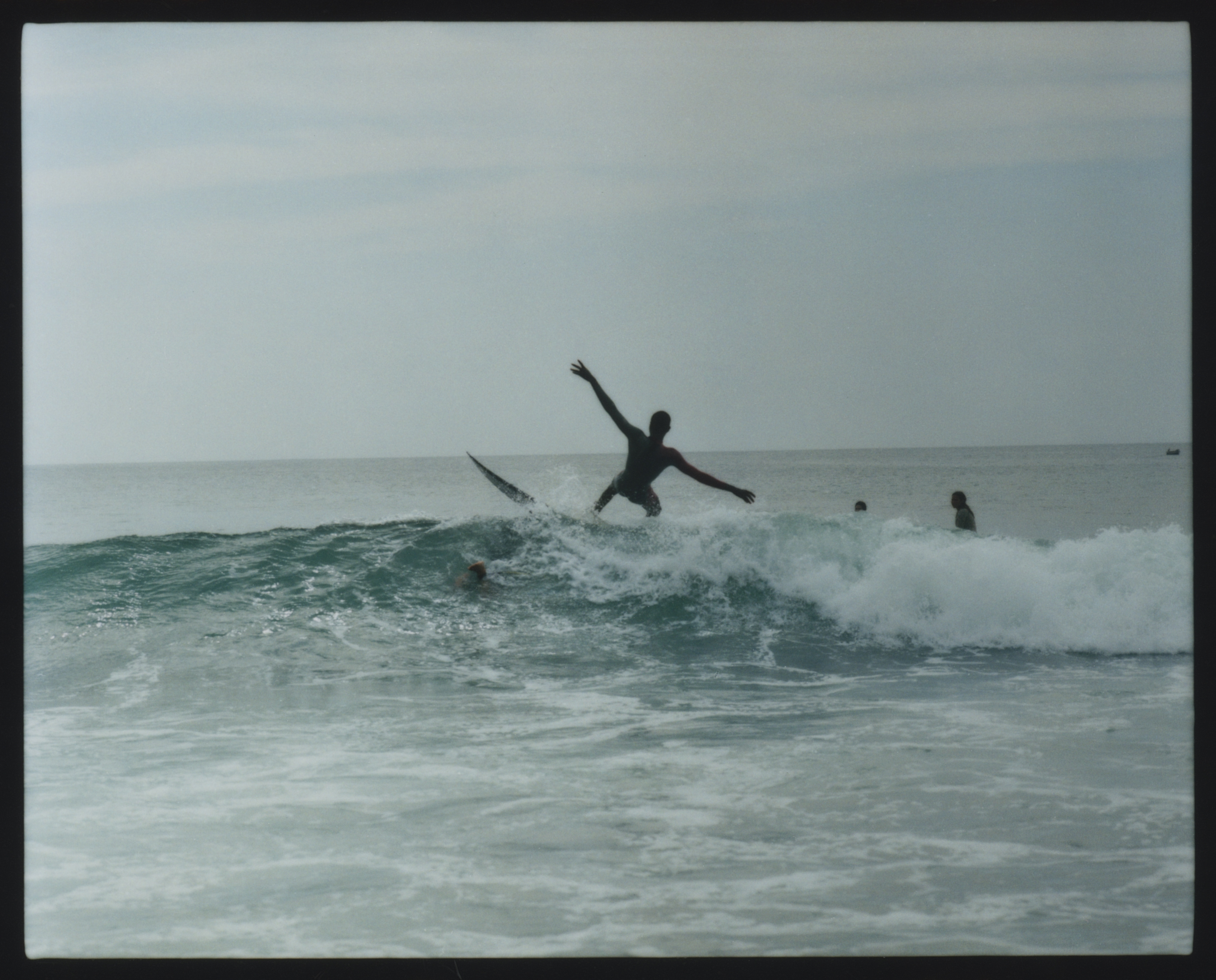 As we speak, sitting in an oceanfront restaurant, Patina watches the waves crash against the black rocks. He wears a newsboy cap and occasionally glances up to say hi to a customer or employee. He seems to know everyone, but most importantly he knows the sea. "We know the waves from the time we are small," he says of the people who grow up in Ngor, as he gestures his sinewy arm at the water.
Dakar is perhaps best described as several small, misshapen peninsulas, all jutting out along a larger peninsula—a puzzle piece full of nooks and crannies. And with each angle comes a different beach or break. Yoff Beach is less built up, with a "mellow" wave; Ngor Island has the most consistent reef break in the area; and Almadies has a few surf spots to choose from, though the most famous location, now ironically named, is Secret Spot. It's here that Patina secured his status as Senegal's first surfer. Today, it remains the beach where the country's best local surfers spend their daily time in the sun.

The small slab of beach sits in the shadow of two hills overlooking an otherwise flat city. One hill houses the Mamelles Lighthouse, and on the other stands Africa's tallest statue, the 160-foot African Renaissance Monument, built in 2010 by then president Abdoulaye Wade, which features a small family—a mom, a dad, and a baby pointing to the waves of Almadies and Ngor.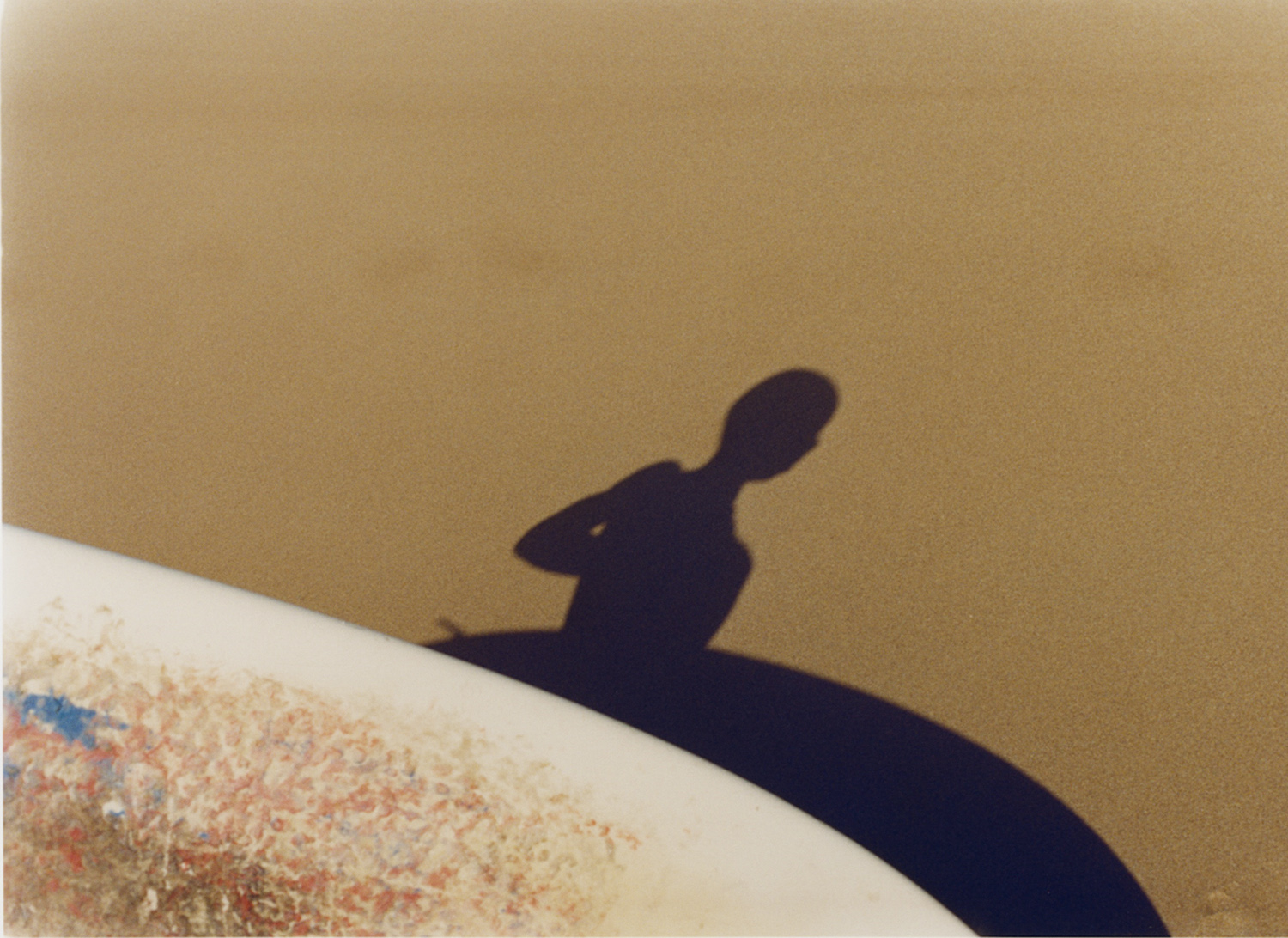 But Dakar's population has been booming, and many surfers say pollution in an increasingly built-up city threatens the health of the ocean—and, in turn, the surf culture. The only partially untouched area of the Almadies coastline today is a religious pilgrimage site for the Lebu—the cultural group that founded Dakar. Patina and most of Ngor Village—and by extension many local Senegalese surfers—have their roots in the Lebu culture, whose population has traditionally lived by the sea. When Patina started surfing, the Lebu fishermen would come ashore and tell him when he could expect good waves, two days ahead of time.
The current surfing reigning national champion is 22-year-old Cherif Fall, who is also Patina's "nephew" (technically, he is Patina's cousin's son). He and his cohorts can be spotted most days catching the waves at Secret Spot, and afterward they'll decamp to Secret, a cozy beach-shack restaurant that was the first surf eatery in Almadies. There the owners serve basic sandwiches stuffed with homemade fries, chicken and onions, and "brochettes de lotte"—a common Senegalese dish made up of monkfish grilled on a stick with a few green peppers and onions. An outdoor showerhead waits to refresh surfers who come in after a hard day's work.
Rene Laraise, who coaches Senegal's national surfing team, remembers the first time he saw Patina and a group of French men surfing the waves at Secret Spot, just across from his house. "I saw them and said, 'Wowww,'" he says, drawing out the syllable so much that it sounds like "waw"— the word for "yes" in Senegal's local language, Wolof. "This is cool. It's like dancing on the waves," he remembers thinking. He began surfing in the late 1980s at Secret Spot, where a man selling Fanta soda out of a wheelbarrow packed with ice was their only source of refreshment.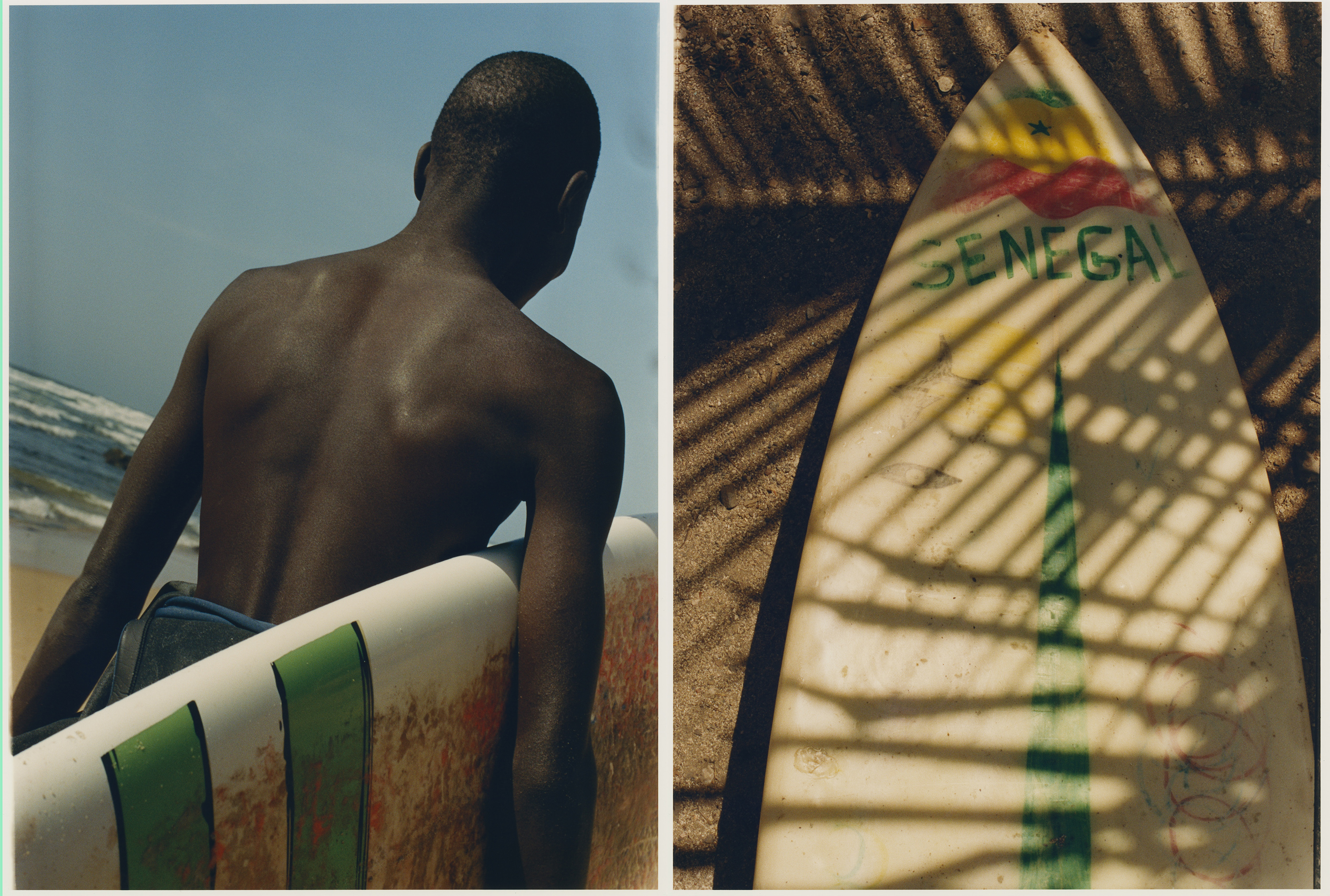 "I changed the image of surfing [in Senegal], because I worked. I succeeded in life through surfing," says Oumar Seye, 42, who is Senegal's first professional surfer (he has had contracts with Rusty and Rip Curl). With help from his earnings from the sport, he opened a restaurant called Surfer's Paradise 10 years ago, just a few meters down the road from Secret. Between the tables and the sea, Seye built a heart-shaped pool at the exact spot in the rocks where he says a younger version of himself would sit, look out at the waves, and dream of becoming a professional. He now works as vice president of the Senegal Surf Federation to ensure the new generations of surfers in Senegal can also carve out a life among the waves.
Last year, Seye helped host the first World Surf League qualifying series in Senegal, the first professional surfing event held in West Africa. "We had 96 men and 72 women participate," says Seye, adding that they came from more than 20 countries. "It was a great time, and it was a good debut before the Youth Olympics," which Senegal will host in the summer of 2022.
Before the Youth Olympics, though, 2020 marks the first time surfing will be featured in the Olympic Games. It's still undetermined whether Senegal will be able to qualify—Morocco and South Africa have already secured two of the African spots for the games.
But in the meantime, Senegal is eager to burnish its reputation as a welcoming surfing haven. "We don't practice localism here," says Laraise, referring to the tendency of some hometown surfers to become territorial over the best swells. Instead, the country is known for "teranga," which is a Wolof word that loosely translates to "hospitality."
Seye adds, however, that there is a long way to go in making Senegal a world-class surf destination. It may be the most developed surf scene in West Africa, but it still lags behind places like Brazil and France in terms of the infrastructure it can offer. Of course, the raw adolescence of Senegal's surf scene might also be the thing that makes it so appealing.
"We are not a nation of surf," Seye says, "but we have become a surf destination."