Looking At the 'Whole Earth Catalog' While the World Falls Apart
In an era when techy-ness feels too close to godliness, the "Whole Earth Catalog," long a symbol of cyber optimism and a dream for the environment, remains a counterculture touchstone almost 50 years on.
The inaugural Whole Earth Catalog, the so-called "bible of counterculture" first published in 1968, opens with an absolutely bonkers assertion:
"We are as gods and we might as well get good at it."
Whether considered ecologically or technologically, it's a sentiment that, over half a century later, reads slightly more tyrannical than invigorating, but nonetheless marks the distinctly American spirit that inspired the catalog—and the many cultural movements and entrepreneurial endeavors born in its wake.
The Whole Earth Catalog was, essentially, a printed directory of vetted resources on a plethora of topics, from how-tos on building tensile structures and organic gardening to recommendations for Hewlett-Packard's first calculator and books on self-hypnotization. Inspired by early Sears and L.L.Bean mail-order catalogs, it declared that its purpose was to provide "access to tools," a creed emblematic of the back-to-the-land movement of the '60s and '70s that hinted at the then-utopian promise of technology on the horizon.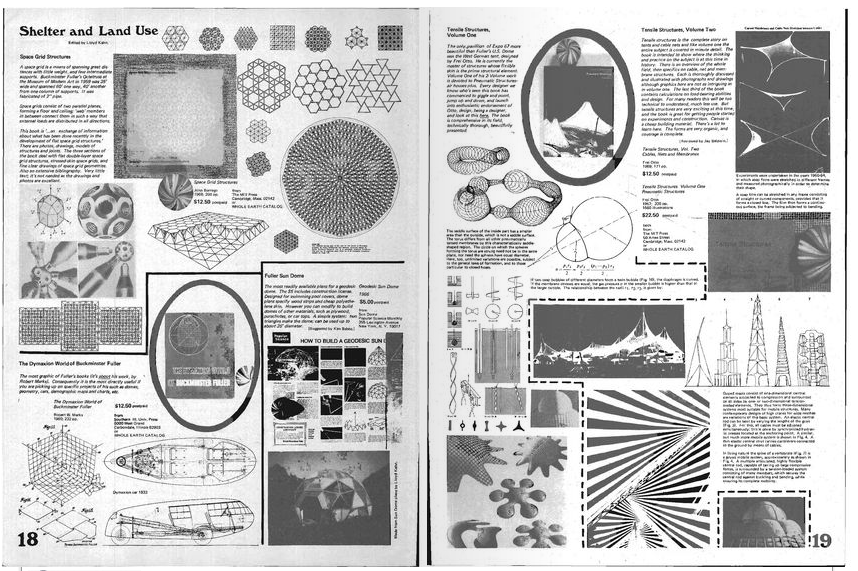 The catalog was published mainly through 1971 by the early technologist Stewart Brand and his Menlo Park, California–based nonprofit, the Portola Institute. Its creators positioned themselves not only as idealists but as curators and tastemakers; according to the first edition's introduction, the catalog "functions as an evaluation and access device. With it, the user should know better what is worth getting and where and how to do the getting." Marked by its idiosyncratic layout and telephone-book size—its crammed black-and-white pages bypassed those glamorized notions of white space; as Brand once said, "white space has no value in a catalog except as occasional eye rest. I figure the reader can close his eyes when he's tired"—the volume presented thousands of tips, products, and suggestions alongside images of various ephemera, hand-drawn diagrams, and illustrations. Through thoughtful form and content, it emphasized the dual powers of self-sufficiency and community collaboration: a paper-based database, crafted with a whole dose of Californian ideology.
The catalogs sold a couple million copies through their initial run, and the final issue, aptly titled The Last Whole Earth Catalog, won a National Book Award in 1972—the only catalog ever to do so. Brand and his cohort, operating on the ethos of "stay hungry, stay foolish," would go on to leave lasting footprints throughout Silicon Valley. One write-up in a 1972 issue of Contemporary Affairs magazine put it succinctly: "Were this the only artifact of American culture 1972 left remaining 100 years from now, our survivors would be able to put it all back together."
Whole Earth Catalog created a peer-to-peer network that connected and galvanized like-minded people. In doing so, it created a legacy as an early link between the counterculture movement and the cresting personal tech industry. It spoke to a growing generation of do-it-yourselfers and innovators—particularly, oh, those entrepreneurs who've found themselves in California over the years. Indeed, Steve Jobs cited the catalog in his 2006 commencement address at Stanford, calling it "sort of like Google in paperback form, 35 years before Google came along." Its Silicon Valley canonization should also stand as a reminder of the corresponding risks that come with viewing ourselves as gods.
How do we move past what could have been? How do we muster up what could be? Even in— especially in—our Trying Times era of being Very Online, the Whole Earth Catalog remains a pretty extraordinary cultural artifact, as both a symbol of bygone cyber optimism and a blueprint for necessary environmental empathy. It was a repository of cool stuff about people, land, and possibility that, hey, just might be useful (or fun). It reminds us that perhaps we must be purposefully buoyant in order to stay afloat, so to speak. Let's draw inspiration from one another, and use our tools at hand creatively and wisely. We need each other out there.
GARAGE is committed to ongoing coverage of the global climate crisis. Read all of our Anger Management zine here, and more of Vice's Earth Day coverage here.