Photo courtesy of Björn Steinar
Dumpster Diving for Vodka in Reykjavík
Icelandic designer Björn Steinar is fighting food waste by making sustainable single-origin spirits out of discarded fruit.
Photo courtesy of Björn Steinar
It's not easy to grow a banana in Iceland.
It's also not easy, for that matter, to get a banana to Iceland, though of course, they're there. Consider the process:
"Society does not seem to fully understand the effort that lies behind, let's say, one banana," Icelandic product designer Björn Steinar told GARAGE over email this past winter. "It takes months to grow, then travels thousands of kilometers past countless borders before reaching its final destination after up to a month on sea. Then, regardless of the season, if the banana is not spotless it's somehow almost socially acceptable to throw it away."
Steinar began making vodka from dumpster-dived fruits around 2018, looting around Reykjavík supermarkets before dawn to turn marginally unsellable fruits into his single-origin Catch of the Day spirits: bottles of hand-produced vodka made exclusively from salvaged produce. Each batch is produced from a singular find, be it bananas, grapes, or pineapples.
It's a subversive process that, as Steinar explains on his website, "prolongs the 'best before' date to infinity—since alcohol over 23% can never go bad."
Much of Steinar's work inspects the notion of origins—where things come from, how and why they got there, what happens to them once they do. (Another one of his projects, indeed, traced the origin of a single banana from Ecuador to Iceland.)
Using what he calls "an anti-capitalistic design method," he often focuses on materials available in Iceland, particularly the seemingly mundane materials that have come to exist in Iceland due to the demands of the market, such as timber or imported produce. His projects probe at the often wasteful consumer culture that forms around these new resources, positioning Iceland as an isolated microcosm for the rest of the world. Fresh produce arrives there via cargo shipping container, or is grown in year-round greenhouses that can look like science fiction set against the subarctic countryside—a particular reality that emphasizes the resource-exhaustive journey our food undertakes, only to oftentimes go unsold, uneaten, and discarded.
In island countries and otherwise, "food waste is such a serious problem," Steinar said. "The sector uses tremendous amounts of resources and energy, pollutes soil and creates enormous amounts of methane by growing and producing food nobody ends up eating."
Using a simple distilling machine of his own design (for which he'd originally posted an open-source, downloadable DIY guide on his website, hoping that others would build machines of their own), Steinar says he purposely made the project a little obscene, starting out "on a very small, illegal scale" to draw attention to the equally obscene reality of food waste.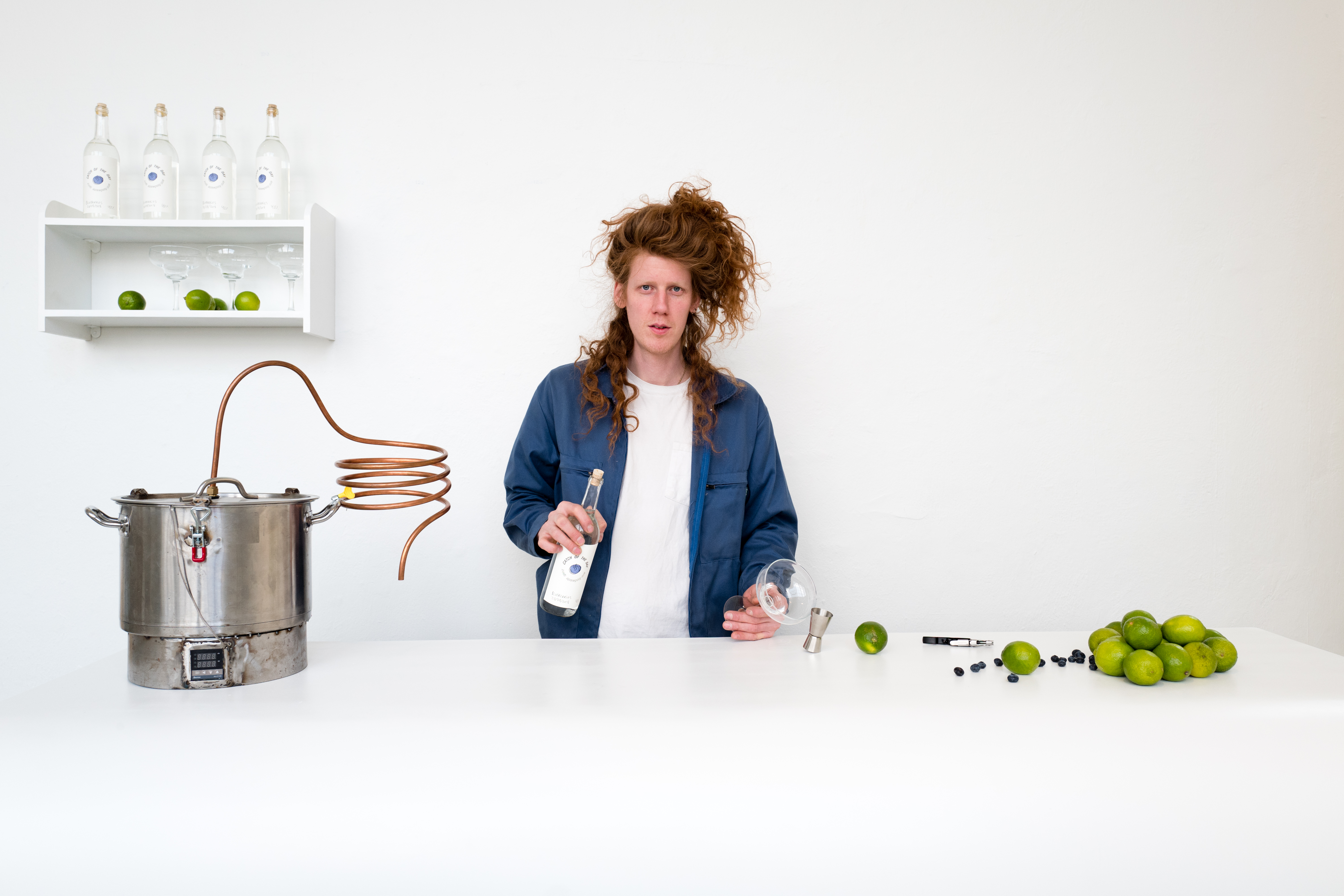 At first, Steinar decided to make his design "open source because I wanted to create a movement that would have real impact on a global scale, but also because I was angry and wanted to make the project really illegal so that it would potentially get more attention to the topic. It got good press and lots of attention to the problem locally, but then again only a handful of people actually downloaded and built the distilling machine."
Since then, the designer said, "most of the local food importers have now become key partners in fighting food waste by donating the fruits they otherwise need to throw out." He's been collaborating with local distillers to turn Catch of the Day into a product that's market-ready.
However, like most things during a global pandemic, "market-ready" may mean something entirely new. Now, the project is taking an unexpected turn to help fight coronavirus.
"I was recently contacted by an Indian agency to help fight the spread of the virus in India by producing alcohol hand sanitizers from food scraps and food waste," Steinar said via email this past week. "Prices for sanitizers have risen dramatically since the outbreak, making what has become a necessity unaffordable which affects rural and disadvantaged communities most."
He's currently in the process of designing "portable and simple open-source distilling machines and guidelines for communities to take matters into their own hands [by] producing alcohol from food waste that is used for sanitizer, for supply back within that community."
As a solution that's centered on locality and thoughtful, accessible circularity, it's a poignant fit.
GARAGE is committed to ongoing coverage of the global climate crisis. Read all of our Anger Management zine here, and more of Vice's Earth Day coverage here.