Burning Bridge, 2019, Wood and fire, Elevation 1049, Gstaad, Switzerland Photo courtesy LUMA Foundation
Marianne Vitale on Philosophical Decay and the Sweet Life
GARAGE pays the artist a visit at her studio in Long Island City.
Burning Bridge, 2019, Wood and fire, Elevation 1049, Gstaad, Switzerland Photo courtesy LUMA Foundation
Marianne Vitale describes sculpture as "the product of a radically healthy mental disorder," which is cleansing to hear, as is a visit to her Long Island City studio for a conversation about, well, art. Burning bridges atop mountains, sawing a train apart, taking a shotgun to a double decker outhouse—Vitale is a bandit taking waste management to a new level. Sourced from a wasteland of deactivated industrial components, exhumed railway and locomotive parts, her work is an earnest surrender for renewal. Like totems uprooted from their prior lives, these rails, clips and brackets become anthropomorphic phantoms transgressing their original use value. In a muscular critique of a straying America, Vitale disintegrates old narratives through fire and an index of material and philosophical decay, evoking a culture in disarray desperate for regeneration. With an antique flair, she illustrates that the reorientation of history can also be a celebration; rebuilding subjectivity can serve as a vital bellwether for the future. With lauded shows at Venus Over Los Angeles, LA; INVISIBLE-EXPORTS, New York; Le Confort Moderne, France; and Contemporary Fine Arts, Berlin; Vitale's work has also been exhibited at the Whitney Museum of American Art, New York; White Columns, New York; The Contemporary Austin, Texas; and the San Francisco Art Institute, CA; among others. In the next installment of our studio visit series, GARAGE speaks with Marianne Vitale on sculpture, life, and vitality.
When did you start making artworks?
At the risk of sounding self-aggrandizing, as a child I found the act of speaking to other people beneath me. I have never been able to play by the rules for better or for worse. Hackneyed standards gave me a bad case of vocal congestion. I had savage impulses that mandated a healthier form of displacement. Otherwise, there would have been blood! Art-making seemed more credible as a means of expression.
Why sculpture?
Sculpture is the product of a radically healthy mental disorder which manifests as a combativeness with the environment. The governing principles of the landscape must be unpacked or disrupted. Ingredients to get there can include unmeasured doses of recreation, arson, decomposition, atomization, embalming, forced bombardment, aggregation, memorializing of unsung heroes and so forth. This goulash keeps me and hopefully future participants from being saddled by civility.
What are your influences?
When I was younger, I was influenced by any dead artist that ever really lived, with a special eye for the most uncultivated rascals. These days, though, I am influenced by anything or anyone that seems to have a lead toward some form of hope. It may be that art making is the antidote to the anxiety, disappointment, and confusion that plagues the human condition. As a woman, my mind and body are optimized for an environment that no longer exists.
You often use pre-existing human infrastructure or construction materials as a support. Tell me about this?
I index and archive objects that once served as the dutiful underpinnings and foot soldiers of civilization, foregrounding them as monumental. Neglected cogs, unworthy, burned-out generator stators, rusted nuts and bolts, deteriorating or warped framework are reanimated. We are seamlessly carried along these days and we rarely reflect upon what it takes to shelter and transport us, and how burdensome we are in the process. It is a shake down of the disregarded underbelly.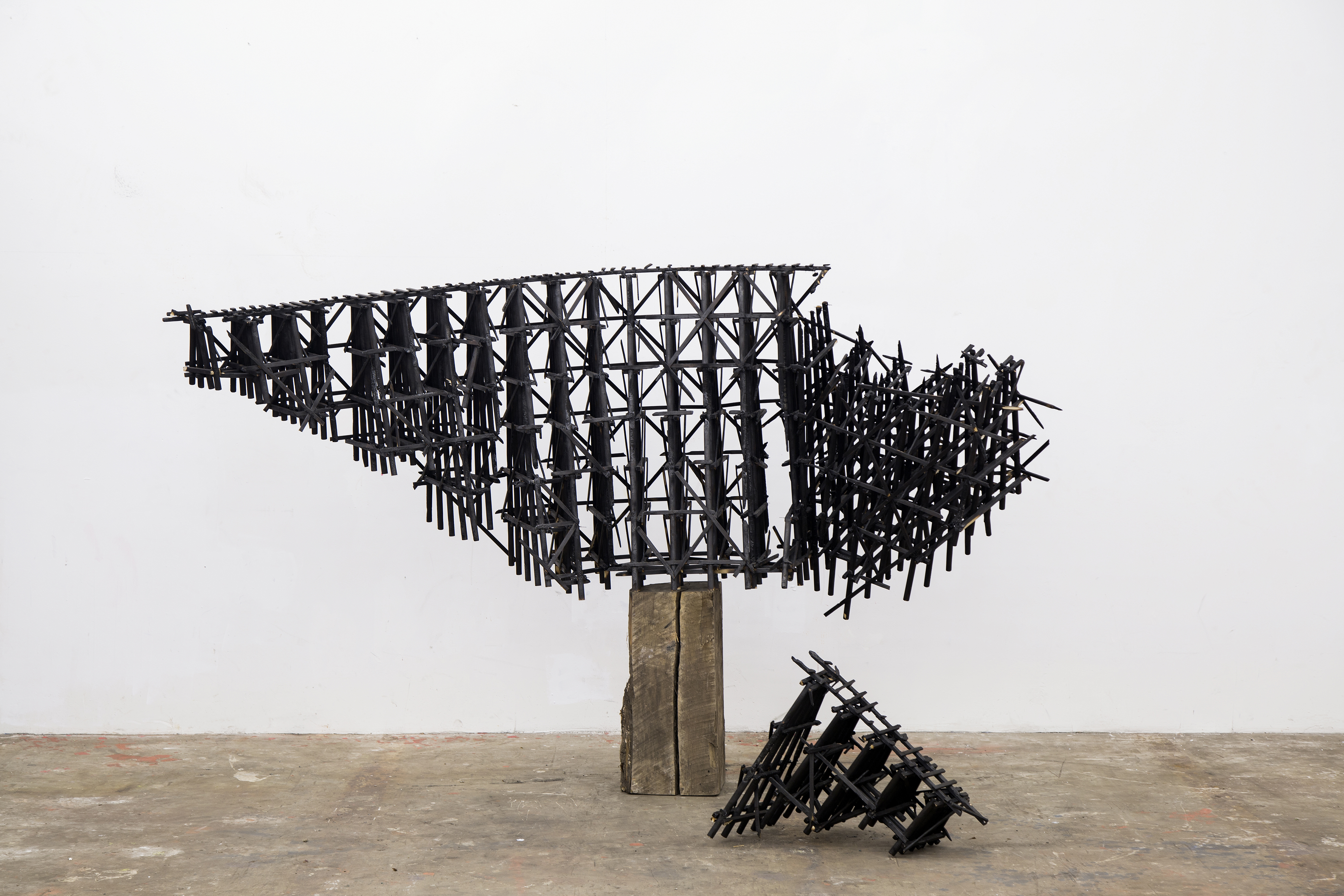 You've been literally burning bridges, what's the draw?
My studio is a lab of disobedience. It involves creation, obliteration and purification. There is the onslaught of time acting upon material. My fascination with pyrotechnics developed in the kitchen and what followed was the impulse to forsake a dog-eared idiom. Burning a bridge is a military strategy, but for me it's an aesthetic exercise born of compulsion and rampage. One should never burn bridges.
Can you explain the work you made for Elevation 1049 Biennial in Gstaad, Switzerland?
The invitation was a specific request for the burning of a bridge. I have been developing a series of burned bridge sculptures for years, although never in front of a live audience. At first, I thought why must I be the token witch? We humans have an adoration for fire, even in the midst of an Earth increasingly in flames. While there is still snow atop mountains in Gstaad, and flames there would not degrade the air quality, I designed a twenty-four-foot long rudimentary replica of the Queensboro Bridge. Along with a couple of local sweetheart carpenters, we built the structure cheaply and quickly at the foot of the mountain. The most epic detail for me was waiting, alongside an avalanche dog, for the sculpture to be helicoptered up to the snowy summit of Mount Eggli. It was my La Dolce Vita moment. The ceremonious burning of the sculpture to the ground was witnessed by a crowd the following evening. It was a disappearing act and the sacrifice was celebrated.
"At first, I thought why must I be the token witch?"
Fittingly, your work is sometimes exhibited outdoors. What are some recent projects that you have located in open landscapes?
I just completed a public work in Savenay, France, commemorating the mangled and mentally slaughtered [soldiers] of World War One. The U.S. Allies had a prominent position in Savenay and its community still reveres the historical alliance with America. The bestiality of trench warfare demanded a huge hospital for which fresh water was vital. Thus, a dam was essential. The American Corp of Civil Engineers wasted no time to obstruct the local river and create a lake, which today is the pride of the region. For my work, I set a formation of steel, sentry-like figures across from the quarry. In time, thorny rose vines will wrap around their concrete plinths. I approached the project in the way a war poem attempts to articulate the perverted exhilaration of obliteration, romantically, somehow. I also assisted in the dismantling of the last American-built barrack in the area, a crumbling structure that still had intact original windows and trusses that sailed the Atlantic a century ago. These remnants became part of an installation which further reflects upon the ghosts of war.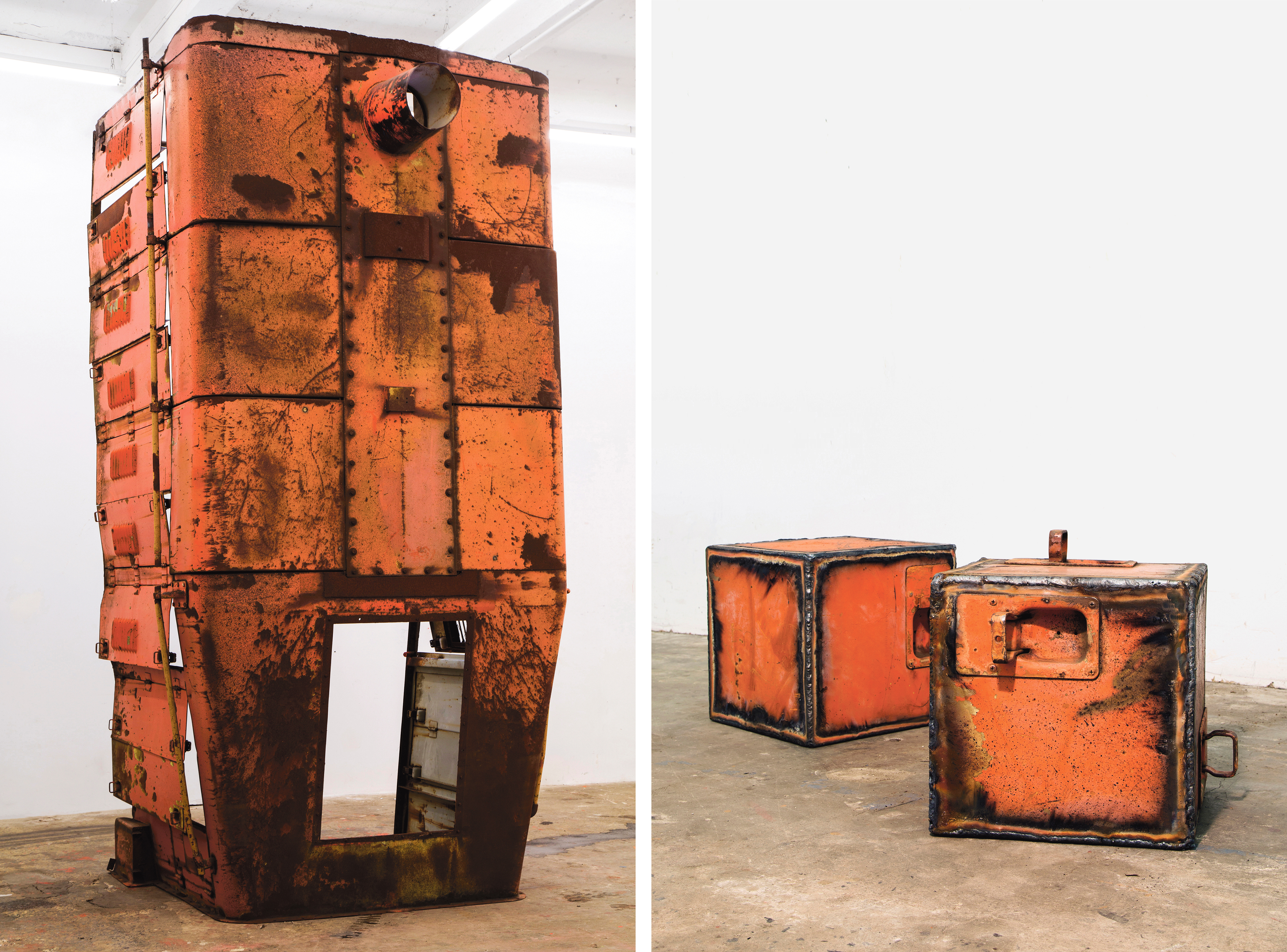 What are your thoughts on indoor versus outdoor exhibitions, exhibition spaces, and the contrasting energy?
I was recently offered the opportunity to place a permanent outdoor sculpture on a breathtaking desert-scape north of Joseph City, AZ. Upon arrival there were clear signals that the mission was misguided. There were no signs posted at the constructed arroyos warning to keep out due to danger of flash flooding. A simple bridge could span the trench to gain safe access to the boundless valley, but the local government clearly had no interest in solving infrastructure issues for a Native American community whose reservation is abutting. The ominous coal plant in Joe City, burning since the sixties, powering Phoenix, LA and beyond, still provides nothing for the local families on the reservation who remain without electricity today. Nor do they have running water. A local rancher's wife disparagingly warned that the artwork would be pilfered, used as building material to construct housing for the poor. Disheartening relations, and complicated territory, to say the least. I returned from Arizona and built a small-scale model with rocks and sand from that valley. It's possible that the end result is this study, of art intersecting with life, a cautionary lesson bringing some light to the conflict.