Clockwise from left: Soufiane Ababri, Bedwork (Maxime, Contapposto pose in New York), 2020, colored pencils on paper. Tiffany Alfonseca, Josephine&Davone, In Quarantine Series, 2020, graphite and charcoal on paper. Aya Brown, USPS Worker, COVID-19, 2020, Brown Kraft paper, color pencil. Sara Rabin, Honeyland, 2020, graphite on paper. Courtesy of the artists
Dispatches from Illustrators in Quarantine
Four artists reflect on what they've been drawing, and what life looks like right now.
Clockwise from left: Soufiane Ababri, Bedwork (Maxime, Contapposto pose in New York), 2020, colored pencils on paper. Tiffany Alfonseca, Josephine&Davone, In Quarantine Series, 2020, graphite and charcoal on paper. Aya Brown, USPS Worker, COVID-19, 2020, Brown Kraft paper, color pencil. Sara Rabin, Honeyland, 2020, graphite on paper. Courtesy of the artists
There was talk, at the beginning of all of this, of going back to basics.
As if, by nature of being confined to our domestic spaces, we had all suddenly been forced to pare down and live simply. Stock up on canned food. Learn to make bread. Spend time with loved ones. What has quarantine meant for artists? For some, it's meant readjusting to old mediums in new working spaces, reimagining recurring themes in a renewed context. Illustration feels like a remarkably apt art form for right now, relatively lo-fi in a way that offers a kind of boundless possibility. Unlike, say, painting or sculpting, one could hypothetically draw anywhere. Drawing is, in many ways, the backbone of art-making—an essential worker in its own realm.
Not to mention, art is being shared and consumed mainly on the internet nowadays, while artists are connecting with viewers and one another on social media. Using graphite, charcoal, colored pencils, pen and ink, iPads, and the World Wide Web, artists are approaching their works in new ways, whether illustration has always been their preferred medium or if quarantine has inspired them to get back into it:
Tiffany Alfonseca, a class of 2020 art school grad from the Bronx, is coping with the sudden loss of her painting-ready student studio space by drawing again, creating graphite-and-charcoal portraits of loved ones and strangers alike in quarantine. Soufiane Ababri, a Rabat-born artist living in Paris, has called for submissions of people in contrapposto poses from their quarantined spaces, a study on sexuality in private versus public space; whose ongoing Bedworks series—the artist does all of his drawing in bed—takes on new meaning in our housebound world. Aya Brown, an artist and event coordinator from Brooklyn who, after a hospital visit earlier this year, began drawing vivid, colored-pencil portraits to pay homage Black women and essential workers who are, pandemic or not, as essential as they've always been. Sara Rabin, an Ohio-born, New York-based artist whose irreverent drawings, inspired by the people she sees outside or characters in movies she's watched the night before, find buoyancy in the mundanity.
Below are dispatches from these four artists who have been illustrating during quarantine, collected from conversations over the last few weeks about their daily routines and what making art means to them right now.
Tiffany Alfonseca
May 13, 2020

I'm in the Bronx, New York. Last semester, [I was a] BFA student at the School of Visual Arts, so I had my own studio space, I had a lot of resources to create whatever I wanted to. When everything with COVID started to happen, the schools got closed and all the resources that I had, I didn't have them anymore.
I just graduated at the beginning of May actually, so this was my last semester. I'm so excited. But we're not going to have a graduation for a while, so that's the only downside. We all deserve a graduation, even if it's going to be later, and especially from SVA and schools like that that are so expensive. I don't want an online commencement. That's just not doing it for me.
When I started working from home, I felt super restricted in my living room because it's not that big of a space. And then again, it's your home; you don't want to mess it up. I was wondering how other people were feeling in the situation, so it made me reach out to some of my family members and friends to see what they are doing during the quarantine and if they could photograph it for me. I started posting [the drawings] on Instagram, and some of my Instagram followers wanted to be a part of it, so that's where that came from. And I pretty much just told them to set up a space at their home that they find themselves being in a lot during quarantine and put the self-timer or have someone take the photo for them. Some of them are close friends, some of them are family, and then there's some people that I don't know that I've never met, but they follow me on Instagram.
I tend to draw people of color, so I feel like that's why it's so relatable for some of my followers or the people that are viewing my work. All the drawings, they're not doing anything out of the ordinary. It's just very regular or intimate things you do at home, and I feel like anybody could relate to that.
I've definitely been in bed a lot. If I'm not painting, I'm in bed. I'm just really cautious about this whole situation. I don't want to go outside. Usually I'll [draw] in my living room, sometimes on paper, and I really like drawing on my iPad. So that's another thing, a part of my process for the In Quarantine series: I drew on paper first and then I scanned it and processed it on my iPad and made a few adjustments to give it that technology feel, because I feel like in quarantine, we've been stuck on social media. There's nothing really to do at home unless you live somewhere really nice and you can do whatever you want or you have your own land and stuff like that. I wanted to connect the two together as well, and that's where I incorporated the iPad.
[The In Quarantine series is] really a growing part for me in my career, because before this all happened, I would not, for the life of me, draw anything. I didn't like drawing anymore. I would just go into painting because I guess I got used to that, but I'm actually pretty happy that I have time now to go back into the drawing and I feel like it's going to help out my future paintings, because now I'm perfecting the skills to make it better.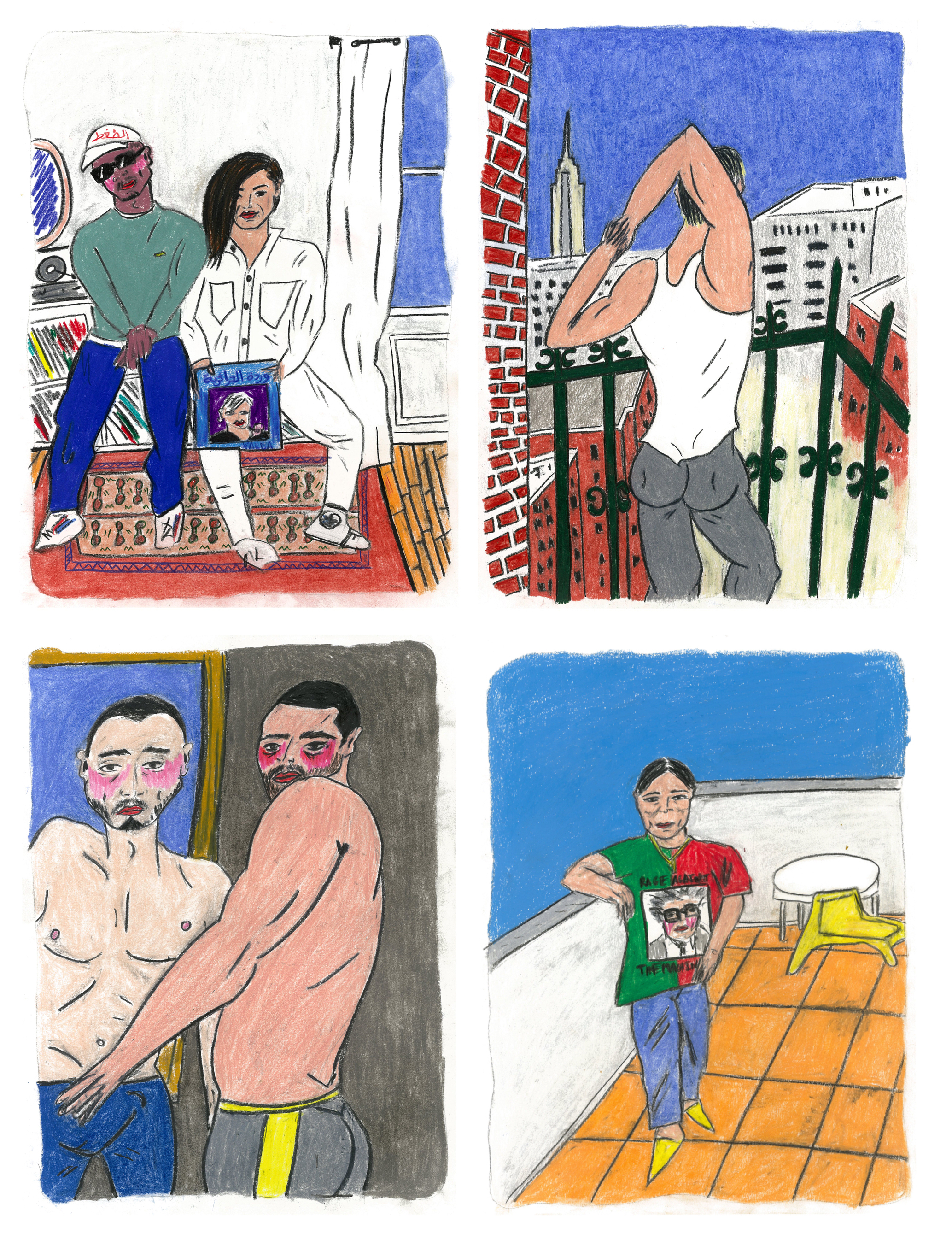 Soufiane Ababri
May 21, 2020
I have been in Paris since the very beginning of this pandemic. I stayed in Paris, I didn't want to go elsewhere. We went through very difficult times, isolated from everything, with a paranoia because we didn't know how to really protect ourselves. Now we can get out, life seems to be coming back little by little, but there is always the fear that it will come back… and of being isolated.

[Regarding the Contrapposto Quarantine series,] the contrapposto is a pose of the body, designed to animate the static sculpture and give the body a pleasant curve; it is a swaying, attitude of the human body where one of the two legs carries the weight of the body, the other being left free and slightly bent. This is something that has been asking me for a long time, since I saw Bruce Nauman's Walk with Contrapposto (1968). Looking at this video, I thought to myself, This would happen to a man who walks this way in public space, in a patriarchal and homophobic environment. I also remembered when I was young, my parents were trying to make me understand that my "contrapposto" and effeminate attitudes were bad and that it was necessary to change. I decided to take advantage of everyone being at home because of the pandemic to launch this call to my friends to pose for me in photos where they pose "contrapposto," then I drew them.
I always draw in bed, it's drawing with a performative dimension. [For] the person looking at the drawings in an exhibition, if they do not think about the production process and the reasons for having adopted this process, [they] have missed most of the work. Working in a bed in a reclining position is for me a way of creating a connection with these models [throughout art history] painted by white, Orientalist, colonialist artists; these female, Arab, or Black models were often stretched out in this lascivious and passive position, in an image of counterproductivity that we wanted to associate with the "Orient."
The idea with Bedworks is to make a break from the artist's professional work space. The whole idea of the heroic artist working in a technical world is something that I put away—I have an interest in domesticity, interiors, and everything that goes against the stereotype of manhood. I have the impression that what is changing now is that the majority of people are in this situation where the domestic space and the work space are confused, they discover and assume without being ashamed of staying lying longer than usual.
[Making art right now] is more than ever the possibility of rewriting yourself and resisting the systems of domination and the violence of history.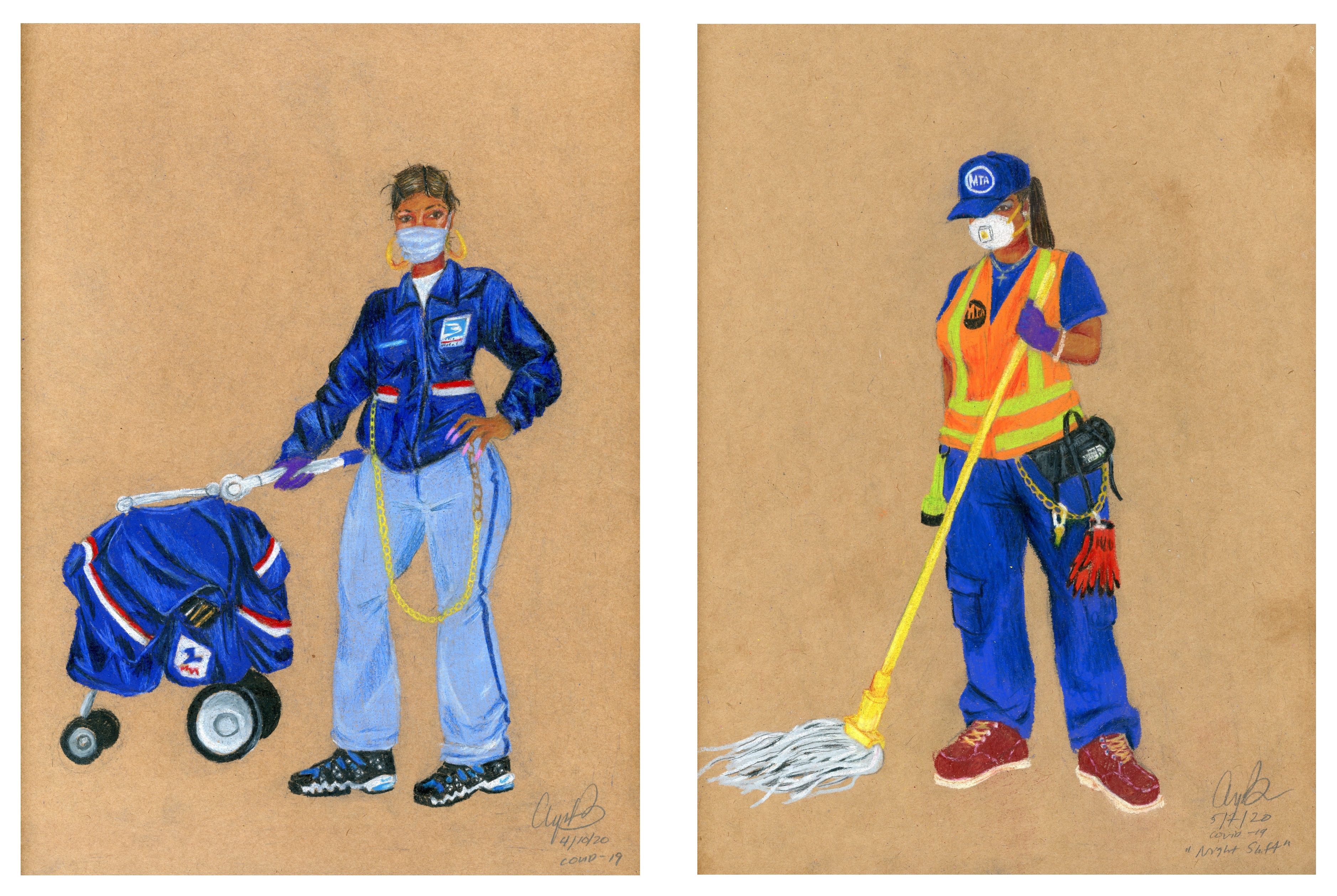 Aya Brown
May 22, 2020
[I'm from] Brooklyn, and currently live in Flatbush. Right now it's definitely weird because I used to work at an art gallery in Harlem, and I was furloughed. So that happened like, early March and it's really shifted for me, like my entire life/career completely changed. I'm way more focused on my work, and I guess defining myself as an artist now, putting that on a pedestal now because I really didn't have the chance to [before].

I get up in the morning and I work out, but then I get into the studio and [start answering] emails, because I have to check my actual personal emails now. And I have a lesbian group chat that I go to all the time and we always talk and catch up. We're all creatives, we all talk about what we've been working on. I go to them a lot. For example, with this [essential workers] series I've asked them, Who do they feel is essential? Some of them are essential workers themselves and [I] kind of go from there. Or I just look out my window even, because there's a lot of caretakers and healthcare workers in my neighborhood and I see them often going to work or [coming] home from work. That's kind of how my day starts in the studio.
I'm always observing women of color because they truly inspire me. They're the backbone of this country. I find myself doing that a lot in the world when I'm traveling, or when I'm on the train, when I'm at a store or a beauty supply store or whatever. I'm always looking or observing these women, admiring them and noticing that they are human, they have a life outside of just providing to the world. I'm more concerned as an artist about thinking about things that nobody's really thinking about, these Black women in our world who have these jobs and the world does not see them as essential.
[Drawing on] brown paper is super significant for me because one, generally the color to me looks way better on brown paper. And then also a deeper reason why I draw on brown paper is because the standard is to draw on white, right? You get printer paper, people who aren't even necessarily artists and you get documents, the fucking IRS is sending you shit in the mail and it's on white paper with black ink. I asked myself the question like, Okay, why is white the standard? I also don't want to draw Black bodies on white. I feel like the really exciting part of the Kraft paper is that because it's not necessarily archival, the paper color changes quicker. It tans almost, it gets darker, it gets lighter, it depends on the environment. And I love that, I love the fact that the paper changes. It reminds me of my skin and the bodies that I'm creating on the paper.
I have been able to sustain myself throughout this entire COVID, thank God, just by making work. I haven't even gotten a check from fucking unemployment yet. It's not easy. I'm not saying that I'm like, balling out the ass right now, but I'm able to at least pay the bills, and people have been super supportive. I just hope to be able to keep it up and keep bringing joy to people. I mean, that's honestly the root of all of it. Of course I need to make money to pay my bills, but it really feels good when people feel connected to the work.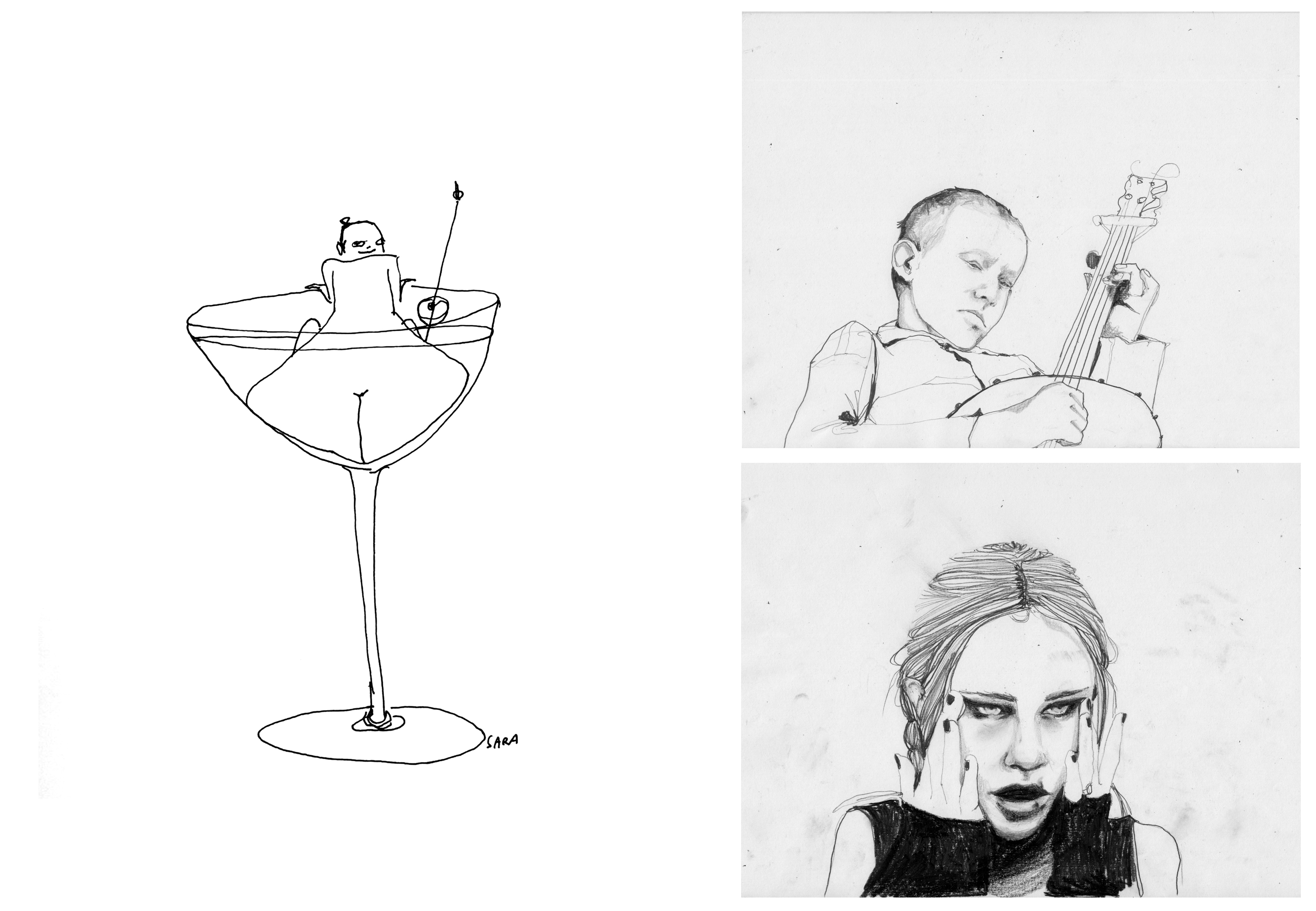 Sara Rabin
May 27, 2020
I am quarantining in Brooklyn. Today, life looks great. So far. It's only noon.

What I want to draw depends on my mood and if I have jobs. For the #lastnightsmovie series, I am drawn to powerful screen presences. I think of myself as just a "fangirl," and pay homage by drawing what I admire. I watch a lot of trash TV during the day (I leave the noise on while I work. S/O to BRAVO!) and to balance that out, I try to watch TCM or a Criterion film before bed. When a character doesn't leave me, I have to draw them. Anytime you see an ink-line drawing, it's normally because I thought of something funny and wanted to see it on paper. Like, if I had a giant sushi ass or a martini butt. I like making people (myself #1) laugh with my art. Can't be too serious all the time. I've also been spending a lot of time looking at the Vogue Archive and saving images into my inspiration bank. I have a background in fashion illustration.
My day-to-day changes, but I always try to work in a little "studio" time no matter what because it makes me feel whole. I have coffee, go for a run or bike ride and then sit and stare at the wall or my phone for a long time while I see what ideas rise to the surface. I do those things in no particular order. If I have a job, I try to get crackin' right away and save my personal projects for another day. I'm fully based out of my apartment right now (got rid of my studio last year) so that is where the magic happens. It's hard for me to sit and concentrate on sunny days so I have blackout curtains and pray for rain.
@traincreep is a personal project I've been doing for the past five years, primarily drawing people on the subways. Like many New Yorkers, I haven't used public transportation in over two months, so I haven't been able to keep this practice up. I also liked drawing people in restaurants, also a no-go. I have recently gone to the park where people do sit, except I can't see anyone's faces. Masks are not interesting. I am experimenting with body shape instead. When I can resume this practice, the people who stand out to me the most are the "unconventionals": a long nose, a wiry hairline, bug-eyes—I like weirdos and really like too-tight shoes for some reason... I have been able to live-draw a figure model who hosts Zoom posing sessions. It's been great, but not the same. I don't mind changing things up, but I do miss drawing people on trains or in restos. I look forward to that again.
This moment feels like sink-or-swim. I don't really have any responsibilities during this time except to myself. I could just sit and do nothing with this time (I got a Nintendo Switch before COVID hit LOL), or I can use it as a time to hit the ground running and focus on my practice. Before quarantining, I waitressed a few times a month and I waited for things to come my way. I relied on that job for some of my income. Now, I actively pursue ways to continue being creative/illustrating and tying that into a career. In the beginning of COVID, I was more depressed than usual and felt like doing nothing and if that happens again, that is okay. It's life.