Under Her Eye with Artist Polina Osipova
Meet the 21-year-old Instagram artist who's bejewelling Russian folklore for the 21st century.
Courtesy Polina Osipova
To go, for a moment, full galaxy brain, one could argue that watching while being watched is the definitive pastime of the 21st century. We scroll through the lives of others, while our fellow scrolling peers and myriad FBI agents (at the very, very least) do their thing. Artists have long flexed on our global state of ubiquitous observation, using CCTV footage and drones to make art — art that's often also informed by our unprecedented access to information and ability to distribute it via the exact same channels. And yet many creators, perhaps because of that constant tether to technology, are also turning towards the artisanal; since the Etsy era, handicrafts and decorative art have been having a moment online.
During that very practice of digital observation, perhaps by way of Instagram's explore feed, you may have come across @polinatammi, the Instagram account belonging to a 21-year old Saint Petersburg-based artist named Polina Osipova, who creates stunning jewelry and embroidery works linked by a few consistent, very being online in the 21st century visual threads: think tears and blood drops made of crystals, crowns adorned with eyes and security cameras made of pearls. Osipova models her own creations, posting selfies that lend something of a bedroom pop accessibility to her otherwise very high-key, intricate works. You can even take a selfie of your own wearing one of her security cam headpieces, thanks to an Instagram face filter she designed for Gucci (aptly titled "I See You") that dropped last week.
Osipova was born and raised in Cheboksary, the capital city of the Chuvashia region in western Russia. Growing up, she says, "the fusion of traditional Chuvash culture, Soviet past, and [the] turbulent history of Russia [in the] '90s has definitely left its mark on me." A deep scroll into her Instagram (as one does!) shows security cameras as an early visual reference point, and today, living in Saint Petersburg, the "former capital of [the] long-gone Russian Empire," she says, "among the ruins of past imperial grandeur and glory inspires me a lot these days."
Via email, and translated from Osipova's native Russian into English with the help of her friend, the artist tells GARAGE about finding inspiration in Slavic bridal rituals, childhood folklore, and, of course, surveillance.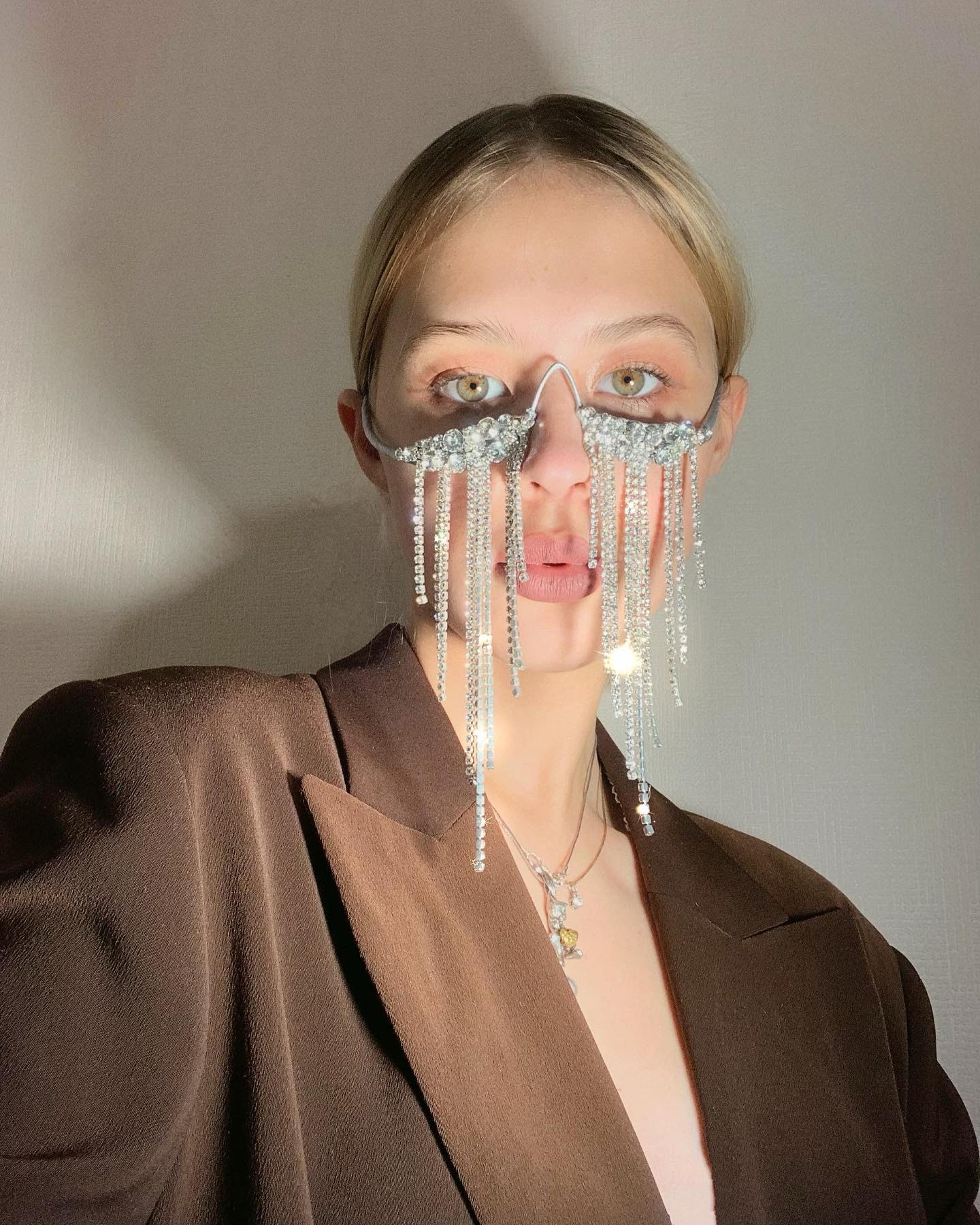 How did you start making art?
I got into embroidery about seven years ago, but it has been around me my whole life as a part of traditional Chuvash art. Growing up, I've been surrounded by women in my family [making embroidery] and I knew that one day I would be ready to get into it, too.
In 2015, while wandering around one of the vintage flea markets, I spotted a rosy silk kimono and something in me "clicked"—by the time I got home I already knew what [my own creation] would look like. It was something I'd never felt before. Working on that piece allowed me to leave all my problems behind and go completely numb to whatever was happening around me. Embroidery is a highly meditative process that empties you in a sense, giving you time and energy to reflect on your feelings and the world around you. This has helped me a lot to cope with hard times. I consider my [early] work to be a coming-of-age [process] in a certain way, as while working on it I've re-lived and mediated on the process of growing up and transitioning to an adult state of mind.
When did you start designing jewelry?
I studied jewelry in college after moving to Saint Petersburg. As long as I can remember, I've always had a passion for jewelry — from being a little girl going through mom's cabinets and trying on everything I was able to get my hands on.
What I find extremely important in jewelry as a form is its wearability—I want my works to not be a passive object, but rather something interactive, something you can touch, hold or put on. In a certain way, I feel that wearability allows you to gain a deeper understanding of an artwork and the idea behind it.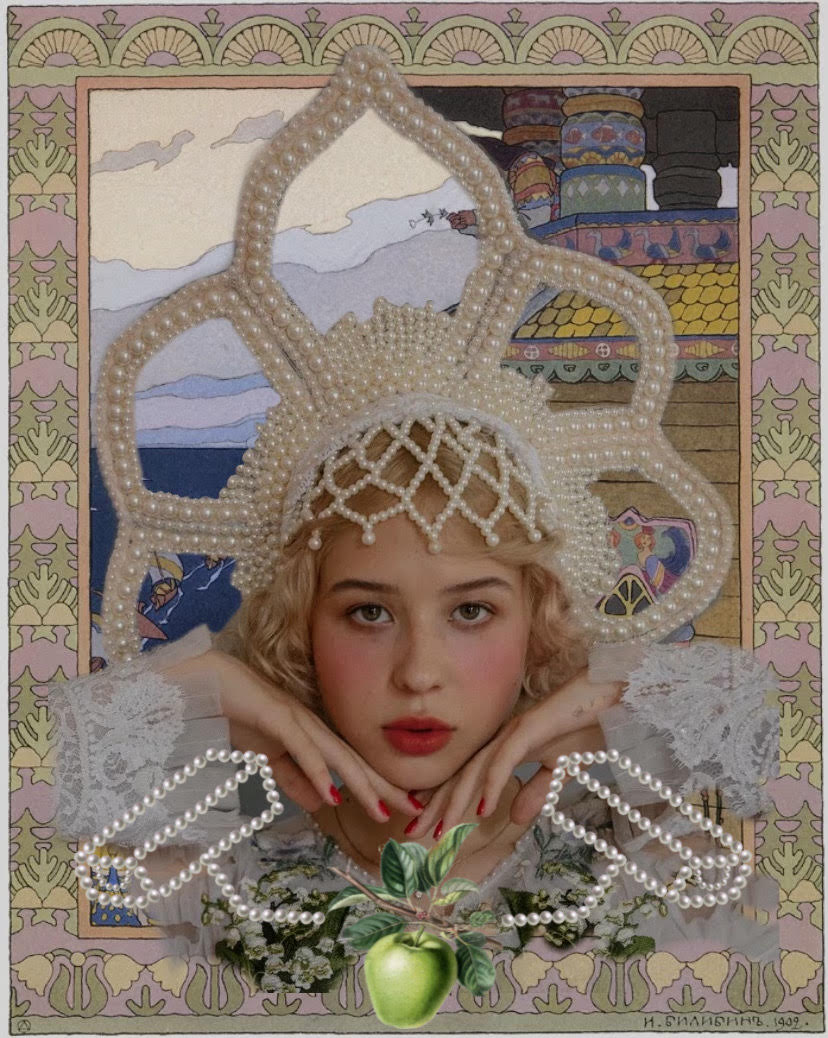 What meaning do the symbols you use often in your works—such as tears, blood, and kokoshniks, the traditional Russian headdress—hold for you?
Like many people, I've been raised on fairy tales, fables, and folk legends passed on from generation to generation. My mother, aunt, and grandmother used to read to me about different rituals traditional to Russian and Chuvash cultures. But, let's talk about tears! There is a tradition in Chuvashia (and as far as I know, in some other Slavic cultures)—"Вытие"–which can be roughly translated as "howling." It is a bridal ritual which involves the bride crying and singing a sad song about leaving her parents' home, her friends, family, and freedom behind to marry her husband, all while guests celebrate and have fun at the wedding. During this ritual, the bride walks around with a small bucket and guests are supposed to fill it with money—this is called "дань плача" or "the crying toll." The process can go on for hours and hours, making it extremely exhausting for the bride. This ritual imprinted [itself] into my imagination and later found its way out in a form of [my] "crystal tears" project. Besides this, I am a very emotional person who often finds relief in crying!
As for the kokoshnik—I've always been fascinated by elements of traditional national fashion—and the kokoshnik is one of my personal favorites. As a kid, I found joy looking at illustrations in books. One of my favorite illustrators, Ivan Bilibin, has created numerous artworks for Russian folk tales that amaze me with their level of attention to detail and artistic style. Many of these illustrations depict female protagonists wearing traditional costumes and I loved to imagine myself being around them, wearing traditional gowns that I've designed in my head, with sophisticated kokoshnik being a pinnacle of such a costume.
When I started to work on my own pieces, I just couldn't get rid of the idea of creating such an elegant and inspirational element as kokoshnik. Working on a kokoshnik design is, in a way, a tribute to the traditional culture that has made me who I am today.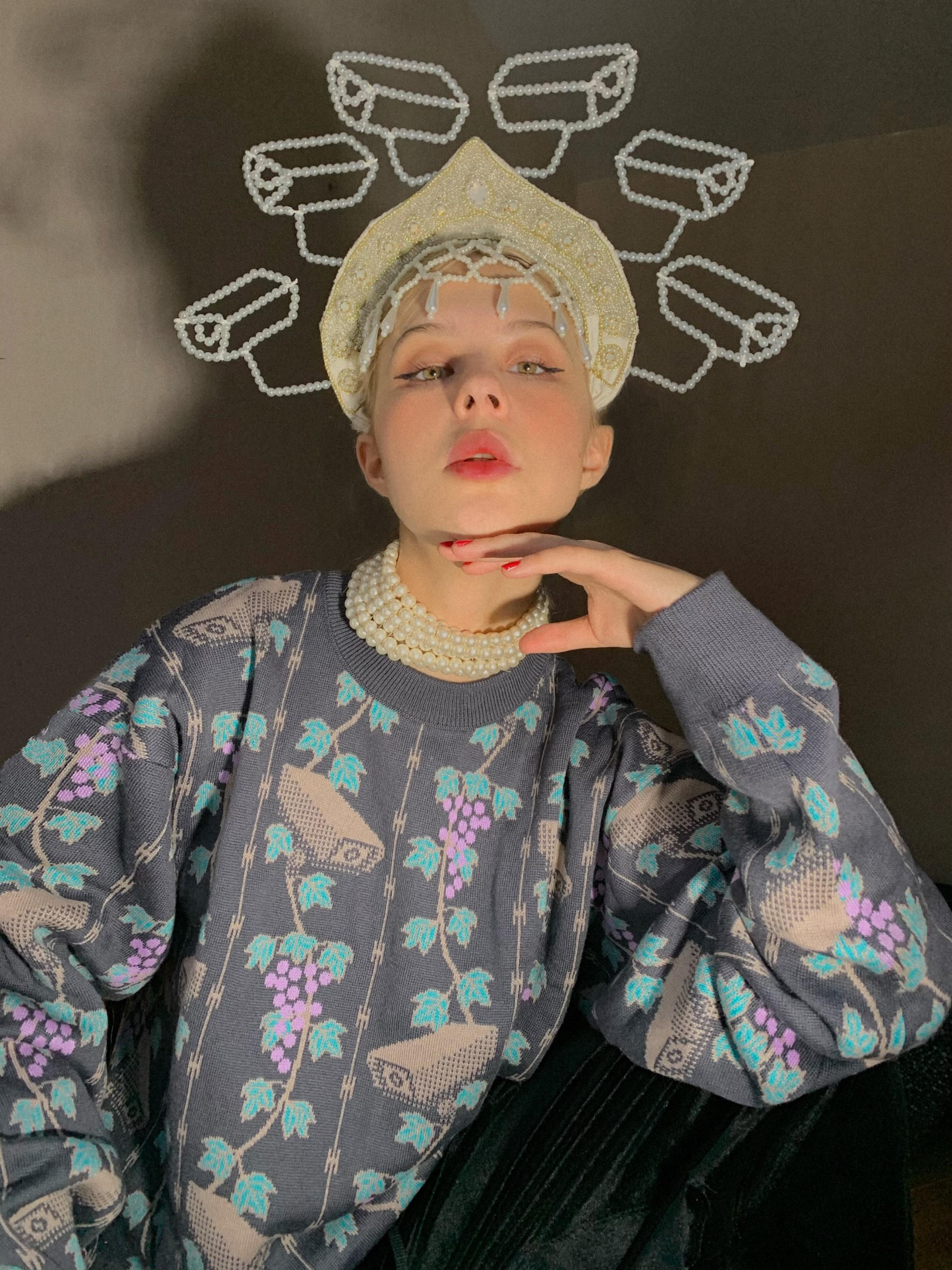 What inspired your security camera pieces? Why combine the thematic elements of kokoshniks with security cameras?
Despite traditional culture playing a major role in my works, I pay a lot of attention to the world around me and reflect on what I perceive. Security cameras are a symbol of a larger theme of personal privacy and global surveillance, something that I find increasingly more bothersome as more and more truth [comes out] about us being watched at all times.
In a Soviet cartoon [film from 1952 called] The Scarlet Flower, or Аленький цветочек, [which is] based on a traditional Russian fairy tale, there is a part where a female protagonist forced away from [her] home performs a magic ritual using an apple and a silver plate to see what is happening in different places: in the forest, in her hometown, back at her family's house. I imagined that if she [were alive] today in 2020, and was still a princess wearing a traditional dress, her kokoshnik would have surveillance cameras connected to it. This thought got stuck in my head and later found an exit in the form of security cameras kokoshnik I've created.
How do you find beauty in surveillance?
I wouldn't say I necessarily find surveillance beautiful—rather, I would argue that it is definitely something we as a society should reflect more upon and decide whether we might be taking it too far with the [number] of security cameras around us that record our actions on a daily basis. The kokoshniks I have created are, in part, an attempt to get people to think about their personal space and [the] privacy they are giving up. Even though my work might seem dreamy and elegant as conveyed by materials I've used, [such as] white pearls creating an illusion of purity and positivity, the underlying idea is that we are being watched.
Tagged: