The Perfect Post-Y2K Fashion of Meg Ryan in "In the Cut"
For a long time, Jane Campion's film was thought to have killed Meg Ryan's career. Perhaps it's time we revisit it—at the very least—for its fashion.
In September 2003, the sixth and final season of Sex and the City premiered on HBO. By that point, of course, the show had a well-tread but still compulsively shiny vernacular: Manhattan, Manolos, Baguette bags, blowjobs. Designer labels were meant to be worn on the outside, badges of both honor and cash flow. Carrie is about to buy Berger a Bordeaux Prada shirt with a fat book check, then meets "The Russian," Aleksandr Petrovsky. He successfully seduces our perpetually single girl not via the poet Joseph Brodsky (his world), but through hers, with a bubblegum-y silk faille Oscar de la Renta frock she read about in Vogue.
The next month, director Jane Campion released In the Cut, starring Meg Ryan as Frannie, a (familiarly) perpetually single girl living and working in post-9/11 Manhattan. This sex, and this city, hit on an alternate plane. It's the only movie I know where our heroine, dressed with commuter exhaustion and mobility-minded anonymity, purses her lips on the subway, reading along to Poetry in Motion. If erotic thrillers typically err to camp, Campion's stands apart. The opening action is almost comfortably banal: Frannie is an English teacher living downtown, hanging out with her sister and avoiding an ex-hookup. One day, she accidentally observes a young woman with long, blue fingernails going down on a tattooed man in the basement of a local bar. The next, she learns the woman's disarticulated limb has been found in the garden of her apartment building.

This, of course, is just the first murder to come. Frannie's New York has a scrim of sallowness, sweat lines radiating off of every body in motion. There's garbage bags edging over the curb. Graffiti. Someone is always schlepping a bag. Ryan appears, crucially, without her piece-y, chunky highlighted romcom blonde haircut, with brown contacts neutralizing her blue eyes. She is not curled, adorably, in a Nora Ephron-sanctioned knit. She is clearly not "Meg Ryan," a fact reviewers of the film seemed to hate, and which many contend affected her career (along with the nudity). Yet, her signature pert nose continues to be signature and pert. She is beautiful, waifish, but with an unmistakably Nicole Kidman cut and color on her head. (Campion wrote the role with Kidman in mind. The pair developed the movie together with Kidman attached to star, yet in the midst of her divorce from Tom Cruise, she dropped out and stayed on as producer).

Her clothing is at the satisfying nexus of early-aughts minimalism and preoccupied dressed down carelessness—the unstudied polished dowdiness of the era's Prada separates, somewhere further down the mass market stream, but definitely not the Gap. Button down shirts, knee length skirts, tiny oval glasses, brown leather slide sandals thwacking away on the pavement. She teaches her students Virginia Woolf in a sleeveless army green jersey shift dress, belted low on the hip, raising a bottle of Poland Spring to her unlipstick-ed lips. Like another woman alone against the city, hedging a mounting level of dread, and soon to be involved with a male detective—Jane Fonda in Klute (1971)—she hides behind a heavy mousey brown bang, cocooning herself in a trenchcoat. Hers is detailed with a tiny topstitch, a recurring protective layer.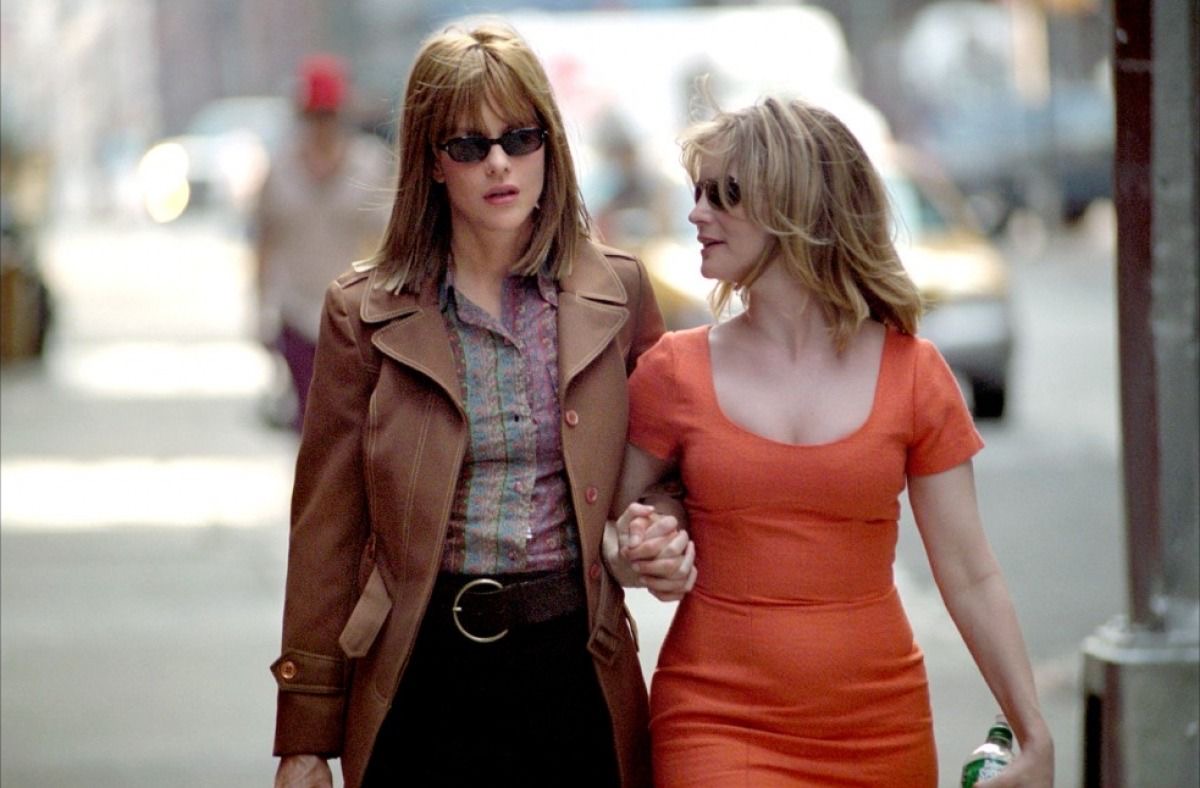 Frannie is the opposite of her sister Pauline (Jennifer Jason Leigh), who is clearly the free spirit. She wears a crisp tailored cotton dress with a low-cut scoop neck, clinging tight over the hips, in hot poppy red. She's dating a married doctor. She flirts. After Frannie tells Pauline that she's been asked for a drink by Malloy (Mark Ruffalo), the homicide detective canvassing her building, Pauline responds, "Do you want to borrow some decent clothing?" What that means: a Miu Miu-aping delicate white dress covered in sprays of red flowers, meant to be worn without a bra, the hem flaring around her thighs and striped straps slipping off her narrow shoulders. High heels, also red, and square like the new millennium. The drinks are underwhelming (his partner crashes), and Frannie slips out, before being attacked by a mugger on West Broadway. She calls Malloy. Then they fuck.

The costume designer, Beatrix Aruna Pasztor, who also did the wardrobe for movies like Drugstore Cowboy, My Own Private Idaho, and To Die For, possesses the skill of so-precisely representing someone in their exact psychic key, no matter how archly self-contained or unwound. After a string of more murders (and most devastating, Pauline's), Frannie has a working theory of who the killer may be—and her main suspect is Malloy. She's spent the film shrugging layers on and off, turned inward, but there's a transference after Pauline's death. She knows it's time for action. In the highest heels we've seen her wear—spindly slingbacks, in Pauline's preferred shade: red—she chooses a dress of her sister's, a swishy silky halter, the ties swinging between her shoulder blades. It's in a disrupted paisley print that would be at home on an Atlantic City casino floor, or in a banquette at a mid-tier nightclub. Marquee? Frannie hasn't been there. But she knows what to do next.
Tagged: