Wounded Bird, 2020, Epoxy clay and steel. Photo by Matthew Placek. Courtesy of the artist and Nina Johnson
Ryan Johnson's Endless Silhouettes
The artist speaks about the influences and unlikely musical inspirations behind his latest body of work.
Wounded Bird, 2020, Epoxy clay and steel. Photo by Matthew Placek. Courtesy of the artist and Nina Johnson
Ryan Johnson: Dear Shadow, at Nina Johnson in Miami, exhibits sculptures of striking silhouettes made from black epoxy clay in an interplay of light and shadow. Solemn and inward facing, the sculptures align with our moment in culture, possibly not on purpose, but fitting all the same. Together, the five works create a mobile group and culminate in an experience beyond their individual parts. No matter from which angle the viewer approaches the works, one exists in their peripheral view, catching them from a sideward glance, just passing by. As the viewer moves around the work, the light changes and one can see information that may or may not be there. A couple of weeks ago, the gallery arranged a conversation between Ryan Johnson and the writer Jarrett Earnest. The artist mentioned things that I jotted down: "A sculpture is born by being paid attention to." From his studio in Brooklyn, New York, Johnson mused, "sculpture is an infinite set of silhouettes that one is trying to control or have unfold in time … the sheen on the black clay … dream objects where not enough information is given to the viewer in some moments … Brancusi learned how to catch and reflect light, and to shift between matte and reflective forms … you can use light to reinforce your form."
Fundamental sculptural interests of space and light are an active part of Johnson's work. The polished sheen of the surfaces accentuates their curves and illustrates one of the key functions of sculpture: to catch and reflect light. As he pares down the elements, Johnson eliminates distraction and focuses on aspects that excite him. He begins his structures in various ways–at times through a cardboard cut-out held before a light source, casting a shadow, turning the silhouette to arrive at a desired shape, then using clay to build the shadow's shape into three-dimensions. Shadows create abstract indices of the object, while remaining loyal to feeling and origin. Constantin Brancusi resonates as an apt reference. It is clear that Johnson loves and understands sculpture. Alchemic moments in this show reference the predecessors that he has learned from–Oceanic and Egyptian, Greek to modern–communing with thousands of years of history that filter into the work. In a studio visit in 2018, I noticed a bunch of historic sculptural images pasted to the wall for influence. They brought to mind Asger Jorn's saying: painting is painting's favorite food—the same being true of sculpture. Ryan discussed his exhibition with GARAGE.
In your show at Nina Johnson, you are exhibiting five sculptures. Did you prepare them this year?
Yes, they are all from this year. Two sculptures were started pre-Covid, but they pretty much all came into being since the pandemic reached New York in March.
You begin sculptures with a sketch cut from cardboard, held before a light source, casting a shadow, and use this shadow to create your sculptural form. Do you keep these cardboard maquettes?
The shadows are a way to begin a form, but not all of the sculptures start that way. Most sculptors I know start with some kind of profile in mind. I see sculpture as an infinite set of profiles. The cardboard shadow technique is just a way to exaggerate that starting silhouette and hopefully get to something unexpected. I do keep the maquettes, but I don't think about them as art. They are just a means to an end.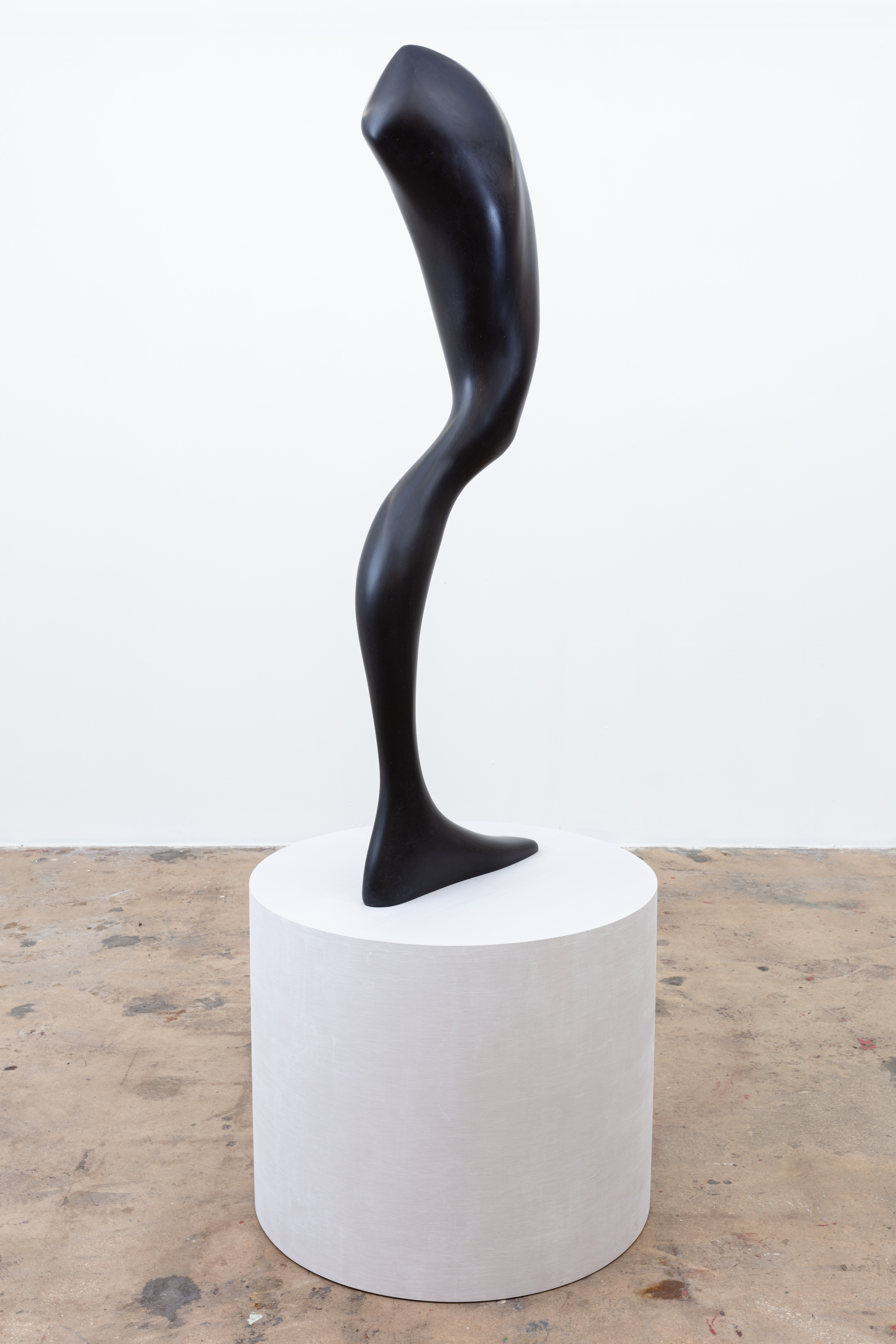 What artists and musicians were inspiring you while making this series?Most of my art books have been in storage since March, and I have been working in a temporary studio in Red Hook, so in a way it felt like this show was made in a bit of a vacuum. The one book I felt compelled to dig out and bring to the studio recently was a monograph on Maria Martins, the incredible Brazilian sculptor. Also, I find myself scanning through Noguchi's online Catalogue Raisonné a lot which I find endlessly inspiring. In terms of music, my friend Josh, who helped me mix the epoxy clay for this work, got me into Arthur Russell. We listened to him in the studio pretty regularly. Now, when I start singing his song "Eli" at home, all three of my children join in, which is the best.
The epoxy clay works well with light and shadow.
The black epoxy clay that I use is extremely dense and heavy, and basically turns into stone when it sets. I feel like this group of sculptures was primarily led by the material. There is a weight or heaviness to the works, but once polished, the form also feels light and weightless somehow. The surfaces have a playful relationship with light which I love.
With the smooth turning surfaces of your forms, you seem both a sculptor of light and form.
A few years ago, I got really into Brancusi, and it dawned on me that one of the primary functions of sculpture is to catch and reflect light. After making matte sculptures for over a decade, I had a strong desire for a polished satin surface that would emphasize the forms through reflected light.
Can you tell me about Left Leg (after A.G.), 2020? It is an exceptional form.
Thanks so much! The leg was a very satisfying and a relatively quick piece to make. I have made a few sculptures of legs over the years, but this one is the most elemental, and it is a direct response to seeing Alberto Giacometti's The Leg a few years ago at the Guggenheim. It is such a lighting bolt of a piece, and it really stuck with me.
Is a frog on top of the human head in Another Thought, 2020?
It is a frog on the head. I always knew I wanted to use the head as a pedestal for something to sit or stand on, but it took a while to think of the frog. I like how compact of a form it is, combined with the feeling that it could leap off the head at any second. There are several ancient sculptures of frogs from Egypt and Mesopotamia that came to mind when I thought of the frog and I also liked the symbolism. Apparently, frogs have long been seen as signifiers of fertility and change, like the changing seasons with the coming floods.
What was your process to make Tangled Figure, 2020?
This piece went through the most transformation out of any in this show. It began very skeletal, almost like a dried-up insect or a figure that could have been in the New Images of Man show at MOMA back in the day, and then the sculpture slowly gained more and more volume over time. She has three legs and mountains of hair and ended up turning into an entire landscape which I was not anticipating.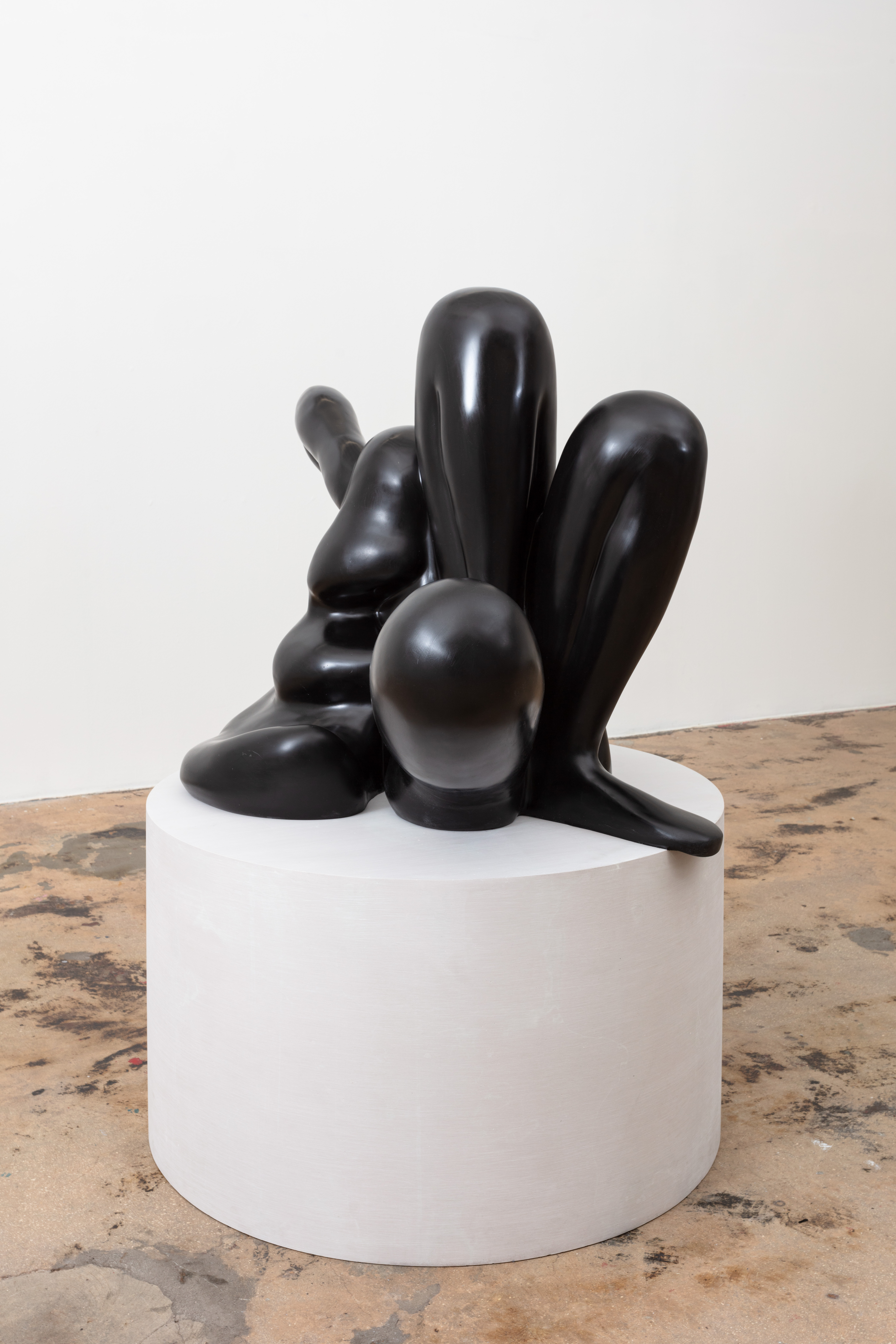 Did you look at sculpture as a kid, and what was your experience of art during school?
I was born in Karachi, Pakistan but moved to Jakarta, Indonesia when I was 6, and my parents were international schoolteachers. Art in Indonesia is all around you, from the furniture and architectural wood carvings to Batik garments and the Wayang Kulit shadow puppets. Oceanic art in general is some of my favorite art. Later on, a lot of my time at art school was spent at the Pratt library in New York. I love art books. Looking and learning about new artists is still one of my favorite things to do.
Tagged: