Photograph by Pierre Suu for Getty Images.
Pigalle Paris: The Parisian Label That Wrestles with Race, Class, and Gentrification
Pigalle Paris, a brand beloved by everyone from Rihanna to Chanel's president of fashion, addresses the racial and social frictions in the capital.
Photograph by Pierre Suu for Getty Images.
It's last Sunday night, and the Pigalle Paris menswear show is taking place at the National Conservatory of Paris for Music and Dance. Located in the far-flung northeastern corner of the capital, bourgeois Parisians seldom come here, doing so mostly either for the conservatory or the recently moved Paris Philharmonic. Hipsters come for the nearby Buttes-Chaumont Park or the art at Cent Quatre. And, pressed up against the banlieues (the city's less desirable suburbs), the area is an entry point for immigrants from North Africa, who often live in those poorer areas that surround the capital.

Pigalle Paris, the brand founded in 2008 by Stéphane Ashpool, takes from all of these worlds. Pigalle, a northern Parisian neighborhood once synonymous with sex and seediness, is now assuredly bourgeois-bohemian, or hipster. The strip clubs have become cocktail bars; the brothels have become five-star hotels.
Ashpool was born and raised in 1980s Pigalle, and he saw firsthand the porno theaters, sex shops, and massage parlors that defined the area until just a few years ago. While the neighborhood was once dotted with fully nude strip clubs and covert brothels, Ashpool references the 1980s and 90s iterations of the neighborhood and situates them in a modern context, employing, for instance, the red velvet of Pigalle's exotic dancing clubs for his jackets and the latex of sex shops for his bow ties. The result is provocative luxury, at once upscale in quality and creativity while still sordid. "It's all about using traditional clothing codes and making them fit my neighborhood's taste," he told Sleek magazine.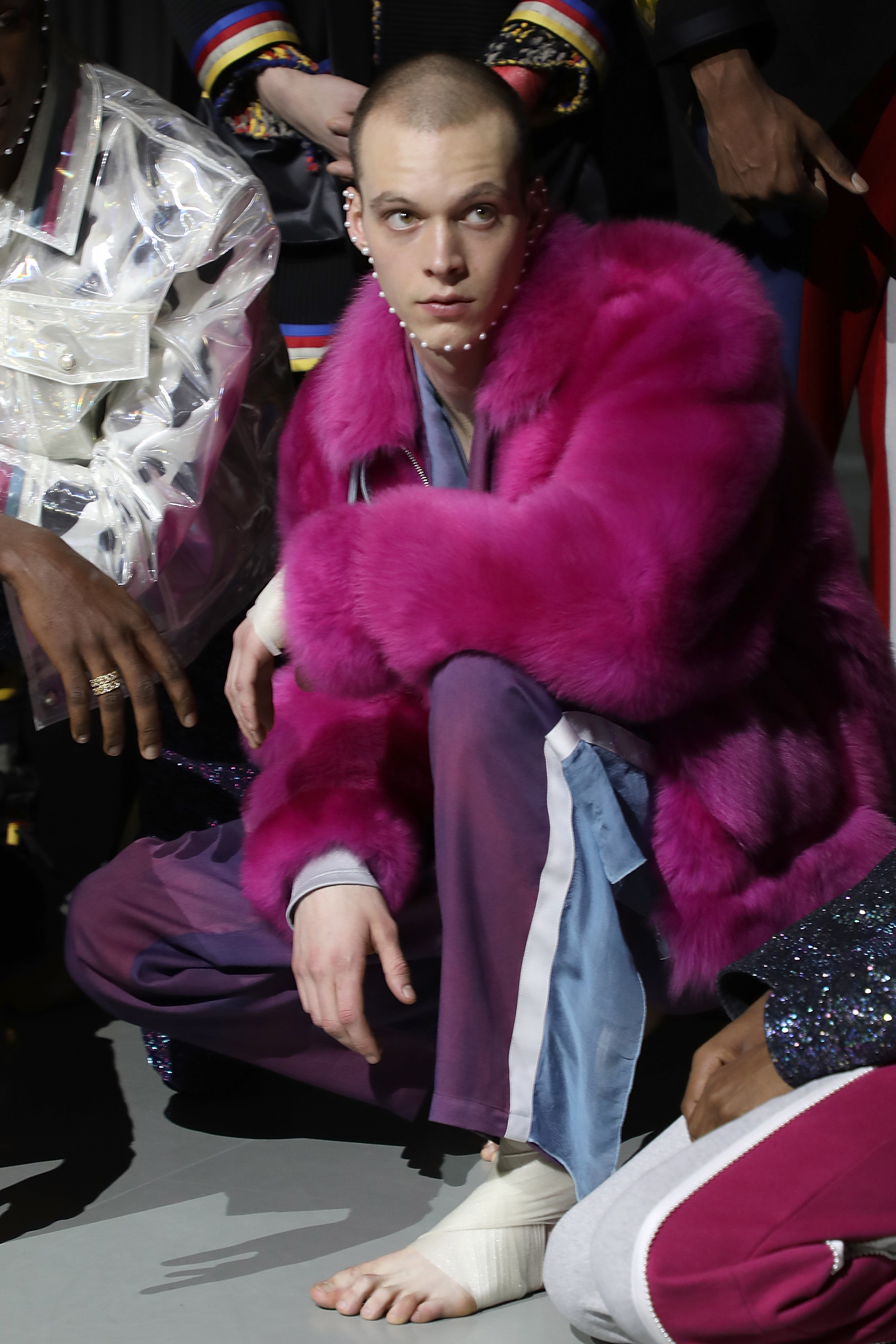 The choice to have his latest show at a dance conservatory was particularly personal. Ashpool's mother, a Serbian named Doushka, was a ballerina, who once worked at the Moulin Rouge and taught fashion models how to walk. Now in her mid-seventies, she works at her son's flagship shop, which, situated on the rue Henry Monnier, faces the basketball courts where Ashpool played as a teenager. Although it might just seem like it was chosen for its novelty, Ashpool's other decision—to hold the show in the rather remote nineteenth arrondissement, which takes nearly forty-five minutes to get to by métro from the city's center—suggests his investment in fostering a dialogue around the racial divides in France, especially in Paris, where white people tend to live in the center of the city, pushing immigrant populations—who are often non-white—to live on the outskirts.
"In a nation—and a continent—riven by otherness and suspicion," Ashpool told Vogue, "Pigalle translates conscious aestheticism and tolerantly expressive masculinity."
He calls the spirit of his brand "mixity," and he has tapped into both a sense of bohemianism and basketball culture to gain the support of Nike and global celebrities like Rihanna and A$AP Rocky, while also attracting the praise of the established fashion elite, including Bruno Pavlovsky, Chanel's president of fashion, who has been mentoring the thirty-five-year-old designer. The result is a mass of super-fans who run across the fashion spectrum, from streetwear fanatics to high-fashion devotees.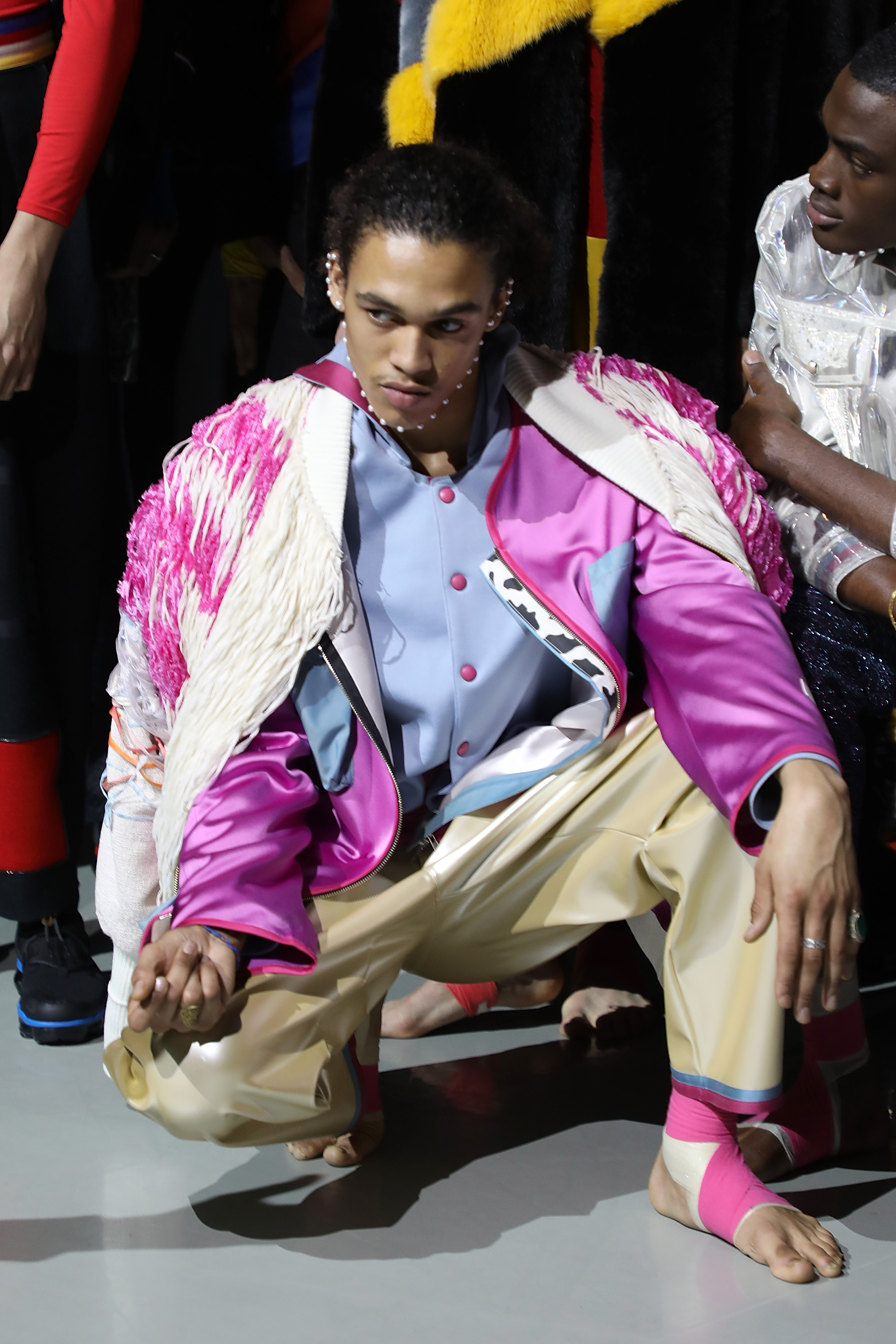 After pushing through a self-consciously cool crowd waiting in the rain outside—purple tracksuits, silver high heels, chunky glasses, DHL hats—I see a young man in front of me, wearing the brand's signature sweatshirt with the word "PIGALLE" on a solid-colored background and bordered by a white rectangle, grabbed hard by security. He has a gun tucked into the waistband of his trousers. He laughs. He looks no older than eighteen. The security guards inspect it at a glance—it's fake: silver, with an orange tip. He continues through.
Inside the elegant, wood-floored conservatory, it's an utter mess. The show is already running nearly an hour late. A man in a red Adidas zip-up flashes his press card and complains. "I've got to get to Kenzo at eight," he says in a working-class British accent. An assistant, flustered by the mass of people pushing to get up the narrow ramp that will lead to the show, volleys back in French, "Well then, you'd better get to Kenzo." Groups of people, mostly press and VIPs, try to push their way through. At one point, feeling overrun, a security guard pushes a man so hard he falls on his back. Somehow, no one is deterred; the madness continues. The show feels like an exclusive nightclub, which has the perverse effect of making people want to get in all the more.

Once the show begins, the experimental clothing is intriguing if not a slight letdown considering the lunacy outside. With appropriate charm, ballet dancers model the clothes. The jazz pianist Gael Rakotondrabe provides the musical score, including a piano rendition of Michael Jackson's "Bad."

The show jumps through three periods of Ashpool's formative years in Pigalle. In the first, his childhood and loss of innocence is represented by an erotic, blood-red coat that's tailored and lacquered with stiff sleeves. Then a blouson with a haphazard swatch of dark satin on the back, paired with clean trousers and a white-and-black overcoat to create a portrait of late-twentieth-century Pigalle trashiness combined with the clean tailoring and colors of the neighborhood today. In the second act—Ashpool's teenage years—there are the sporty separates of his basketball-playing days. Pastels and cow-print trousers. The look of orthodontic braces cleverly conjured by pearls studded along a model's chin. And, in the third and final act—Ashpool's entry into adulthood—the models have glittery hair but simple uniforms of primary colors: the sartorial translation of a brothel being turned into a pricey cocktail joint, messiness becomes solidness.

As with any gentrified place or product, the secretiveness of the brand—and thus much of its cache—has waned as it has evolved. Naturally, it's hard to stay cool and relevant to a niche street culture when so many outside that culture have come to embrace it. ("There are a growing number of boutiques in the Pigalle area—the ultimate cool souvenir is a 'Pigalle' hoodie," reads a tip from last year's Lonely Planet Paris guidebook.) The branded sweatshirts, for which the label is best known, retail for around $300, although they're often sold for as little as $50, making them pieces that even tourists who hadn't before heard of the label might decide to buy.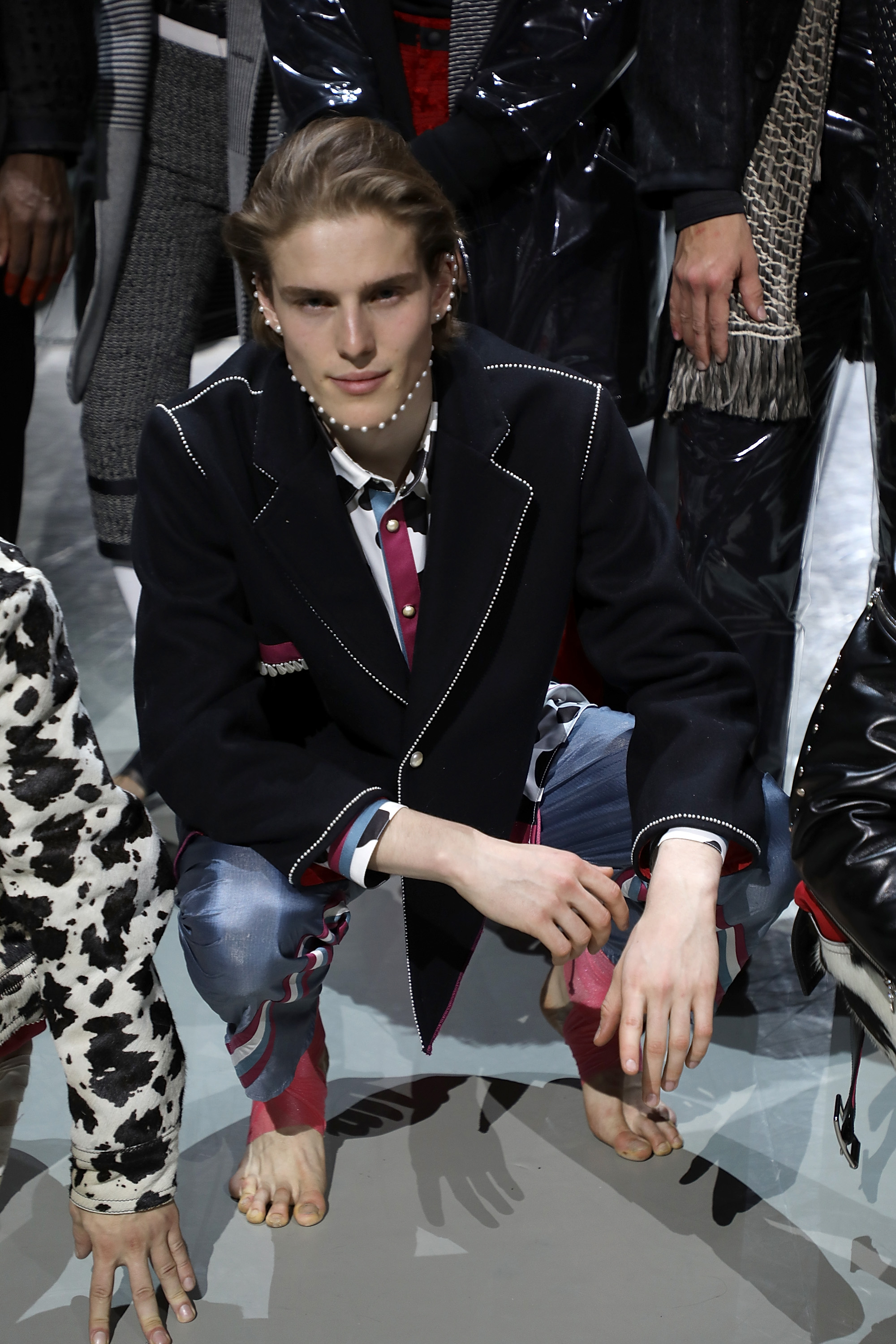 Ashpool created the brand to reflect his childhood in Pigalle during a time in which the neighborhood was still considered unseemly and dangerous. But, by no fault of his own, it has since wildly transformed, and, in many ways, greatly improved. I've no doubt that Ashpool really is trying to channel its energies, and he has the authenticity to do so; but between the hype of streetwear and the area's gentrification, the line's narrative has jumped out of his hands. As soon as he decided to put the word "PIGALLE" on a sweatshirt, surround it in a white border and sell it for a profit, the words came to reflect not the place of his youth but the place as it is now.

Ashpool's latest fashion collection, with its elegant ballerinas and the manufactured madness of a nightclub, proves that this change is something he has decided to embrace. It's how fashion, like a neighborhood, necessarily evolves. And, to his great credit, Ashpool has been able to continue to channel Pigalle's energies, even as they've shifted significantly. While the neighborhood has undergone a total change since his youth, his sartorial creations maintain the spirit of the past.