Eric Fischl, Worry, 2017. © Eric Fischl. Courtesy of the artist and Skarstedt



Eric Fischl's New Paintings Skewer Trump-Era Privilege
The artist pulls no punches in depicting 45 as a red-nosed clown.
Eric Fischl, Worry, 2017. © Eric Fischl. Courtesy of the artist and Skarstedt
In Eric Fischl's painting Late America, a boy wrapped in a stars-and-stripes towel stands over a man who could be his father—or Donald Trump. The doughy-looking figure lies naked and curled up in the fetal position on the concrete by a pool, two gardeners hovering in the background. "What's happening?" the boy seems to be asking, understandably perturbed. The man can't offer an answer, or even reassurance.

This unsettling canvas, shown last year with five others in Late America at Skarstedt in New York, began a dialogue that continues in Presence of an Absence, Fischl's new exhibition at the gallery's London branch. "I wasn't thinking of continuing Late America," Fischl told GARAGE, "but we were in the throes of what seemed like an American crisis, and I'm looking at that from a very specific vantage point, which is white privilege and the decline of a privileged or aspirational class."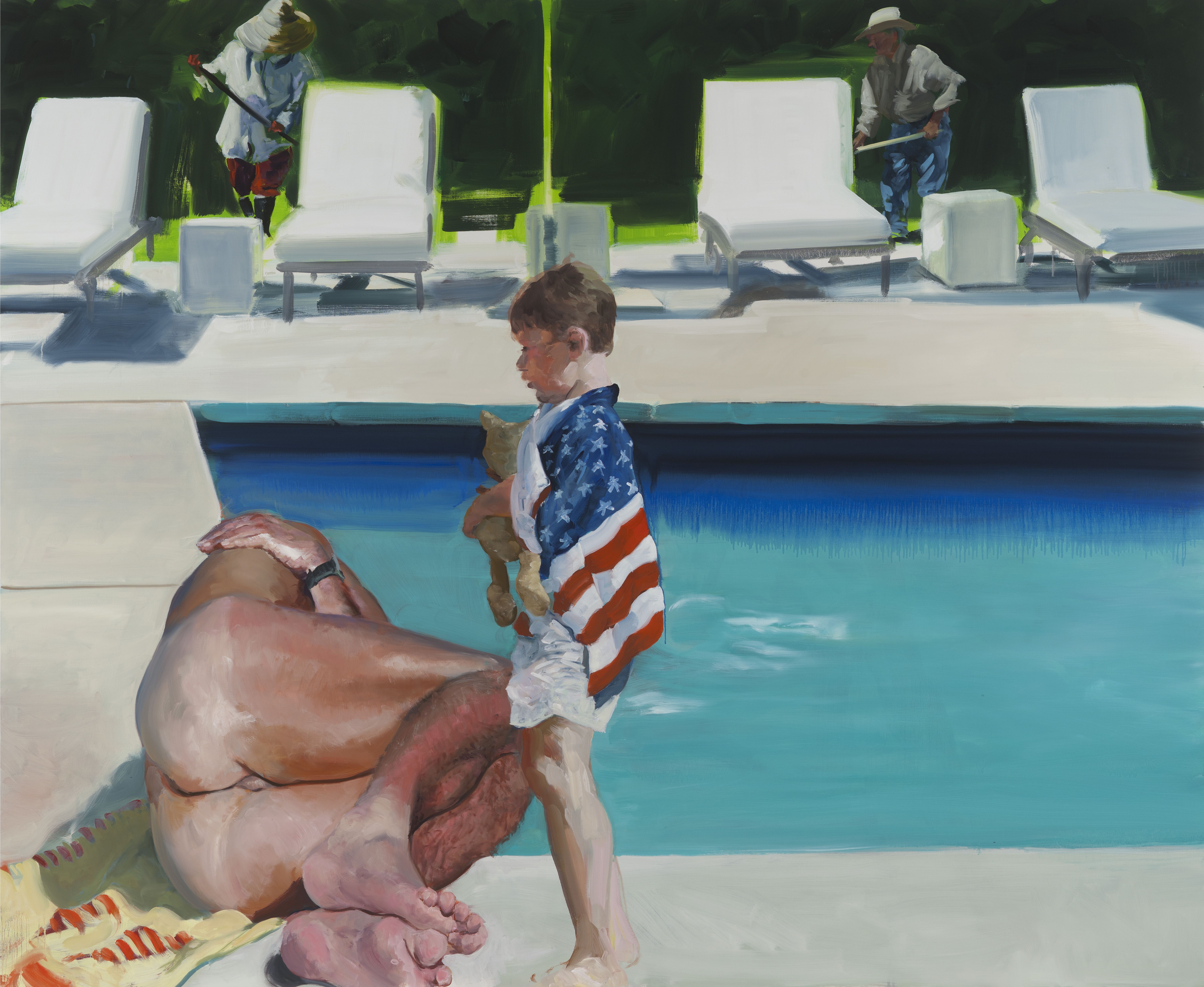 From one show to the next, Fischl has staged a drama with a cast of characters that moves from a backyard pool into the bedrooms and foyer of a sprawling house. Although there is no linear narrative here, characters do reappear, advancing themes of security, wealth, and power—and the absence thereof. In Daddy's Gone, Girl, shown last year, and a work that references the artist's 1984 painting Daddy's Girl, a woman in a black gossamer gown sits on the steps of the same pool, her dress part-submerged in the chlorinated water. The outfit is incongruous, and her expression is despairing; has she come from her father's funeral?
The same woman, who Fischl explained was based on photos he took of Brooke Shields, appears in two paintings in the current show, The Appearance and Last Look Mirror. In the former, she sits in a bedroom, still in the same gown, and looks toward a man who might be the ghost of her father, or her husband reading divorce papers. "She seems out of place and that's a representation of a life lived with expectations that have material manifestations as reward," Fischl said. "Yet surrounded by these things, she's still unfulfilled." For this woman, there is a literal absence at the center of bourgeois material presence. Per Fischl, parts of the show are also ironic, "because in America, we've come to the end of white male power as we've known it and we're trying to assert a new kind of power structure that's more inclusive, yet [many of these paintings] seem to focus on an absence that's in the female's presence."
Fischl's recent paintings also confront America's political climate directly. Just as the boy in Late America looks toward a cowering male figure, the young girl in Worry (2017) confronts an uncertain-looking man. Wearing a colorful skirt, she faces the heavy, black-clad guy ("Everyone assumes he's Harvey Weinstein," Fischl added), and both gaze toward an ominous dark dress hanging on a bedroom door.
In the same painting, a poster of Trump with a red clown nose hangs on the wall above two sinister stuffed animals, one a bunny with an X for a mouth. A second poster depicts another man; Fischl claims he's no one in particular, but his square jaw and coiffured hair hint inescapably at Kim Jong-un. Throughout the duration of the show, Fischl is giving away copies of the Trump poster, but was quick to note that they "are not art," that they're "like a souvenir." With another chuckle, he concluded: "They can use it for toilet paper for all I care."

Eric Fischl: Presence of an Absence is on view at Skarstedt, London, from March 1 to May 26.