Photograph courtesy of Dunkin' Donuts.
Can a Piping Hot Dunkin' Donuts Collab Make Sneakerheads of Us All?
A Dunkin' Donuts sneaker for the Boston Marathon can turn even the trend-averse into amateur hypebeasts.
Photograph courtesy of Dunkin' Donuts.
Online preorders for the Saucony and Dunkin' Donuts limited edition sneaker—a 2,000 pair run, released by the two Boston-based companies in honor of the Boston Marathon—began on March 27th. In less than a day, the $110 Saucony x Dunkin' Kinvara 9 had sold out. In April, a second batch of sneakers went on sale at Marathon Sports, a Massachusetts-based sporting goods chainlet. People lined up outside the stores, and waited in the rain. On Twitter, someone posted a picture of the hopeful shoppers in their ponchos; nobody liked the tweet. Still, the Saucony x Dunkin' sold out yet again. This past weekend, a third crop of the sneakers went on sale at the John Hancock Sports and Fitness Expo, a three-day event preceding the Boston Marathon. On Friday morning, people flocked to the Saucony booth. By mid-afternoon, every available pair had been purchased.

I tried to imagine who would have been at that booth, who would have waited in Cambridge in the rain. Sneakers routinely, even notoriously, sell out in hours, but were these buyers the people who regularly lined up for new releases or—much more likely—was this a different crowd altogether? The Dunkin' Kinvara isn't exactly the kind of sneaker that whets a hypebeast appetite: it's clearly a performance shoe, the soles are Dunkin' orange and pink, and the sides of the sneakers are flecked with sprinkles. On each heel, the pink, cheerful donut rises like the sun, and is bifurcated by a vertical strip of reflective fabric. Printed in pink lettering is the slogan AMERICA RUNS ON DUNKIN'. The tongue of each shoe features the company's signature pink-and-orange DD logo. It's hard to imagine Virgil Abloh, for example, celebrating Dunkins with a Nike Dunk. The Balenciaga Triple S might look like something that subsists only on donuts, but it wouldn't advertise that so clearly. Hype sneakers simply don't inspire that kind of quotidian synergy. So if these Dunkin' Kinvara buyers weren't interested in copping and collecting sneakers, categorically, what drew them to this particular pair? To whom did the Dunkin' sneaker speak, and what, exactly, did it say?
It spoke in quite straightforward terms to the girl sitting next to me on the Bolt Bus a few days ago. "Are you doing the marathon?" she asked, looking at my Dunkin' Kinvara-shod feet. I started at her blankly, having forgotten that BOSTON is emblazoned on the outer sides of both shoes. "No," I said. "They're just made for it."
I meant that their release was tied to the event, but it's also true, as I said, that the shoes were actually designed for such an activity. A popular lightweight running shoe, the Kinvara has been one of Saucony's top sellers for several years. (Saucony's past Marathon-themed editions have also been Kinvaras; in 2016, the shoes were green to honor…a subway line.) They get good reviews from distance runners, receive awards from industry magazines, and are in their appearance practical and unassuming, almost to the point of being anonymous. The first time I wore them out in my neighborhood, I felt like I was in disguise: an undercover mother. Well-cushioned but not uniformly chunky, they are lower-slung than is popular these days, especially at the heel and tongue. Wearing them is foamy bliss: their soles are firm and springy, like the eggs in Dunkin's Wake-Up Wrap. I mean that as a compliment to both the wrap and the sneakers, which were much lighter and far more comfortable than my own.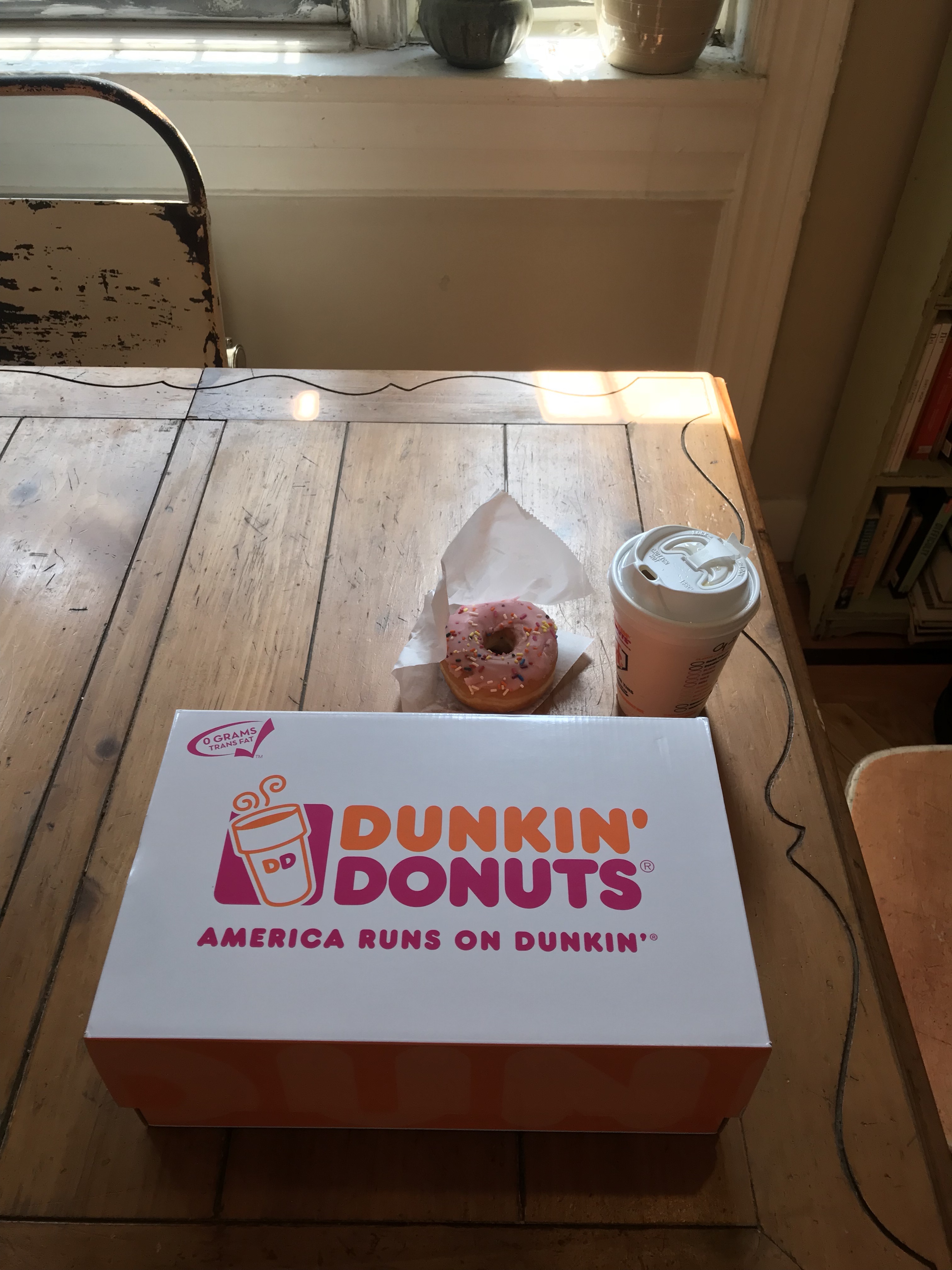 But its strengths only deepened the shoe's mystery: to function as a running shoe, it has to be a running shoe, which is such a strange thing for a Dunkin'-branded shoe to actually be. Aren't runners supposed to subsist on bunches of bananas and metallic sleeves of protein goop? This is not to say I didn't like them. I did, from the second I opened the box—which is, appropriately, a Dunkin' box—and even more once I started wearing them. I liked the way they flared out wedge-like before the toe, and the toe's expanse of white mesh, and also the fact BOSTON seemed to be set in Dunkin's font. I also liked the color scheme: white and black uppers with a neon sole, which struck me as miles more sophisticated than regular Kinvaras. But they are nevertheless Kinvaras, meaning they are running shoes with physical duties greater than those of a sneaker, and—forgoing whatever formal experimentation and structural audacity might have been possible even within these constraints—fulfill these obligations obediently, well, and unweirdly.
The Dunkin' collaboration is like something from Learning from Las Vegas, if Learning from Las Vegas were about sneakers instead of the Strip.
This unweirdness is itself very weird, and also oddly charming. (Most popular sneakers now look like creatures ready to blink, "Take me to your leader.") It results, at least in part, from the fact the shoe's Dunkin-ness secondary to its Saucony identity, both chronologically and spiritually. We're clearly cooking from Saucony's recipe here, but another chef might have prepared the same dish quite differently. It's easy to imagine a Dunkin' shoe with grander aspirations—one that leaned into the curves of the donut's silhouette and came out with something extremely of the moment. The donut is a round and clumsy muse, an ore of chunky coolness just waiting to be mined. But a shoe cannot be cool and be Boston, and this shoe is very Boston. What could be more Boston than two Boston-based companies collaborating on a sneaker? When they make a sneaker Boston strong enough to run the marathon in. Since Saucony has already done this, Dunkin's only job is to look pretty. Its sphere of influence is confined to the shoe's surface.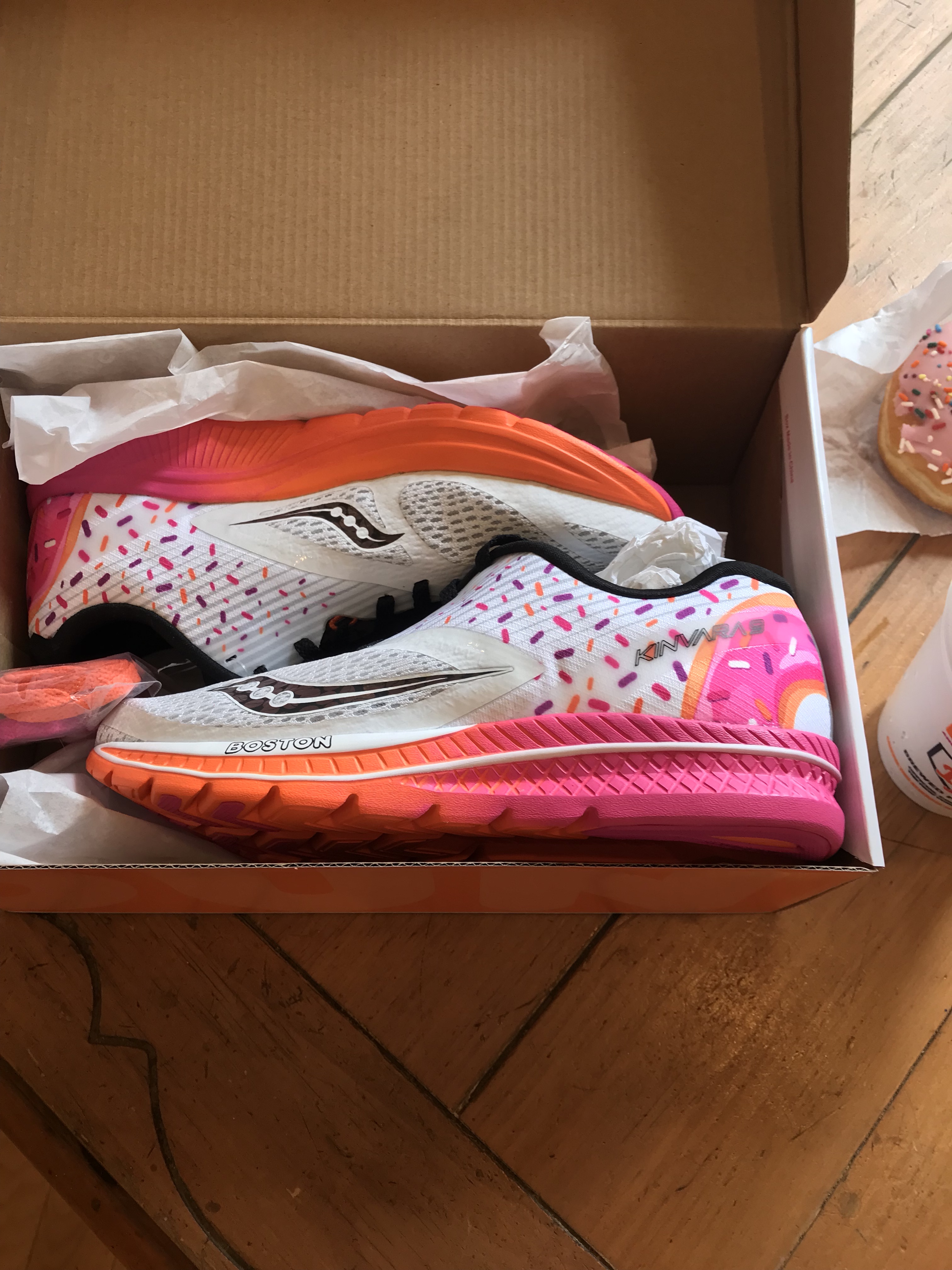 Still, it is quite the surface. This is a shoe that makes everything explicit, that enunciates each detail perfectly—not at all like Nike's 2016 distilled, abstracted Kyrie 2 Ky-rispy Kreme colorway, which evoked that other donut chain by using just the right shade of green and a few well placed flecks. Instead, the Dunkin' collaboration is like something from Learning from Las Vegas, if Learning from Las Vegas were about sneakers instead of the Strip. Saucony x Dunkin' is the ornamented shed of shoes: a well-made, supportive sneaker, with sprinkles on top. This philosophy finds its highest expression in the insoles, which are absurd works of sincere and naive genius. The right shoe features a silkscreen image of an iced coffee; the left one a hot coffee. They look like—are, probably—the same photos Dunkin' uses in their print ads and in-store displays.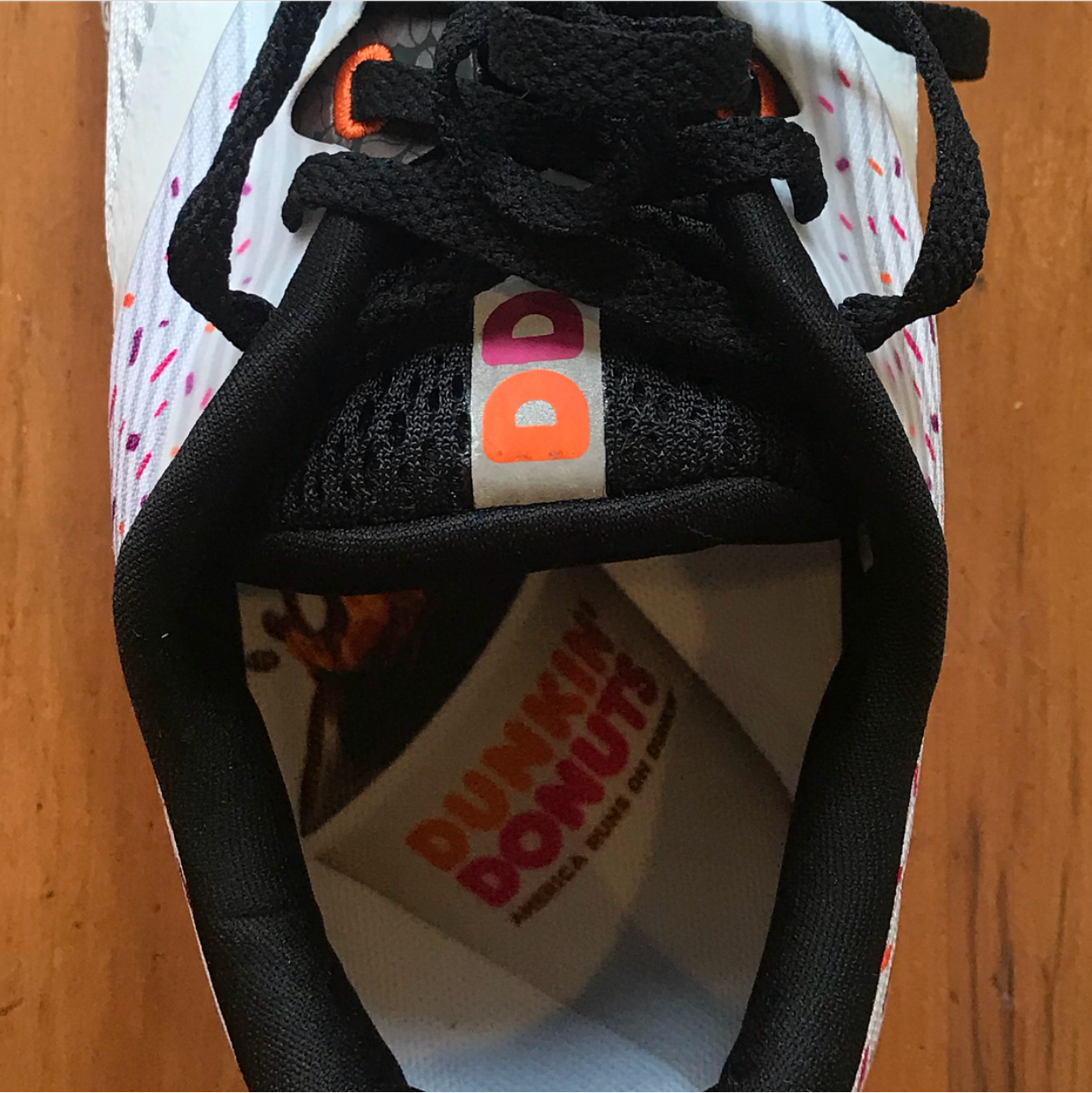 Like those posters, which advertise promotions to people already inside, or images printed on insoles, these sneakers speak mainly to the faithful—theirs is a message most easily heard by those who already know it. I was at a Dunkin' in Carroll Gardens last week when a group of older women came in, greeting the staff and several other patrons, who also seemed to be regulars. When they sat at the table next to mine, I extended my Dunkin-clad foot shyly in their direction. What did they think? At first, they were skeptical, but after a few minutes one of them began to cave. "I don't know," she said, taking out her phone and looking for a pair on eBay. "I want them. I like all the colors." Another woman nodded in agreement. "And I love Dunkin' Donuts."
They're not alone. Later that day, I went to Stadium Goods, hoping to get an expert's take on the Saucony x Dunkin'. What would a well-trained eye see in these shoes? But the employee I spoke to refused to comment. I stretched my leg out, hoping one glimpse of a sneaker would be enough to change his mind. I can't help you, he told me, but I love Dunkin' Donuts.