Courtesy of Charlie Rubin
Telfar Recruits Jeremy O. Harris To Help Traverse His Country-Themed FW19 Runway
"Once [Telfar] explained some of the ways he wanted to queer crowd-surfing, I knew exactly what I wanted to write."
Courtesy of Charlie Rubin
"Do you mind if I get undressed while we talk?" playwright Jeremy O. Harris asks me backstage immediately following Telfar's Fall/Winter 2019 show. "Do you mind?" I ask. He shrugs.
Harris, who is billed as a collaborator just beneath the show's title, "Country," opened the unconventional, though not unexpected, runway-performance Thursday evening at Union Square's Irving Plaza. "How do I welcome y'all?" he asked a crowd of editors and enamored brand loyalists puffing on e-cigs and eating White Castle cheeseburgers. "I don't," he said, in a stirring monologue/manifesto that lifted him and his cobalt blue suit off the stage and found him and the other models crowd-surfing through the audience.
"The audience was so much denser than I imagined," Harris says, sweat still rolling down a face beaming with pride. "In some ways it was like traversing a country. It was almost like [Telfar] set me on a frontier because I had to make my own way."
The collection included lined jackets and blazers with detachable sleeves as well as high-waisted pants with flared legs, vegan leather blazers and the brand's signature asymmetrical tank tops. Embroidered chain, shredded paper fibers and oxblood T-shirts and turtlenecks added to the powerful motif, which included a torn American flag proscenium.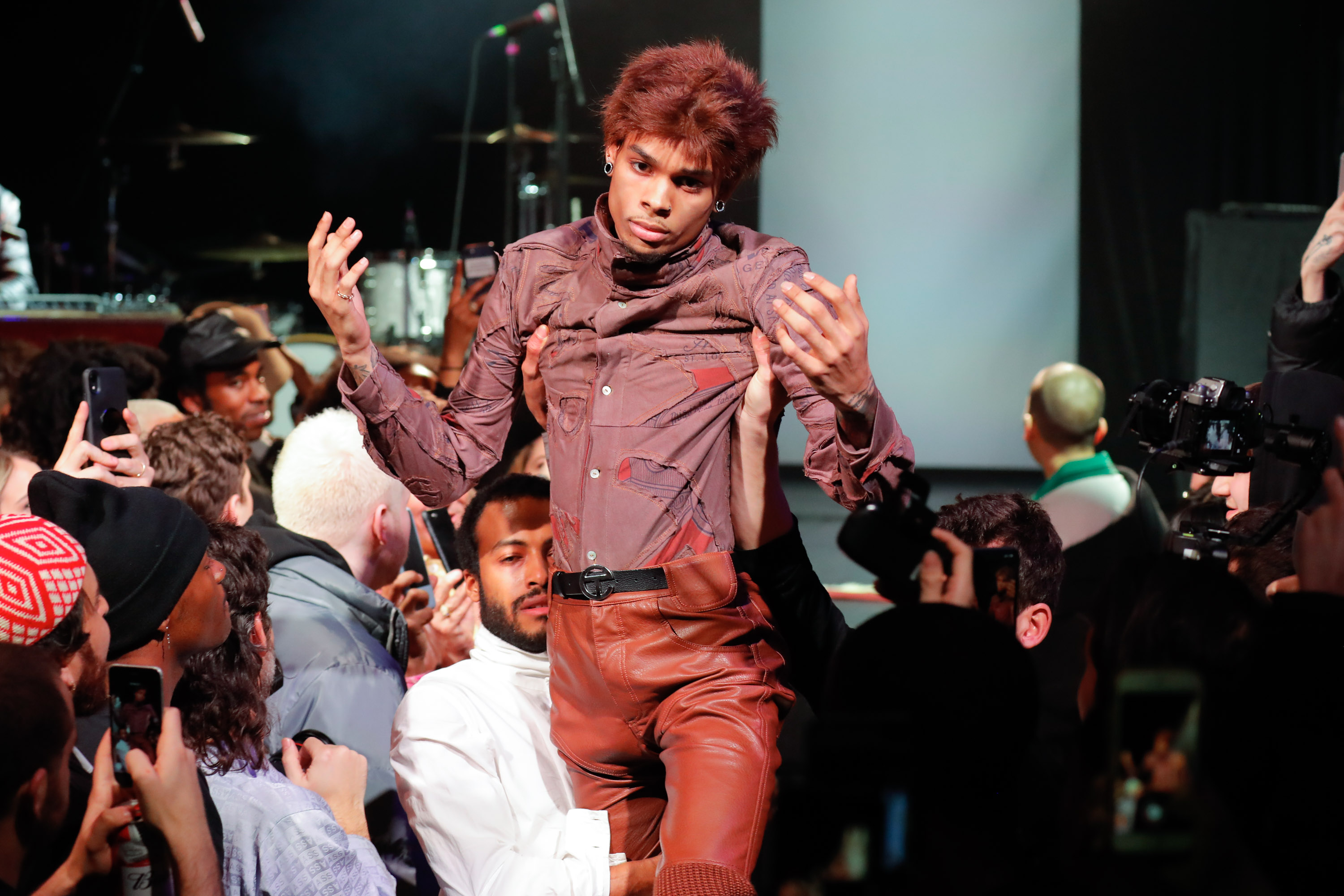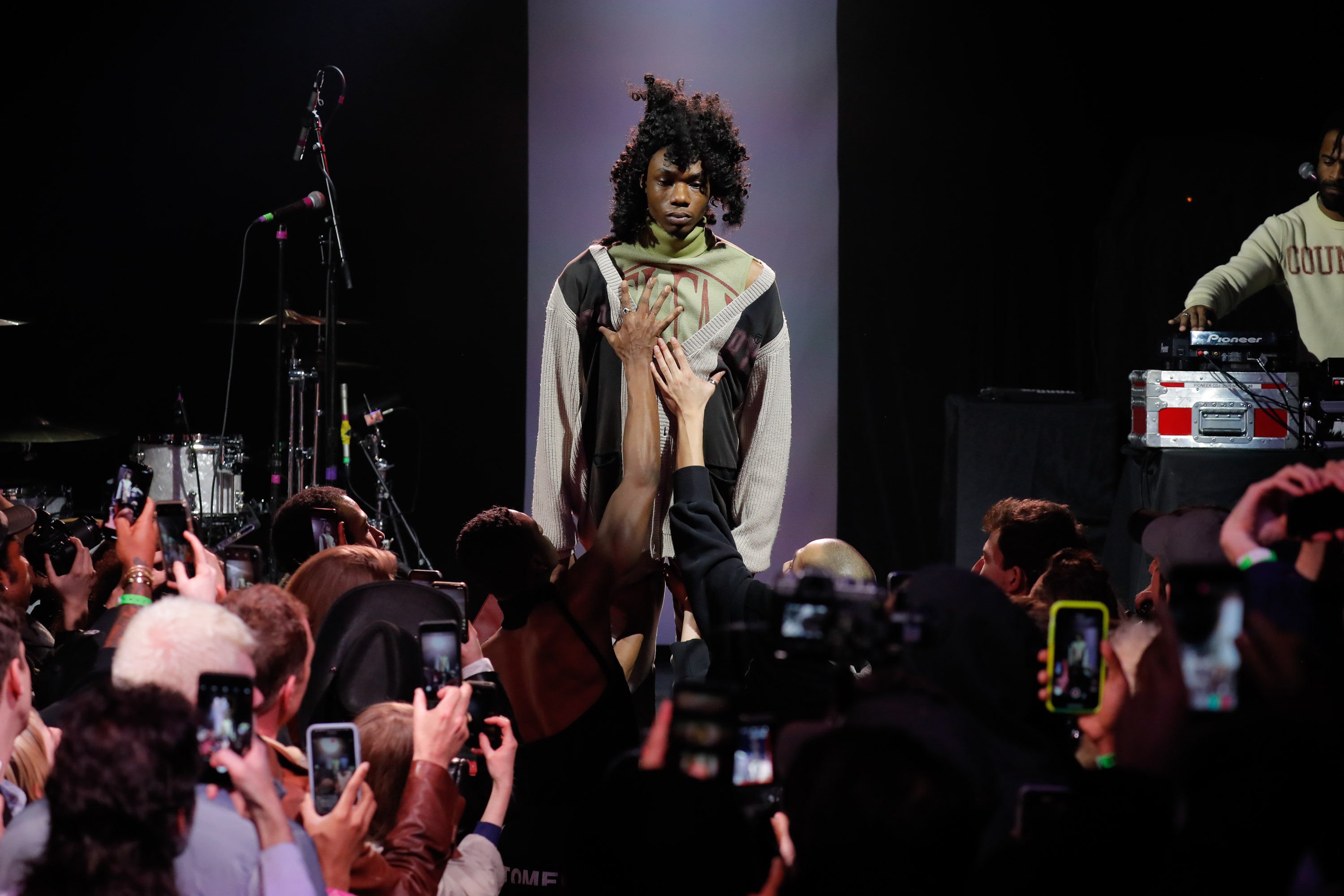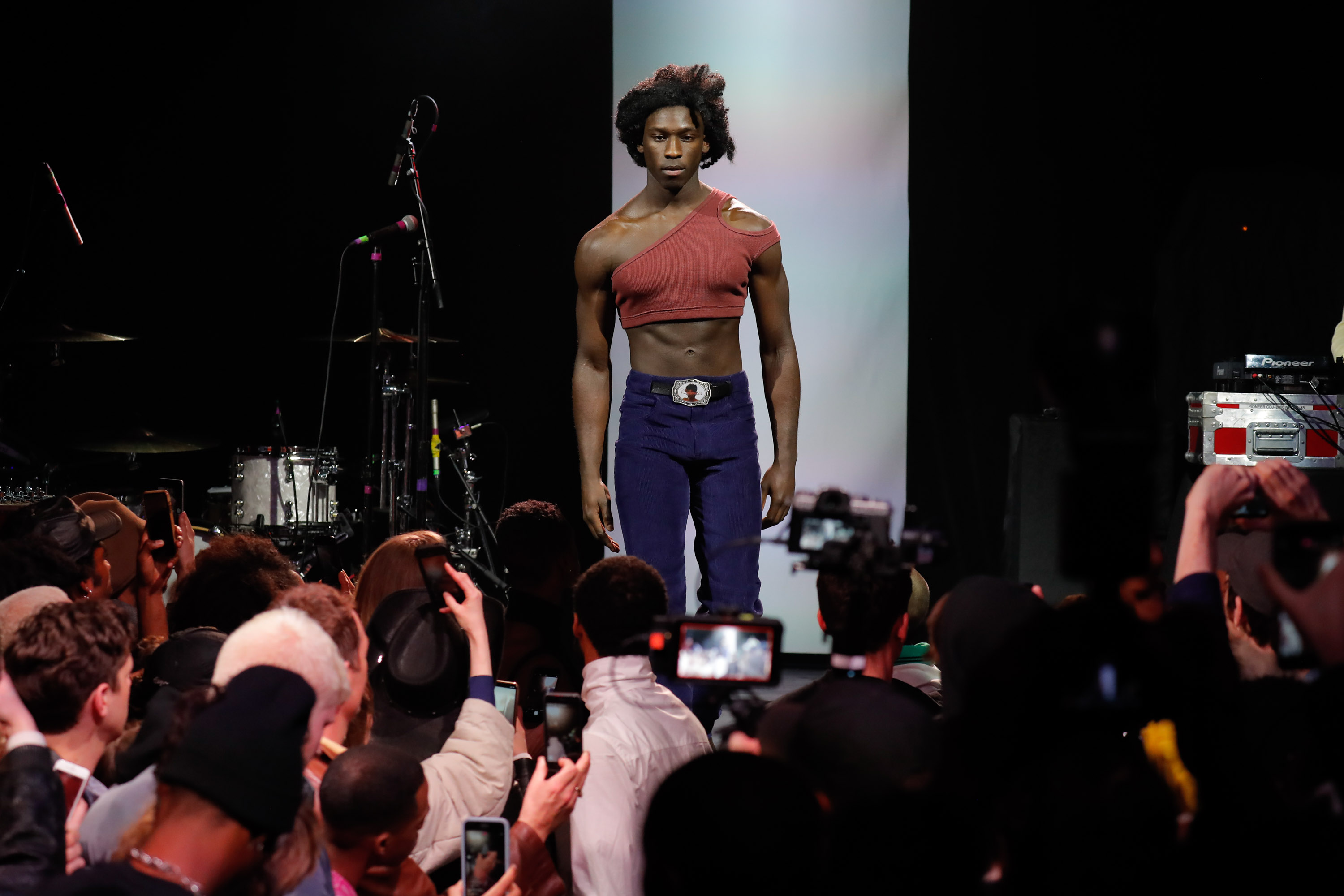 "I like words that mean too many things to articulate," Harris says when asked what Country means to him," noting that this Country (the one created tonight) was louder than expected—in a really exciting way. "I think of Country as expansive but not necessarily loud. And Telfar thinks of Country as loud and expansive." Telfar and Harris first met when the designer attended a performance of Harris' acclaimed Slave Play at New York Theater Workshop in late 2018 (Harris's latest play, Daddy, premieres Tuesday at the Vineyard Theatre).

"He was like 'the line is going to be called Country. Write something with that.' I was like 'Well what do you mean? Do you want this? Do you want that?' And he was like 'I mean Country.'" Telfar began sending Harris reference points to work off of: Cro-Magnon men, black people at rodeos, James Baldwin, Fred Hampton. "We talked a lot about being an object that could transform...Once [Telfar] explained some of the ways he wanted to queer crowd-surfing, I knew exactly what I wanted to write."
The result, which included music by Total Freedom and ho99o9 and choreography by Xavier Cha, was another win in Telfar's continued mission. It also served as a celebration, akin as culture critic Soraya Nadia McDonald noted on Twitter, to early Afropunk.