Six-Year-Old Penelope Disick Shops at Gucci, Lives Más
Meanwhile, Scott sacrifices his own lewk to keep his daughter in $385 fur slippers.
Photo via Twitter.
"There is always one moment in childhood when the door opens and lets the future in," Graham Greene once wrote, and on Sunday, we all got witness to that precise moment in six-year-old reality heiress Penelope Disick's life as she, father Scott Disick and Cool Potential Stepmom Sofia Richie hit Gucci for a shopping spree. Penelope has worn some wild outfits before, but now we finally see engaged her in the sacred act of copping the goods.
The young Disick did her shopping in a hot pink (!) T-shirt dress and $385 fur Gucci slippers, while her patriarch was—somewhat touchingly—dressed down. Let's take a closer look at his fleece, shall we?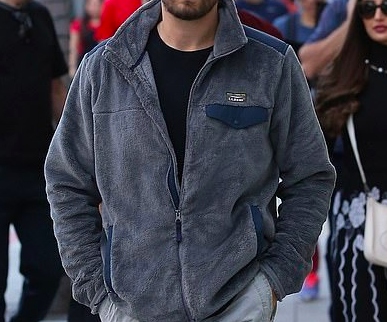 That's no rare hypebeast label imprinted across from Disick's heart—that's L.L. Bean, baby! Staple of dorky dads 'round the globe! Outerwear most frequently shrugged on before going to pick up a Subaru-load of unwilling teenagers at the mall! Dad, you're so embarrassing!!!!!!!!
Disick's putting-the-norm-in-normcore attire takes on a particularly sweet connotation in the context of Penelope's designer duds, calling to mind that O. Henry story where the girl sells her hair to buy the guy a watch fob, and he sells his watch to buy her a brush, or whatever.

Like a Kremlinologist squinting at photos of Brezhnev to gather details about the state of the Soviet Union, I'm forced to infer financial austerity from Disick's under-$100 fleece. The man is nothing if not a streetwear aficionado, more accustomed to swathing his torso in Supreme and Off-White than off-the-rack performance wear; is this a moment of personal and sartorial growth for him? Is he compromising on his own 'fits to keep Penelope in Gucci? Don't forget, there's also Mason and Reign's lewks to think about, and keeping Mason in $3K Versace coats must require some sacrifice on Disick's part.
Christopher Barnard described Disick's uniform last year as being comprised of "Three Easy Pieces: Hoodie (or tee), jeans, sneaker," and he's staying true to that formula; nonetheless, the shift from Playboy merch to sensible-dad aesthetics feels emotionally resonant.
Given his somewhat turbulent past, it's heartwarming to see a modestly dressed Disick taking his only daughter for a designer shopping spree, which, after all, is the reality-star equivalent of throwing a ball around in the yard, "Cats in the Cradle"-style. it possible Disick has forsaken Supreme and Gucci for L.L. Bean and Arctex, completing the transition from hypebeast to gorpcore?