Sir John Everett Millais, Ophelia, c. 1829-1896, Oil paint on canvas
How Pop Culture Distorted Pre-Raphaelites Idea of Womanhood
Pre-Raphaelite women went against the norms of their time, so how did they become symbols of passivity?
Sir John Everett Millais, Ophelia, c. 1829-1896, Oil paint on canvas
The Popularity of Pre-Raphaelite art is at an all-time high: not only has its place in the art-history canon been established through major exhibitions—the National Portrait Gallery in London is currently housing Pre-Raphaelite Sisters, which focuses on the contributions the women of the movement—but their aesthetic has had a lasting impact in pop culture in the past 50 years. The women of the movement, including, but not limited to Elizabeth Siddal, and Christina Rossetti, Maria Spartali were artists in their own right on top of being models and muses.

Pop culture is dominated by fantasy, and there's no bigger fantasy than the one conjured by the fabled landscapes, and the ethereal, red-haired women of Pre-Raphaelite art. "Escapism is no longer a crime but apparently a psychological necessity," writes Anne Anderson in her new book Beyond the Brotherhood: The Pre-Raphaelite Legacy, a companion to the exhibition of the same name currently on view at Southampton City Art Gallery. This is especially true of the predicament uttered by Sir Edward Burne-Jones, who, referring to his own painting Mirror of Venus, said that what he means by a picture is "a beautiful romantic dream of something that never was, never will be—in light better than any light that ever shone —in a land no-one can define, or remember, only desire."

The clearest example is the way the looks of Pre-Raphaelite women have influenced contemporary visual culture. In the recently-concluded Game of Thrones, one could clearly see how red-haired heroines such as Sansa Stark and Margaery Tyrrell were walking tributes to Pre-Raphaelite art. In terms of ghastly-beautiful maidens, Ophelia (1851) by John Everett Millais, where the non-traditionally-beautiful Elizabeth "The Sid" Siddal posed as the drowning, Shakespearean heroine, became so iconic that we see it referenced in Hitchcock's Vertigo, when Kim Novak's character attempts suicide, in the music video for Kylie Minogue's duet with Nick Cave's "Where the While Roses Grow," in Lars von Trier's Melancholia, where Kirsten Dunst, clad in a bridal gown, references Ophelia in the poster, her character embodying sadness and female madness, even though the film barely even touches these themes.
When it comes to femmes fatales, one good example is Burne-Jones's Sidonia von Bork (1860). The painting finds famed pre-Raphaelite model Fanny Cornforth portraying von Bork, the famed 16th-century Pomeranian noblewoman that was tried and executed for sorcery, and was also the protagonist of the Gothic novel Sidonia The Sorceress. She is clad in a voluminous dress covered by a net, which then became a recurring pop-culture reference as well. Miranda Richardson's Lady Van Tassel in Tim Burton's Sleepy Hollow (1999), and Mila Kunis' innocent "good" witch Theodora in The Great and Powerful Oz (2013) both wear a similar costume, which indicates a wicked nature masked by an ethereal beauty.
Madonna also looked to this world for inspiration when she crafted her look for the Ray of Light record, which explored themes of spirituality, and motherhood. She had left the excesses of her previous life behind, and was reborn a purer, wiser being. This ideology pairs well with the Pre-Raphaelite aesthetic that imbues women with a sacred, yet delicate type of beauty. Madonna saw herself in a new light after motherhood, and the delicate braids scattered around her hair, pair with her pale skin almost devoid of makeup immediately transmitted that message to the world at large.

"The relationship between Pre-Raphaelite art and 21st century Pre-Raphaelite women is a complex one," acknowledges Kirsty Stonell Walker, a Pre-Raphaelite scholar and author. When in the mid-1960's the art was resurrected from the kitsch purgatory in which it had been residing since the 1920's—thanks to collectors like Andrew Lloyd Webber and Seymour Stein—these artists were reframed as hot-blooded geniuses (thanks,1950's rebels and 1960's counter-culture!) lusting after beautiful, but psychologically frail maidens or nymphomaniac seductresses, even though, as the exhibition Pre-Raphaelite Sisters demonstrates, women were crucial contributors in the Pre-Raphaelite art movement, both as artists in their own right and as models, which they elevated to a respectable profession that anticipates the "professional beauties." In Victorian society, prior to the Pre-Raphaelite movement, being an artist's model was on par with with working in domestic service, but, in the case of the Pre-Raphaelite women, it became an independent occupation that brought freedom and creativity to their life. What's more, these women actively participated in the creative process and were consistent in the roles they were cast in—Fanny Cornforth was the quintessential femme fatale, Annie Miller the bashful lass, and Jane Morris tended to portray mythological noblewomen such as Guinevere and Iseult. "The role of the model is akin to that of the performer or actor in a dramatic collaboration," writes Dr. Jan Marsh in Pre-Raphaelite Sisters, the catalog accompanying the exhibition of the same name currently on view at the National Portrait Gallery, "a partnership that, in the twenty-first century, can lead to the model enjoying greater fame than the artist. To appreciate their shared role in picture-making revises our understanding of past practice." Their 'performance' made them the figureheads of the movement, making their features more memorable than the genius of the male artists and than the character they portrayed.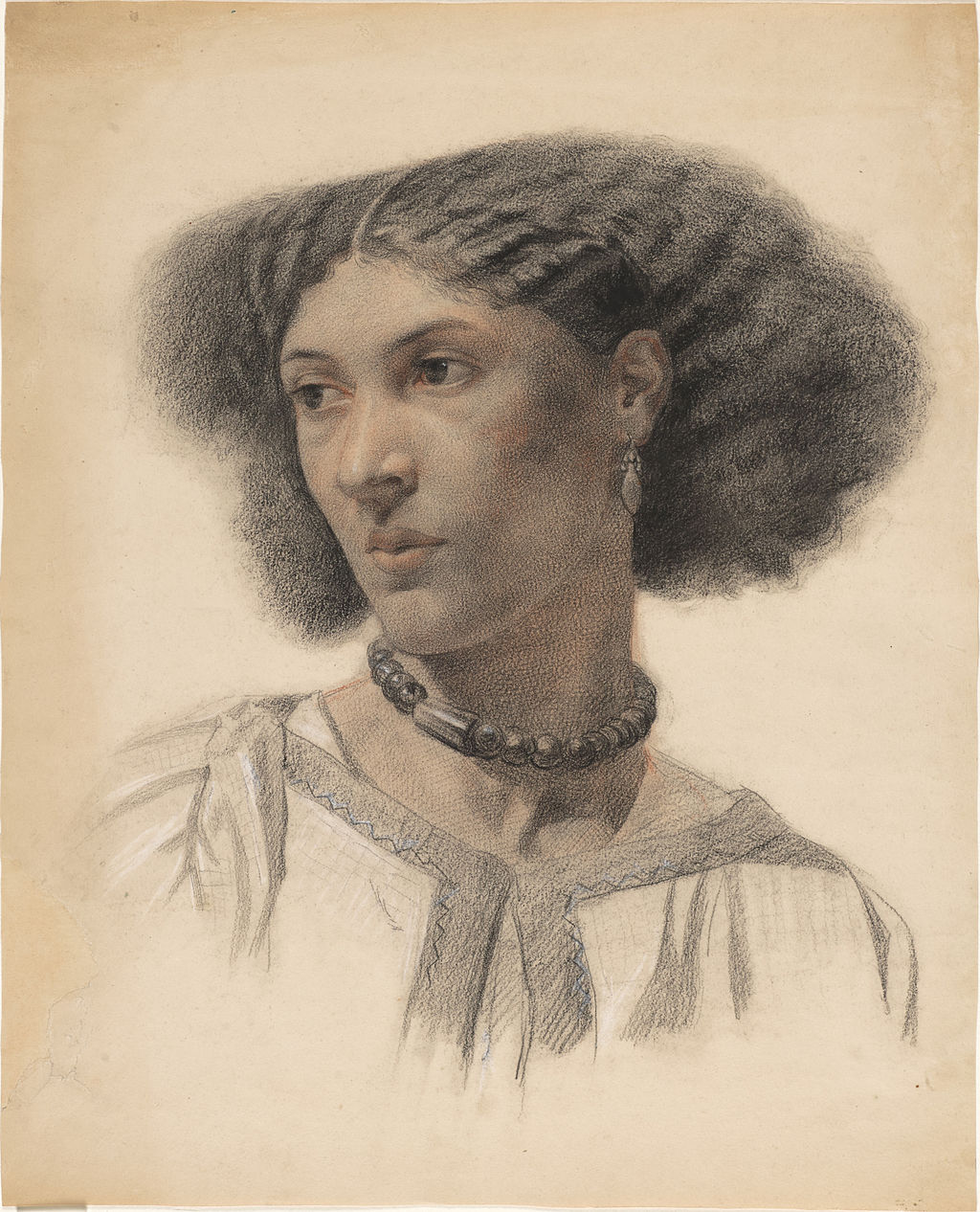 Starting in the '60s, when Pre-Raphaelite artists were seen as the antecedents of modern-era counter-cultural heroes or rebels, mainstream pop-cultural adaptations portrayed Pre-Raphaelite women as passive, fragile beauties who were victims of their own circumstances, and always played second fiddle (id not arm candy) to the fiery make artists' personalities. "Ken Russell's [1967 film] Dante's Inferno set up numerous keynotes for Pre-Raphaelite womanhood, including fey fragility for Elizabeth Siddal and messy, sexual outspokenness for Fanny Cornforth, forever the comic relief," explained Stonell Walker.
Aside from fragility and/or hypersexuality, if there is one thing that automatically comes to mind when thinking of the contemporary artists that have appropriated the Pre-Raphaelite look, is how it's centered around white women. Back in the 19th century, women of color were at the center of the original cultural movement. Jamaican model Fanny Eaton portrayed biblical figures Jochabed and Myriam, the Libyan Sibyl, and Queen Zenobia. Similarly, one of the leading models for Edwin Longsden Long, a contemporary of the Pre-Raphaelites, was Princess Helen Singh, daughter of the royal family in the Punjab. Jane Morris, one of the most revered muses for the Pre-Raphaelites, was tall, frizzy haired, dark skinned, and also defied the myth of youth in the work of Evelyn de Morgan, who showed her as a beauty in old age in her painting The Hour Glass (1905).
Women in Pre-Raphaelite art were diverse and had agency, both as sitters and as artists themselves. In an era where mainstream culture is ready and welcoming to revisit mythology to give voice to female characters (see acclaimed fiction such as Circe, The Silence of The Girls, and the new Wake, Siren), a more comprehensive appreciation and tribute to Pre-Raphaelite women beyond their longing gazes and tousled locks is overdue.
Tagged: