For a Flaw / For a Fall / For the End, 2018. Courtesy of the artist and Pilar Corrias Gallery, London Photo: Damian Griffiths
Christina Quarles Paints the Outermost Edges of the Self
The artist's show at Hepworth Wakefield is her first solo show in a European museum.
For a Flaw / For a Fall / For the End, 2018. Courtesy of the artist and Pilar Corrias Gallery, London Photo: Damian Griffiths
I don't think it's just because we're in a building moated with rushing water, but Christina Quarles's intense, angular, splurging figures are making me think of Audubon's bird paintings: his knobbly-kneed waders, or raptors caught in an awkward turn. Both artists know the tense compositional performance of arranging diverse flailing-limbed, flappy, wild, and non-conforming bodies so that they fit into the rigid confines of a page or canvas. Like Audubon's watercolor portraits of flamingos and herons, Quarles's paintings are full of limbs in extremis—jutting pink elbows, splayed hands, flexed feet—often many more than might belong, logically, to the heads and torsos visible.
In place of Audubon's artificially mannered landscapes—the misty lakes, mountains, and moorland that conform so perfectly to pictorial convention—Quarles's hectic female flesh is given patterned scenography in which to perform. Unlike the bodies, these patterns are fiercely regular: houndstooth checks, florals, or stylized loops of light on water. The figures come first, the scenography after: manipulated patterned layers that she works out in digital space then positions around the figures on the canvas. The slabs of painted pattern locate the action in less ambiguous spaces: in one, maybe a swimming pool; in another, between a set of garden hedges; in a third, sprawled and reaching across a tabletop.

I meet the L.A. native as she opens her first big European show, at the Hepworth Wakefield art museum in Yorkshire, England, exhibiting adjacent to David Hockney. She's posing for portraits in an aperture put in the wall as part of her exhibition design: it's similar in dimensions to one of her canvases. She looks neat and relaxed in this frame she's made herself, but her paintings are here to remind us that appearance tells little of feeling: Quarles paints the world experienced, not the world seen.
Like Audubon's watercolor portraits of flamingos and herons, Quarles's paintings are full of limbs in extremis—jutting pink elbows, splayed hands, flexed feet—often many more than might belong, logically, to the heads and torsos visible.
"For a long time I worked through this idea of the outermost edge of your self being represented through the hands and the feet," she says. "I think of them as the outermost extremities, where you interact with the world."
Hands and feet are incredibly sensitive as well, I say, thinking of how she uses thin bands of bright color that build up around those bunched angles of knuckle and toe in the paintings, making them look emotional, raw.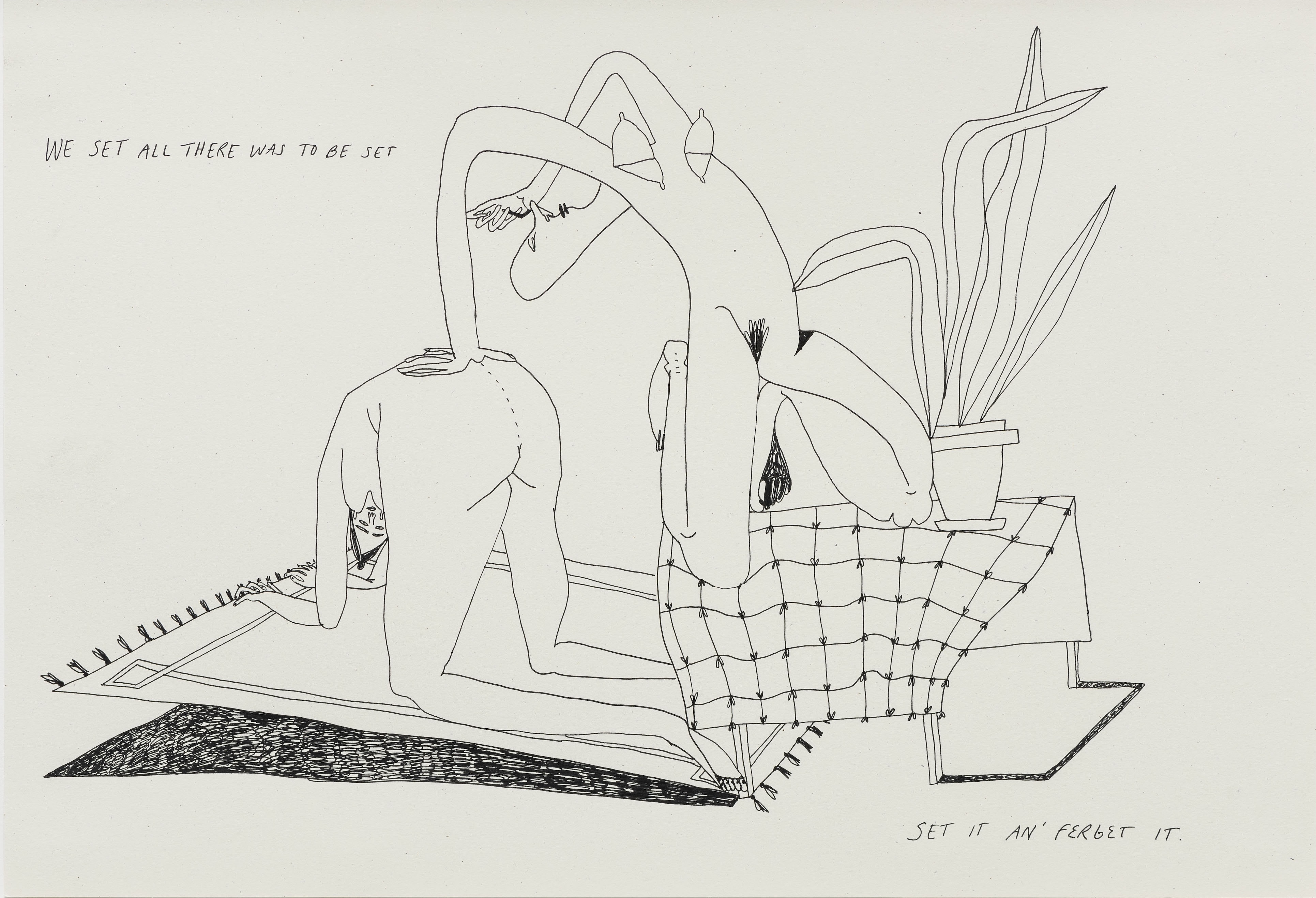 "Exactly, very sensitive," she nods. "Also I think about how we don't know our own face. I know what my wife's face looks like because I see it every day. But my own face, I can only see in a mirror, which is flat and reversed, or in photographs, or film. I can't experience it in real time and in the round, but I can experience hands and feet in the round."

Quarles is a good match for the Hockney exhibition. It's a show of early work, made when he'd moved to London as a student at the end of the 1950s, and was reading the city's surfaces like a text seeded with covert eroticism. The paintings are full of bulges, openings, bristly hair, dirt and graffiti. Quarles tells me that she used to add text to her paintings too, back at graduate school (which was recent—she got her MFA from Yale in 2016.)

She explains how language is both shared and personal, how she could say the word 'tree' and we'd both know what she meant while each having a different tree in mind. But the words on the paintings started feeling too tied to narrative. There's still text in her drawings: 'Ain't no sunshine when she gone (I kno I kno I kno I kno I kno)' reads one, like a Bill Withers song. The ink lines in the drawing describe a tangled embrace of hands, mouths and reaching limbs.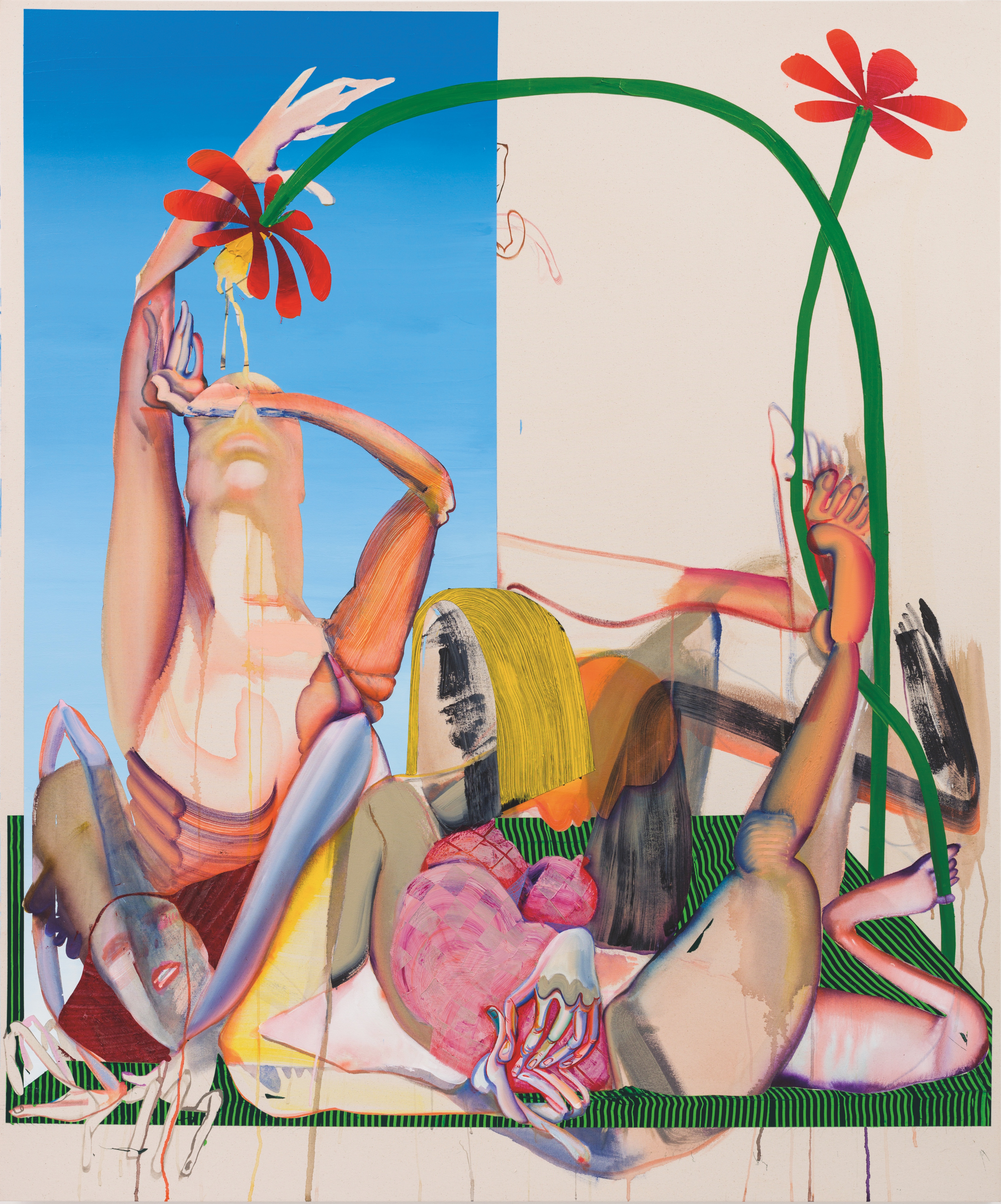 "My earliest figure drawing teacher told me that if you make a mistake not to erase it, because it will reinforce the incorrect line. So that way of thinking through the figure has led to me adding what feels correct rather than taking away what feels incorrect," she says. The limbs and torsos belong to different bodies as each painting progresses—she starts on the canvas, without making a sketch—sometimes she thinks of them as single figures that appear reflected or shadowed over and over again. "But it can also be multiple figures. It goes back and forth: it's not set."

Her splitting bodies express extremes of emotion or sensation. Their great soft bruising mounds of flesh come together, then spark out angled feelers in every direction. She cuts them through with those cool, orderly planes of pattern, trapping them into their positions. It's compositionally exciting – the figures rippling with drama and anxiety.

"I want them to exist in both states of being: compressed and contained in an uncomfortable position, but also having a lot of agency and sensuality and activeness within that," she says. I tell her that they look ready to explode: the energy and the tension full of potential. "I think there is that oscillation within your body," she tells me. "Knowing your limitations can be confining but also liberating."