Humpers, 2006, Wood and enamel paint. Private collection Artwork © Rachel Feinstein Photograph by Marcus Leith
Rachel Feinstein On When it Was Taboo To Be In "Vogue"
The artist speaks with GARAGE on the eve of the opening of her show, "Maiden, Mother, Crone" at The Jewish Museum.
Humpers, 2006, Wood and enamel paint. Private collection Artwork © Rachel Feinstein Photograph by Marcus Leith
It's a Tuesday afternoon on the Upper East Side and the artist Rachel Feinstein is reminiscing about her last three decades in the art world, the spoils of which will be on display at The Jewish Museum through March. The 48-year-old artist, who in a 1994 exhibition slept in a gingerbread version of Sleeping Beauty's house, is grateful that the art and fashion worlds have become cozier bedfellows. She remembers, "If you were—especially as a female artist—to be given an article in Vogue magazine, it was like, 'What are you doing? You're ruining your career. You need to be in Artforum.'" But the world has changed. Vogue can now document the opening of her show where, according to a review in Artforum, "the lightest surface scratch of her darkly surreal tableaux looses ominous multitudes."
The exhibition, called Maiden, Mother, Crone, brings together Feinstein's religious sculptures, maquettes, fairytale follies, early career video work, a custom wall-relief of enamel wood, panoramic wallpaper and more on the museum's first floor. A mirrored sculpture from 2000, called Model, greets visitors at the entrance and refers to the artist's adolescence as a fashion model. A nearby powder-coated aluminum and vinyl sculpture, featuring a working grandfather clock, is based on a drawing by the artist's son, one of her three children with her husband, the painter John Currin. Born in Arizona but raised in Miami, Feinstein has maintained her Floridian sensibility, installing her blue-chip belles (including her sculptures based on Victoria's Secret Angels) in the 115-year-old New York museum. This year's artist in residence at Chatsworth House, she has spent the last two years preparing for Maiden, Mother, Crone as well as overseeing its companion monograph. GARAGE sat down with Feinstein the morning of her show's opening to talk about her history of visiting The Jewish Museum, life cycles, and the show's companion monograph.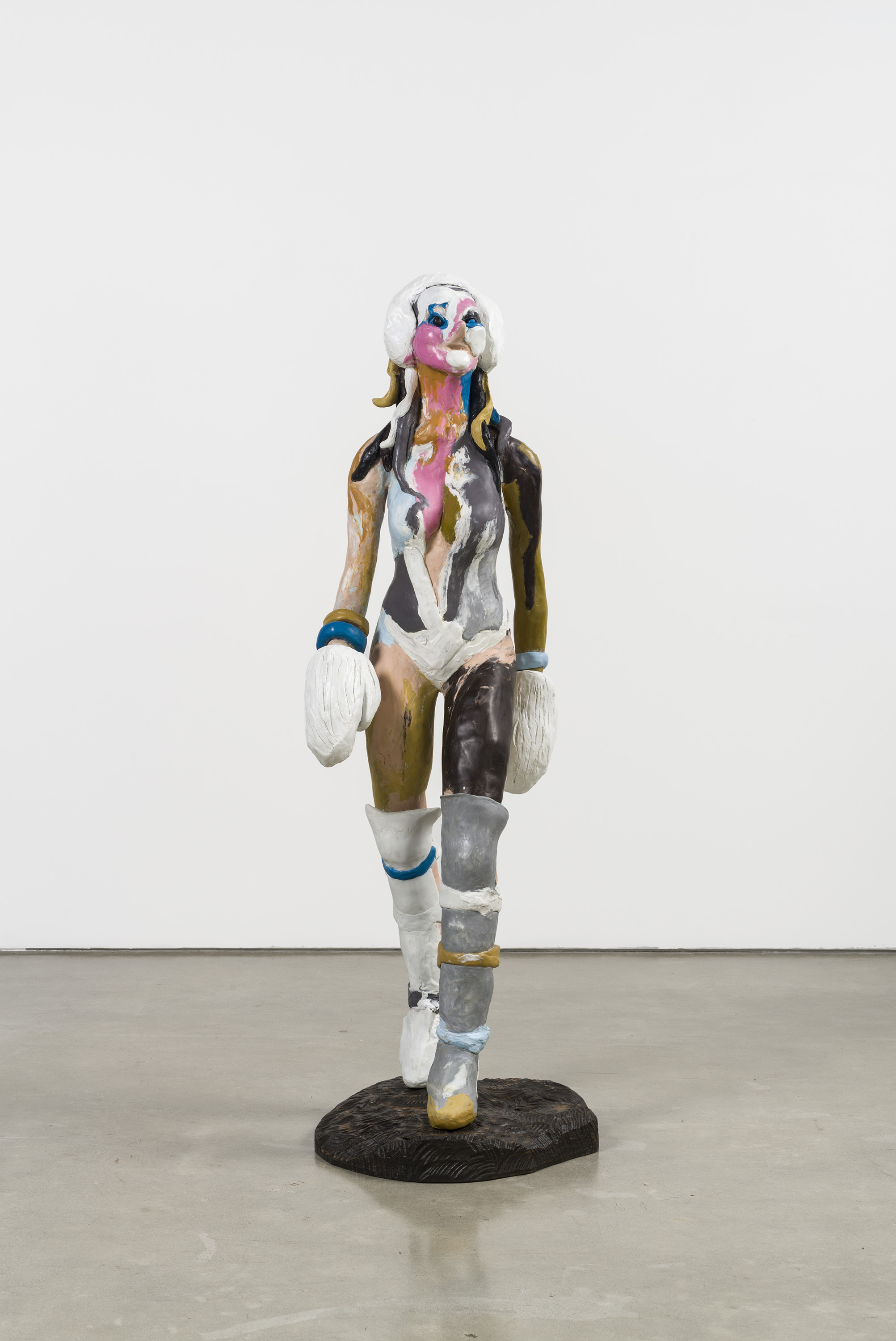 How does it feel to have a survey at The Jewish Museum? I know Eva Hesse, who had a posthumous retrospective here, is a hero of yours.
It's incredible. Also, Jasper Johns. Rauschenberg had his first solo show here. There's a similarity between all of their work. That this museum was the one that let them have that open road says a lot.
What are some of your memories of coming to The Jewish Museum?
Seeing the Florine Stettheimer show was actually a big one for me. I was always a fan of her work. I saw the beautiful Helena Rubinstein show here. I saw the Chareau. The Soutine show—they made it look like it was a butcher shop, it was so cool and weird. The Leonard Cohen show. All of these were amazing. But, something about the Florine Stettheimer show. She was not looked at as an artist. She was looked at as a wealthy patron to the arts and she kept these paintings secret.
You've talked about how it can be detrimental to the artist to be associated with fashion, for example.
First of all, it was really detrimental just being a woman artist. I met John [Currin] as a woman artist. For years, I was just seen as his girlfriend or his wife. I'm almost 10 years younger than him. I think people just couldn't see anything else for a really long time. Also, I didn't make it easy either, by being who I was. I didn't play it down. I was always myself.
The first time I was in a fashion magazine as an artist was when my friend Jessica Craig-Martin was taking party pictures for Vogue. She would just take pictures of me and Cecily Brown, and a bunch of people that we were all friends with. They're all pretty, young female artists that happen to like wearing clothing that isn't just jeans and a black T-shirt, like the male artists wear.
This woman wrote an article called "The Artist Is a Glamour Puss" for the New York Times. I wasn't even 30 yet. Cecily was in it. We all talked very openly. It was the first time I'd ever been interviewed by anybody. A lot of the people in the article did take that to heart, and decided they were never going to be seen being photographed at parties. They were never going to be in a fashion magazine anymore. I was told by various art dealers, "It's really bad for your career. People think you're a dilettante. They think you're some party girl wearing fashionable clothing. No one takes you seriously because you're in this party picture in Vogue."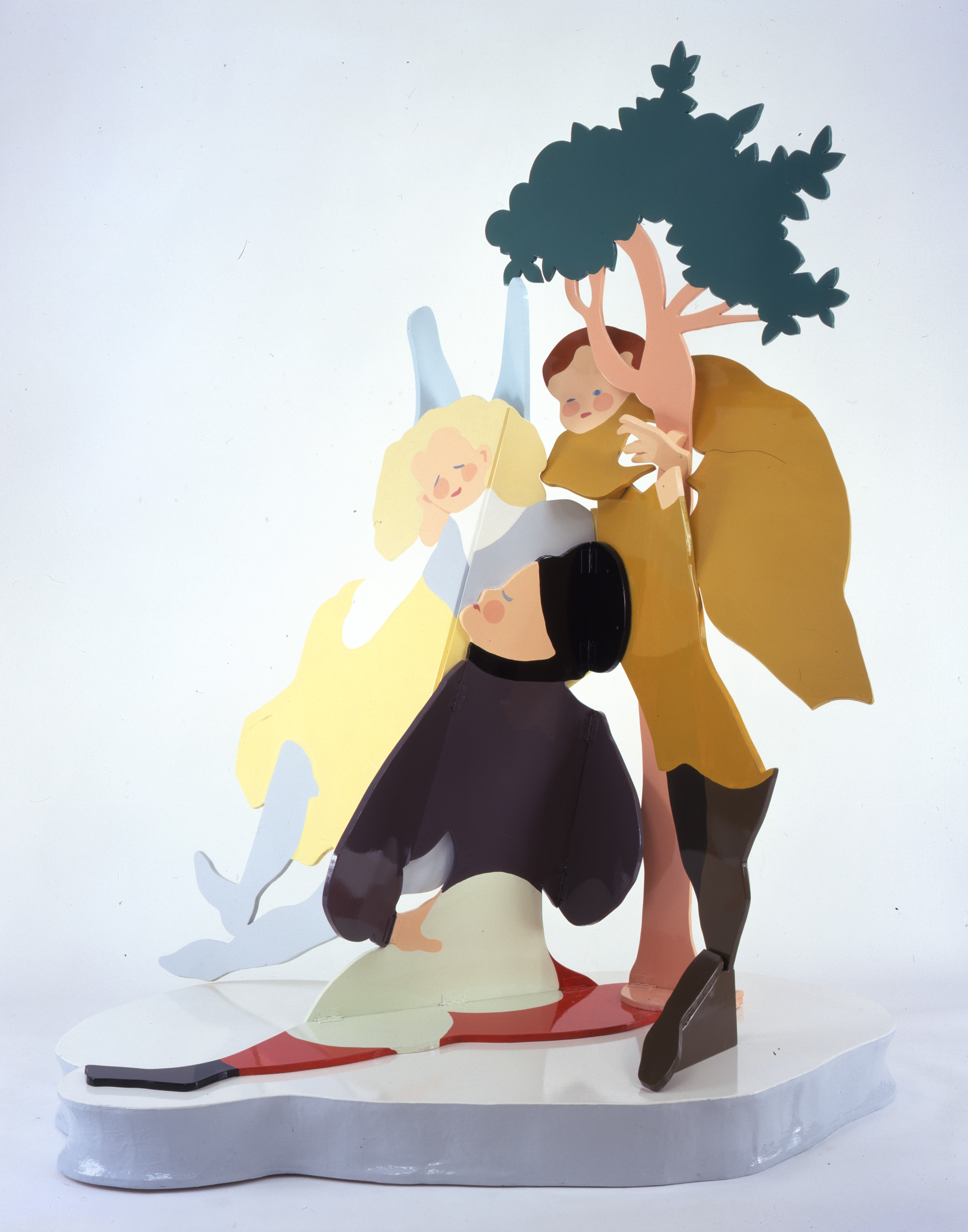 Even when Cy Twombly was in Vogue in the '60s––
Oh, it destroyed him. This idea that we have to take ourselves so seriously. That's why I love fashion, because people in fashion realize it's all happening so quickly anyway. Stop thinking about every fucking step and just do it.
Some of the pieces in Maiden, Mother, Crone reference your modeling days, like your 2000 sculpture Model.
And [its companion piece] Fat Friend. I think our culture props up the model, the tall, skinny girl, but I realized I always want to hang out and talk to the friend and not the model. I'm interested in why one thing is chosen over the other. You need both. Why is it that historically, like the Rubenesque woman, that wealth showed that you were healthy, you were plump? And now, you have to be a skeleton. That's why I was curious about the Victoria's Secret girls. They have to be skeletons, but with huge breasts. Where does that come from? And how things are made. I'm just curious about, what is that skeleton underneath there? What does it look like? Just for actual, structural reason. I am interested in how things are made, and how they work. There's a beautiful Peter Schjeldahl review in The New Yorker about Richard Serra's show at Gagosian. He starts off saying sculptures are the weirdest of all art mediums because they're dealing with not just three dimensions, but the fourth dimension, which is time. Time in a sculpture is decay the way a body decays.
Opening up works that I haven't seen for almost 30 years, I didn't know what I was going to find. [I thought], maybe the mirror's all broke, maybe a whole part of the plaster that I've made just cracked off, fell somewhere, and I never can find it again. Paintings don't have that problem. It's really intense. The gravity in time and decay process on a sculpture.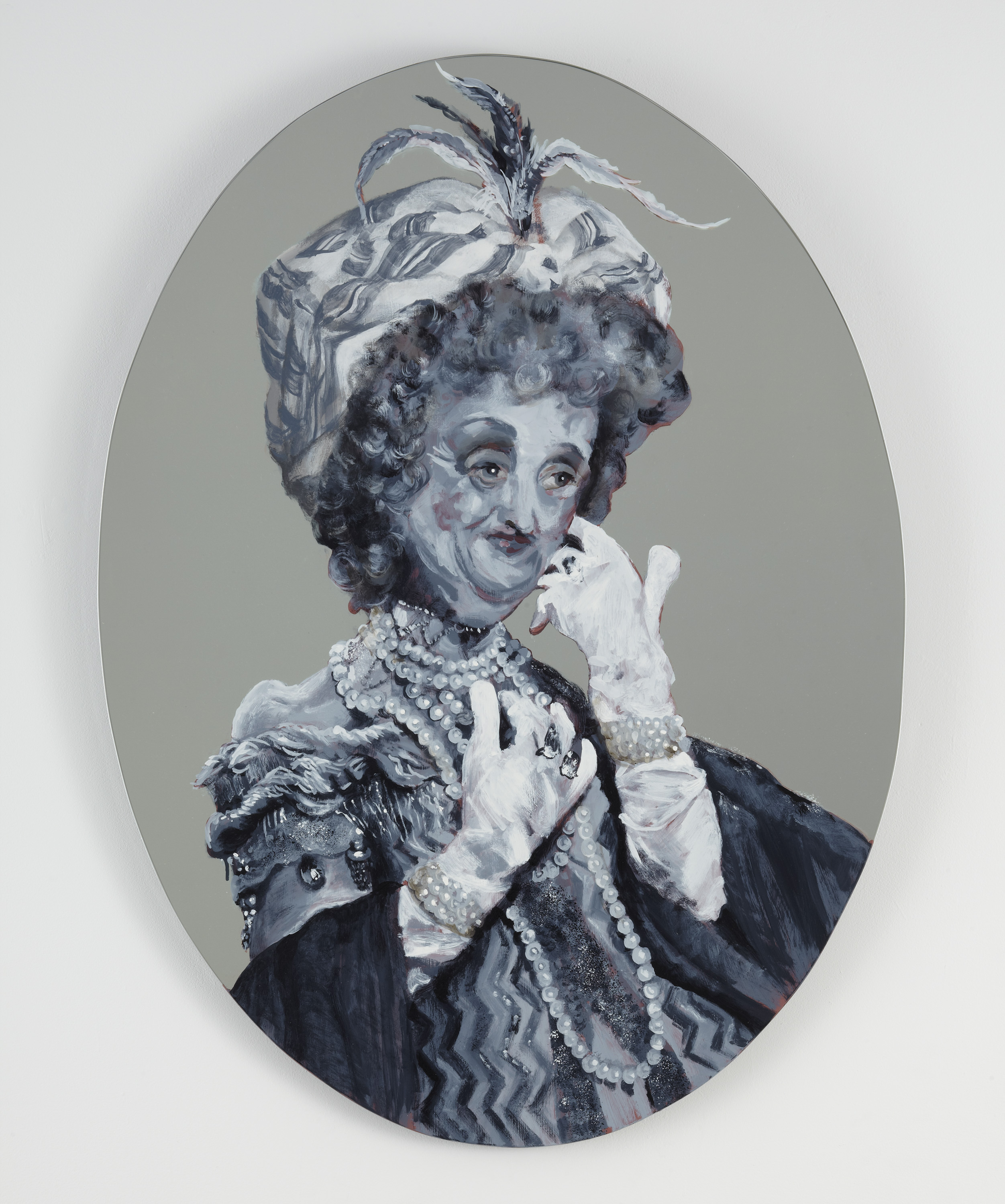 What was the last detail you worked on for Mother, Maiden, Crone before you turned things over to the museum?
I was here last night until 6 o'clock. I was polishing the Mirrored Ball (1998). That was the last thing I did. I was just trying to make it shine a little bit more. The oldest piece is the mirrored ball, besides the film, Spring and Winter (1994/96).
Have you made films since then?
I would love to. It's kind of something I've been thinking about. Probably still short, because I think I have too much of a short attention span for a future length. I've talked to Sofia [Coppola] about it.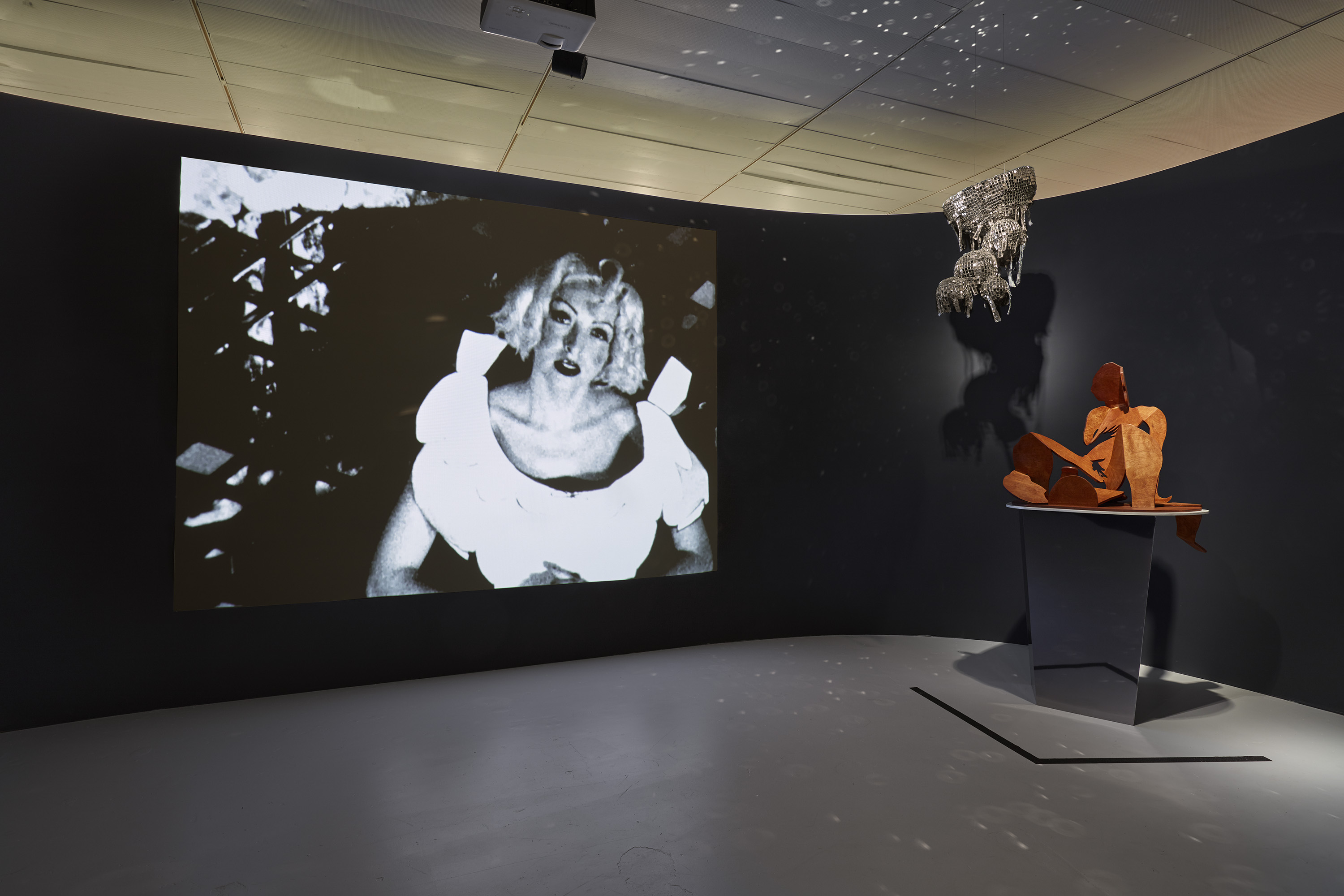 How in concert was the planning of the show with making the companion monograph?
Other than the Chatsworth thing, that's all I've done. The Chatsworth thing was a great thing, because I got to make something. But, this was the intellectual thing. Making the book was me interviewing all these people that I wanted to be part of the book. Because I have these relationships with these incredible people that I sit around and I talk to. I wanted to get that as part of the book. It was very important to me.
For the chapter of "Mother," I talked with Tamara Jenkins and Sofia Coppola talking about how difficult it really is, actually, worrying about your kids when you're trying to make something. They don't work with each other, they work against each other. Then, I have this other chapter called "Witch" which is [with] Lisa Yuskavage and Sarah Sze. Sarah and I talk about how women have to be witches to be left alone, and to actually be on the outskirts of society to make art, and historically.
Your maternal grandmother was an artist who lived for nearly a century, right? Were you thinking about her when you put this show together?
Yes. Actually, my father just passed away in August, so he's the one who's really on my mind right now. He was Jewish. This would've been a really big deal for him to see this, and to be here. Having my kids watch him decay, and then being part of the funeral. It was a really intense experience watching this show be born.