A Look Inside Peggy Guggenheim's Scrapbooks
"Peggy Guggenheim: The Last Dogaressa," opens in Venice this fall.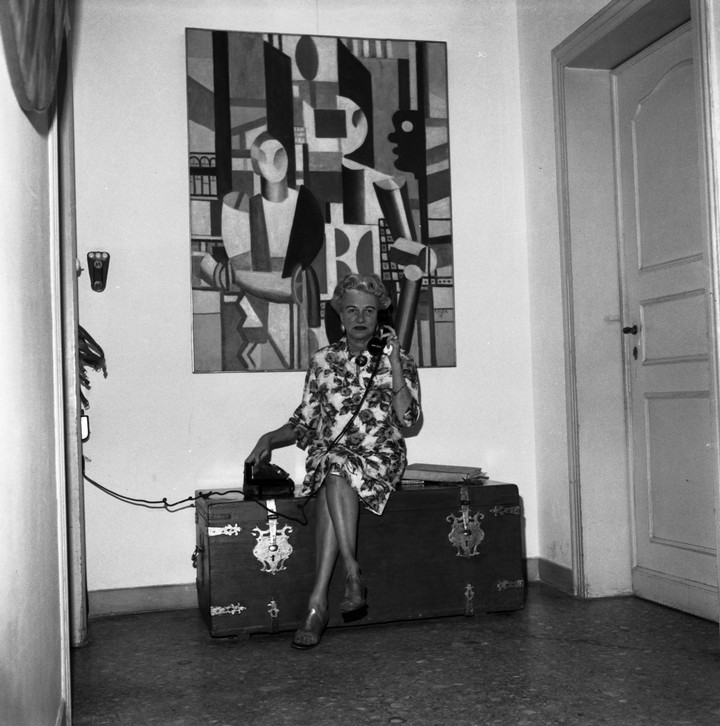 Courtesy Peggy Guggenheim Collection
Peggy Guggenheim, she of eccentric taste, signature Batman-esque shape sunglasses (how else would you describe them?), and one of the most important art collectors of the 20th century, if not ever, was a scrapbooker. This might seem a little unexpected, after all, when did such a glamorous woman have the time to sit around with a pot of glue and some scissors? Today, on the 121st anniversary of her birth, we take a look at her vast collection of scrapbooks, which are going on view for the first time in Venice, at her namesake museum.
"Peggy Guggenheim: The Last Dogaressa," which opens on September 21st, focuses on her life in Venice, and along with the scrapbooks, features works of art she acquired after she had left New York and settled in the floating city until her death in 1979. During this period of time, from the 1940s to the 1970s, she meticulously documented her life. Two of her scrapbooks are going on view (one from the 1940s, and another from the 1960s), it's worth noting these scrapbooks are not diaries. The scrapbooks are instead archives of her public life, and could have very well been the foundation of her autobiographies (yes, she wrote two of them): Out of this Century: The Informal Memoirs of Peggy Guggenheim, published in 1946, and Confessions of an Art Addict, published in 1960.
There is no doubt that without Peggy, the art world would look very different today. With the fortune she inherited after her father died on the Titanic, she devoted her life to collecting abstract, surrealist, and cubist art; and helped launch the careers of Jackson Pollock, Alexander Calder and Max Ernst (who she married) among others. In Venice, she moved in to the Palazzo Venier dei Leoni in 1949, and two years later opened her home—and her collection—to the public, which you can still visit today.
The title of the exhibition, "The Last Dogaressa," comes from her reputation with locals in Venice. "It's a tribute to Peggy Guggenheim's Venetian life, where she was awarded an honorary citizenship in 1962," explains Grazina Subelyte, an assistant curator at the Peggy Guggenheim Collection. "When she celebrated her 80th birthday on August 26, 1978 in Venice, there was a banner with her name on it and the words "To the Ultima Dogaressa," wishing her a happy birthday," she adds. Ahead of the exhibition opening, we spoke to Subelyte, who walked us through the key things we can find in her scrapbooks—and the exhibition.
The Venice Biennale
In the first scrapbook on view, there is paraphernalia about the first Venice Biennale that Guggenheim was a part of, back in 1948. "These are albums in which she meticulously collected newspaper articles, photographs, and ephemera covering the various periods of her life," said Subelyte. "The scrapbooks included in the exhibition will contain documents and articles regarding the exhibition of Guggenheim's collection in the 1948 Venice Biennale, as well as articles from the 1960s pertaining to her decision to have her collection reside in Venice permanently."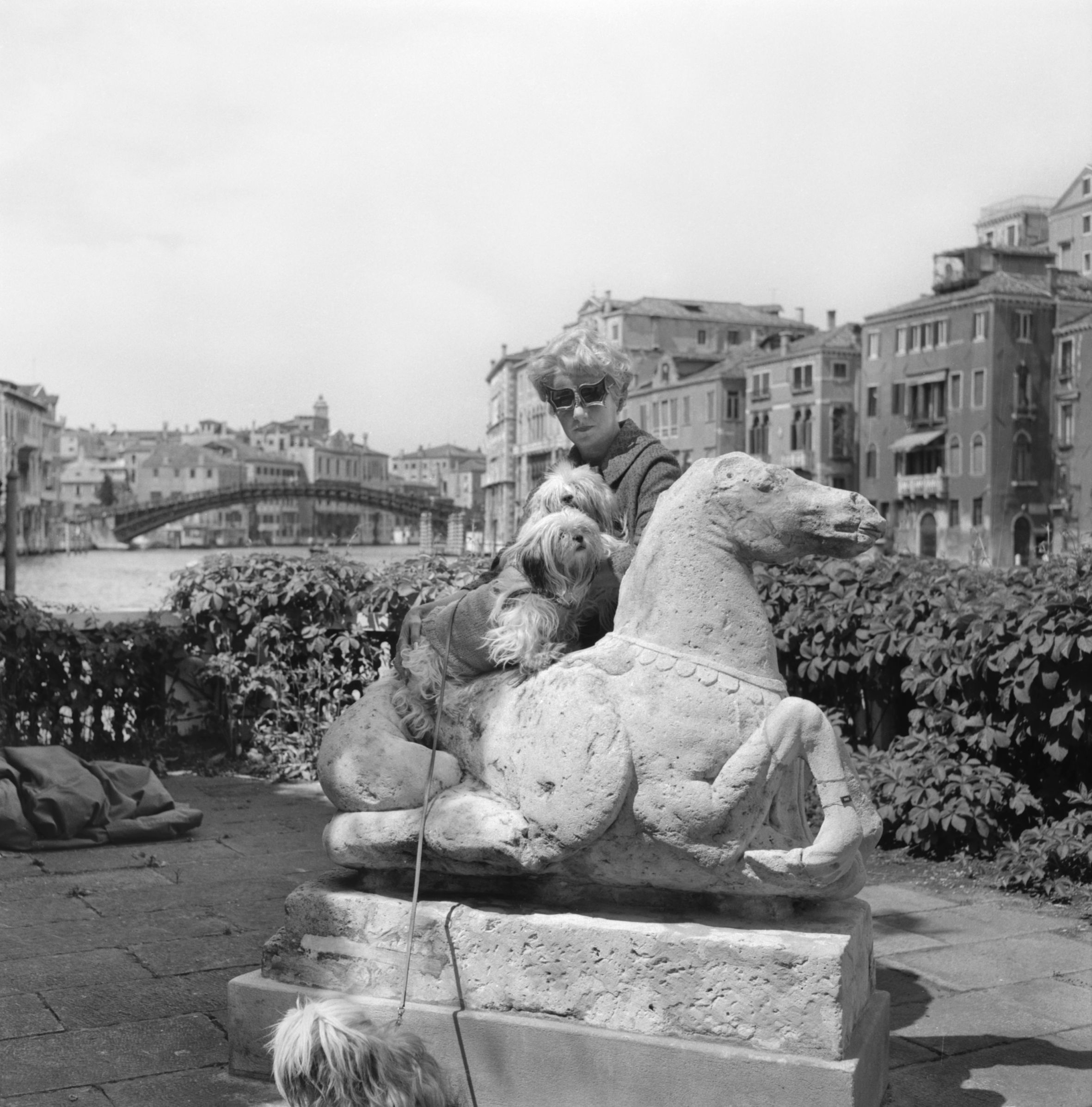 Her Lhasa Apsos
Guggenheim was usually photographed with her fleet of Lhasa Apso dogs by her side, and she often brought some of them to art openings with her. In the three decades she lived in Venice, she owned 14 dogs—with names like Capuccino, Peacock, and Sir Herbert. Her dogs, which she referred to as "my beloved babies," are buried alongside her, behind a gazebo in the garden of her Venice museum.
Good press
Guggenheim often took to making annotations in her scrapbooks with a pencil or pen in her cursive handwriting. One that stands out is a British Vogue article written by Lee Miller, another influential artist in their own right, in which she calls Guggenheim's pavilion in the 1948 Biennale "most sensational." "She enjoyed the publicity. I think Peggy understood that it was her responsibility to collect and promote the most contemporary art of her time," Subelyte explains.

Bad press
The materials on view at the exhibition go beyond the stories that looked positively on Guggenheim's work. "The newspaper articles that we will exhibit include both positive and negative press coverage since we want to show just how profoundly [her] collection shocked the public at the time," said Subelyte. "The presentation of her collection marked the first time that a comprehensive modern art collection had been seen in Italy after two decades of dictatorial regime. It was inevitable that some bad press would ensue." Needless to say, most of the bad press was Italian.
Exhibition invites
In addition to the artworks on view, the scrapbooks feature old exhibition invites (some of which were hand-printed), which not only detail the graphic design style at the time, but also her fearless choices in modern art—they were D.I.Y. projects and she was a champion of unknown artists. "Her acumen and her progressive spirit continue to inspire generations of collectors worldwide," said Subelyte. "Her friend Samuel Beckett, the Irish novelist and playwright, urged her to dedicate herself to contemporary art, as it was 'a living thing,' and she was not afraid to take risks in making her purchases and in supporting artists that were not yet established at the time."