Photograph by the author.
When Watched
Ai Wei Wei's and Herzog and de Meuron's new show at the Park Avenue Armory delves into our complicity with surveillance.
Photograph by the author.
Call your sister, google a colleague, take a selfie: you're the subject of surveillance. There are two visions of privacy being contested today. One argues that if we perfect the oversight systems and legal standards by which surveillance is allowed, we needn't be so anxious about how much spying happens as a result. (American policy works this way.) The second understands privacy as a universal freedom. As the European Convention of Human Rights reads, the privacy of "one's private and family life, his home and his correspondence" is guaranteed. Privacy, in other words, is a human right. And surveillance is not a question for the political process, but something to be guarded against by an independent judiciary. The US Constitution contains no express right to privacy; instead, a panoply of state and federal laws regulate practices such as data collection. US law is internationally imperative because we export our culture of government and private-sector surveillance. Activists demand that a privacy standard be clearly and prospectively defined.
In the post-9/11 years, many artists have focused on the human cost of surveillance, criticizing it as an instrument of imperialism, authoritarianism, and corporate greed. This summer, at the Park Avenue Armory, famed Chinese dissident artist Ai Weiwei has teamed up with Swiss architects Jacques Herzog and Pierre de Meuron to present "Hansel & Gretel," a participatory installation that casts visitors as actors in a surveillance machine. But some have dismissed the work as failing to take a meaningful stance on surveillance, arguing that it merely represents the system, leaving us to tease out its problems.
Park Avenue Armory is a hulking, castle-like pile on Manhattan's Upper East Side, built in 1881 by architect Charles W. Clinton for the Seventh Regiment of the National Guard. On my visit, my fellow journalists and I gained admittance through a tiny service entrance at the building's rear, then slipped single file through a narrow corridor. This mode of entry leads one straight into the Armory's 55,000-foot Drill Hall, originally used for training and troop configurations—and since 2006, as a gargantuan exhibition and event venue that evokes Tate Modern's Turbine Hall. The space was dark, and empty apart from a long shallow mound over which other visitors wandered, their eyes fixed on the floor. Whirring sounds came from the rafters. Projections on the floor formed grainy likenesses that followed each visitor like a digital shadow. Stay in place long enough and a red box signals your capture. A snapshot of your silhouette is then frozen in place.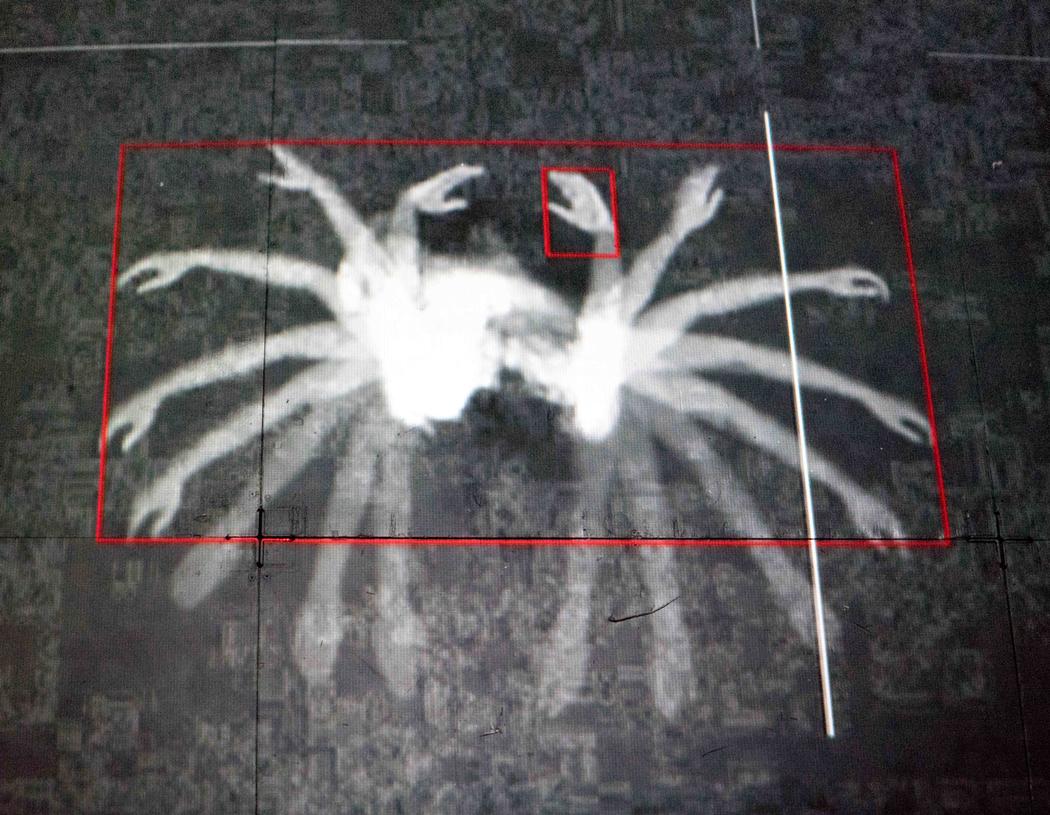 Nobody seemed very concerned with the purpose of all this, only with exploiting its effects, as we figured out collectively how to collage our frozen silhouettes into grotesque tableaux. The more narcissistic among us gravitated towards the brightest-lit areas, and despite the viewing's 9 A.M. start time, the hall took on the ambience of a late-night party. At some point, the whirring became louder and camera-laden drones appeared, underscoring the eerie likeness of the projections to leaked drone-strike footage. And yet, strangely, the relaxed, playful, atmosphere felt entirely genuine.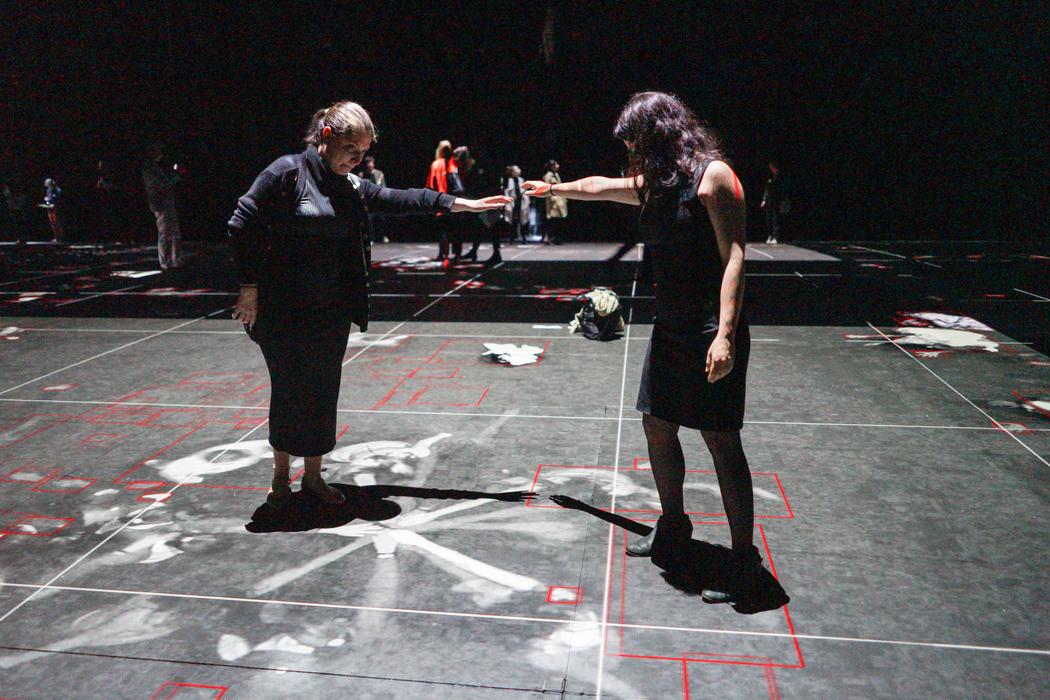 Tom Eccles, the Armory's curator, recalled his first talk with Herzog and de Meuron about the commission; the architects wanted to turn the Drill Hall into a park, hoping to "democratize it in some way." So perhaps it wasn't a failure to produce sufficiently unsettling imagery that had steered the vibe in an unexpectedly light-hearted direction, but rather a tension inherent in the work's concept. Rebecca Robertson, the Armory's President and Executive Producer, painted this friction between public space and danger in terms of the exhibition's title, "Hansel & Gretel," a reference to the German fairy tale in which two siblings abandoned in the forest are kidnapped by a cannibalistic witch. "They probably played in those woods!" she proposed. But divorced from the eponymous story, the tone of the installation was ambiguous, oddly divided between the leisurely and the menacing. This ambivalence is, of course, familiar from a contemporary life in which we daily acquiesce to data collection to enjoy the perks of social media, say, or an iPhone's GPS. We understand the implicit risk, but how long do we really dwell on that fear? Human behavior is where de Meuron locates the conflicting promises of technology. "You carry a mobile," he explained to me, "You know that whatever you do can be traced back if someone is interested. So you are always part of the game, it's inevitable."
Ai Weiwei, who has a history of being spied on, was quick to generalize that "we all have personal experience of being under surveillance." Son of Ai Qing, one of revolutionary China's most esteemed poets, Ai grew up watching his father clean toilets under exile in China's far Northwest. After studying film and playing professional blackjack, the younger Ai came to international attention in 2006 through his blog on the platform Sina Weibo, which mixed commentary on art and architecture with anti-government rants. Perhaps unsurprisingly, Ai has attracted state censorship and abuse, including 81 days of imprisonment without charge in 2011, followed by house arrest in his Beijing studio. Some of his recent output (including a heavy metal album, "The Divine Comedy" and a sculptural installation, "S.A.C.R.E.D.") dwells on these experiences. But arguably his best work communicates Chinese history and culture at a biographical remove. Take, for example, his work detailing corruption after the Sichuan earthquake that provoked his arrest. In one work from this period, "WeiweiCam," Ai broadcast his quarters on 24-hour webcam, reclaiming the violation of his own privacy from his captors.
Jacques Herzog and Pierre de Meuron graduated together from the Swiss Federal Institute of Technology Zurich (ETH) before starting their firm in 1978. Since the beginning, each of their projects has shown a highly restricted palate; the result of methodical attention to materials. Popular celebrity came mid-career when they were selected to convert Battersea Power Station into Tate Modern in 1995; they also won the Pritzker Prize in 2001. Since 2006, they have led the restoration and revitalization of the Armory building. At one point, I watched a member of the Armory's PR team intercept one of the duo to ensure he knew the obscure location of a restroom, about which he gamely winked, "I know them all!"
Artist and architects have collaborated before, on well-known projects including the Bird's Nest stadium at the 2008 Summer Olympics, and the 2012 Serpentine Pavilion. I asked Ai about the impetus to bring together his politically aggressive, almost guerilla-like work with Herzog and de Meuron's corporate, if rarified, practice: "We were all not satisfied with what we have been doing" [sic], he stated flatly. In "Hansel & Gretel," Herzog and de Meuron took the unusual step of collaborating under their own names rather than the umbrella of their firm. I wondered if this was intended as a way to differentiate the commission from their ongoing Armory revitalization, or whether it was meant to distinguish architecture from an art piece, since the installation employs devices from both. I imagined collaboration on the piece was, at least in part, a conversation about how to convey meaning. At one point I watched Ai pick up a Herzog & de Meuron monograph and muse to them, "I think that you guys should ask somebody to write a book, which really tells stories, rather than another serious architecture book. People have such a curiosity about stories." Ai, as a political filmmaker, has a natural disposition toward plot. The closest architecture usually gets to conveying a story is the sequence of spaces as you walk through a building. "Hansel & Gretel" can be interpreted as an attempt to put both techniques in play.
Back in the drill hall, a group of us prepared to leave the first part of the exhibition and followed the exit signs back out the service door. I learned later from Herzog that these were used to avoid the Armory's monumental front entrance and were a compromise for the show. Their initial concept had been to bore a "mouse-like" entrance from one side (an idea scrapped, I imagine, to the relief of the Landmarks Preservation Commission). Back out in the rain, a frazzled docent handed out maps, directing us to proceed around the block to the front door for part two. The Seventh Regiment of the National Guard ("the Silk Stockings"), who once occupied this building, were defenders of the Upper East Side, and the building is filled with seemingly endless club rooms for the service's elite, designed by leaders of the Aesthetic Movement such as Louis Comfort Tiffany and Stanford White. For Ai's show, the walls are lined with large LCD screens displaying real-time footage from the Drill Hall, including close-ups of visitors' faces. On a row of tables, iPads show a historical timeline of surveillance, mixing imperialist adventures, spy movies, and artworks. I sat down and followed instructions to take a selfie using "Face Match". The technology isn't perfect; Eccles estimates a 30 to 50% success of facial recognition compared to the FBI's 70%. (Ai jokes that the Chinese government has a 150% success rate.) But it matched my face to a picture captured earlier (it was never quite clear how often my photo was taken that day). When I later told a colleague fresh from organizing Laura Poitras's recent exhibition "Astro Noise" at the Whitney Museum, held last year—which takes a damning look at US surveillance practices—she immediately asked whether the Armory had demanded I sign "a pile of legal releases." They did not. Fears about liability and image collection evidently lead the Whitney to curtail certain aspects of that show. I asked Ai what will become of all this footage. He wouldn't cite more than everyday data promiscuity: "We are jammed with too much surveillance in the world, and who's going to watch it, how to analyze it, it's bigger than we can image. That means it doesn't matter anymore, you know?"
Everyone in the well-upholstered Head House was wet from their walk around the block from the Drill Hall. It was a walk that in most exhibits at the Armory would be unnecessary, since the spaces are separated only by a pair of walnut doors, locked for "Hansel & Gretel." While inconvenient, this clarifies the installation's intent; visitors get to play both sides of the same fantasy, the exhibitionist Drill Hall and the voyeuristic Head House. Exiting one world to enter another with a jog through the rain emphasizes this plot break, even as it does something weird, and not totally convincing, to the work's economy. Herzog focuses on the upside: "The more and more we speak about this I think it is mandatory that this door which links the two spaces is closed." Ai adds, "You need to make this break, hear the street noise, before you go into the next room. Maybe you'll want to go back, because maybe you don't quite understand what happened [...] or you want a better photograph."
Participation is the essential ingredient of "Hansel & Gretel." As Ai recently opinedon state censorship, the "system needs cooperation and tacit understanding from the censored." The same should be said about surveillance. Most people aren't simple victims of it, but participants in an information culture with known risks. We expose ourselves to the possible abuse of power in exchange for convenience. In this way, "Hansel & Gretel" makes overt what we already know and in close enough terms to everyday life that I left the installation wondering where it delivered me. With so much at stake globally in American politics right now, it's easy to pass over how unresolved data privacy is here, because new technology and changes in legal procedure both proceed so incrementally. In March, the House of Representatives rolled back FCC privacy regulations that mandate your Internet service provider obtains consent before selling your browsing history. Next session, the Supreme Court will consider, in the case of Timothy Carpenter, if law enforcement officials require a search warrant to obtain cellphone location histories. While much contemporary art poses a substantive claim for the human right to privacy, "Hansel & Gretel" seems agnostic on this point. Instead of a guiding principle, it presents a multi-dimensional system. The artist's voice remains behind the curtain, giving over to visitors a space to dance, consider weighty questions, or the elusive call to do both.
"Hansel & Gretel" is on view until August 6. Sam Omans trained as an architect and is finishing his PhD in Art History ("El Lissitzky: Architecture as Spatial Form 1921-1941"). He is the Robert Lehman Foundation Fellow at the Institute of Fine Arts, NYU.