Photograph by David Crotty for Getty Images.
Timothée Chalamet to Craig Green: The American "Little Fresh Meat"
Designers and celebrities alike are grappling with what it means to be a sensitive man.
Photograph by David Crotty for Getty Images.
Last October, Jing Daily reported on an increasingly popular category of influencer in China called "little fresh meat," which is "a term coined several years ago to describe a young generation of Chinese male idols who are known for embodying a softer masculinity." The little fresh meats have a "well-groomed, boyish appearance with delicate elfin features," and appear in advertising campaigns targeted at consumers their own age, who "adore them for their success as fashion sense," a McCann Worldgroup China exec told Jing Daily. And "more mature female consumers see these 'little fresh meats' as the cute little brothers they never had," the exec said.

I thought of the little fresh meat phenomenon again when I saw Timothée Chalamet on the Golden Globes red carpet. Chalamet's fine-boned boyishness is so revered that there is an entire Instagram account dedicated to inserting his visage in place of his dandyish art historical predecessors'. To the Globes, Chalamet wore a custom look from Virgil Abloh's Louis Vuitton: slim black trousers and what many on Twitter described as a "sparkly harness," but was actually, per a Vuitton press release, an "embroidered bib." Abloh's first Vuitton collection was filled with the kinds of holsters and utility vests and other "tactical luxury" items that have helped define the aesthetic Vogue deemed "warcore," so the appearance of delicate Chalamet in a sparkly version of this item—rebranded from a harness to a bib—seemed like a desire to soften "the new sense of survivalism" Vogue described warcore as pushing.
Chalamet isn't quite little fresh meat in the original sense of the term—he's too old, and all of the qualities listed under the Wikipedia entry for the phenomenon's "Negative Criticism" don't even apply to him—but he's a kind of Western version of phenomenon. (So is Ezra Miller, only he's more extra and has been on the scene for less time.) His fashion appeal spans beyond his own gender—men and women alike follow what he wears obsessively—and his clothing does something more than gesture at the ideal state of masculinity. It expresses an interiority beyond a gendered surface. And he makes his statements using runway pieces, working with luxury and avant-garde designers—unlike Shia LeBeouf or, to a lesser extent, Jonah Hill, who are interested in exploring the fashion potential of garments considered 'outside' runway bounds.
(Here is American Little Fresh Meat in action, for example: they have been signaling an end to warcore lately, or at least a repurposing. The other person who famously "dressed for battle" was, of course, Grey Garden's Little Edie, who descended in a babushka and panty hose and turtleneck ensemble that stirred a Maysles brother to utter that famous line from behind the camera. In the past few months, we've seen both Frank Ocean and A$AP Rocky rock a babushka; it really is the best costume for the day.)
This exploration of masculinity's sensitive potential has been simmering on the runway for some time, but was expressed with new clarity last week, when Craig Green showed a collection of what he deemed men of glass. It included one grouping of clothing made of translucent purple, yellow, and green bubble wrap, in some cases nestled around the head. "I was thinking of this man made of glass," he told Vogue, "and that idea doesn't have to mean fragility. It can also mean strength." Vulnerability is its own kind of force—and clothing is here to protect you, to give you the strength to be more open.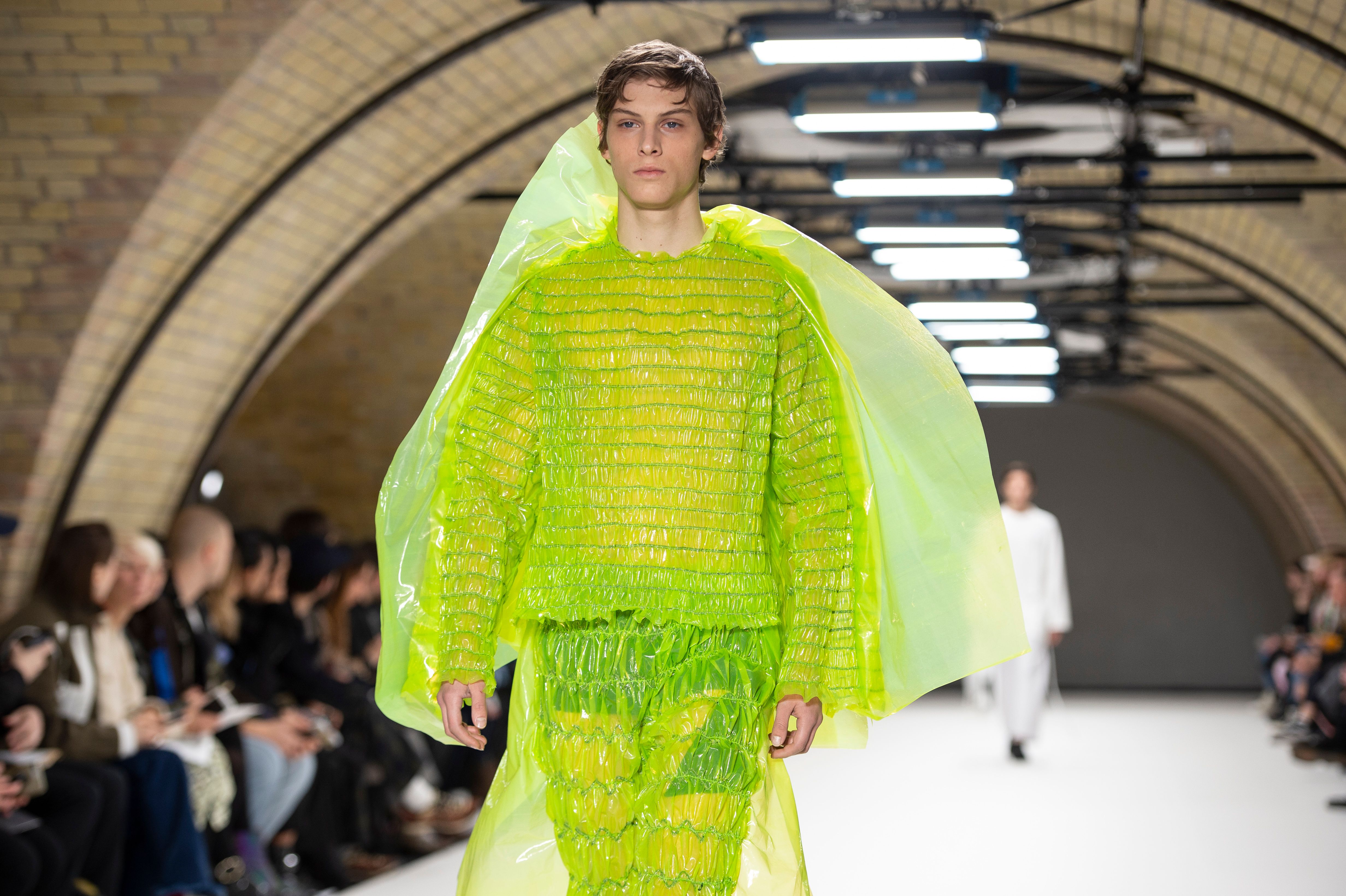 This isn't just the luxury answer to a woke bae. Over at Marni, designer Francesco Risso was reckoning with that evil word "power," showing what he referred to as "an army of conservative power suits blown up," and what Tim Blanks referred to as Risso's "parody of power-dressing." In these suits, every man becomes a little fresh meat—smaller, dwarfed by the clothing—but there's also a suggestion that the power suit is too large for anyone, at least in this era. Refusing to live up to that big lug of a stereotype, embracing the discrepancy—now that's cool.