Photograph via Getty Images.
"I'm Here for the Bling": Meet the Teens of Couture Week
Some attendees at fashion's most exclusive week are barely old enough to drink or drive.
Photograph via Getty Images.
Teens have a lot to worry about these days: pimples, new Juul flavors, unrequited crushes, phone addiction, finding the next big Soundcloud rapper—and whether their couture week seat is first or second row.

Couture week, whose Fall/Winter season wrapped in Paris last week, is teeming with the world's elite, but a small number of the attendees who flock to see shows where daywear, according to the Telegraph, starts at 8,000 pounds sterling (about $10,500), are barely old enough to drink or drive. Just as teenagers are powering fashion's full swan dive into streetwear, the couture market is driven by its own set of bright young things. They come to the show in the designer's clothing, and they take selfies from their coveted seats. Couture isn't simply about creating beautiful dresses and suits—it plays to the teens in the hot pants at Alexandre Vauthier and the miniskirts at Chanel (even John Galliano's Maison Margiela celebrated "digital nomads"—what others might just call "millennials"). But when they snap a photo of a look on the runway, they're not merely looking to stir up FOMO in their Instagram feed—they're possibly adding to their shopping carts.
Who are they? What are they buying? And where are they wearing it?
"I'm here for the bling," a 19-year-old told me before the Vauthier show on Tuesday. He declined to give his name, instead letting a giant purple crystal on a wide-gauge wire chain define him. He was wearing a Rick Owens long t-shirt that skimmed the knees of his skinny jeans, and sneakers—not dissimilar from the usual fashion week crowd uniform. He paused, taking in his surroundings; a woman next to us was wearing a pastel purple Armani jacket and holding a Judith Lieber minaudière in the form of a seated pig, its mouth diamantéd in an absurdly sublime smile. He leaned into the mic with freshman confidence: "But I also love tailoring."
Precociousness aside, teenagers make up a large share of couture's key markets, particularly Asia. "The couture clients in China, they are much, much younger than clients in Europe or in America," Yoanna Liu, an editor at Harper's Bazaar China, told me in the front row at Armani. "They're very, very young. And they have a very good sense of fashion."
What does that mean? Liu said their taste isn't, in theory, different from their parents. "They look for clothing that can make them feel more confident and more powerful," she said. (The idea of a couture jacket giving a teen confidence gives me chills.) But they are incredibly specific, down to the colors. "Everything in pink, or beige, or red sells really well," Liu said. Houses will re-stage their shows in big markets, and even create special looks that cater to the taste of teenagers there (like Fashion Nova!). "The last season of Dior Couture, they brought their collection to Shanghai for a show," Liu said. That collection, Spring 2018, was done almost exclusively in all black and white, "but for China, they had some dresses made especially in pink and red, exclusively for the Chinese market. So you see the difference."
Many couture teens, then, wait until the great traveling couture circus arrives in their hometown. But those for whom Paris is within closer reach are eager to show their ardent brand loyalty. Christopher, 19, from Vienna, Austria, was seated in the second row at Armani with a female friend. He said that he and his gal pal had been to Chanel earlier that day, and that he had attended a Louis Vuitton men's show during Kim Jones's tenure. (Some hypebeast-couture teen crossover! "I wore the Louis Vuitton Safari Varsity Jacket from the Spring 2012 collection by Kim Jones for Louis Vuitton," he emailed me. Get this guy a Grailed account!) For a certain set of teenagers—Christopher had the bearing of someone who had definitely appeared in Tatler under a headline like, "Most Eligible Toffs!"—attending a couture show is like, say, going to a concert or to a super fancy restaurant on a date, which these two seemed to be on. (Take that, Tinder!)
I asked why Christopher enjoyed coming to women's couture shows. "I'm looking for some nice colors, some nice shapes—and first of all, Mr. Armani himself," he said (the designer shakes hands with many of his clients as he makes his final bow down the runway). "Haute couture is not my personal thing, because it's for women mostly, but therefore, I'm just [here] for her." He gestured to the young woman sitting next to him. I asked her if she was shopping. "I'm not here to shop," she giggled. "It's a great possibility to be here. I'm here for the first time. It's"—she paused, and looked around the room, a splendid parlor in the Italian embassy—"awesome."
Christopher is an Armani devotee. The weather was nuzzling up to 90 degrees, but he was in a deep red velvet jacket and matching tie. "I'm wearing pretty much a complete runway look from the Giorgio Armani Fall/Winter 2017 Men's collection," he said. (He also emailed me an attachment of the runway image.) It was "made-to-measure," he said, "because it has been produced only for the show and never been sold in the boutiques. The shoes are the same shape, but leather instead of velvet, as the velvet ones were only produced for the show as well." It's like wearing a band's t-shirt to their concert: you need Armani to wear to the Armani show.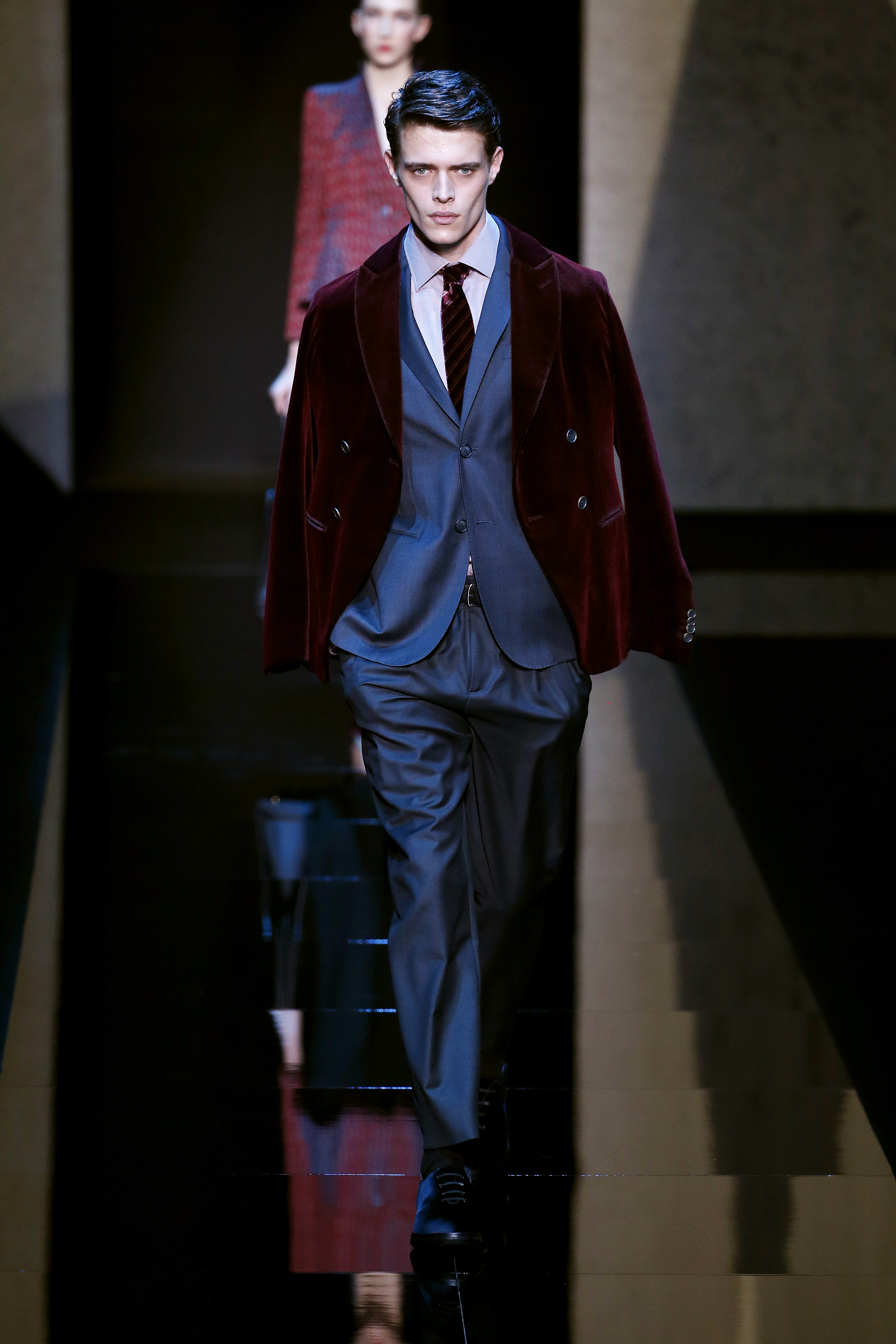 But not all teenage attendees are on a shopping trip. At Fendi, which has a ravenous fan base in China, a number of the attendees were very young Chinese celebrities, seated front row in full Fendi logomania. But not Lihua, 18, was sitting in the second row with a friend. She took several selfies of the two of them and uploaded all of them to Instagram stories. I asked her if she'd ever bought couture. "I just come with my mother, here," she said, pointing to the woman sitting in front of her in full Fendi. "And that's her mother," she pointed to her friend and her corresponding mother. Lihua herself was in a floral Fendi dress, on loan from the matriarchal source.
Since she wasn't shopping, what was she looking for? "I like individuality, because you see a lot of crossover nowadays," she said.
She found Chanel, where models walked down a fake Parisian sidewalk, complete with book stands, to be more of what she was looking for. The house had shown a long skirts that could be zipped up the side to reveal miniskirts. "With Chanel, it was very individual." She added, of the show's lava lamp-y, soothing soundtrack: "The music was so therapeutic!"
Lihua was also excited to spot celebrities. "I want to see Olivia Palermo. She has such great style. She reminds me of Blair Waldorf." I asked her if she thought Palermo, the socialite and street style star, was as conniving as her teen drama counterpart. "I don't know. I don't think so. But there was a show called The City that did not make her look very nice." Then a security guard approached me. "You must get up," he demanded. And into my seat slid another girl, barely tall enough to ride a rollercoaster, but probably powerful enough to build her own.