Onyx Collective performing at the opening of Drawing a Blank, 2018. Photo by Chase Hall.
The Opening that Had it All: A Boy Bound in Industrial Tape, Experimental Jazz, and Cutting-Edge Photography
...then the cops showed up!
Onyx Collective performing at the opening of Drawing a Blank, 2018. Photo by Chase Hall.
During the opening of Drawing a Blank, an exhibition on view in a first floor parking garage in Harlem through this Sunday, a young man named Jaunty was suspended from a wall next to other works of art. Appearing subsumed in dozens of rolls of industrial tape, his situation was just one of a range of outcomes that sending a message to the photographer Frank Lebon on Instagram might produce. Jaunty was so inspired by one of the titles of Lebon's works that he got it tattooed on his chest, and, after a flurry of communication—with another Lebon-inspired tattoo added in the meantime—the British photographer invited him to his studio to shoot some photos. So, when the 23-year-old curator Ben Broome wanted to bring a new iteration of his curatorial project from London to New York, Lebon decided to suspend his fan and model from the walls, leaving only his tattoos exposed as if he were a human canvas. Unfortunately, as the sentient artwork would tell me later that night, "the tape started to strangle me." So, after an hour he was cut down, leaving only a human-shaped imprint behind.
It was a chaotic spectacle that fit its surroundings, since Drawing a Blank is decidedly unlike most contemporary art shows. The exhibition's two previous occurrences—first in a "semi derelict" building in Peckham, then in an underground car park in South London—have stood in opposition to traditional white cube art shows. They offer a youthful counterpoint to the generally stuffy environments where art is typically displayed.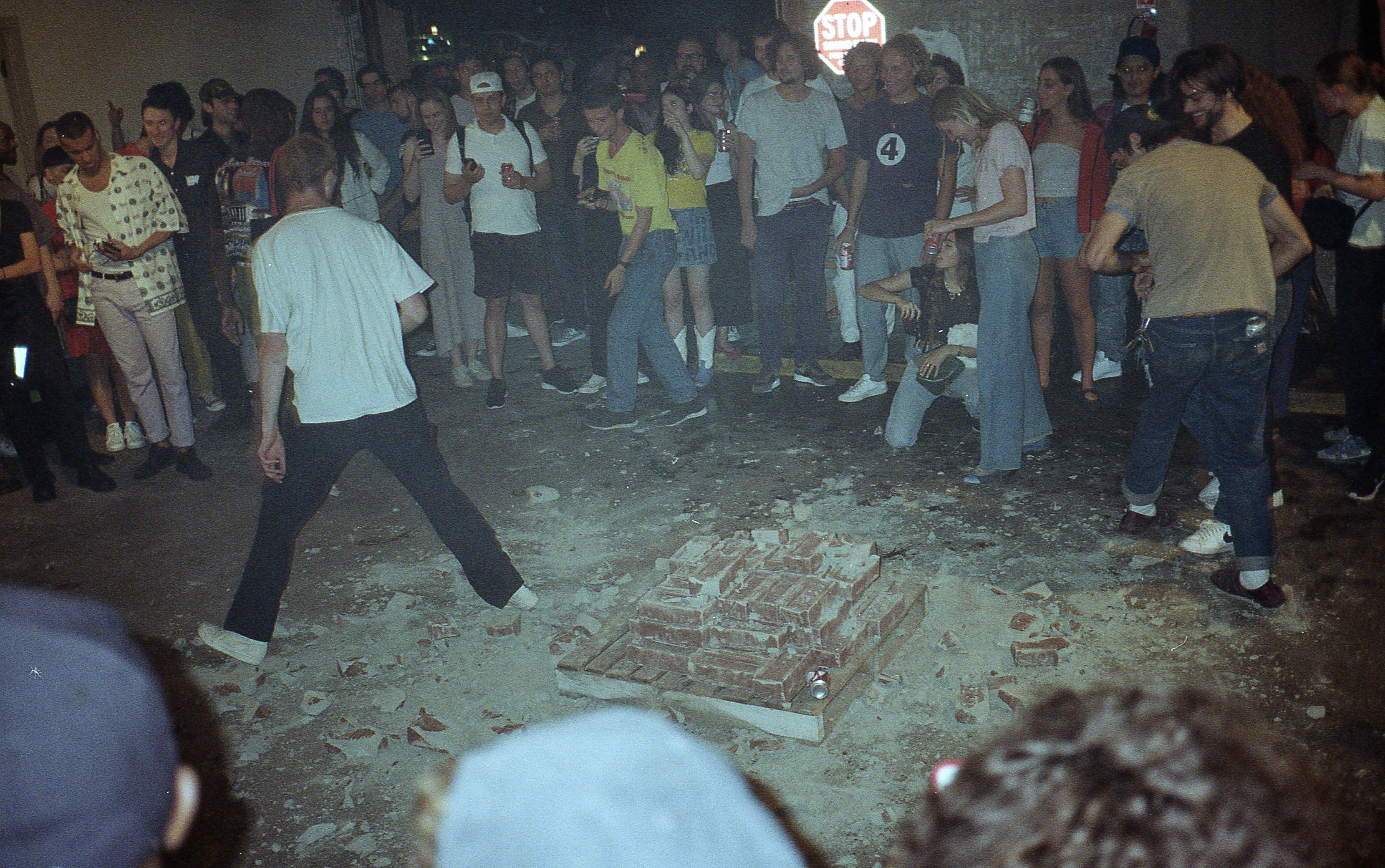 For the New York edition, Broome wanted to capture the elements of the city that made it glisten in his childhood. His reference points are familiar, of course: the 1995 film Kids, the city's once-explosive graffiti scene, golden age hip hop, skateboarding. But fetishizing the past is a way of ignoring how much is happening right now, and Broome seems to understand this instinctively. Work from young and emerging artists like Tyler Mitchell—whose color-drenched photographs of black and brown life in America radiate tenderness and honesty—and Lotte Andersen—whose giant fabric installation felt like a mesmerizing piece of immersive and disruptive fashion—felt like a breath of fresh air.
The only tradition that Drawing a Blank exhibitions have is to exist in unconventional spaces, and Broome had initially arranged to host this show at an old jazz club in Harlem. That venue burned down under mysterious circumstances around a nearby film shoot, and one firefighter even died trying to put out the blaze. Even after losing his space, the owner of the club found he was still taken with the ambitious event he'd signed on to host and ended up helping Broome secure a new location on the ground floor of what might someday be a trendy condominium. "It was really amazing because, you know, he's got a million other things to worry about and he's taking the time to help me out," Broome said. "New York has really been welcoming in that way. With people just stepping up to help out."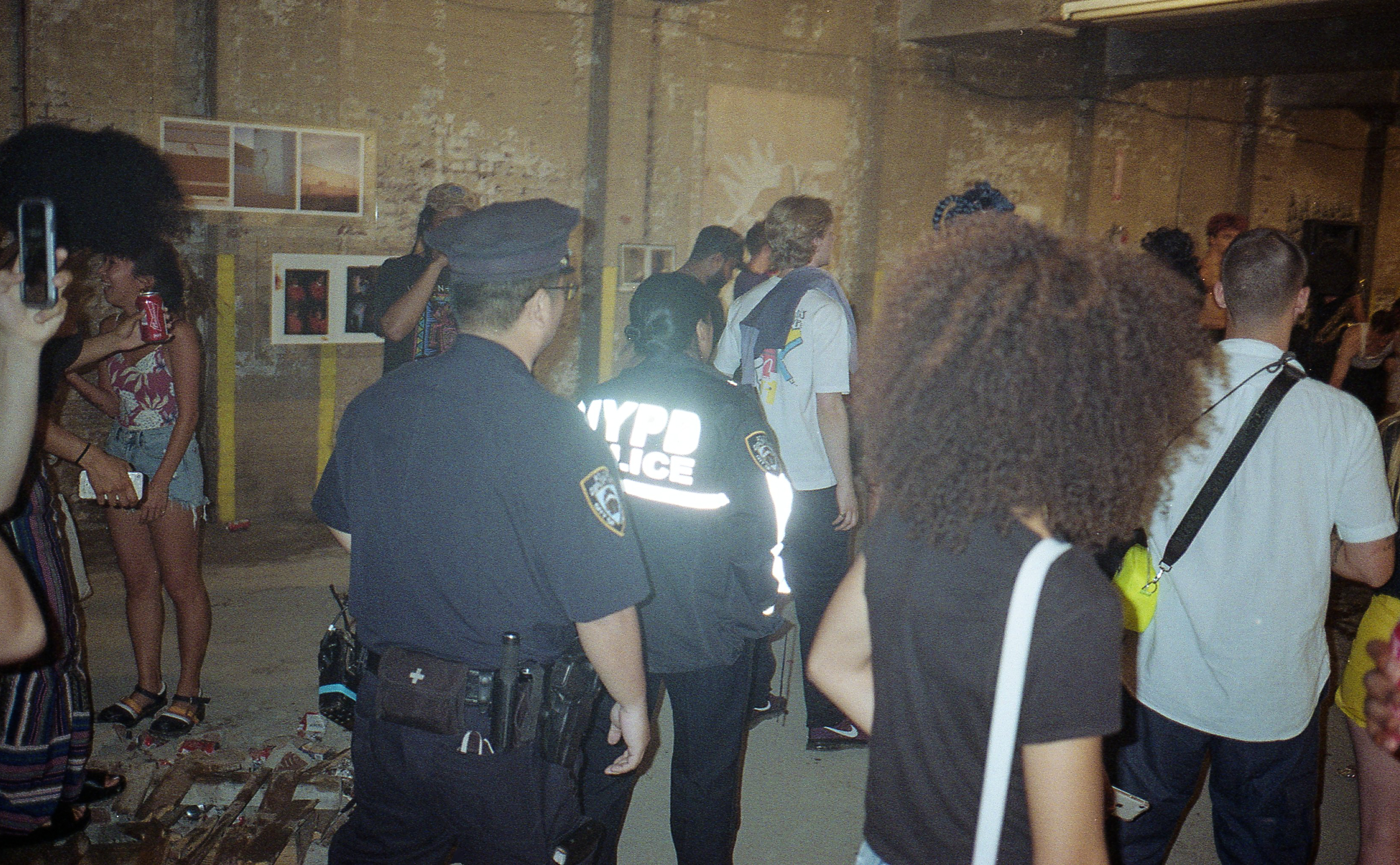 Such a conclusion to this story makes it hard to be cynical. Of course, things never go perfectly, with the police putting in an appearance on opening night along with regular citizens and a performance by Onyx Collective, but even the authorities in this context ended up in bizarrely dystopian photos that could serve as works of art by themselves.
Drawing a Blank is on view at 1850 Amsterdam Avenue in Harlem through June 24, 2018.