The Best Designer in the World Makes Clothes for Sleazy Young Dudes
Martine Rose, Balenciaga consultant and anglophile, presents a quintessentially London collection.
Here's the thing about London men: all the best ones are a bit of a geezer. It's a fact that Martine Rose knows and has played on since her earliest collections. "He's hard to pin down, but what we do know is, he's adored," she said in a press release. "He's a bit of a geezer, really." (Geezer, according to no less an illustrious source than UrbanDictionary: "will be found usually out side a pub with a pint in his hand on match day. They commonly like football, scrapping, beer, tea, tits, and Barry white.")
"He's a bit gormless," exclaimed one showgoer, two or three looks in.
Rose's muse has grown out of the '90s raver, taking wardrobe inspiration from the UK dance music scene. There were louche leopard print trousers and square-toe leather loafers slightly askew, as if the sides had been trodden down. There were also kick-flare jeans, heavy leather bombers, and a Hawaiian shirt. Motocross trousers and a sweater emblazoned with the word SPEED. The denim-animal print hybrid jackets,a Martine Rose staple, have their roots in punk, reggae, and garage, "all of these things that feel quite English to me," said Rose.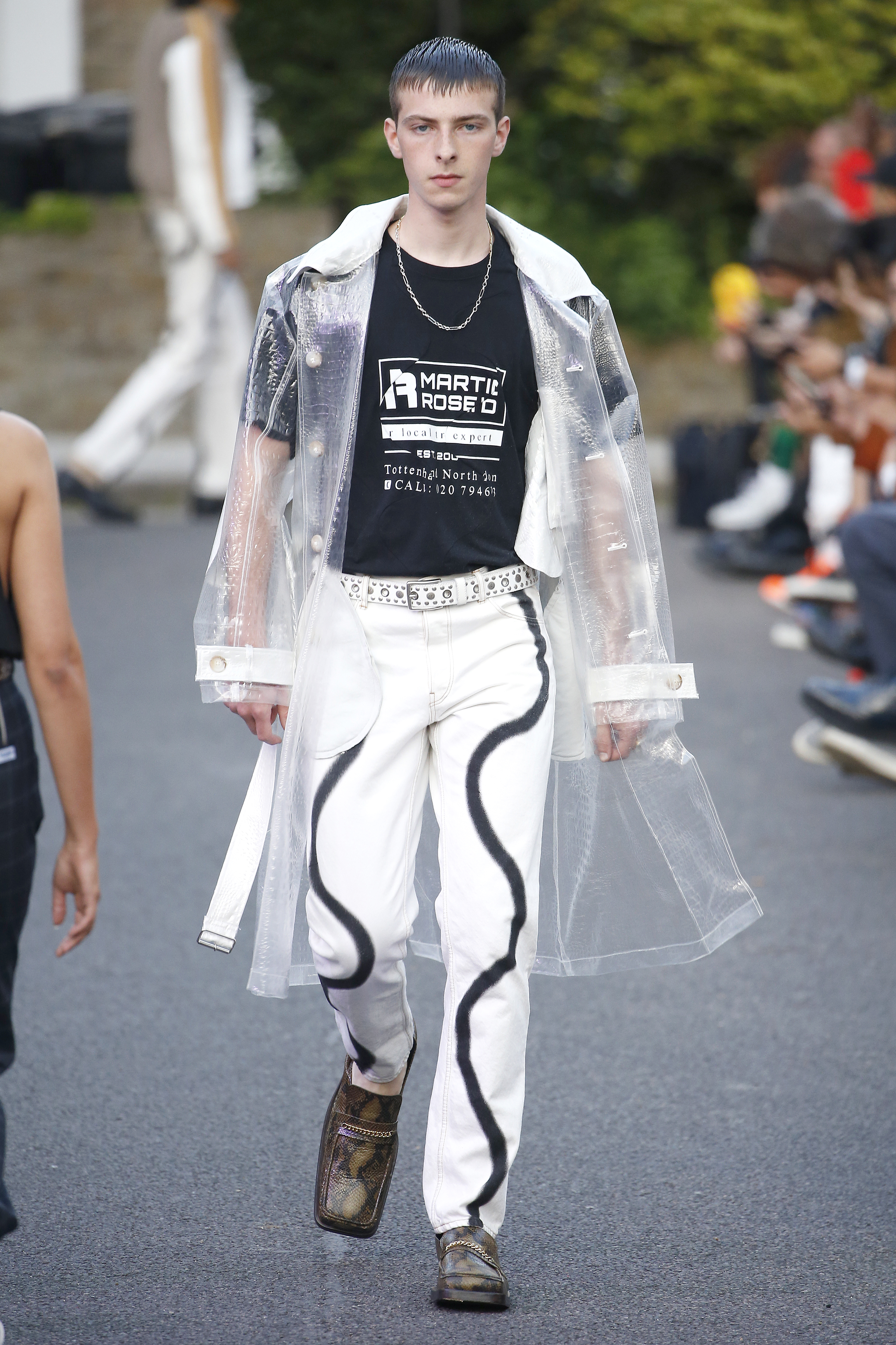 "I wanted to write a love letter to London, because I feel like it's going through a bit of a funny time at the minute," said the designer backstage (which meant, in this case, a sliver of street beside a pop up gazebo). The location was a good place to start: the show was staged on the street on St. Leonard's Square, a quiet residential corner of Chalk Farm, North London. Rose knew the community through the sister of her stylist, Tamara Rothstein. "I did a meet and greet with everyone, because I wanted them to feel invited. I wanted their kids there. I chose this street because I knew the community would be into it." And they were: children (including Rose's own) sat on walls and ran up and down the catwalk; neighbours gathered in someone's garden drinking rosé; elderly residents peered out of the windows. It's an obvious comparison, but there was a feeling of early Margiela about the show, as if Rose were channelling the spirit of maverick outsider that, in 2016, saw Demna Gvasalia enlist her as menswear consultant at Balenciaga.

Among all the other things making this collection quintessentially London, is the fact that despite the season being Spring 19, it is impossible to tell what the weather is like in the Martine Rose universe. Knitted rave hoodies, puffer blazers, and a clear plastic raincoat were mixed with muscle tanks and cycling shorts (another Rose signature). Knits were supposed to feel repurposed or passed down, maybe knitted by someone's grandma. "I washed everything," said Rose. "I wanted everything to feel like it's had a life before."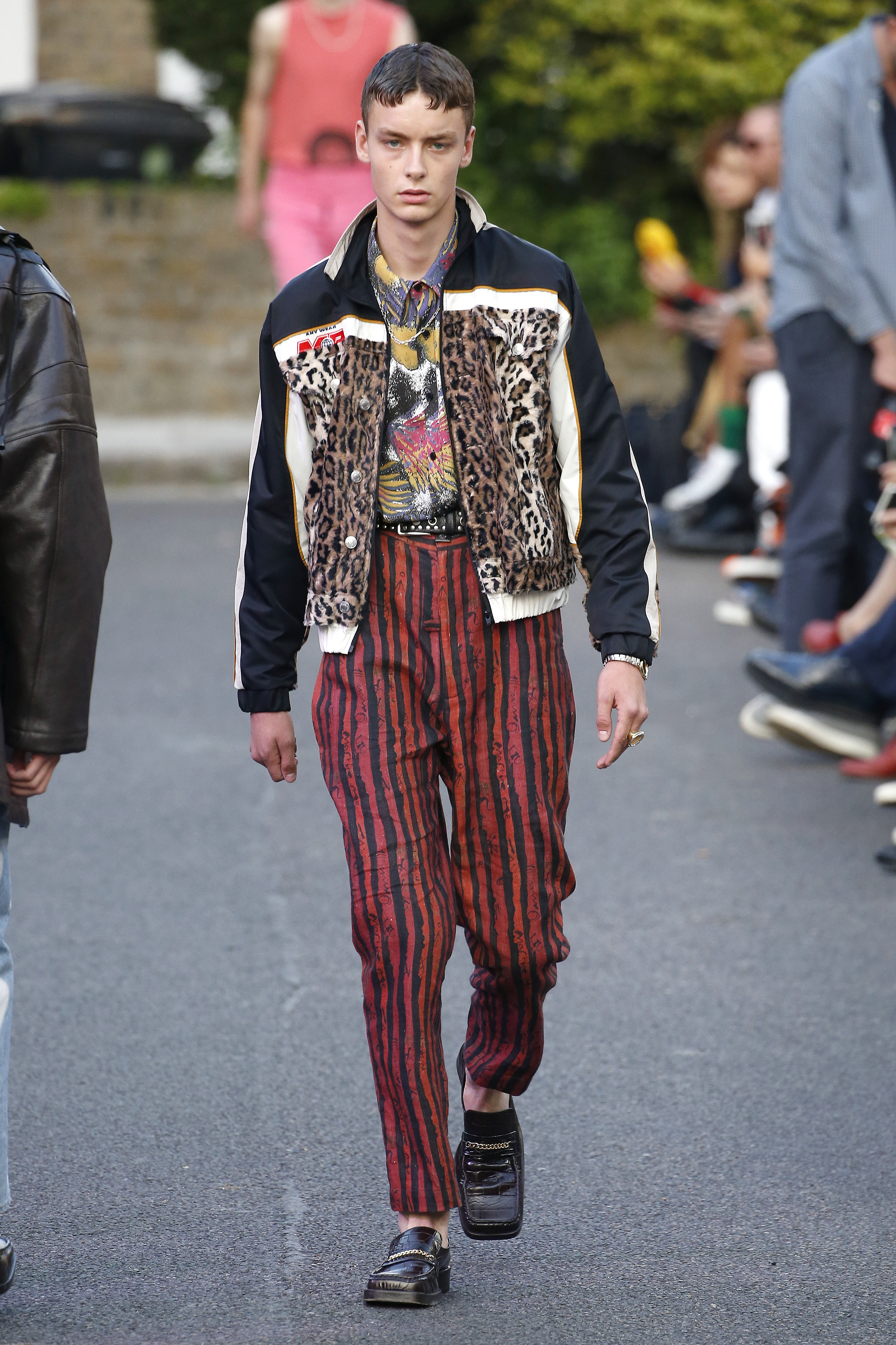 International millennial of mystery Luka Sabbat was in attendance with Virgil Abloh, wearing Alyx and looking ever so slightly out of place in a North London cul-de-sac. But it isn't hard to see how he fits into the Martine Rose world. Hard to pin down? Check. Adored? Check? Bit of a geezer? He's 20, but he certainly has potential.
According to her website and Instagram bio, Martine Rose is "probably the best designer in the world." A bold, cheeky statement that deserves attention. What makes someone the best designer in the world? If it's good clothes, Rose has the formula. Mass appeal, maybe, and she certainly has that too–Kourtney Kardashian was recently seen wearing Martine Rose on...Instagram. But above all else, the best designer in the world has to deliver vision with unmatched clarity and precision. Martine Rose said she would write a love letter to London, and that's exactly what she did.