Fashion Horoscopes: The Signs as David Bowie Outfits
Obviously, Scorpio is represented by Bowie's "Angel of Death" look.
The premise of astrology is that the place and time at which you were born fixes you in relation to the world as it already exists: the types of relationships you seek, where you draw the boundaries of your personhood, whether you chase or avoid conflict, adventure, risk, comfort. It also establishes your relationship to David Bowie's outfits—a rich and complex a tapestry of human expression. For this week's fashion horoscope, Courtney Perkins, the auteur behind the @NotAllGeminis Instagram, explains why each sign of the zodiac corresponds with an iconic Bowie look.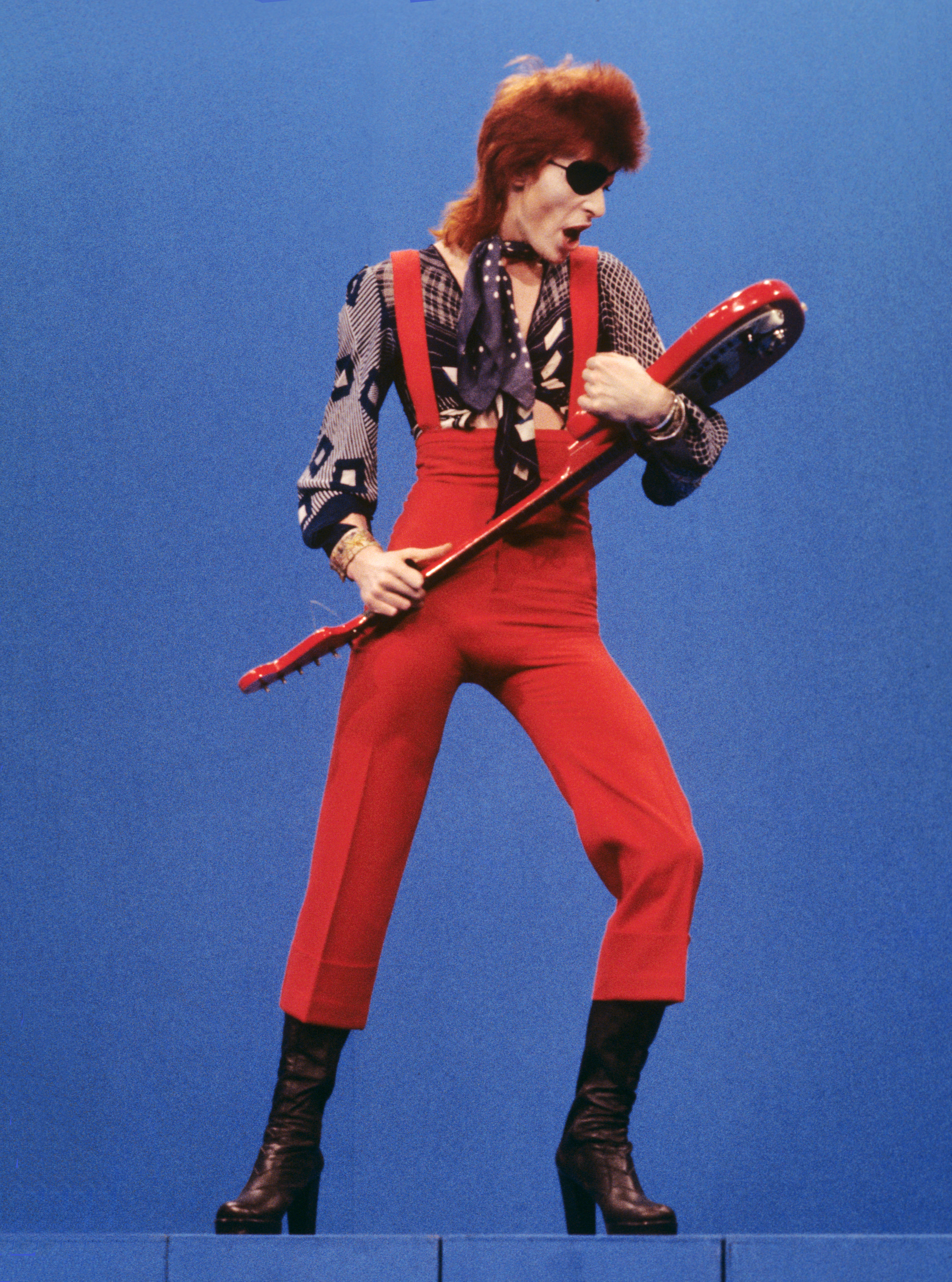 Aries
Aries, the first sign in the zodiac, is a bold initiator that never fears making a statement. Aries, you are as bright as the red jumpsuit/eyepatch combo David Bowie wore to sing "Rebel, Rebel" on a Dutch TV show. Hot tramp, we love you so.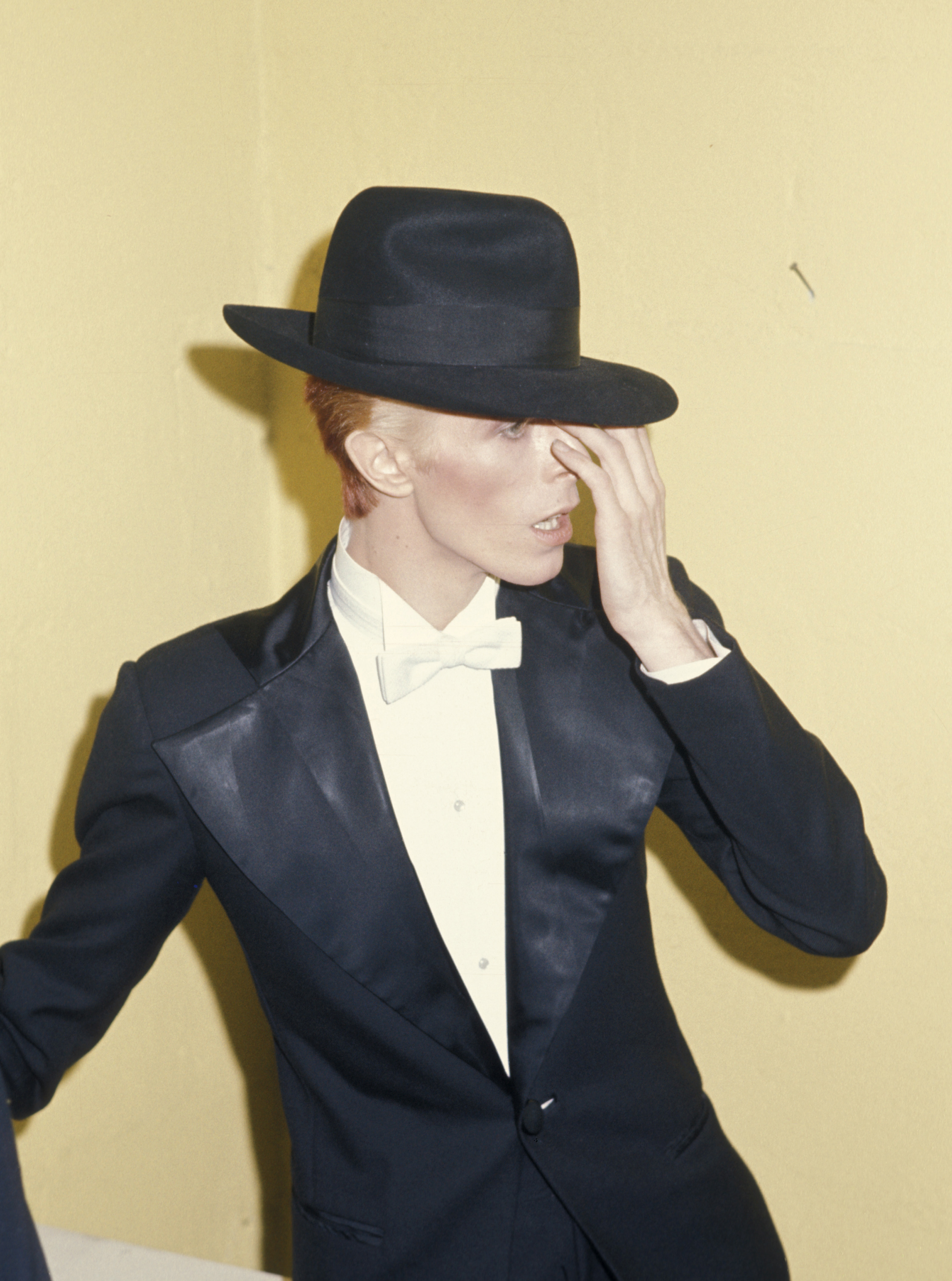 Taurus
Taurus is ruled by Venus, the planet of aesthetics and beauty, also identified with dependability and straightforwardness: so it makes sense that they would be represented by Bowie at his most dapper, which is also his genuine form. No tricks, no gimmicks, no alter egos—just a man dressed to impress!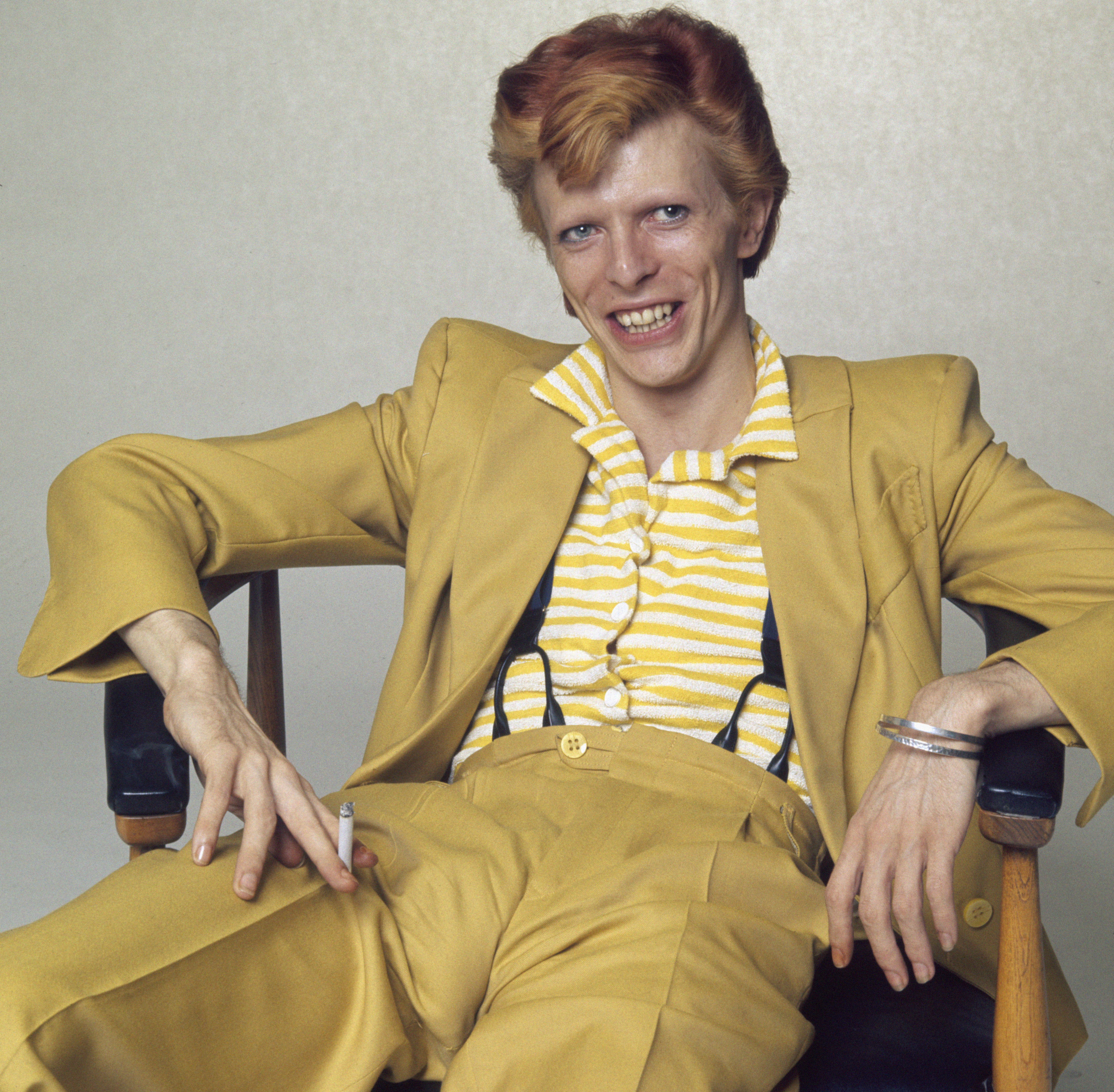 Gemini
Gemini is a cheeky, playful little bitch! They're ruled by Mercury, the planet of communication, wit, and expression. This yellow look isn't taking itself too seriously and reflects Gemini's sunny disposition, even invoking the colors of spring.
Cancer
Cancer is a calm, soothing water sign with an emotive, domestic nature. This fabulous shirt is blue like the tides, shiny like the moon (Cancer's ruler), and as soft and silky as the blanket a Cancer would rather be wrapped in at home on their couch.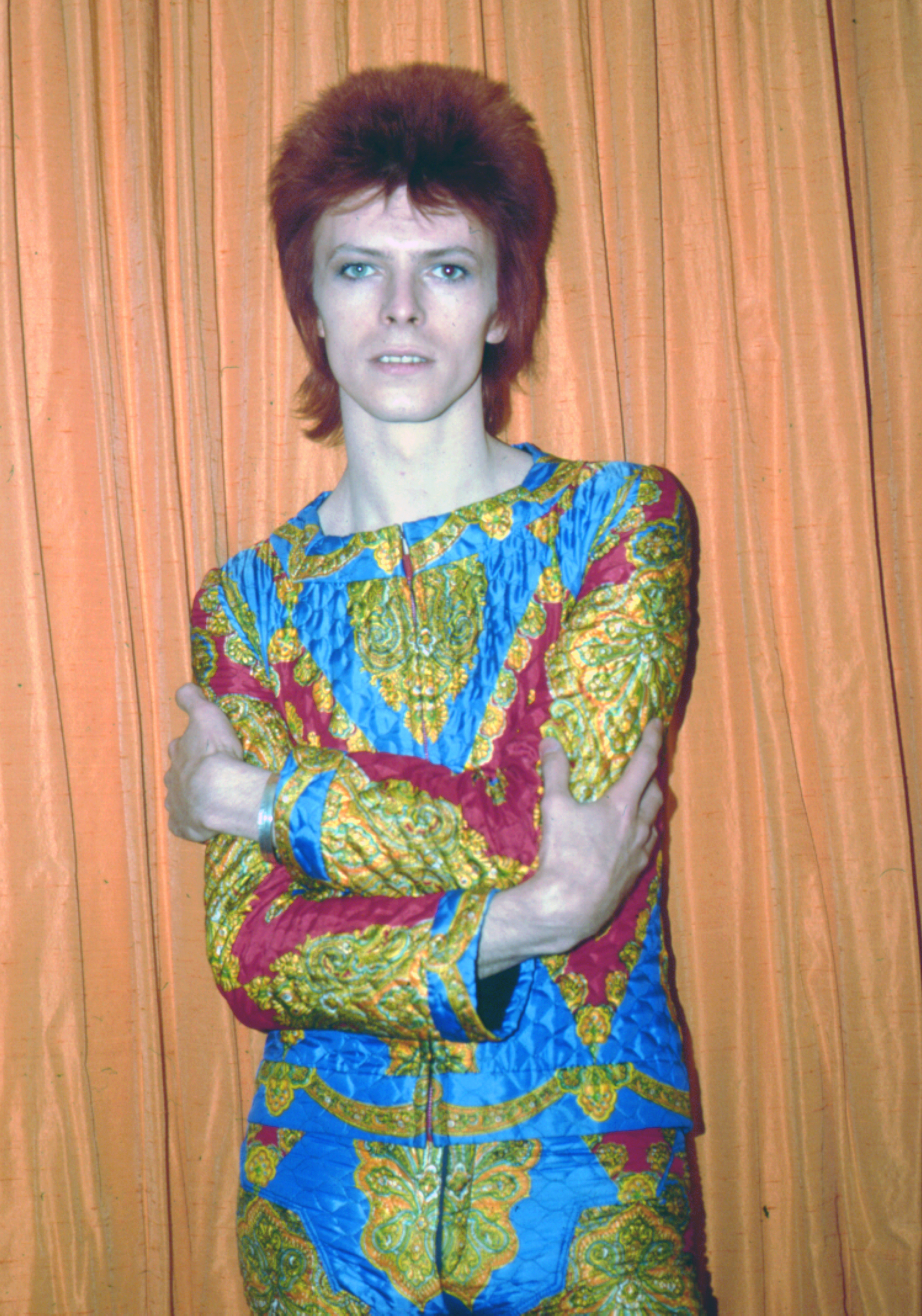 Leo
Leo is symbolized by the lion, and as such, Leos are often known for their luscious or noteworthy manes—represented here by Bowie's bright-red, spiked mullet. Leos are also fashion-savvy and enjoy drawing attention with their clothing choices! This quilted jumpsuit is ART on the body of Ziggy Stardust.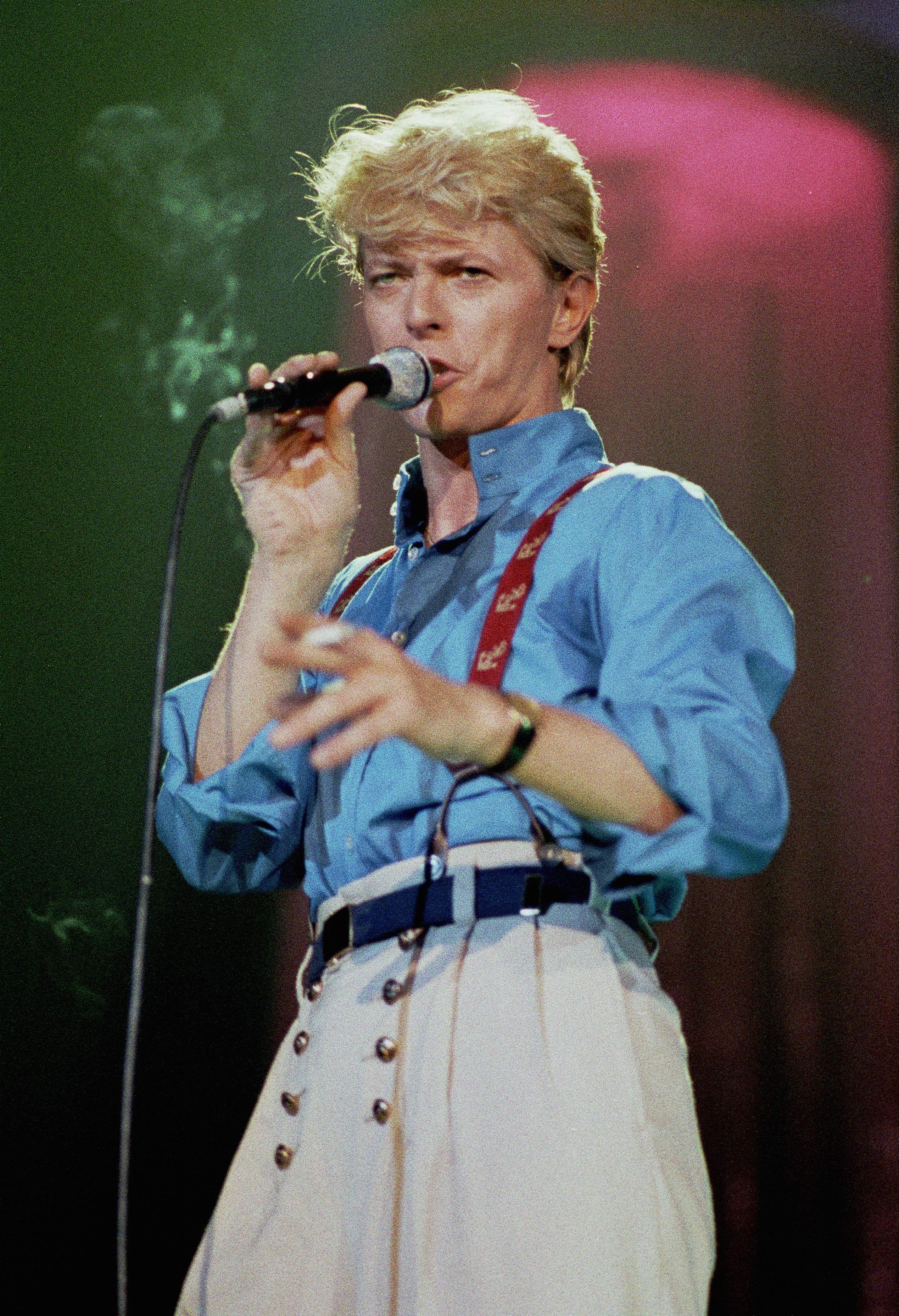 Virgo
Virgo is all about the details. This Bowie look from the Serious Moonlight tour may look simple at first, but just like Virgo, the closer you look, the more you'll uncover. The buttons on the pants? The print on the suspenders? The way his collar is popped just so? Telltale signs of a Virgo.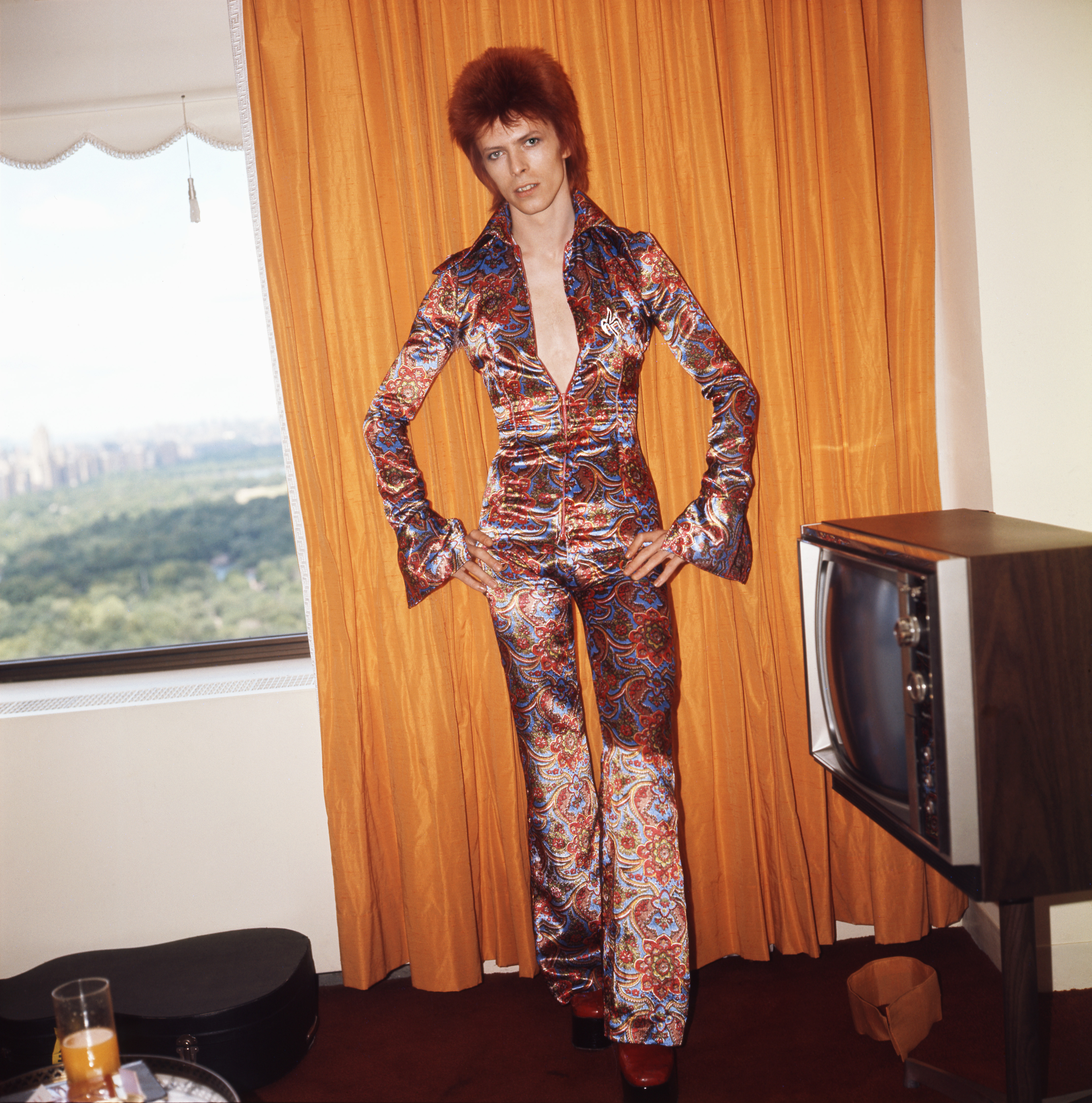 Libra
Libra is represented by the scales: they're all about balance. Who else but a Libra would balance out this fabulous paisley jumpsuit by sandwiching it between red hair and red shoes? Libra is also known as the charming social butterfly of the zodiac, and this Ziggy Stardust look was made to be admired at a party.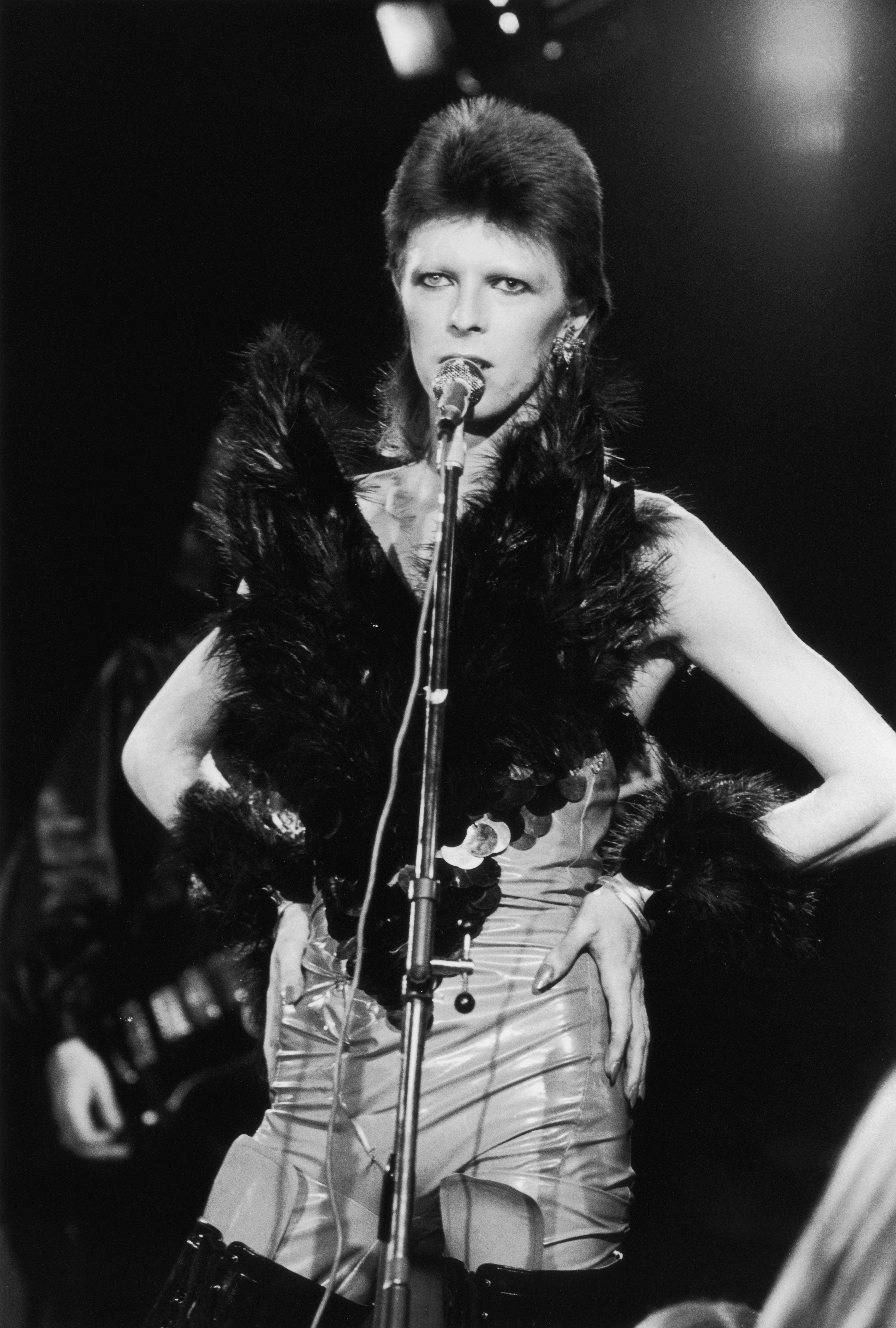 Scorpio
As the sign of death and regeneration, Scorpio naturally claims David Bowie's iconic 1973 "Angel of Death" look, comprised of black leather and feathers. Bonus points: This performance was exclusively for members of the David Bowie fan club. Scorpio is arguably the sign with the most trust issues about adding new people into their lives, so leave it to them to say "Sorry, friends only," at the door.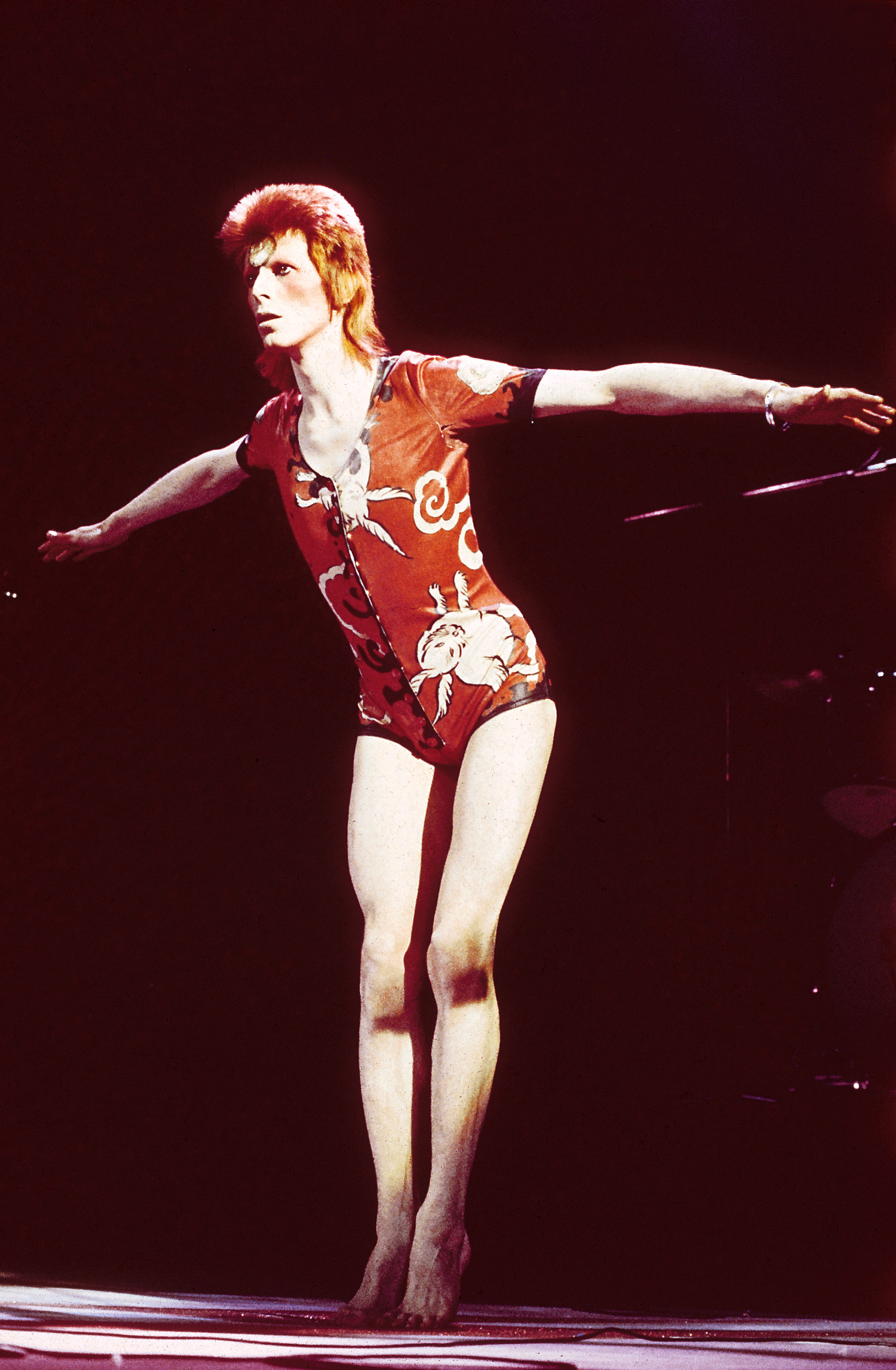 Sagittarius
Sagittarius is loud, outspoken, and honest at all costs. This playsuit, designed by Kansai Yamamoto, tells you exactly who Bowie is before he even opens his mouth. Plus, imagine how easy it is to move around in that! To do a cartwheel! To flee! To stage dive?
Capricorn
Capricorns are ambitious perfectionists with financial savvy. Naturally, they should be signified by Bowie's foray into film with the amazing, dark look of Labyrinth! The Capricorn train of thought: "I've conquered the realm of music. It's boring at the top. How can I continue to challenge myself? Oh, duh, I'll star in a major motion picture."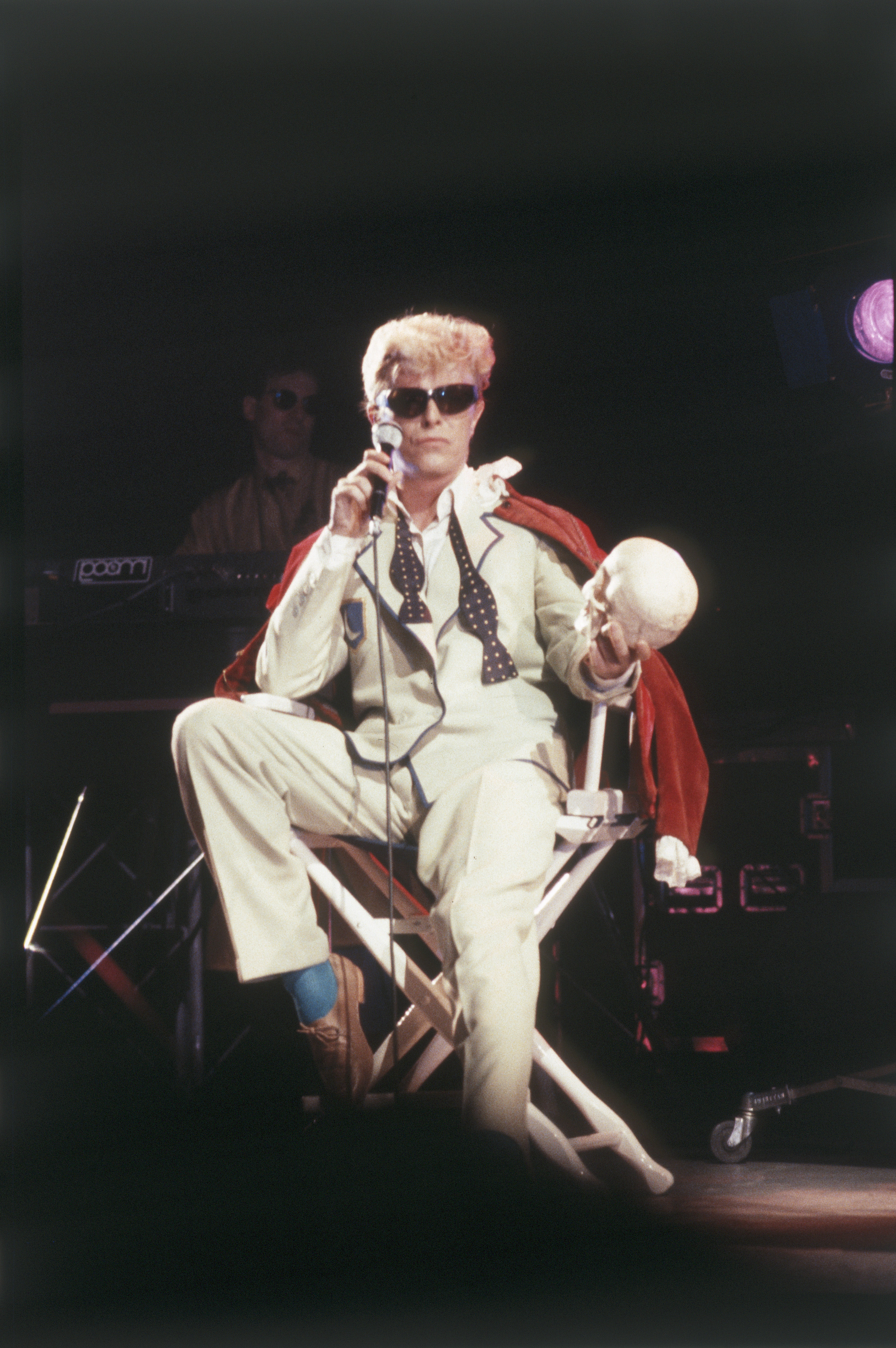 Aquarius
Aquarius, the oddball of the zodiac, is famous for their love of the eccentric and the unconventional. True individualists, they prefer to go against the crowd. What is going on in this photo from David Bowie's 1983 tour? Why the skull? Is it poor Yorick? They'd rather you not understand at all.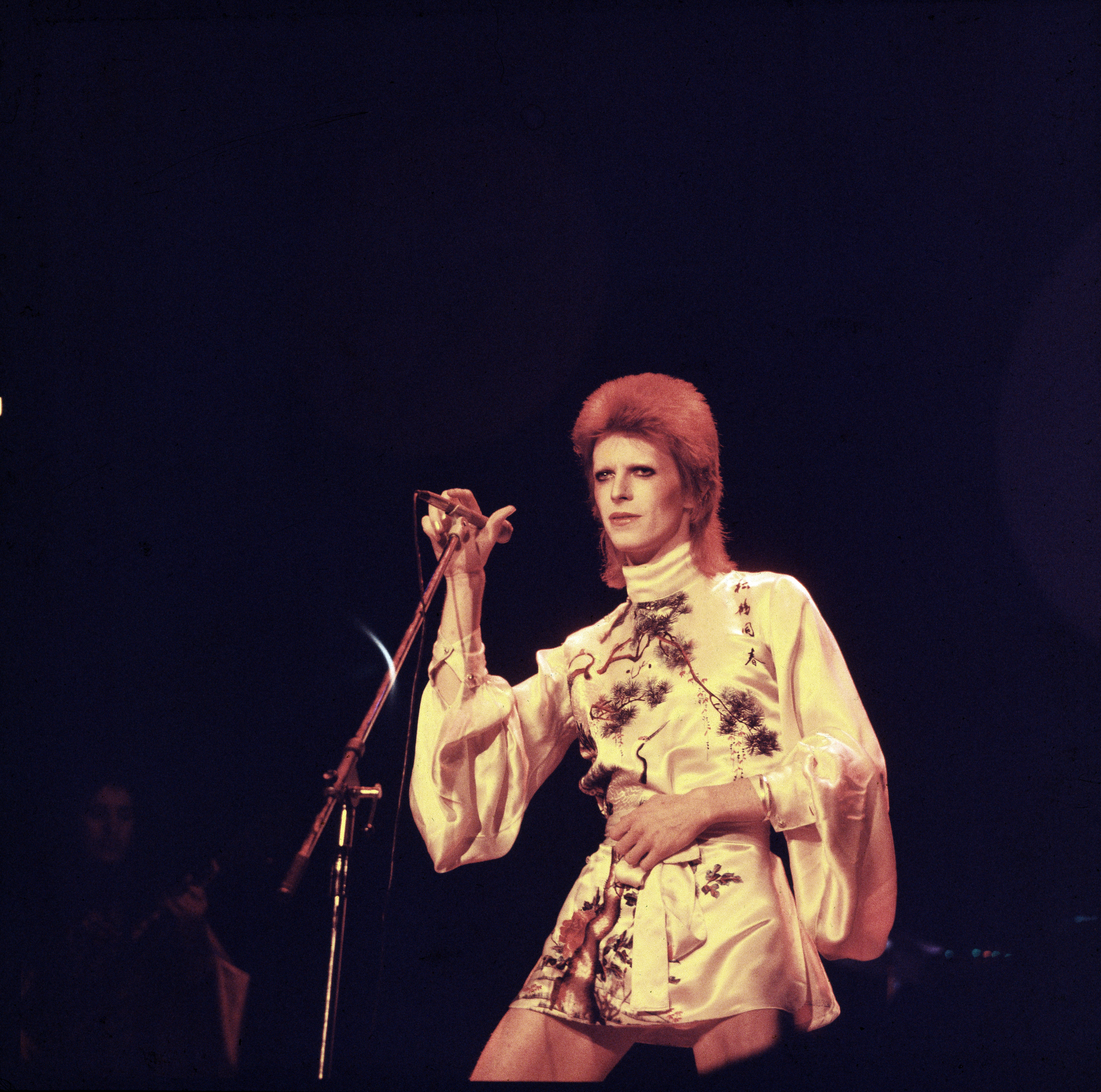 Pisces
As the last sign in the zodiac, Pisces holds a piece of each sign before it within them. Pisces delights in wisdom and beauty, and Bowie was clearly ahead of his time in the understanding that men should be encouraged to experiment with their clothing. This satin look from the Aladdin Sane tour captures the creativity and softness of a Pisces.