A DHL courier unloads clothing for the Marcel Ostertag Spring 2017 collection in New York City. Photo by Lars Niki via Getty Images for IMG Fashion.
Class Appropriation in Fashion Is Real, and Impossible to Talk About
Criticism of cultural appropriation in fashion has been powerful and effective. Why have references to class avoided a similar level of scrutiny?
A DHL courier unloads clothing for the Marcel Ostertag Spring 2017 collection in New York City. Photo by Lars Niki via Getty Images for IMG Fashion.
My mother works as a technician in the psychiatric unit of a New Jersey emergency room, and for a while, she and her coworkers wore blue scrubs: the result of a small campaign she mounted in 2016 to switch from the standard black and green. She has turquoise cotton pants and a royal blue V-neck shirt with two welt pockets. Last week, I sent her a photo from Prada's Spring 2011 collection: a cobalt V-neck with a large breast pocket, a facsimile of a scrub top, part of a collection of saturated primary colors and chubby colorblocked furs that Miuccia Prada described as "minimal baroque." The skew designers add to everyday items can be funny or frustrating to the people who were already wearing those items, but when I asked if the Prada top annoyed her, she said it didn't. Instead, she said that she was bemused.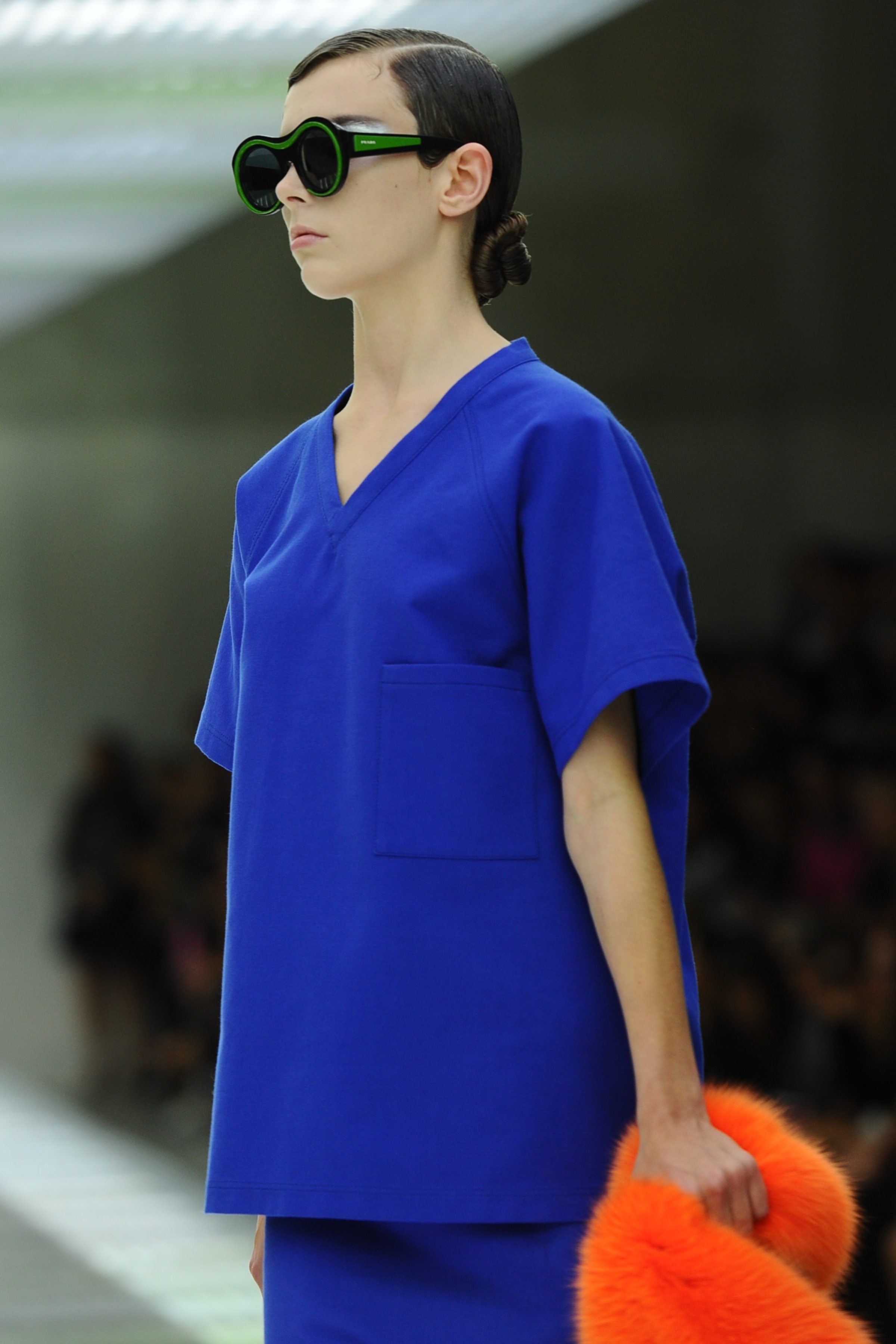 Today, the richest 10 percent of Americans own 77% of the nation's wealth, a higher proportion than during the Gilded Age; manufacturing jobs in the US are disappearing, with about 25% of positions gone since the 1950s; and the top retail partner for workwear brand Dickie's is Opening Ceremony. In the past five years, references to working-class and lower middle-class jobs started to appear on runways—ID badges at Prada, firefighter jackets at Calvin Klein, the low-level office worker's business casual at Off-White—and a repurposed Carhartt work shirt sells at Barney's for about a week's worth of the median American household's income. High fashion has always liked to dress down, lifting styles from the street, the shop, and the factory. But in an era where critics have successfully held designers and editors to task for cultural appropriation and its exploitative relationship of unequal power, it's notable that fashion's references to class—an identity that intersects with race, gender, and sexuality—are getting more prevalent and, for the most part, have gone uncriticized.
"High fashion is, at least recently, obsessed with authenticity," said Andrew Luecke, a trend forecaster and the author of Cool: Style, Sound, and Subversion. "It's always fighting the sense that it's an exclusive product for an exclusive group of people." The history of fashion supports this: denim, for example, was first mentioned in Vogue in 1935 as a signifier of the hardy pioneer ("Deep down in every American's breast…is a longing for the frontier"), and was transformed by the Beats, Bing Crosby's "Canadian Tuxedo," and Calvin Klein into a shifting symbol of American leisure, rebellion, and wealth. Today's labor-influenced style traffics in the same authenticity, and the more granular, the better: a 2016 New York Times profile describes artist Pipilotti Rist wearing "a sky-blue uniform jacket and matching pants that she said were a brand manufactured for Japanese electricians." The boxy Off-White jacket Timothée Chalamet wore to this year's Independent Spirit Awards drew comparisons to a gas station attendant's uniform, an association Chalamet riffed on in a tweet.
"People in the upper classes of society feel that they can pick from anything; that everything is available to them, and that there aren't necessarily consequences."
But borrowing from the working class is about more than authenticity. "The most striking thing at play in the appropriation of working class uniforms, workwear, or service uniforms is the power dynamic," said Emma McClendon, assistant curator at the FIT Museum and curator of the museum's 2016 Uniformity exhibition. "People in the upper classes of society feel that they can pick from anything; that everything is available to them, and that there aren't necessarily consequences." One example is Chanel's little black dress, plucked from the ranks of the working class: in the late 19th century, the somber garment became a controversial, compulsory uniform for a new urban class of domestic workers and shopgirls. A few decades later, the association between the black dress and working women was firmly established enough for Chanel's little black dress to read as both prim and subversive—Chanel's customers discarded their corsets, and did it by dressing up as their maids.
Class appropriation is difficult to pin down because it needs to communicate two messages, often in contradiction: the clothing must be authentic, and the wearer must maintain their position of greater power relative to the person they're borrowing from. If your peers can't decode the outfit, it's failed: it's cool to dress like a gas station attendant, but if someone asks you to pump gas, it's gone too far. This is why the intersection of high and low fashion can sometimes seem so strained—the street version, the designer version, and the knockoff swapping places at a dizzying speed, producing bizarre artifacts like DIY videos to get the Sharpie marks on homemade knockoff Vetements Instapump sneakers just right.
One factor, as Luecke pointed out, is that the borders of class identity are blurry: "On the weekend, an upper middle-class dad who may work as a lawyer is pretty likely to put on Dickie's or beat up denim to fix up the house or mow the lawn." These porous boundaries, coupled with the contemporary fluency and eagerness to decode cultural products—songs, looks, memes—produces a kind of class dressing that aims for authenticity through a very convincing replica. Like the design of a suburban mall, it is both all-encompassing and subtle enough for its signals to feel imperceptible.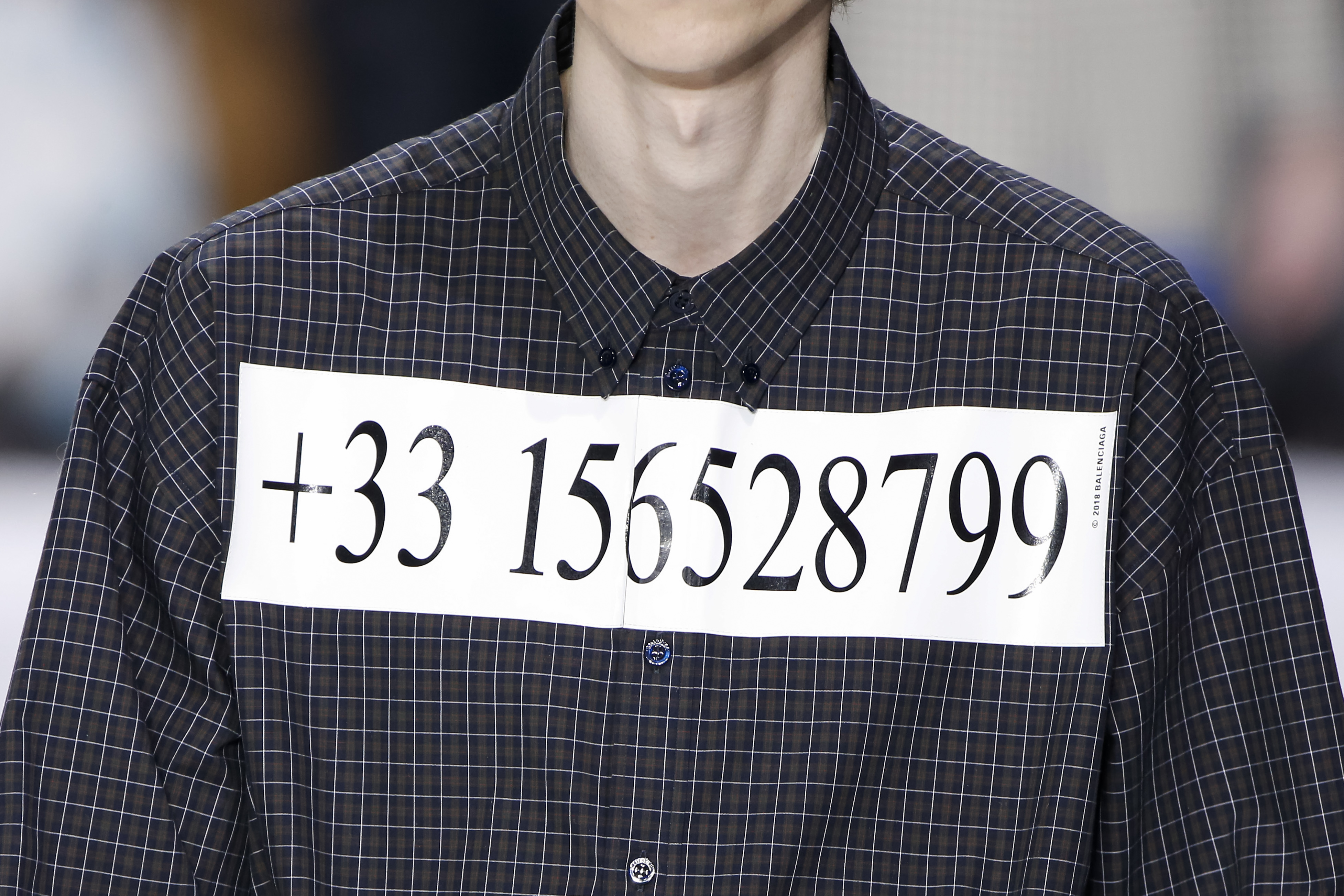 For Balenciaga's Fall 2018 collection, designer Demna Gvasalia showed a collection of nipped-waist blazers and masterfully layered hoodies, jackets, and puffers, a model walked down the runway in nondescript black pants, clunky shoes, and a blue-and-white striped button-down emblazoned with a telephone number. I called and woman's voice greeted me warmly, her intonation stilted and robotic: "Welcome to the new Balenciaga hotline. We would like to ask you a few questions." She asked for my gender, education level, whether I have a pet: it felt like market research. In the end, I was told that the information would be deleted, but I wondered whether someone at a data center had logged my replies.
Balenciaga has used populist imagery before: the $2,145 blue leather facsimile of IKEA's 99-cent tote bag, a remixed Bernie Sanders logo, and platform Crocs. There's little traditional workwear—no jumpsuits or high-vis stripes—but the brand is referencing something other than heritage workwear brands: the clothes reflect an economic shift away from manufacturing jobs towards the service industry, which, in America, has had its ranks double since the 1990s. "Ironically, those jobs...can be even more dead-end than the manufacturing job or a factory job that used to exist," said Luecke.
"It's tied into the office park, call center, big box store," Luecke continued. "The more that [workers] have to turn over their personality, and their personal style, and their grooming, and put their kids in child care, to work these hours at these jobs—the more they have to give, over time—the less the corporations are giving back. It's a very high-stakes exchange, interpersonally and identity-wise."
Perhaps the best example of this is Vetements' use of the DHL logo, which began with a t-shirt in 2015 and expanded this year to include, among other pieces, a piqué polo shirt with a shipping label pasted over one shoulder. "For me, it was such a recurring topic in my life," designer Demna Gvasalia told the Telegraph in 2016. (This was before his tenure at Balenciaga.) "Every day someone was saying, 'The package didn't arrive, we have to stop working with DHL, we will be bankrupt by DHL.' DHL seemed to be more a part of my life than anything else so I thought, why isn't it in the show?"
"If you think of the branded service uniform….The reason it's designed is to make the body an extension of the branded company," said McClendon, citing designer Stan Herman's uniforms for McDonald's and FedEx as an example. "When you look at how [DHL] uniforms are designed, they look like the truck; they look like the boxes." The original t-shirt bore the brand's logo, and the newer editions, with their use of uniform fabric and shipping labels, are almost trying to transform the Vetements wearer into DHL's product.
"We are socially conditioned from a very young age to read clothing and to interpret it," said McClendon. "As people living in this modern branded world, particularly in urban states, walking down the street, we read a uniform and we immediately know—if we need coffee, if we need something where we're looking for that uniform, then we register it. Otherwise, it fades into the background."
More than ever, unstable, low-paid jobs involve a complete aesthetic universe that can take over your life and requires ceding parts of your identity. It's not edgy anymore to dress down Lacroix couture with jeans; the thing of the moment is to attempt to fully embody the worker, just as the worker is asked to fully embody the job. The difference is who gets to choose what they're wearing.
It's exhausting, and a bit nihilistic, that the clothes that possess the aura of authenticity—to borrow Gvasalia's phrase, "more a part of [his] life than anything else"—are often those that remove a sense of individuality from the worker. "My friends very often can't afford the clothes," Gvasalia told the Telegraph of his Vetements designs. But we understand that they don't need them: Gvasalia's friends have their own point of access, and they don't need to own the clothes to feel like they are part of the culture. Their socioeconomic status might be closer to the DHL delivery-person than the Vetements customer wearing the t-shirt. For those who don't—who aren't firefighters or office managers or mail carriers, but would like to have a part of that life—they can dress up, for a price.