Marc Quinn's 'Self.' Image Courtesy of Marc Quinn studio.
Marc Quinn Wants to Get Under Your Skin
The British artist sculpts with blood to raise awareness for the refugee crisis.
Marc Quinn's 'Self.' Image Courtesy of Marc Quinn studio.
In the early 1990s, the British artist Marc Quinn was pondering Rembrandt, and thinking of a way to update the Dutch master's self-portraiture for the 20th century. "I was thinking: How could I make an artwork that is almost alive, totally realistic, that brings the real world into art?" he told GARAGE recently. The result was his signature sculpture Self: an unnerving cast of his head, rendering in the artist's own blood. Self was very delicate, of course—it's very existence depending on the work being kept frozen, a simple lesson that certain collectors have learned the hard way.
While Quinn says that his initial inspiration to use blood was "quite shocking," he wasn't just trying to be transgressive. "It was a way of making something using the human body that was sustainable," he explains, since blood is regenerated. ("You're not chopping your arm off," he said, in order to make the piece.) Self may appear "quite violent, like a decapitated head," but Quinn adds, "it's also got this strange, otherworldly feeling to the material... You create this image, a crystalline feeling, like a rock or a precious stone."
Over the ensuing decades, Quinn has made his name with other newsworthy sculptures—including Sphinx, a depiction of a very contorted Kate Moss—but he hasn't revisited human blood as a medium. "It's a very charged material," he says, "and I wouldn't want to trivialize it." But when he became concerned about the global refugee crisis, spurred on by visceral news images of migrants on boats, Quinn realized that it might be the right time to expand on what he learned with Self.
Rather than a self-portrait, the artist set out to make an epic portrait of a community, and of the crisis itself. The result is Our Blood, a massive public work that will arrive outside the New York Public Library in midtown Manhattan by 2021. To create the piece, Quinn's team is drawing blood from over 10,000 volunteers around the world—refugees as well as those sympathetic to their plight—which will be frozen in two giant blocks, each measuring nearly 5 feet wide and 8 feet tall.
One block will contain blood from refugees, broadly defined, including Rohingya Muslims and survivors of Nazi violence in the 1930s. The other cube will be composed of the frozen body fluid of those sympathetic to the crisis, including Quinn himself, as well as names like Anna Wintour. "They look exactly the same, but they won't be labeled," he says. "You won't know which is which." The two-part sculpture will reside within a transparent, mesh metal structure designed by Norman Foster—a work of minimalist elegance that will play against the classical grandeur of the NYPL library itself, which opened in 1911.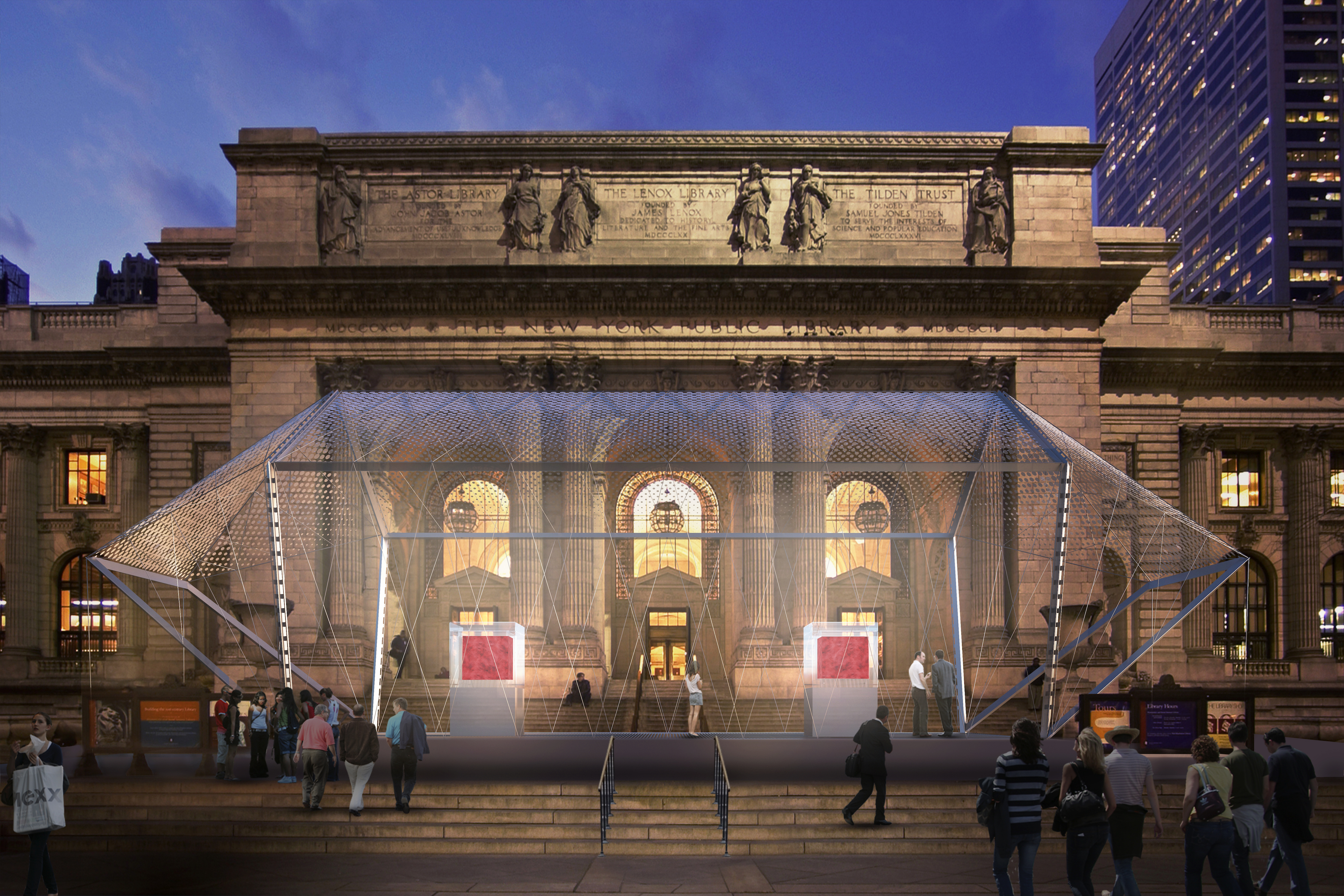 In order to realize Our Blood, Quinn has found himself working differently than most of his peers—something between an artist, a medical professional, and an NGO. Before embarking on the project he sounded out the concept with refugee community leaders based in Berlin. "People are very squeamish on our behalf," he recalls them saying. "But we've seen blood spilled pointlessly in all these wars, and what we want to do is turn it 'round, and make it so it can help people, it can help us." The studio also consulted with engineers, to ensure that the refrigeration units were up to the job. In the event of a malfunction, bystanders can rest easy: "There's no chance, even if the freezers went off, of blood actually coming out."
Our Blood will be augmented by a series of video interviews with refugees and others, in order to put a human face on the sculpture. (If Our Blood were to be sold, all its proceeds would go toward refugee-related causes; Quinn also plans to solicit additional charitable funds via donations, events, and other outlets.) "Refugees are just like you me, people who are trying to live normal lives," Quinn says. "They want to watch Netflix, raise their kids." The artist hopes that the public work will jar viewers into a fresh understanding of a crisis that has played out on the front page for years now, with many numb to its significance. "If you do an amazing artwork and have the stories of real people involved, that cuts through and touches people emotionally in a way no news story can," he says. "There's a sense, to me, that the news becomes abstract—you have to take a step back and make something that makes you feel and think about it in a different way."
Quinn's goal is for Our Blood to tour the world—ideally "forever," if he has his way—with prospective stops in Western cities as well as places like Lebanon or Tanzania. He's intrigued by how public perceptions of the blood sculpture will differ in new contexts. But the work's initial home in front of the New York Public Library has additional resonance. "Each of the blocks is actually a DNA library," he says. "Within the block is the DNA of all the people and their ancestors since the beginning of time. If you only kept those two blocks and the rest of the world disappeared—[if] aliens came down in a billion years, they would get a very good idea of who lived on earth."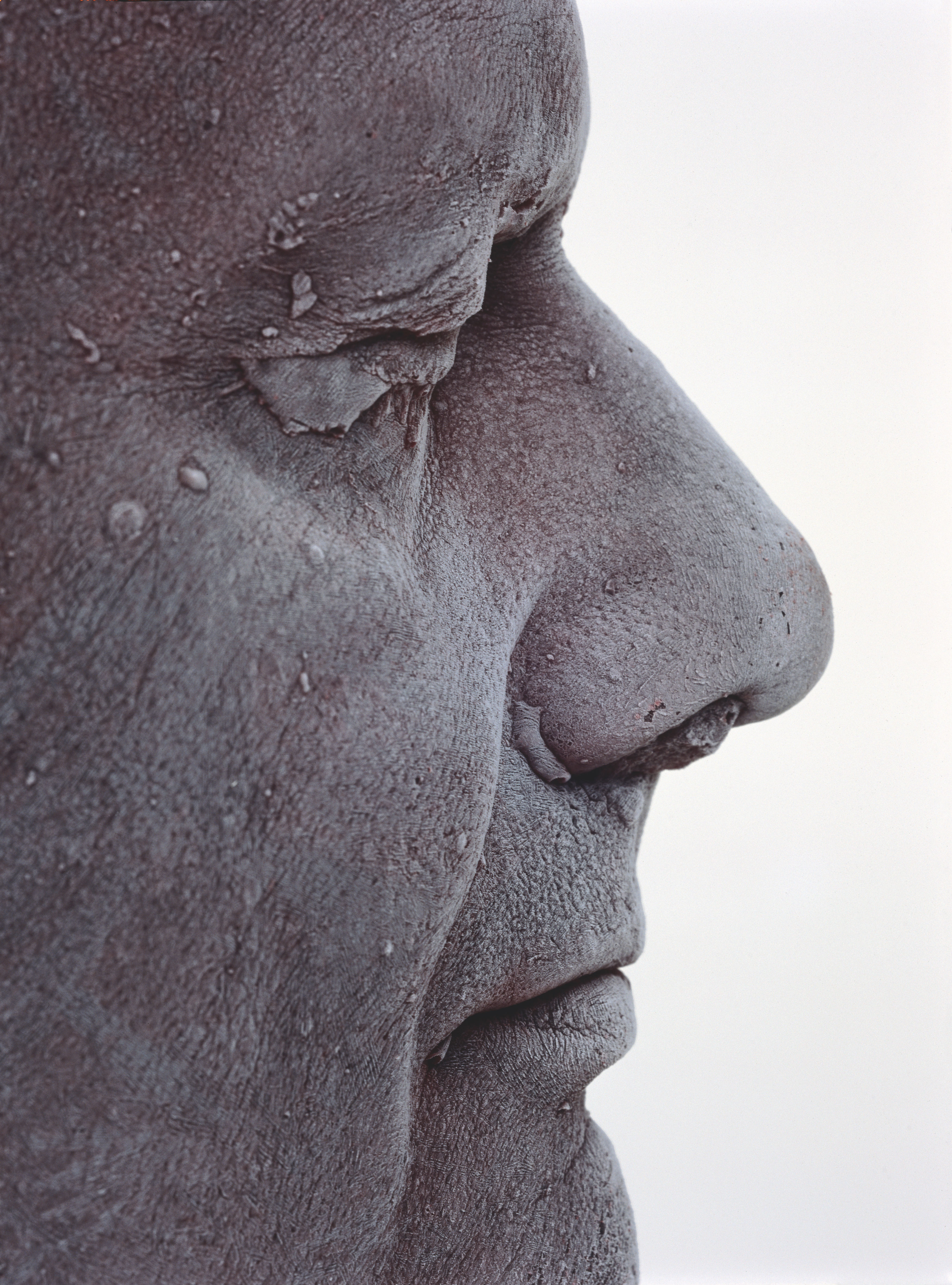 If Quinn's 1991 Self was an example of a Young British Artist pushing radical boundaries for the sake of art, Our Blood transgresses in order to raise consciousness. It uses the language of minimalism to sketch big ideas about our shared humanity; the work's shock factor may be a short cut to empathy. Blood "gets to the heart of the matter," Quinn says. "You have an emotional reaction before you have an intellectual one. It gets under the skin."
Marc Quinn will take part in a free panel discussion of his upcoming work on April 18 at 6:30pm in the Celeste Auditorium within the New York Public Library's Stephen A. Schwarzman Building. To RSVP email ourblood@suttonpr.com.