Andrea Bergart's 'Dribble' Reimagines The Basketball Aesthetic
The artist is famous for her Insta-friendly basketball bags, but now she's branching out into video art.

Is high fashion really having an enduring love affair with streetwear? Apparently so. After seeing Calvin Klein's new basketball sneakers, or the Acne Studios' sports shorts, one thing is for sure – ball culture is hotter than any sport right now.
As popular as it may be right now, basketball culture has been artist Andrea Bergart's thing for a while. She is the founder of the basketball purse, where she has transformed a junior basketball into a purse, then a series of clutches, and now, a new video art piece at Forty Five Ten at Hudson Yards in Manhattan. It's part of the boutique's "Curyatid" series of video art screenings by women and non-binary artists and runs for the month of June.
Bergart is showing a video art piece called Dribble, which shows women basketball players from the Downtown Girls Basketball, a team based in Chinatown, who strut their dribbling skills to music while wearing non-traditional sports uniforms (like leopard bodysuits).
It ties into the artist's famed basketball bags, which are all the rage on Instagram. She has taken a junior basketball, cut it open into a purse and given it a sophisticated handle and strap. She also created a basketball clutch, which is on sale at the shop this month (her basketball bags are on her website).
They're buzzing in the sports world, as WNBA players Cappie Pondexter and Sheryl Swoopes have bought Bergart's basketball purses, so have NBA players from the L.A. Lakers and the Sacramento Kings.
A few years ago, Bergart assisted painter Chris Martin on his handbag collaboration with Christian Dior, which partly led her to doing her own bags—but she tells us that its really about being a basketball player herself. Since she's also a member of the women's Downtown Girls Basketball team, its about visibility of women in sports. That's partly why she also started the Adidas-sponsored YouTube series Call Your Ball Friends, a channel where women artists shoot hoops and discuss art. Bergart spoke to us from her studio to talk ball, non-competitive sports and that new Gucci bag that strikes a similarity to her own.
How do you know Downtown Girls Basketball, the women's basketball team in New York?
Andrea Bergart: I'm an artist who grew up playing sports, the team is a group of women with an art background. The Downtown Girls Basketball was founded by an artist, Aria McManus. It celebrates women in basketball where its not entirely about competition. After I joined, it bled into my art practice, this culture. Living in New York City, I've combined my love of sport and art together.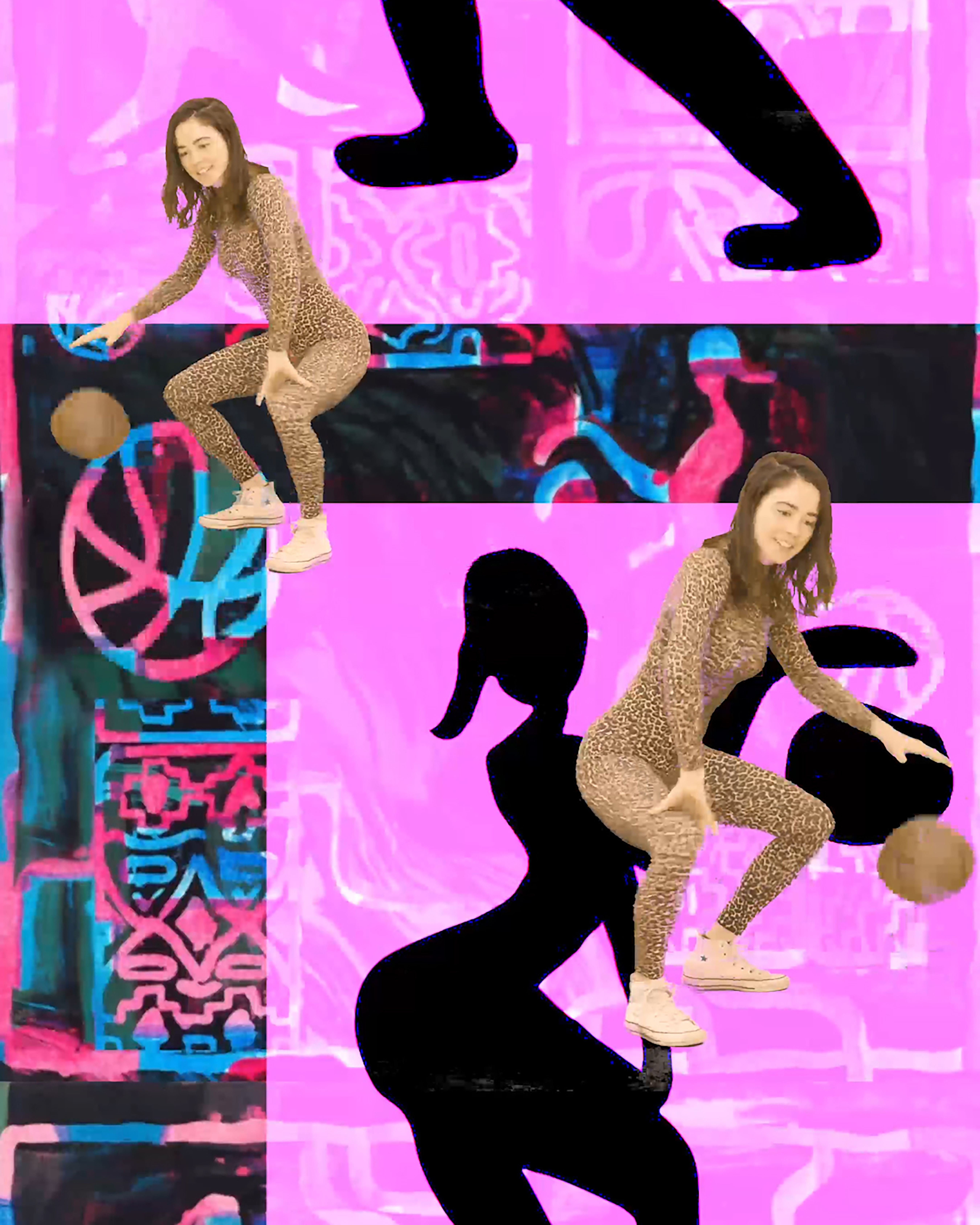 Is it still unlikely to see women play on the court?
Its about supporting women and have a community where we're excited to see each other and support each other both on and off the court. Usually, sports is about winning and putting the other team down. Especially in a city like New York City, there's so many driven, talented people here who are trying to strive to better themselves and succeed, but camaraderie and community gets put behind that. But it's the most important thing about living in this city together. It's a sacred space of creativity and support, a fundamental of what all teams should be about. It's a love for that. It's a pause in a sea of consumerism.
How important is visibility of women in sports today?
Growing up as an artist and athlete, I felt they were so separate. I'm now trying to find more threads between the two. Basketball feels like it has room to me, of how sport can feel like a dance. There's more expressive movements and ball handling that become more of your own style.
Do people walk by basketball courts and do a double take when seeing you guys playing?
People are surprised women play basketball in 2019. Its like a PSA to remind people that women play sports and brought confidence to us to show up in numbers to feel more welcome to a more male-dominated public space in New York City.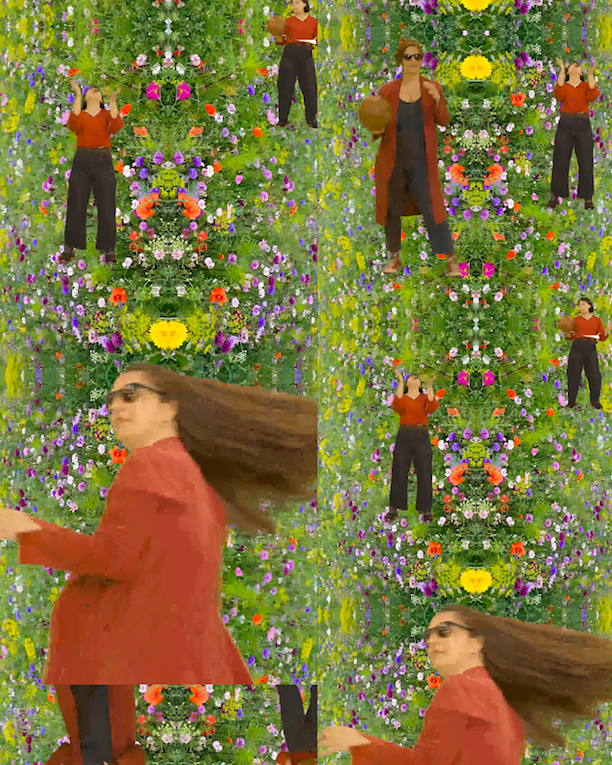 Does your video piece "Dribble" tie into the basketball bags?
It's a collage of my drawings, paintings and basketball community into one video. There's a lack of images of women in sport the ones shown to us are idolizing the elite player with iconic sports moments or high level of performance I'm interested in showing women in sport to show it can be about sport and play. Not typical performance level things. A good spirit of play and community in team spirit. The women in the video are from the team, but also woman from Instagram in the basketball world that I met.
How did the idea of your wildly popular basketball bags come about?
I liked carrying a basketball around the city, it's like: 'I play basketball and I'm going to basketball practice right now.' It's a feeling of confidence while holding the ball. That's led me to designing the handbag. I just wanted to hold a basketball even when I wasn't going to basketball practice. I wanted it to have a different function, something my teammates would want to wear. My first sale was to a WNBA player, it was the ultimate for me. Then it was an NBA player's wife then a blogger in Tokyo and it took off from there.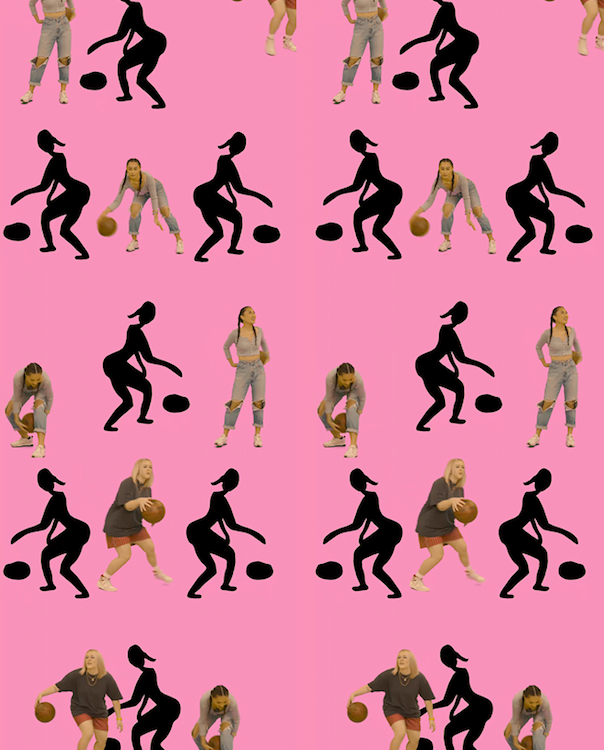 What do you think of Gucci's basketball bags? They look a bit like yours.
I've seen a Chanel basketball bag, too. It's funny that its spreading. They haven't copied my exact design. For mine, the craftmanship is so high, they're all made by hand in New York City. Though, there's bootleg DIY versions of it. I just designed my own basketball, too. It has figures from my drawings in gold outline and my name. I'm doing a limited-edition collectible of 50.
Is this about the takeover of streetwear or sports in fashion and how they've become inseparable?
Yes, it's a thing. I love the patterns and colors, trends I see. Artists are straddling those lines more. I hope art goes beyond what fashion and street trends can do. Art can transcend the viewer on a more spiritual level.