Photo courtesy of Cozcon.
Cozcon is Reviving Fashion Illustration For the New Era
The art form is due for a 2019 revamp.
Photo courtesy of Cozcon.
In the age of digital culture, it may seem that fashion illustration is a lost art. That art experienced a short, but influential peak in the early 1980s where illustrators were given a specific platform to flourish and be seen: Vanity, a Condé Nast publication edited by Anna Piaggi. Though Vanity was short-lived, it served as an introspective look of what fashion was, and what it was to become. It was where legendary fashion illustrator Antonio Lopez flexed his artistic muscle to its fullest potential, leaving behind some of the most well-loved, respected, and notably diverse fashion imagery to date.
Anthony "Coz" Conover, or Cozcon, is a black, queer artist who forces us to face some of society's harshest realities through fashion illustration. He features black, femme bodies in recreations of prominent couture designs, and his own iterations of popular ready-to-wear looks. Apart from his artwork being fashion-centric, he uses his illustrations as an outlet to talk about injustices that go on within the industry and injustices that directly affect people of color. These qualities through the lens of a black creator presents us with a point of view that we're thirsting for.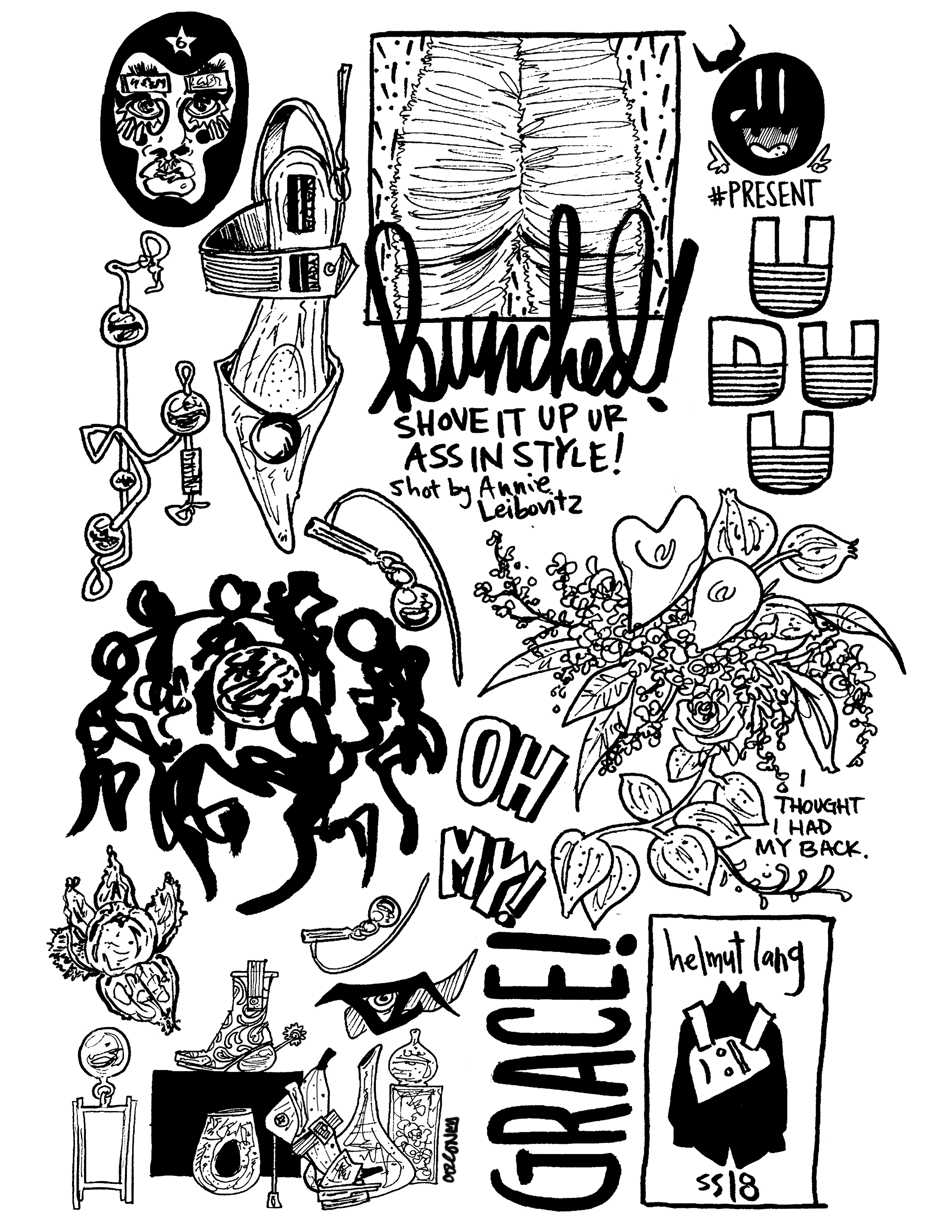 As a budding artist, Coz took to the uber-stylized animation of Sailor Moon, and how strength was manifested through dress for each character. "First of all, the act of dress was such a point of wonder," he tells me. "She lifts her compact up, and the ribbons appear from nowhere and wrap her body, and these celestial symbols become parts of her. It's so moving and spectacular and really speaks to being able to dip into something. But on top of that, their personalities were completely embodied in their clothes."
Early on, he experimented with fashion through comics, dressing his characters in Adidas and other bands that he coveted at the time. But his introduction to "fashion with a capital F" was through a stack of Vanity Magazines that belonged to a friend who was a photography major. "It was so huge, the photos were so sharp, and so captivating. It was kind of the first time I was seeing fashion in the context of being artful. You know, I had like an Elle magazine here and there with Joss Stone on the cover or something, but it wasn't about the fashion really."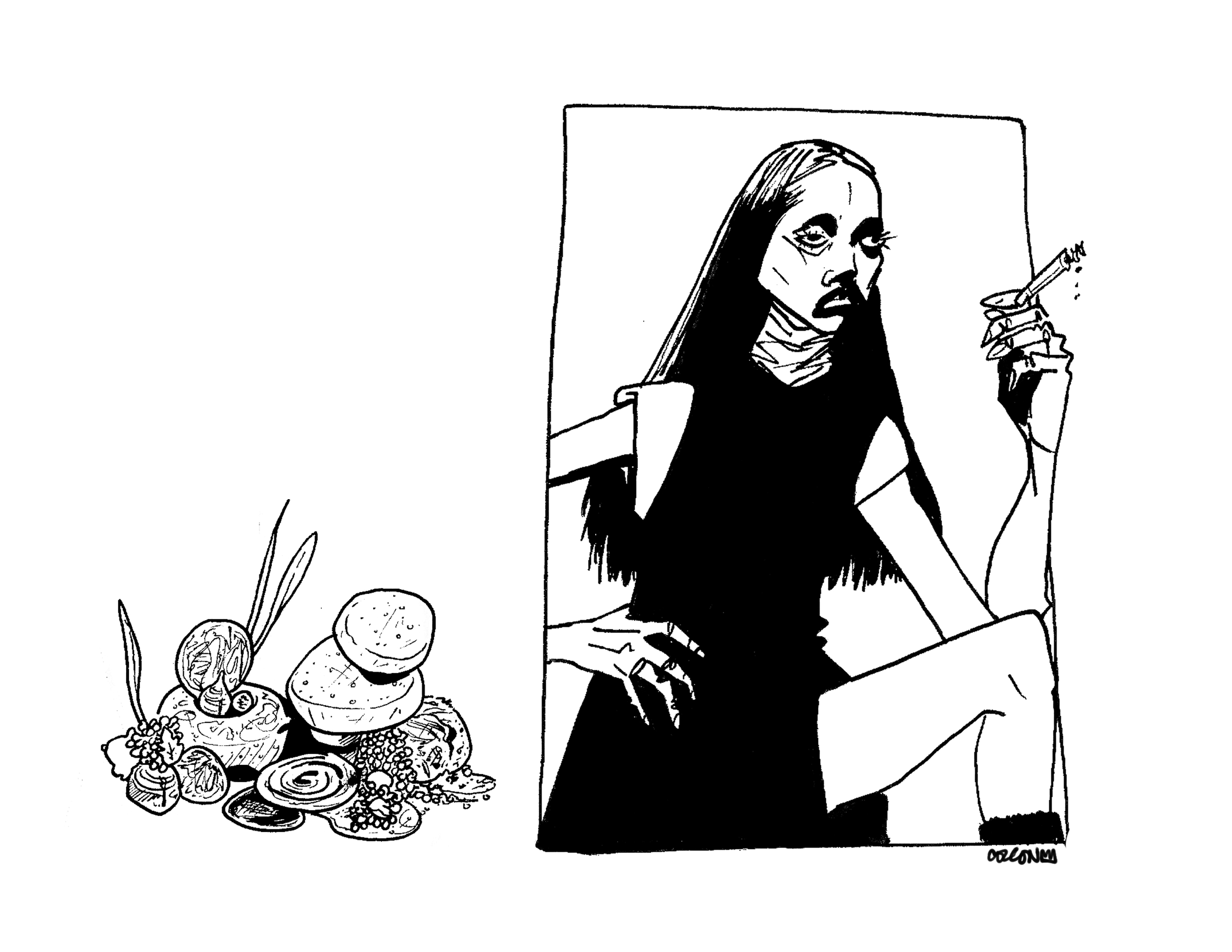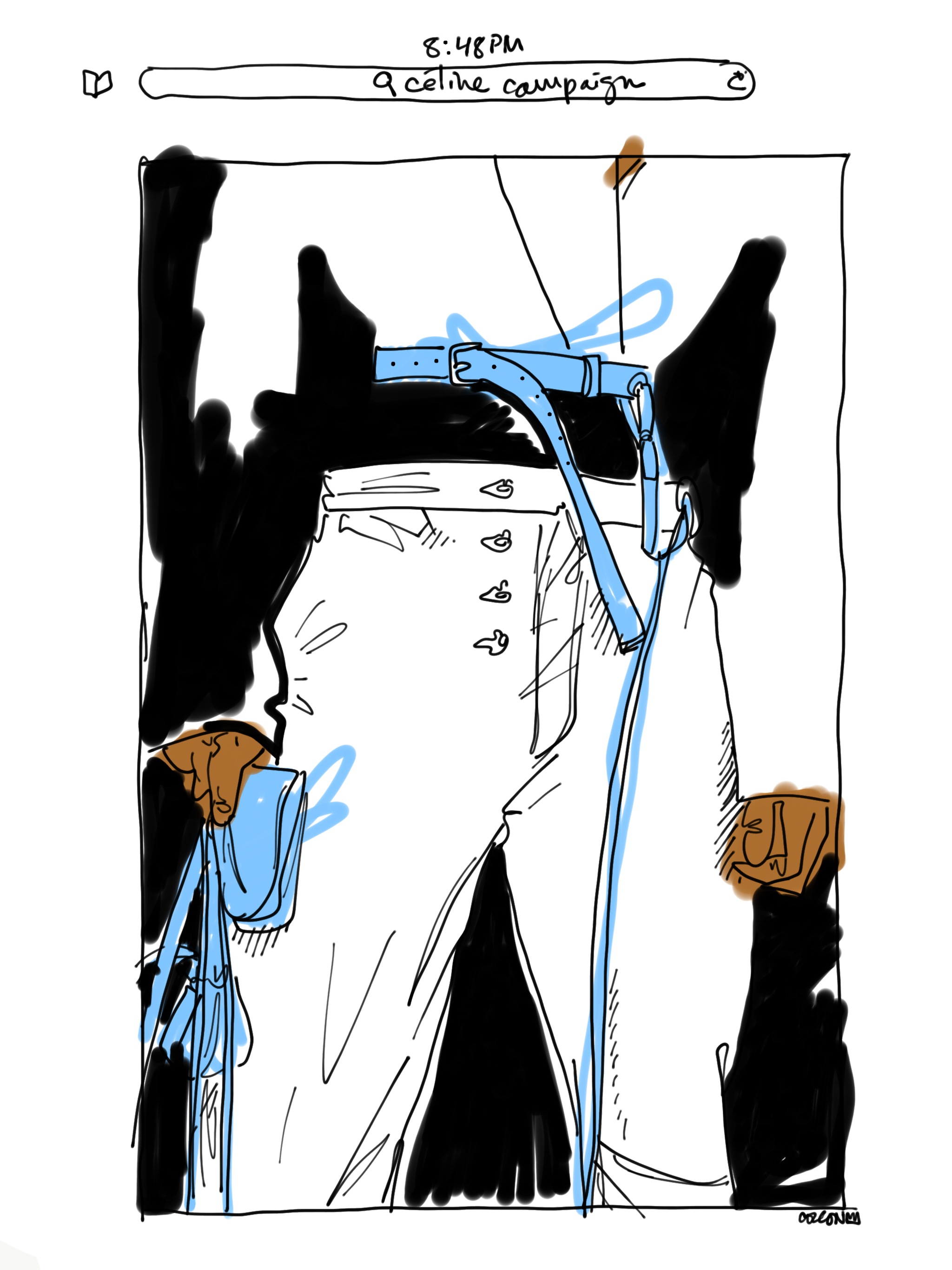 Since then, he cites the effectiveness of the way Solange Knowles curates her visual world as a prominent source of inspiration. "She really is a sensational curator, he says. She is bringing so many things together that we just haven't seen all at once. She's Chaka Khan. She's Pina Bauch. She's Any Warhol. She is taking all these huge touchstones of visual and musical culture, and she's just giving it to us! And something that I am always desperately looking for is to see blackness in the context of visual culture. That really resonates with me."
If you scroll through Coz's Instagram, you're often met with phrases like "Fight For Our Trans Kin," or "The Water in Flint is Still Brown," and "Say His/Her Name." He serves us our realities juxtaposed with stylistic imagery that enhances the message instead of diluting it. "I came to this realization that the things I make should be things, that if I passed them, I would be intrigued by. Why would I make this political image and not make it something that's enticing? And then somewhere along the way I just realized that it doesn't happen a lot, somebody making something political that is also contemporary, or also in the vein of pop culture. For some reason that synthesis doesn't happen enough. Now I feel like there's a diverse language and a different way that we speak to each other visually. I feel like we're in a renaissance in that way. I feel emboldened by other people having that same experience simultaneously."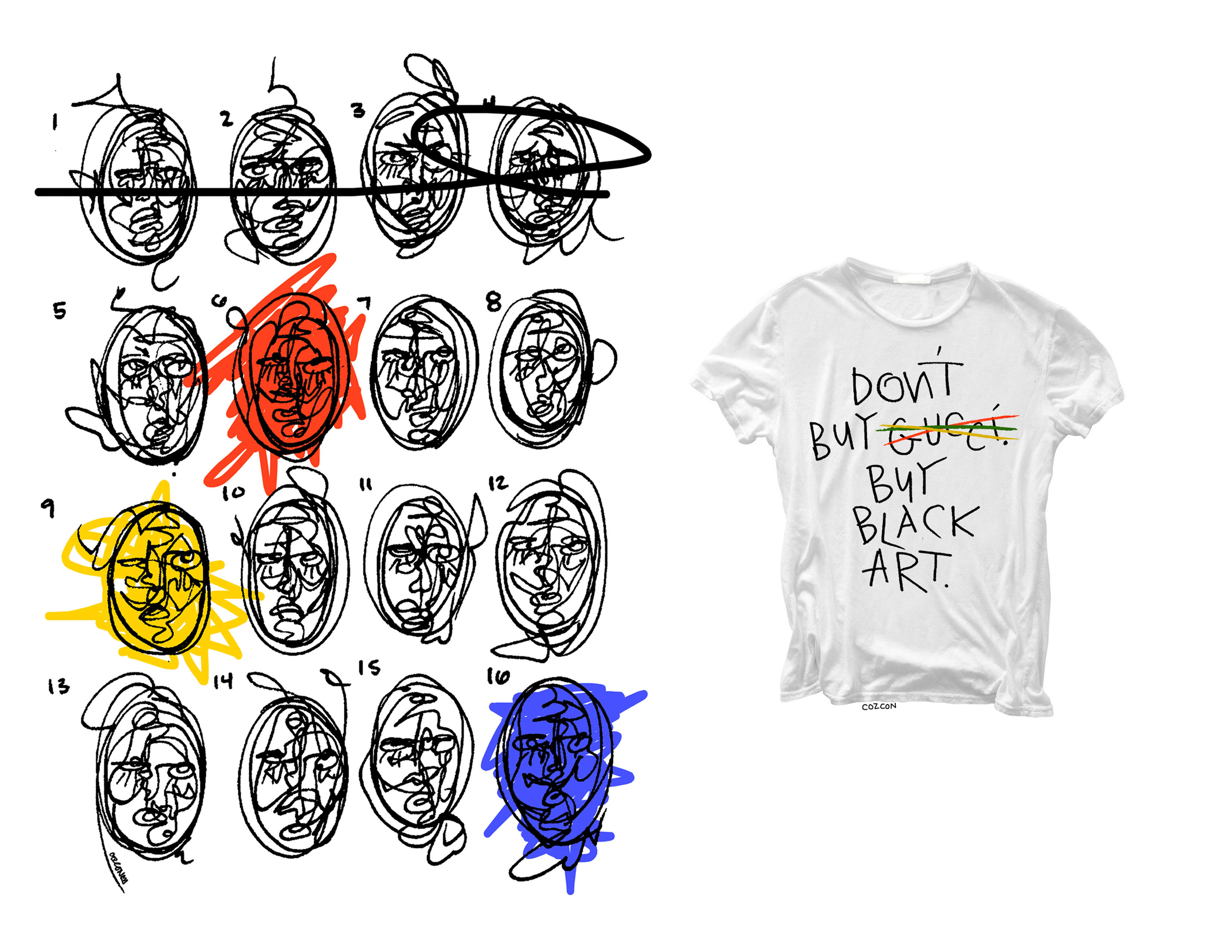 Coz draws black bodies with varying facial features, hair textures and body types; and they react through a catalog of facial expressions. With his calligraphic type handwriting, he uplifts us with slogans and affirmations that remind us of our power. It's another opportunity to see ourselves existing outside the confusing monolith that the industry often confines us to. "Fashion right now, in relation to blackness, is delightfully enraging," he tells me, "Black culture, Black intellect, Black movement. Black everything —every single thing that we do shows up on those runways and has been showing up on those runways as long as anybody can remember and some of the most heralded, most beloved things that have come out of fashion are just dripping with this like, gross, embarrassing, tone-deaf, relationship they have to us."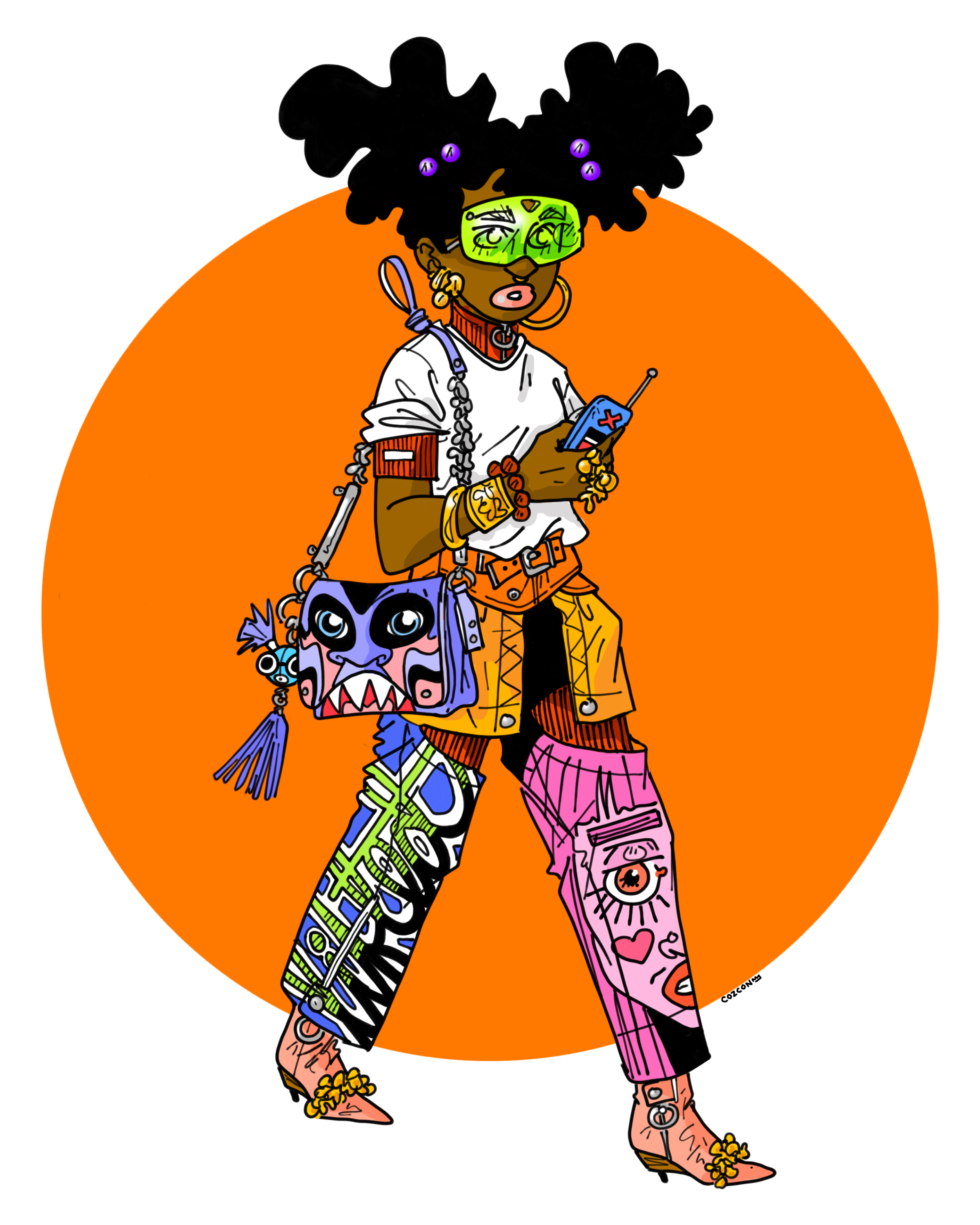 "I kind of hit this wall all the time: would it be better for us to construct our own structure, or would it be better for us to infiltrate and demolish? Which one is the real uphill battle, and which one is the easy way out?"
Whatever the solution, Cozcon, in his respective medium, has constructed his own lane. On a spiritual level, he creates for himself, but he knows the power of representation and how it affects the people that view his work. Antonio Lopez would be proud.