Photograph by Slaven Vlasic for Getty Images.
Why Calvin Klein Referenced "Jaws," the Ultimate Watergate Film
Corrupt politicians and a national sense of menace—sound familiar?
Photograph by Slaven Vlasic for Getty Images.
"If you are what you eat," New York Times film critic Vincent Canby wrote in his review of 1975's Jaws, "then one of the sharks in Jaws is a beer can, half a mackerel and a Louisiana license plate. Another is a pretty young woman, a cylinder of oxygen, a small boy, a scout master and still more."
That is to say: these things will eat anything.
We don't normally associate fashion, a world that prides itself on discernment, with that kind of indifference, but there it was on Raf Simons's Calvin Klein runway last night, on graphic T-shirts printed with the iconic Jaws poster, in the wetsuits on men and women, in the wet hair and the ocean scene playing on loop in the background. There were even skirts with big shark bites taken out of them. It was on the carpet, too—a deep red hue, which has become a Calvin Klein signature under Simons's tutelage, though between his horror-film Spring 2018 collection and Tuesday night's show, it most often stands in for blood.
Jaws, an early Steven Spielberg film, was the first great blockbuster, and we know that Simons, who has referenced Andy Warhol and Looney Tunes in past collections, loves to think big. "We started to understand that this was a way to fuck with Americana," longtime Simons collaborator Sterling Ruby said at a talk last spring, a funny and refreshing thing given fashion's fetish for finding inspiration in the most obscure corners. But it makes sense given that America is having its most serious identity crisis since Watergate—the blockbuster of the summer before Jaws. Simons goes for the biggest whales (or, in this case, sharks).
Blockbuster, more specifically, means a major summer distraction—often a movie devoid of nuance and art, with the contemporaneous current in American cinema represented by smarter, hipper films like Bonnie and Clyde and The Graduate, which were overtly designed to tell us something about our own sickness. But distraction is a very American value, and Simons knows this: he filled his runway last season with popcorn, the thing you shovel in your mouth while watching blockbusters so you can pretend you're doing something. Simons show on Tuesday suggests that when we seek to distract ourselves is when we are able to confront who we really are.
The wealth of fantastic writing on Jaws, both contemporary and otherwise, suggests the highest-grossing film of all time (until Star Wars came along a few years later) was also one of its most revelatory. "Though Jaws has more zest than an early Woody Allen picture, and a lot more electricity, it's funny in a Woody Allen way," wrote New Yorker barb queen critic Pauline Kael, going on to praise the film of as a satire of masculinity.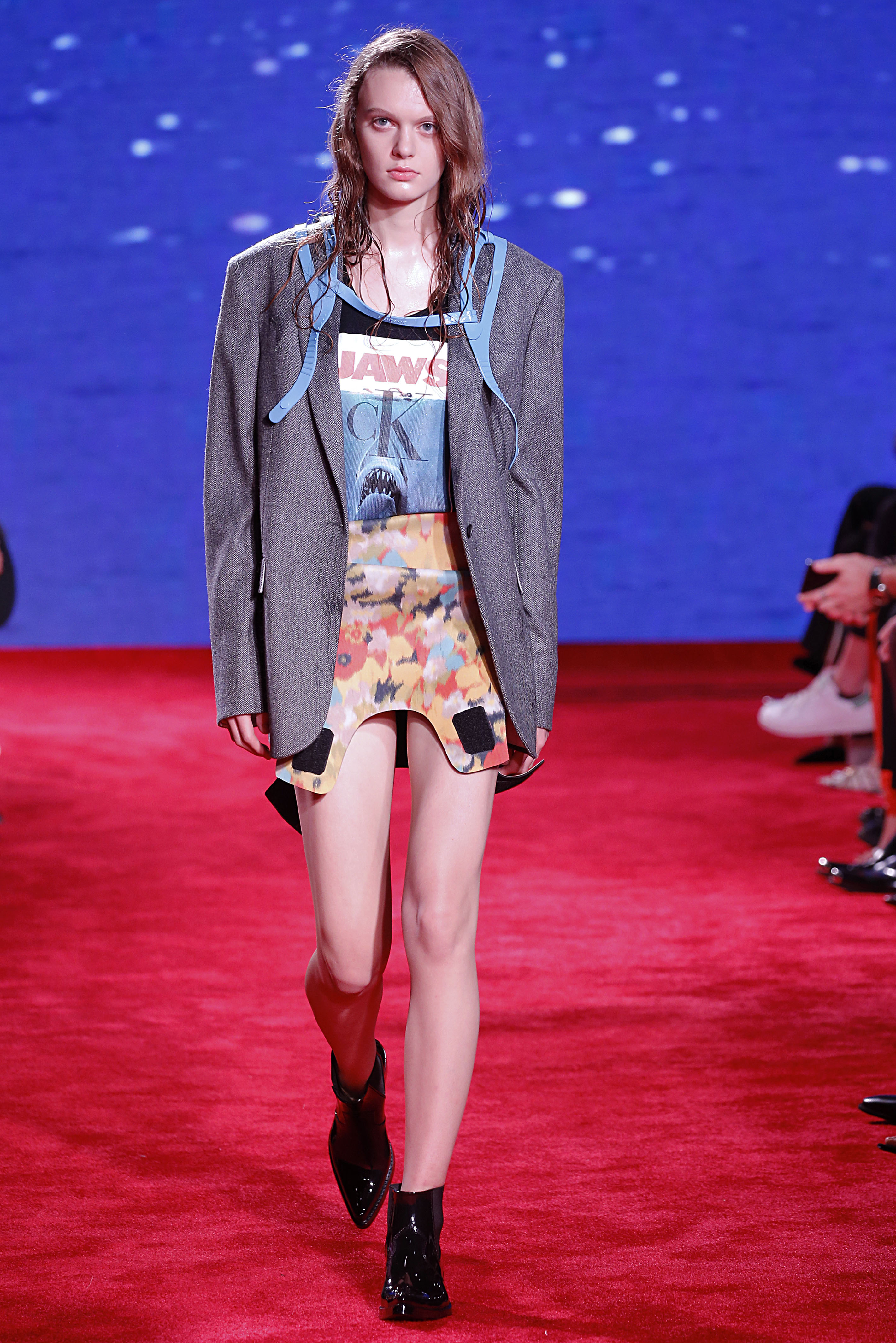 And numerous critics honed in on the film as a cipher for Watergate. "Jaws was very much a picture of its time, a post-Watergate look at corrupt authority," film historian (and all-around genius—read all his books!) Peter Biskind wrote in his 1998 book Easy Riders, Raging Bulls. "The picture's only villain, outside of the shark, is the mayor, an elected official, a politician." Sound familiar? Still, Jaws lacked a certain radicalism, Biskind noted, as the "macho man of the right" is offed and "the intellectual Jew of the left" is constantly sidelined as leading too much with his head and not enough with his good old fashioned American spirit. (It's the Average Joe cop who ends up spearing the shark.)
And most importantly, as Canby's review suggests, this shark eats it all. Pre-Jaws, Biskind writes, Hollywood was obsessed with an "us versus them" formula that saw cool outsiders challenging a square authority figure. In Jaws, "'Us'…is expansive and inclusive, a new community comprised of just about everyone—all food, so far as the shark is concerned." The resistance is no longer embedded in the counterculture, but in the lives of average Americans.
In that regard, Jaws, and Simons's menacing collection, suddenly seem perversely optimistic. This monster, unlike the more specific ones in the White House, doesn't discriminate. But this monster unites us in that he is coming for us all. Still, the defining scare of Jaws, along with its threatening John Williams score, is that its victims don't see the shark until it's too late.