Photograph by Raymond Hall for GC Images via Getty Images.
This Y/Project Drug Rug Will Make You Want to Dress Like a Stoner
The sweater, appropriated by SoCal Hippies and later re-appropriated by East Los Latinos, found another form on the Parisian runway—fueling a rebellion against fashion and a political refusal to accept the status quo.
Photograph by Raymond Hall for GC Images via Getty Images.
As progressive as my Southern California high school was, it was still definitely against the rules to smoke weed. So, of course, all of the cool kids did it constantly. To be a stoner at a college preparatory school was to give oneself over to the urge to let go, and to abandon the stressors of focusing on uncertain futures. But then, the impulse was powered by a youthful defiance of authority structures.
Now, for me at least, it's somewhere between avoidance and full-blown escapism from the confusion of our current political and social climate. Maybe that's why, when a collective anxiety charged the American section in the midst of the Y/Project show—and the dark cloud of the forthcoming Senate testimony of Dr. Christine Ford and Brett Kavanaugh rolled in over our seats—I immediately felt comfort and relief at the sight of a very familiar vêtement: one oversized and insanely chic Baja hoodie.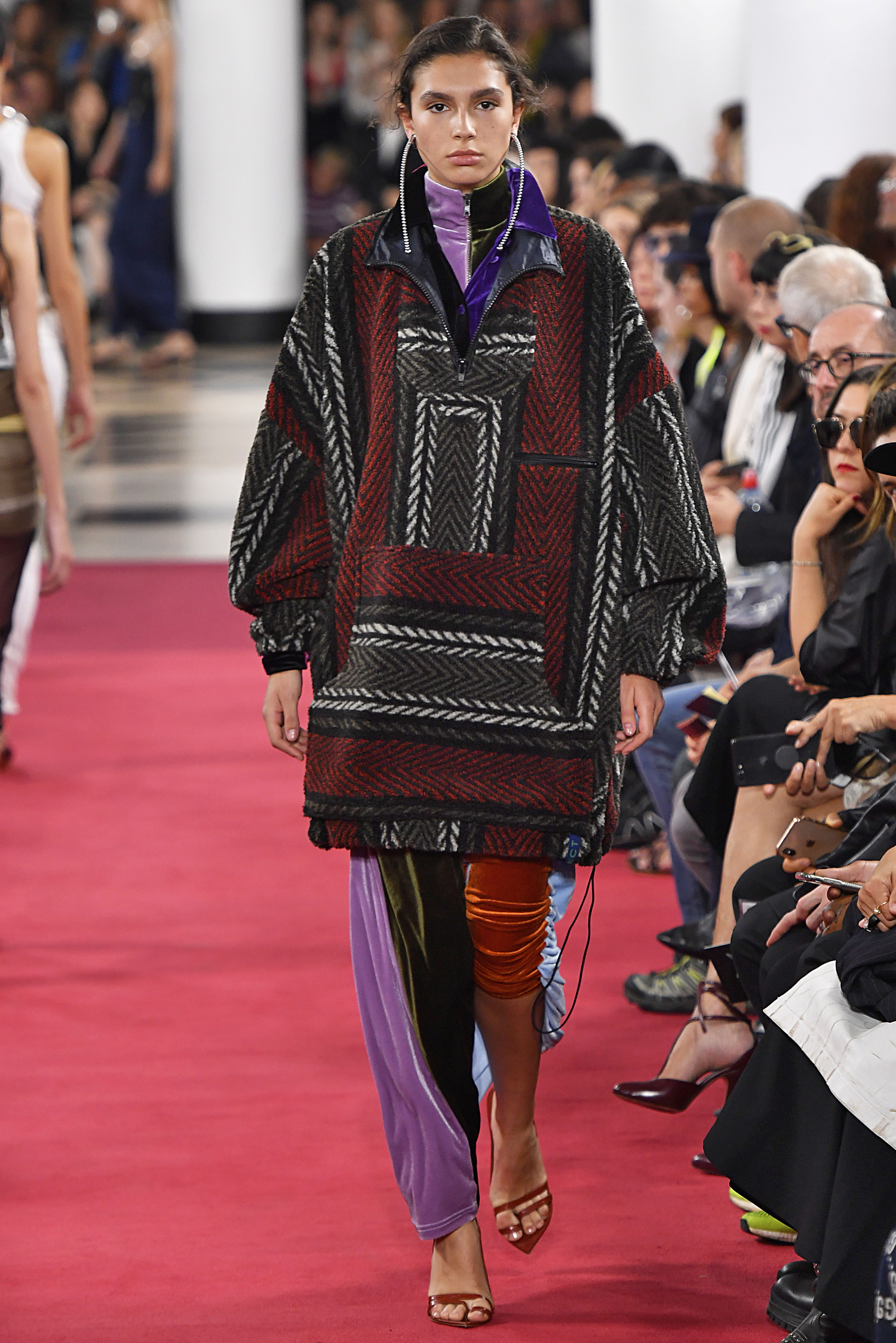 Seeing that hoodie felt like a quick hit of the stuff that gave this combo beach-cover-up-weed-smoke-diffuser its pretty problematic but colloquial name, the "drug rug." I do enjoy the occasional joint, but with clothes like Glenn Martens's, the designer of Y/Project, who needs one? The act of dressing and the social theatre of outward presentation is something of a transformative experience in and of itself, and Martens's nod to stoner culture suggests as much. Whatever weird trip Y/Project is on, I want to tag along.
From a bird's-eye view of the spring 2019 collections, the answer to our general malaise is neither defiant nor yielding. It is caring less without being careless. It is a spirited refusal to participate in convention or reinforce the aesthetics of our current condition—less like not giving a shit and more like transcending the present. References to bohemia and hippies haven't been shallow recalls of flowery resistance in the face of dreadful political woes. They've been a bit harder—and definitely sketchier—and I'm absolutely obsessed.