Photo Megan Stahl for Times Square Arts
Before Midnight, Times Square Hosts a Feast
Artist Zina Saro-Wiwa's films, featuring locals from the Niger Delta eating, take over the gigantic billboards in the most bustling part of New York City.
Photo Megan Stahl for Times Square Arts
They say don't make decisions at night, or eat after 8 p.m.—I did both. A few hours before the presidential election, I put a coat over my "I Heart My Anarchist Jurisdiction" T-shirt and headed to Times Square. This was the dawn of a day which would later blast the confines of its twenty-four hours. Even the pandemic-fueled marring of calendars could not compete with this stretch of time, with ambiguity—and electoral votes—escalating.
Walking towards my destination, however, life was on pause, yearning for the cliche saying of "calm before storm." If literature has its own banal traps, Times Square could be its urban response, a motley crew of dazzlement—but not that night. The blinding neons which always beam with a daylight insistence suddenly had no eyes around to trick. Boarded up storefronts signaled a pending apocalypse which could be survived with wooden planks. A maybe 5 a.m. emptiness had permeated like a misguided soul just before midnight. Still hopeful for the night, I turned 49th Street and saw my small crowd, gathered in the center of the Great White Way around a table of food, dancing.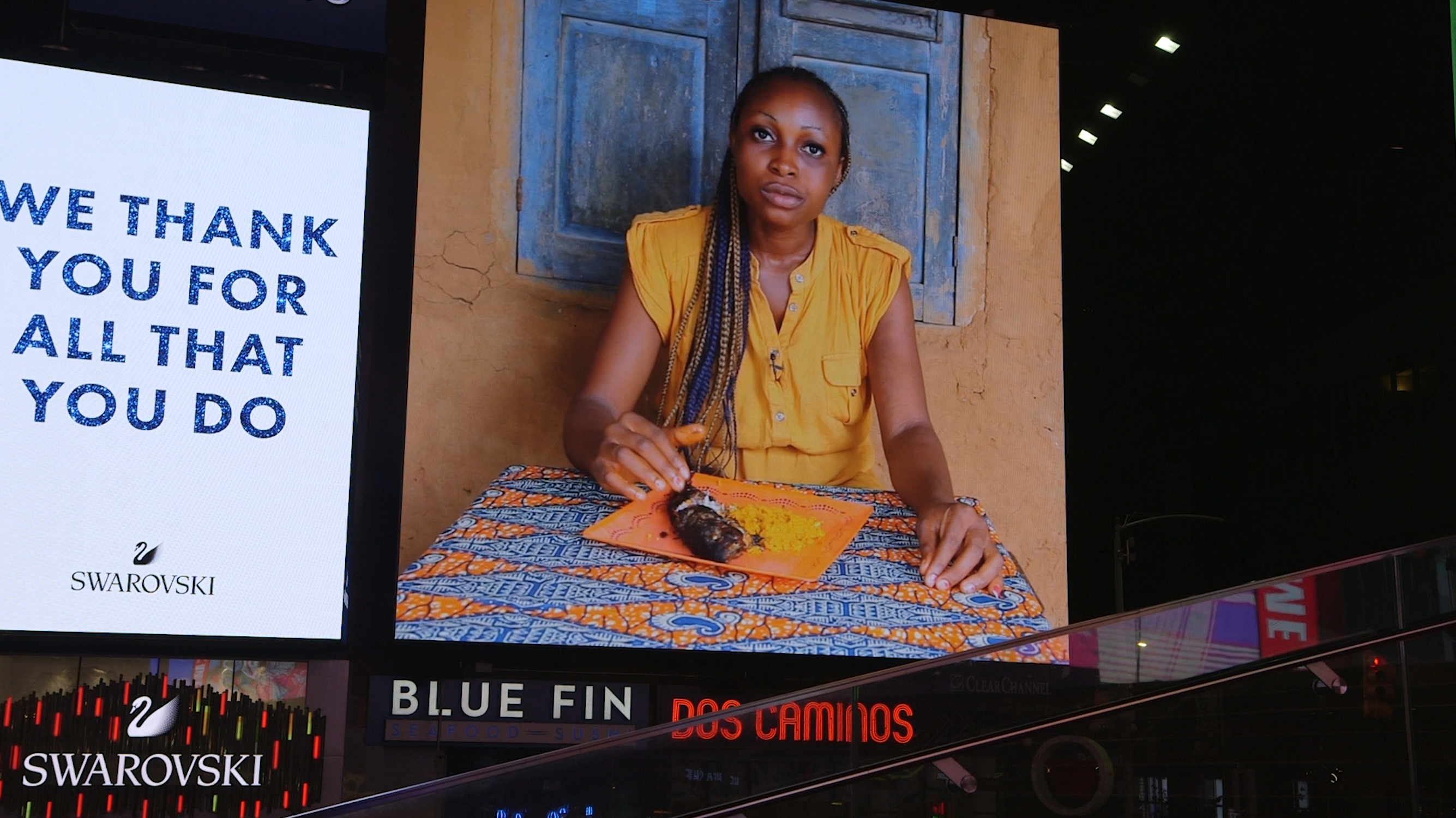 My nocturnal outing was to celebrate the unveiling of Nigerian-British artist Zina Saro-Wiwa's video series, Table Manners, which has been dressing Times Square's billboards daily through December 1, as part of Times Square Arts' Midnight Moment series, in collaboration with Medium Tings. Three minutes before midnight, people the artist filmed around her hometown of Port Harcourt in the Niger Delta as they eat roasted ice fish, pumpkin leaf soup, or pounded yam, appear between the erratic extravaganza of mall brands, chain restaurants and musicals, ghosts of a pre-pandemic life.
Saro-Wiwa's colorful lens challenges the generic glam with vibrant textures of food and those who enjoy them with a gentle determination, strictly by hand. We were there to celebrate the first night's screening with music selected by the artist as well as some plantains and jollof rice. The playlist was as intricate as Saro-Wiwa's capturing of her sitters, with a hospitable ease that veils her particular activism, which she would later explain to me as "not about the surface, but looking at the roots of things." She had woven together rhythms of African flutes, nocturnal birdsongs, sounds of cicada insects, her hometown Ogoni's choral music, some Fela Kuti, and speeches from her late father Ken Saro-Wiwa who was executed by Nigeria's dictatorial regime in 1995. As soundscape echoed in the square, we swayed with cubes of plantain and rice washed with spicy stew in hand. Minutes before Tuesday, the faces started to appear one by one on enormous billboards, looking down on us while they devoured their dishes with a mundane calmness—we were the weirdoes staring at them!
One giant circular screen switched its bank advertisement to show a young man in a yellow T-shirt in front of a decorated wallpaper, casually eating his food with one hand while resting the other on the table. Next to a jewelry ad, a woman with long braided hair appeared, solving the difficult task of dissecting a whole fish. Another woman opened a bottle of Maltina, a Nigerian malt beverage, with her teeth to wash off her roasted snails. For three minutes, we were the audience of a familiar routine rendered ritualistic at grand scale, tossed with particular intimacy of watching others eat.
"Eating needs to be right," Saro-Wiwa told me about her casting process of eaters during her travels around southern Nigeria where the artist lived until moving to UK with her mother. "It sounds easy, but it needs to be a balance of performing and not." She finds inspiration to make art from a point of whimsy: "If the idea doesn't make me smile, I will not jump into it." On the surface, her projects commonly evolve around food and collective ritual of eating, but she is interested in the history of the crop as much as consumption. She established her own The Mangrove Arts Foundation to resurface oppressed spirits-making techniques in Africa. The artist is not only busying herself with growing herbs to concoct her own gin, but also is looking into the spirituality and politics of an overlooked tradition. She named the project The Illicit Gin Institute based on the term "illicit" that colonialists used to describe Nigerian gin.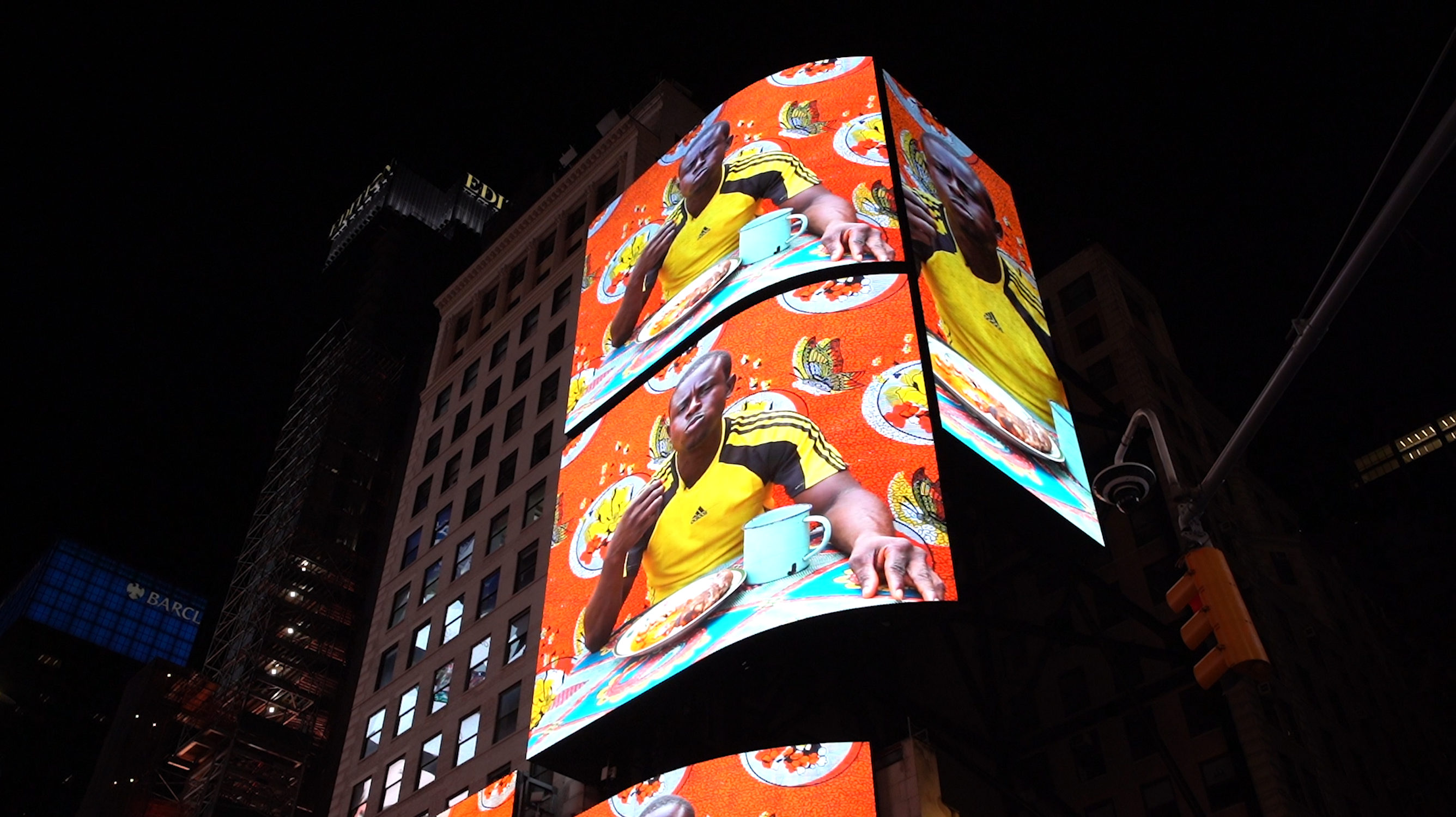 For Saro-Wiwa, "it's all about soil, not oil." She believes in soil, both the physical and spiritual: "This is the focus of my work and I think social change comes from a strengthened relationship with land." Urban living makes self-sufficiency a challenge, but wherever she calls home, her first rule is to have fruit around. "I have a powerful relationship with fruits which I am exploring with a new film." Her other attempt towards "that land" is a balcony garden she set up at her Los Angeles apartment, where she is collecting seeds for chive, African basil, thyme, sage, passionfruit, clementine, guava, and olive trees. She grew up responsible for preparing breakfast for her writer and activist father and has always considered feeding people her "thing." While living in New York, however, she didn't find the "right soil" to remain productive. "I always had to go to Nigeria to create," she remembers, but "L.A. changed how I conceive my work and I am planting again!"
Cooking, photographing, seeding or filming, all are intwined for Saro-Wiwa to engage with people. On a breezy Monday night, she was dancing surrounded by her fellow people eating food on the world's most famous billboards. In the middle of an empty mega square, a bunch of us were unsure about a suspended future waiting to unfold, but we could still dance, both to ease the chill and the worries. "That was a busy energy, wasn't it?" she would ask me the next day over the phone. "We planted something there—sometimes art is just like a flower and creates a consequence."