From Chopova Lowena's Spring 2020 Ad Campaign.
Emma Chopova and Laura Lowena Want to Make You Feel Joy
The young designers behind Chopova Lowena talk about the future of fashion.
From Chopova Lowena's Spring 2020 Ad Campaign.
Emma Chopova and Laura Lowena, the designers that make up Chopova Lowena, met at Central Saint Martins, "on the first day of women's wear." Although their label is a few years old, it's instantly recognizable—voluminous pleated skirts, oftentimes made of mismatched fabric which "hangs" from a thick leather belt with the metal loops used for mountain climbing. They are feminine and punk, while at the same time making someone describing it as "feminine and punk" seem sort of passé. They started working with vintage fabrics sourced from Chopova's native Bulgaria, where they still do much of their production. Three seasons ago, the retailer Matches picked up their collection, and earlier this year they were announced as finalists for the LVMH Prize, and yet they don't necessarily consider themselves to be "successful."
But back to how they met... Technically, neither one of them was supposed to be at Saint Martins at the same time—Lowena had done a year at another school before moving over and Chopova was a year old for her grade when she was attending high school in New Jersey. "It was fate," the latter adds.
It is late March and we are speaking via Zoom, the method of choice for communication in our coronavirus era. We talk about the future of fashion, because they are it—not because of their age, but because their approach to their work shows an uncanny understanding of the fashion industry and the way it has changed at insane speeds in the last decades. They know what they want, they work sustainably (with materials but also with their business!), and they are going after it with precision, all while making really fucking cool clothes. What more could we want?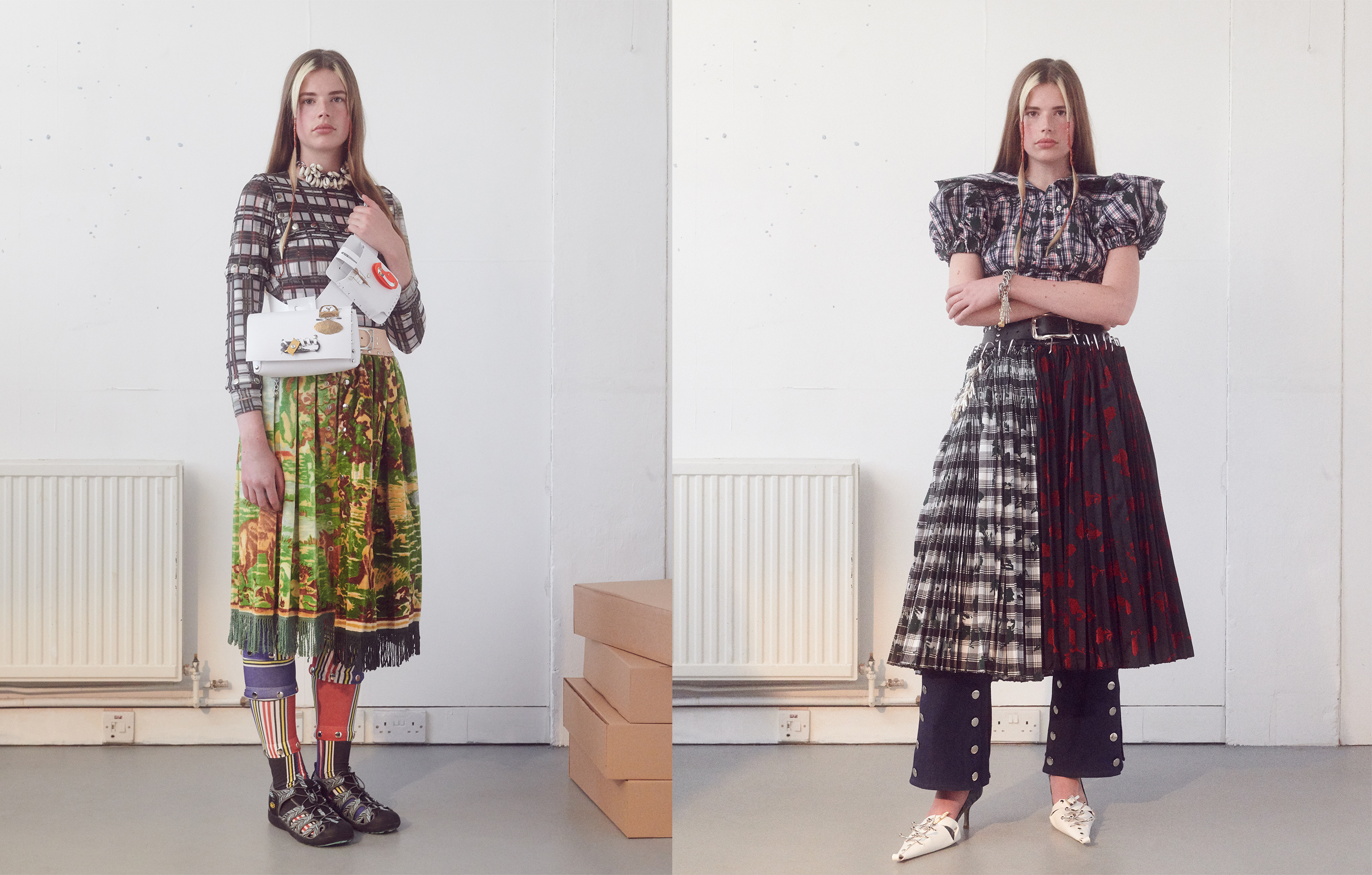 Who had the idea to start work together?
Laura Lowena: Emma. We did projects together, and we discussed doing things together, and it kind of just happened very naturally. It was like a jump to do it, but it didn't seem completely ridiculous to us. I think it seemed more ridiculous to everyone else.
Emma Chopova: Yeah. It started out as a natural thing, because we like the same stuff, but then we were like, "We don't want to work in a big house. It gets so depressing. It sucks." We were like, "We'd be killing ourselves for someone else." So we were like, "We don't really want to do that." So then we were like, "If we're going to have a brand, we're going to do it together. There's no way we're going to do it apart." I think it took us a lot of growing up and doing the whole of the BA to realize that our work doesn't really work separately. We made pretty bad BA collections that we weren't very proud of and then our work together... They weren't that bad. You know what I mean? They would've never resulted in a brand.
Once you figured out your concept, what you wanted to do and what your sort of concept was, did you know that you had something really cool, really great, really viable?
EC: I remember that last year at the M.A. when we found our research and we felt like it really was us and we were like, "This is folkloric rave sort of collection." It never felt like we were on to anything. It felt like we were finally being honest with ourselves, and that's always been the difference, because we tried to be a lot of other things. MA makes you want to be MA-y, and we definitely fell into that trap. Then I think towards the end, we were finally like, "Ah, it feels like us now."
Community plays a really big part in what you do, not only because you guys work together, but also the connection you've made with the people in Bulgaria. How did you develop that more on-the-ground approach?
EC: It was something that we always liked because we were always interested in tradition and traditional techniques. We just loved that. Laura was always into smocking and English embroidery. It was just something that we bonded over right in the beginning. Then I think once we then started really looking into the folklore, it was kind of Laura's idea to start actually using the vintage folklore fabric itself. I think that once we started doing that and once that became quite a big part of the brand, the community really formed around sourcing the fabric. Then it was just logistically a lot easier, which I think was kind of the start of creating in Bulgaria. It made more sense, because every single factory refused us there. They were like, "We're not going to make these things. That's ridiculous." Because at the beginning, we started out with 70 of them. No one's going to take you up on that. But then we landed on this smaller atelier and then outsources to either small ateliers, women, house workers, a lot of seamstresses that are dispersed throughout the country. So she really sort of had this network, because she'd been in the industry for so many years there. So that's kind of how it started, but yeah, we love that. That's become a really big part of the story.
You're finalists for the LVMH prize this year as well. Has finding success so soon after graduation changed your approach in any way or has it changed the vision you had for yourselves when you graduated?
LL: I wouldn't think so.
EC: Also, I don't think we did.
You don't think you've found success?
EC: Well, I just think that we didn't have this very traditional path of graduating and then joining a platform, or showing, or this sort of traditional path you're supposed to have. So it never felt to us like we were. But now it feels very real, because it's like we've built it up with sales and all these really tangible things that actually allow us to have a business, because we're otherwise really poor. It's not like we can bankroll it. I think the LVMH Prize is the first time that it felt like it was really super legit success part.
LL: I don't think it would change anything though. I think we waited a long time to actually apply. We got approached by—as soon as you graduate from St. Martin's, loads of people approach you anyway. Last year, a lot of people from our year from St. Martin's applied and got into the finals and all that, and we weren't ready. So I think we have waited it out, and this is the right time for us. I'm really pleased that we actually did, instead of just feeling like we have to apply because everyone else is applying.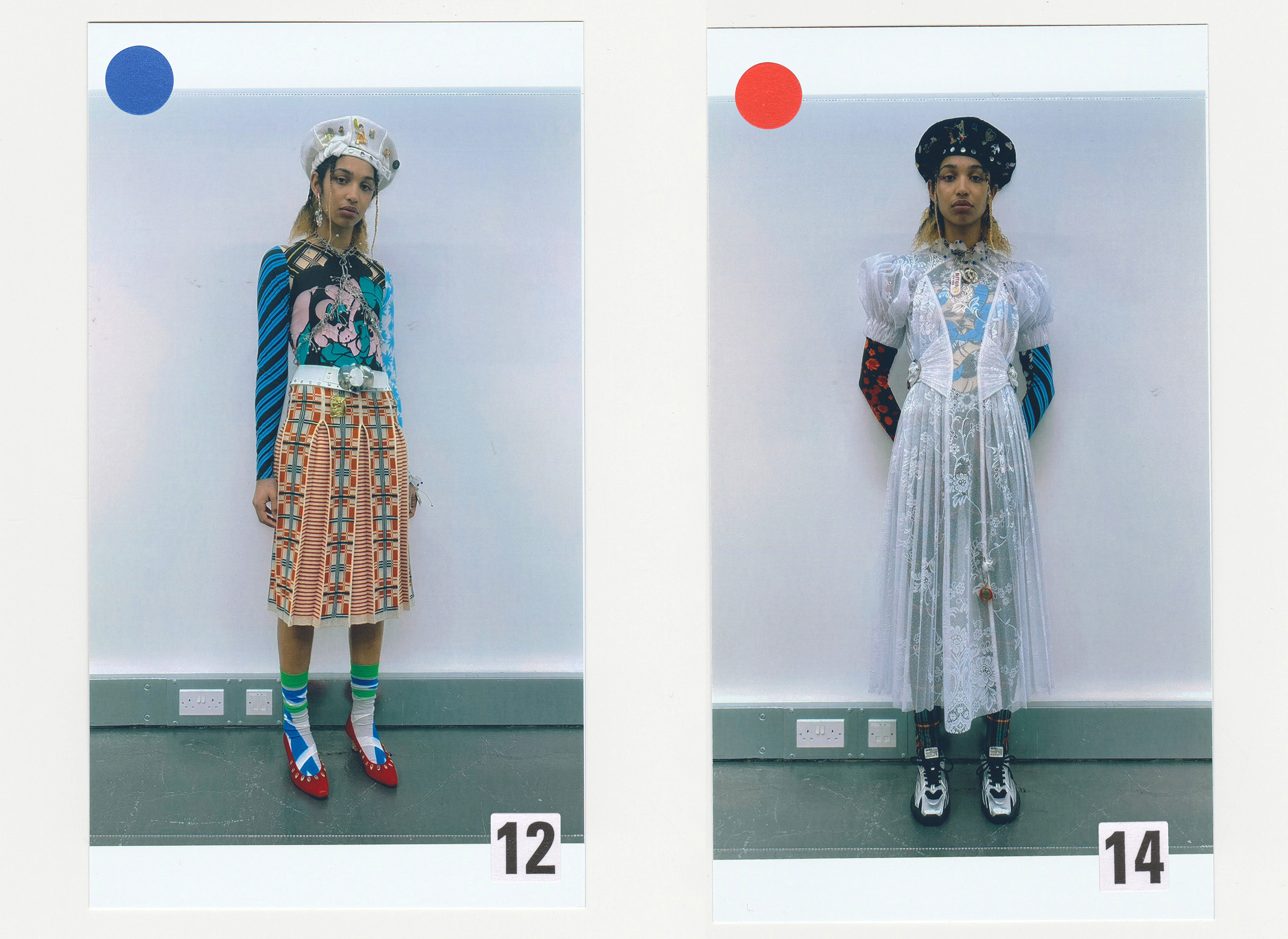 It seems that you have a really clear definition of the path that you want to take with your business.
EC: We worked at really big houses. I had a terrible time. Laura had a little bit better of a time, but we basically really knew that we didn't want to do that. But I think it really helps that there's two of us, so every decision gets so thought-through. [You have to think,] "This is what kind of brand I want to be. These are the things that I want to do. I want to be at this level," [and] then no one else can control that. If you don't do things too quickly and really think about what you're doing, then that can happen. It's just all in your hands, I think.
LL: Yeah, I think also helps that we are very business-minded. Our family backgrounds are from small businesses, and Emma's dad worked in a big business. I think having that, our parents behind us being like, "Well, you need to do it in this way and this way," and advising us really helped as well. We're doing what we love, but also we need to make it work and function to be able to continue doing what we love. I think that's really important to remember and do.
Obviously sustainability is a very big part of your ethos, but have you continued to look for other ways that you can embrace it within your label?
EC: We got really interested in sustainability on the MA. We were just like, "This is obviously the way to do things. There is no way that we are ever going to have a brand that isn't based around this completely, because it just feels incredibly irresponsible." We were so determined and knew so clearly that sustainability carries so much baggage with it, that word, and that the way to combat that is to make something that's really desirable and really beautiful..
LL: I feel like another problem-solving exercise, like we come up with a design, and then it's another thing to make sure it's sustainable, and what we're going to make it out of, or the opposite way around of finding a really beautiful, special fabric and thinking, "How can we make this look amazing? How would it fit into the collection?" Being a creative is problem-solving constantly.
Do you have a big collection of fabrics and materials now? Are you constantly adding to it?
EC: We have a storage unit full of them, but we also we now try to buy in advance a little bit, because sourcing is really difficult. So from a season ahead, I'll build up enough inventory to at least have quite a lot for production to know that that's possible and to know that a style can be produced, because that's been a struggle.
Now we have a little bit more experience, so for example, there's these very particular Bulgarian scarves that I know I can find a lot of, but they're really expensive. But now I know that that it's something that I know what to make and how to price it, and I know that it would sell in a certain way. That's really like that's so much part of it, just having a whole range of stuff.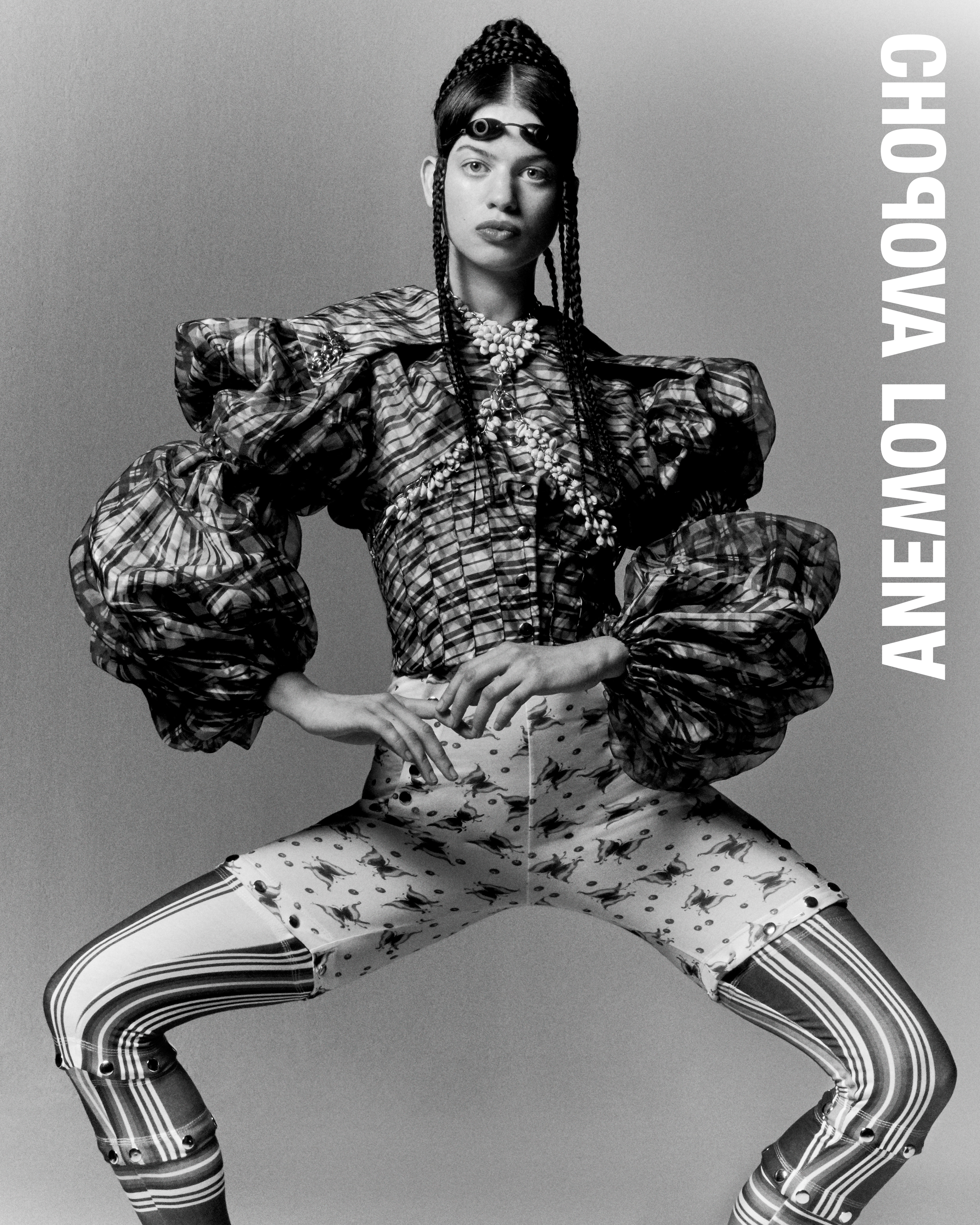 What do you feel sort of is the future of fashion is looking like right now? Like today on March 31st, that also feels like March 45th.
EC: I know, or 145th. (laughs) I think that, it [will] move towards special pieces and special clothes that have meaning and feeling. I think that's why people are starting to really understand our brand and what we do, because I think fast fashion is slowly dying. People need a reason to buy clothes, I think personally.
It's hard to answer because of what's just happened, because I think that maybe some of these systems will be rethought and re-looked at. I think fashion shows [are] really boring to people that go to fashion shows. You don't get to see the clothes really. You don't get to feel the clothes. I think that for people to really understand a world and a brand, you just need some more connection and something more real and more interesting. I think collaboration is a big part of how I see the future.It's just going to be interesting to see what happens, because I think we're really excited about potential changes in this industry.
LL: A chance to be more creative in a lot of different systems right now.
EC: I think that some things will change. Human connection is obviously so valuable. We're very emotional women that make things with a lot of feeling [and] we want people to feel that feeling that's just all of the joy of making things. We just want a better way to do that.
GARAGE is committed to ongoing coverage of the global climate crisis. Read all of our Anger Management zine here, and more of Vice's Earth Day coverage here.