Leonardo da Vinci's "Salvator Mundi." Image courtesy of Christie's.
Did Jesus Wear Gucci?
A look at how fashion designers are finding inspiration in the world of Old Master painting.
Leonardo da Vinci's "Salvator Mundi." Image courtesy of Christie's.
UPDATED: Last night, Christie's sold the "Salvator Mundi" for more than $450 million, inclusive of the buyer's premium, shattering the previous record for any artwork ever sold at auction. Shocked and awed, we revisit this story first published last month on GARAGE.
Earlier this week, Christie's announced it had the "Mona Lisa" of, well, other Leonardo da Vincis: the Renaissance master's last known painting in private hands, "Salvator Mundi," which they will auction in November at an estimated $100 million. A sensational portrait with a mysterious past, it depicts Christ in an ultramarine robe trimmed with gold embroidery and studded jewels. With his right hand, he gives the benediction; in his left, he balances a supernaturally rendered crystal ball.
Elusiveness is part of da Vinci's eternal allure—so what's in Christ's crystal ball? Is it an eerie version of a globus cruciger? An enigmatic comment on the fate of the world? An assertion that God is reflected in everything around us?
Or perhaps it's next spring's trend report?
We joke, of course, but there's no mistaking that Old Master paintings have captured the imagination of the fashion world. Take Gucci savior Alessandro Michele, whose collections are a mishmash of references from '70s Teddy Boys to contemporary graffiti artists, directed through the prism of Renaissance art. For his Resort 2018 Collection, presented last May, Michele took inspiration from Bronzino's "Portrait of Eleonora di Toledo with her son Giovanni" from the 16th century; he showed a fur-trimmed cape with a horsey Gucci logo print that mirrored the delicate web of Eleonora's gown's shoulders; headbands and pearl-studded beanies that that echoed her delicate crown; and a gown that seemed to be dipped in gold from the same mine. In a New Yorker profile written last year as Michele was assembling this collection—headline: "Gucci's Renaissance Man"—writer Rebecca Mead even compared Michele's appearance to "Salvator Mundi": "He has striking looks himself—long, thick dark hair and a heavy beard, like Christ as rendered by Leonardo, with a voluptuous mouth."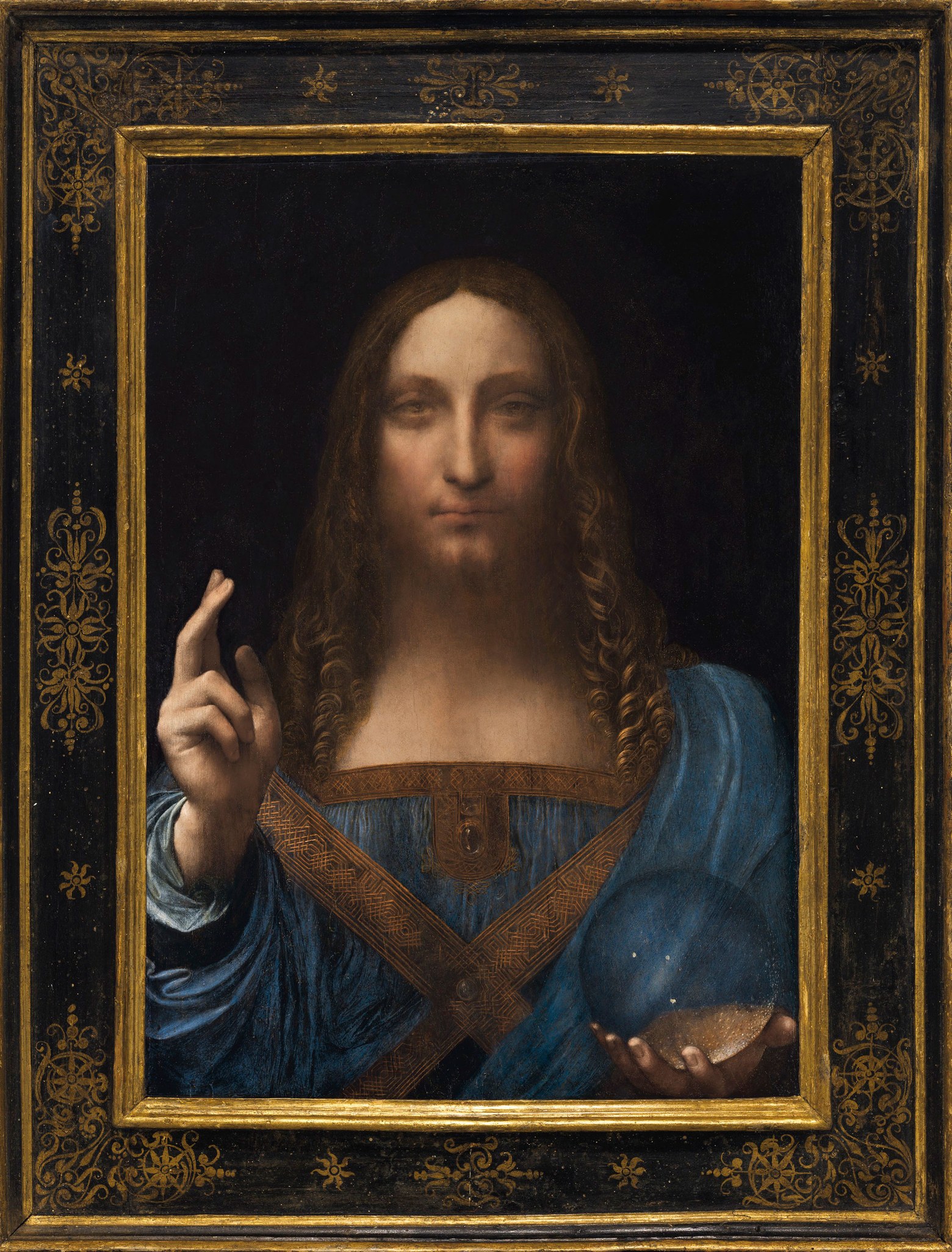 Michele went on to discuss his love for Renaissance portraiture. "This painting is like a Polaroid," he told Mead of another portrait, this one of an English boy with feminine features and a ruff collar, which he was also looking to for inspiration. "It is a very pop way to show your personality." When he showed the collection the following spring, he staged it in the Palantine Gallery of Florence's Palazzo Pitti, among the Raphaels and the Titians and Artemisia Gentileschi's "Judith Slaying Halofernes" —like Michele's designs, a work that used a historical reference to make something radically modern. On the occasion of the show, Michele said, "I like popular culture and this is the reason why I like the Renaissance, because it is super pop. Pop means we all understand it and admire it."
Ah, pop: The Beatles, Jesus, Coca-Cola, soup cans, Gucci, and Parmigianino's "Madonna with the Long Neck."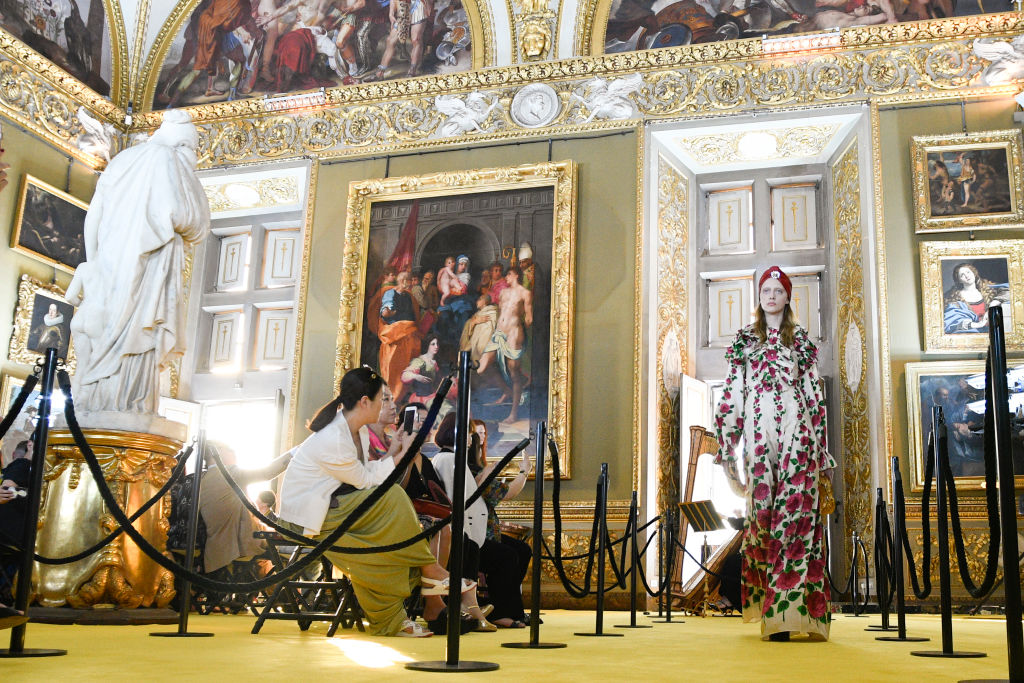 Michele isn't the only designer turned on by Old Masters. Joseph Altuzarra looked to the Northern Renaissance for Fall 2017: fussy frogging, big fur collars, lace-up corset jackets, dense jacquard, rich yellow velvet, and other make-it-rain-ducats stuff. For Louis Vuitton's Spring 2018 collection, creative director Nicolas Ghesquière showed elaborately embroidered frock coats, suitable for an Anthony Van Dyck boy-hero leaving Equinox: the designer paired the coats with silky gym shorts and sneakers, midriffs exposed. Even Comme des Garçons joined in, with dress-like sculptures of fabric printed with Giuseppe Arcimboldo's food-assemblage portraits. (Rei Kawakubo may be the living artist as elusive as da Vinci.)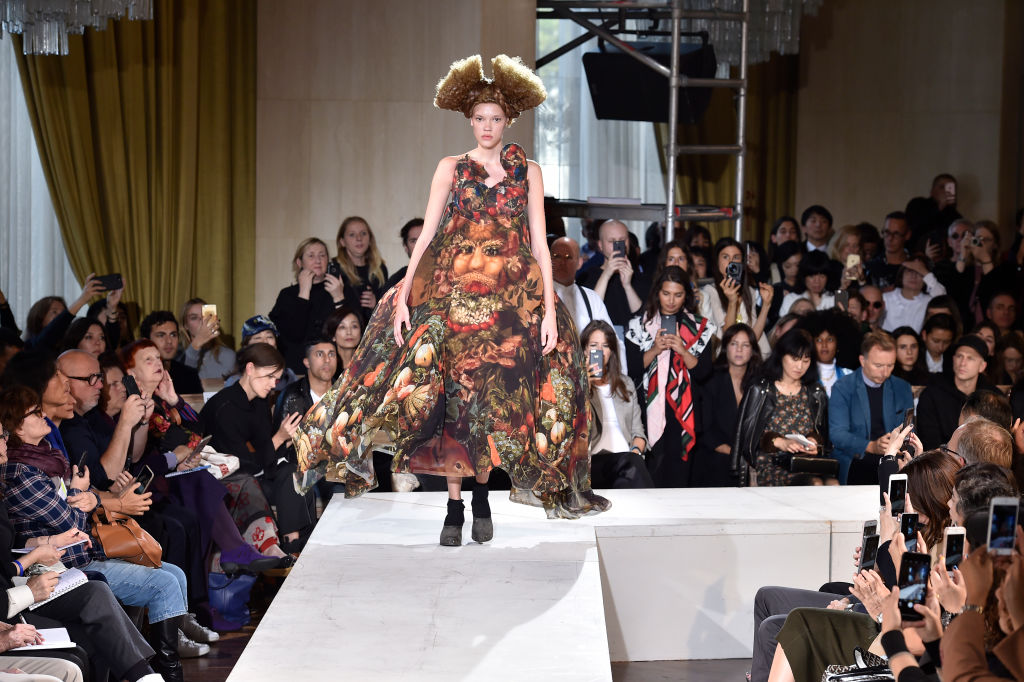 Designers are known to draw inspiration from art, of course, but traditionally, it's contemporary or modern: Elsa Schiapparelli with her Surrealist fetish; Yves Saint Laurent with his Piet Mondrian mini-dress; Versace or Calvin Klein's Raf Simons with Andy Warhol; Proenza Schouler with Helen Frankenthaler. And trends in interior design, art, and architecture remain tethered to a fervor for minimalism, far from the peacocking opulence of Old Master portraits, in which subjects filled giant canvases with unimaginable lengths of expensive fabrics to demonstrate their wealth. The impulse to show off and a desire for complex clothing seem anathema to an age in which even luxury fashion is driven by practicality. When women have given up heels for sneakers and miniskirts for track pants, why would they want to lace up a corset and fasten a doublet?
Perhaps it goes back to Michele's obsession with pop. Old Master paintings are so direct in their meaning—this is gold, this is big, this is a diamond, this is a very rare animal, this is a really expensive-looking blue– that they aren't collages of symbols but billboards. We may live in practical times, but people also demand clarity and candor, from the books, products, and food they buy to their government. The message of an Old Master portrait may be utterly elitist, but the delivery is populist in its simplicity.
Contemporary art has always been the star of the auction world, with Old Masters as a kind of sweet country cousin. According to 2016's Tefaf Art Market Report, contemporary art auctions generated $6.8 billion in 2015, dwarfing Old Masters' $561 million. The most expensive painting sold at auction in the past year—Jean-Michel Basquiat's "Untitled," for $110.5 million at Sotheby's last May—was painted when Ronald Reagan was barely halfway through the first term of his presidency. (Fashion likes to align itself with winners, and it, too, traditionally thinks beauty almost always equals youth.)
But Christie's had another surprise up its sleeve, aside from the masterpiece itself: "Salvator Mundi" will go on the block not during one of Christie's major Old Master Painting auctions in January or June, but in their biggest of the year, November's Post-War and Contemporary Evening Sale, alongside Andy Warhol's final silkscreen, "Sixty Last Suppers"—itself a riff on da Vinci. Sure, a da Vinci seems like a special circumstance, worthy of the auction world's biggest night and anachronisms be damned, but its presence there perhaps suggests something more about the nature of the paintings that come from that time period.
"One of the greatest and most celebrated painters in history, Leonardo da Vinci is also one of the most profoundly influential," said Alan Wintermute, a senior specialist of Old Maser paintings at Christie's, in an email, when we asked about selling the work at the Contemporary sale. "In every century that has followed his death in 1519, new generations have looked to Leonardo's innovations to nourish their own creative experimentation."
He continued, "The unprecedented opportunity to bring together, side-by-side, Warhol's epic, 32-foot wide canvas, 'Sixty Last Suppers,' based on Leonardo's legendary mural, with the Leonardo's newly discovered 'Salvator Mundi'—one of only 15 paintings by the artist in existence and the only one to have appeared on the art market in a century—was an un-missable, once-in-a-lifetime chance to bridge 500 years of cultural history in one room. Why not see what these great works have to say to each other? We'll never have an opportunity like this again."
Well, until next fashion week.