Photograph by Laurie Sparham for Focus Features.
The Dresses in "Phantom Thread" Aren't as Jaw-Dropping as They Should Be
"It's certainly not cutting edge, the way Balenciaga or James was," a fashion historian tells us of the film's fashion.
Photograph by Laurie Sparham for Focus Features.
Much of Phantom Thread, Paul Thomas Anderson's latest study in lugubrious ardor, occurs within the House of Woodcock, the London seat of a Cristóbal Balenciaga-Charles James pastiche named Reynolds Woodcock and played in the high key by Daniel Day-Lewis. Phantom Thread is about a lot of things: postwar gentility, psychological brinkmanship, emotional dependency, the ways love and mania are the same thing, breakfast meats, death. What it is not about, despite some moony reviews and a W magazine cover line proclaiming Day-Lewis "Hollywood's Ultimate Star in Fashion's Ultimate Film," is fashion. Put another way, Phantom Thread is about fashion the way The Devil Wears Prada is about journalism.

It can be tempting to think that this is a "fashion movie," what with Anderson's sweeping shots of the Woodcock atelier, its serious cutters and sewers scuttling about in Margiela-like lab coats, tight shots of Day-Lewis doing very accurate fashion things, like sketching and using a tape measure, mewling the word "secrets"—all the small details that insist upon a level of professional intensity that surpasses trade and laps at our collective notions of artistry. In lesser hands, Woodcock would undoubtedly fall into parody, somewhere between "difficult genius" and "Karl Lagerfeld but with scones." His name itself threatens to upend the whole parade before it even starts: "Reynolds Woodcock" is as gutsy as it gets before sounding like a cut Zoolander gag. But Phantom Thread is not a parody. So it's a minor shock that when the camera does finally land upon the fruits of Woodcock's practice, they jar with their aggressive dowdiness.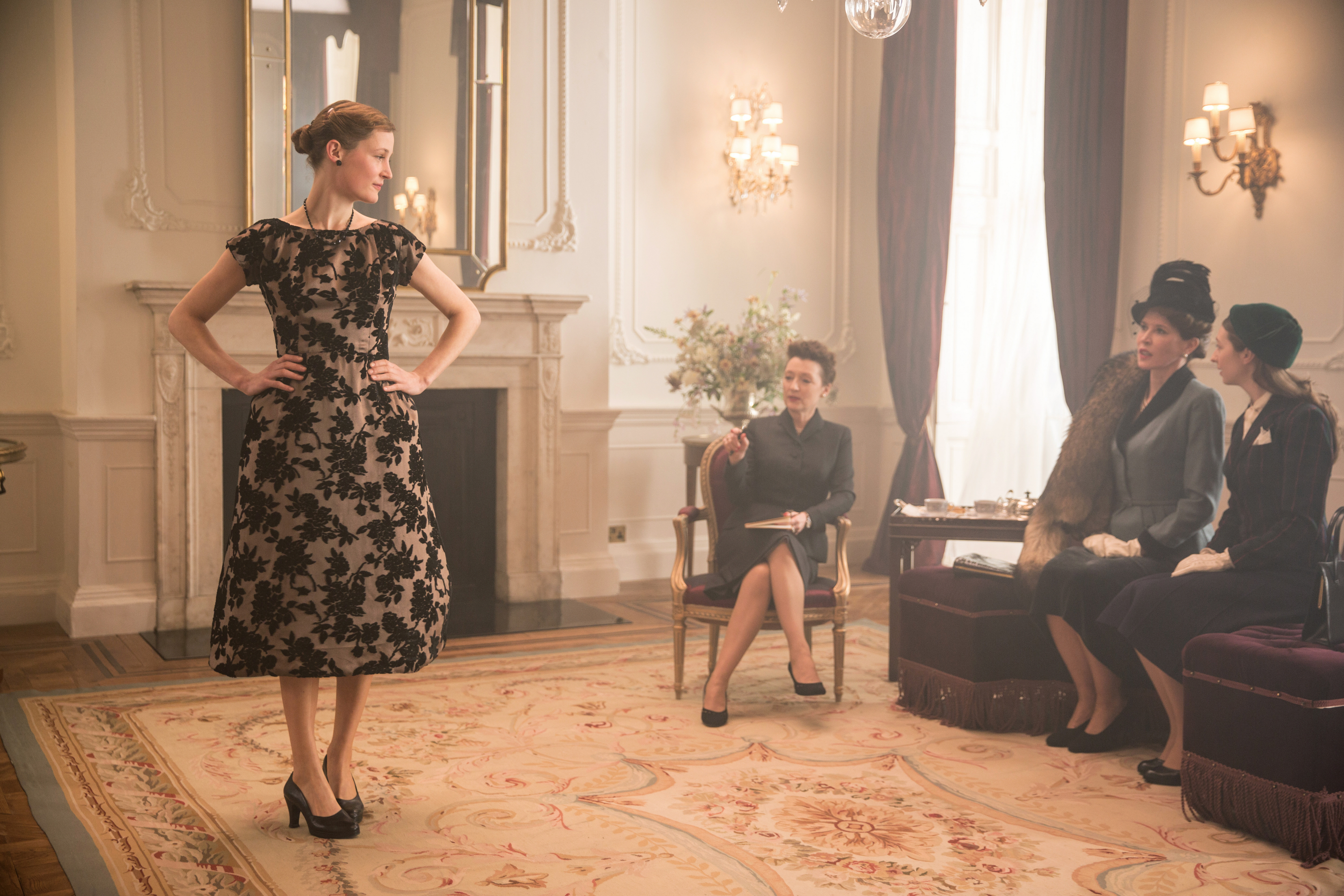 The first material introduction to Woodcock's presumptive mastery is set up in a preamble of keening anticipation. A countess arrives at the maison's Georgian townhouse. She and Woodcock smile at one another, as if sharing a secret as delicious as a ripe plum. She's fastened carefully into undergarments, which requires two people. And then she emerges, like a puce butterfly, with a long train and a cloak with a lace stand collar and a bodice with weird passementerie that looks like the wardrobe for Maid Marian in a production of The Adventures of Robin Hood.
It's true that fashion in postwar London was more conservative than what was happening in Paris. It's also true that, while they're often shot like self-contained set pieces, the dresses of Phantom Thread are more or less incidental; Woodcock could be a designer of phone books or schooners-in-bottles, it doesn't really matter. "Fashion" here is a placeholder for obsession, and the dresses give shape to the otherwise ineffable creative process, which is also a placeholder for control. Fashion designers, as Anderson told Terry Gross on Fresh Air on January 23, are "known to be the most obsessive of obsessives. I don't know many of them so a little of it is in my imagination."
Phantom Thread is about fashion the way The Devil Wears Prada is about journalism.
Early reviews of Phantom Thread have pointed to Charles James, the solitary, British-born courtier whose voluptuous dresses are as much sculpture as they are clothing, as the closest analog for Woodcock (there are other composites: the idea of embroidering secret messages into garments recalls Lee McQueen's claim that he had sewn the words "I am a cunt" into the lining of a bespoke Anderson & Shepherd jacket he had cut for Prince Charles, for example; and I couldn't help but hear in Woodcock's pianissimo a touch of Raf Simons when he says, in Dior and I, "I must live with art"). James had a reputation for being difficult and demanding, and was possessed of a wounded sense of misappreciated auteurship. Certainly his name did not age as neatly as Balenciaga's or Dior's. As seen in The Metropolitan Museum of Art's corrective 2014 exhibition at the Costume Institute, James conjured sublime forms undergirded by intricate architecture—what Virginia Woolf described as "diabolical, and geometrically perfect."
By contrast, Woodcock's designs are fussy, unfurling in fusty silhouettes bordering on the antediluvian. His clientele seems to be populated exclusively by royalty and heiresses, the prewar remnants of a postwar society that is hurtling forward without them, and he dresses them accordingly, embalmed in taffeta and, in one instance, a gathered neck that suffocates its wearer.
"It is true that the designers at the very top level were designing for only a certain number of people who could afford to wear those clothes, and the London designers of that period were designing more for the Royal family, which is another kind of aesthetic," said Jan Glier Reeder, co-curator, along with Harold Koda, of the Met's James show. "It's certainly not cutting edge, the way Balenciaga or James was."
Reeder told me that she saw clear references to James's designs in several of the film's pieces, things like the asymmetrical neckline on the dress Alma wears to serve her doomed dinner, say, or a petal pattern on a bodice, but for every Jamesian flourish, there was another piece that fell flat. "Some of them were really not good looking at all. The two blatantly clunky designs—the red dress with the French maid's bodice and globs of lace on the skirt, and the black lace and red satin cocktail dress with one too many petal shapes on the bodice—seem almost intentionally lacking in aesthetic refinement."
Reeder offered that these looks were more in the spirit of the British style of the 40s and early 50s, and much of the House of Woodcock's aesthetic comes closer to that of men like Norman Hartnell, John Cavanagh, and Digby Morton, contemporaneous British courtiers who stuck to things like princess lines and high collars, and were rewarded by being mostly forgotten by history.
In interviews, Mark Bridges, the prolific, Oscar-winning costume designer behind the House of Woodcock's gowns, has described his and Anderson's preparation, sticking closer to the names we know: visiting the Victoria and Albert Museum and immersing themselves in Balenciagas, poring over the construction of Givenchy's sequined "Lily of the Valley" dress, doing the same with James at the Met. No doubt they saw the radical mid-century shift in silhouettes: James's structural, undulating "Clover," Balenciaga's tunics and sack dresses.
That frisson is not present in the House of Woodcock, which as the film progresses, begins to look more like the House of Usher. "There is an air of quiet death in this house," Reynolds says. His is an HR complaint, but works doubly as the mounting sense of being left behind, which for an artist of Woodcock's self-styling, is the same thing. By the time Woodcock, dosed up on fungi tisane, stumbles into the atelier to inspect a wedding dress, a silk faille job with an inopportune band under the bustline, the veil, as it were, is lifted—"it's just not very good, is it? It's ugly," he laments, before collapsing through it. Just as well.
That's not to say there isn't pleasure to be had in the clothes. Reynolds's sister Cyril slices through the house's static air in smartly tailored charcoal and darting necklines ostensibly meant to italicize her stridency and froideur—the difference, we are to understand, between business and art—but which actually just make her look completely modern. Reynolds himself has a gorgeous wardrobe of windowpane tweeds and lavender dress pajamas and a capacious wool overcoat I was ready to give up my apartment to move into.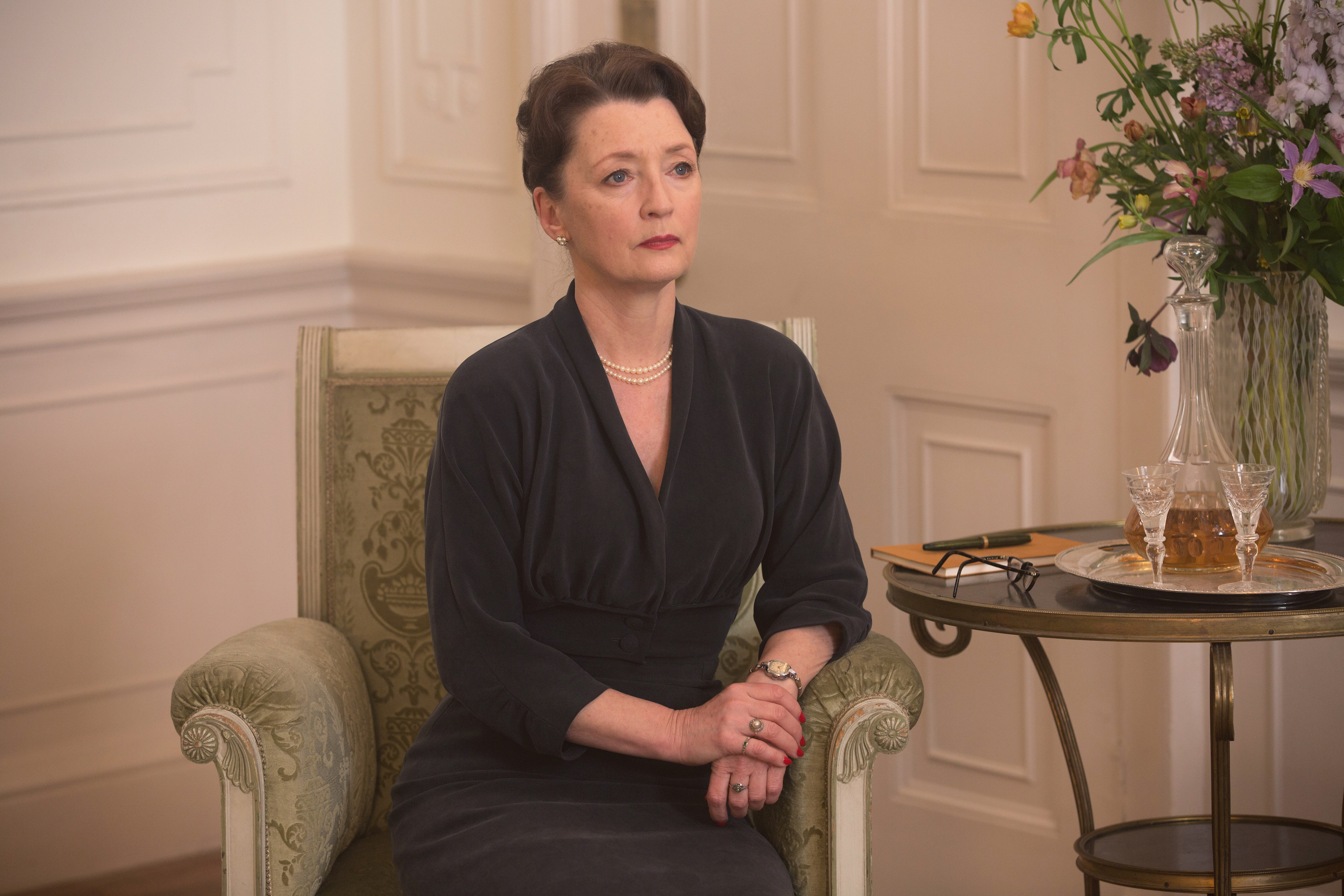 One reading is that all this is deliberate. In informing her brother that the countess has shunned the House of Woodcock and its Guinevere court wear in favor of a competitor, Cyril prods him by invoking the word "chic," a word that represents a future Reynolds cannot see, to which he responds by completely losing his mind. "What is that filthy little word, fucking chic?" he brays. The implication is cold and clear: perhaps Woodcock's designs look a bit past their sell-by date because so is Woodcock. His gowns are staid because he himself is diminished, his touch calcified, his days now governed by fear. We have joined Woodcock toward the end of his powers, or perhaps his powers were never really there.
Of course this presupposes of the viewer a pretty high-level understanding of fashion historical references. Is it realistic to expect us to recognize that the dresses are mostly just okay or worse, when everyone keeps whispering "exquisite" at them? This isn't a fashion movie, but that Woodcock isn't a very good designer is not entirely immaterial. In the end, Phantom Thread is a love story, but it's also a tragedy. It's present in every stitch, the specific terror that haunts those who have dedicated their life to the pursuit of their art, and whose life and art are no longer separate ideas. It's the tragedy of believing yourself to be a genius, and then letting in the possibility that you aren't.