Venus, Cupid, Folly and Time (Allegory of the Triumph of Venus) by Agnolo Bronzino, 1540-45, oil on panel, 146 × 116 cm (57.5 × 45.7 in), National Gallery, London, England. (Photo by VCG Wilson/Corbis via Getty Images)
Sex Scenes: How Did Cupid Become a Sexy Baby?
Get in the Valentine's Day spirit with an investigation into the world's cutest/creepiest cherub.
Venus, Cupid, Folly and Time (Allegory of the Triumph of Venus) by Agnolo Bronzino, 1540-45, oil on panel, 146 × 116 cm (57.5 × 45.7 in), National Gallery, London, England. (Photo by VCG Wilson/Corbis via Getty Images)
As Valentines Day unfurls itself, it's as if the simulation is stuck on baby mode. We're constantly reminded that eros itself is represented by a baby cherub with a bubble butt, an image we're so culturally steeped in that it almost doesn't register to question why the god of love comes to earth dressed in a diaper. On this holiday, we simply accept that Cupid is an all-powerful entity with chubby toddler thighs. But why is love a sexless baby? (Or is Cupid is supposed to be a sexy baby? An adult baby to be respected and feared for his dangerous powers? Who is he?)
Sources as early as Hesiod's Theogony place Eros as one of the first gods, if not the first—after all first came lust, and lust made everything else. In this telling, Eros hatches from an egg left on Earth after Wind and Night have sex. Later came Eros as the son of Aphrodite, and from then on he was represented sometimes as a baby; sometimes as a beautiful youth; sometimes a strapping athlete and sometimes a horrific monster, but always as immature. Cupid is an icon of the difficulties of love, representing all that is mad, ungovernable, and unfair in desire and longing, so maybe it's not a surprise that he's represented as a youth.
In Anne Carson's Eros the Bittersweet, she notes that Sappho was the first to call Eros bittersweet, and that "no one who has been in love disputes her." Love and hate bifurcate in Eros, argues Carson; she tells a story by Euripides in which Cupid's arrow has double effects, bringing either beauty and harmony or complete collapse.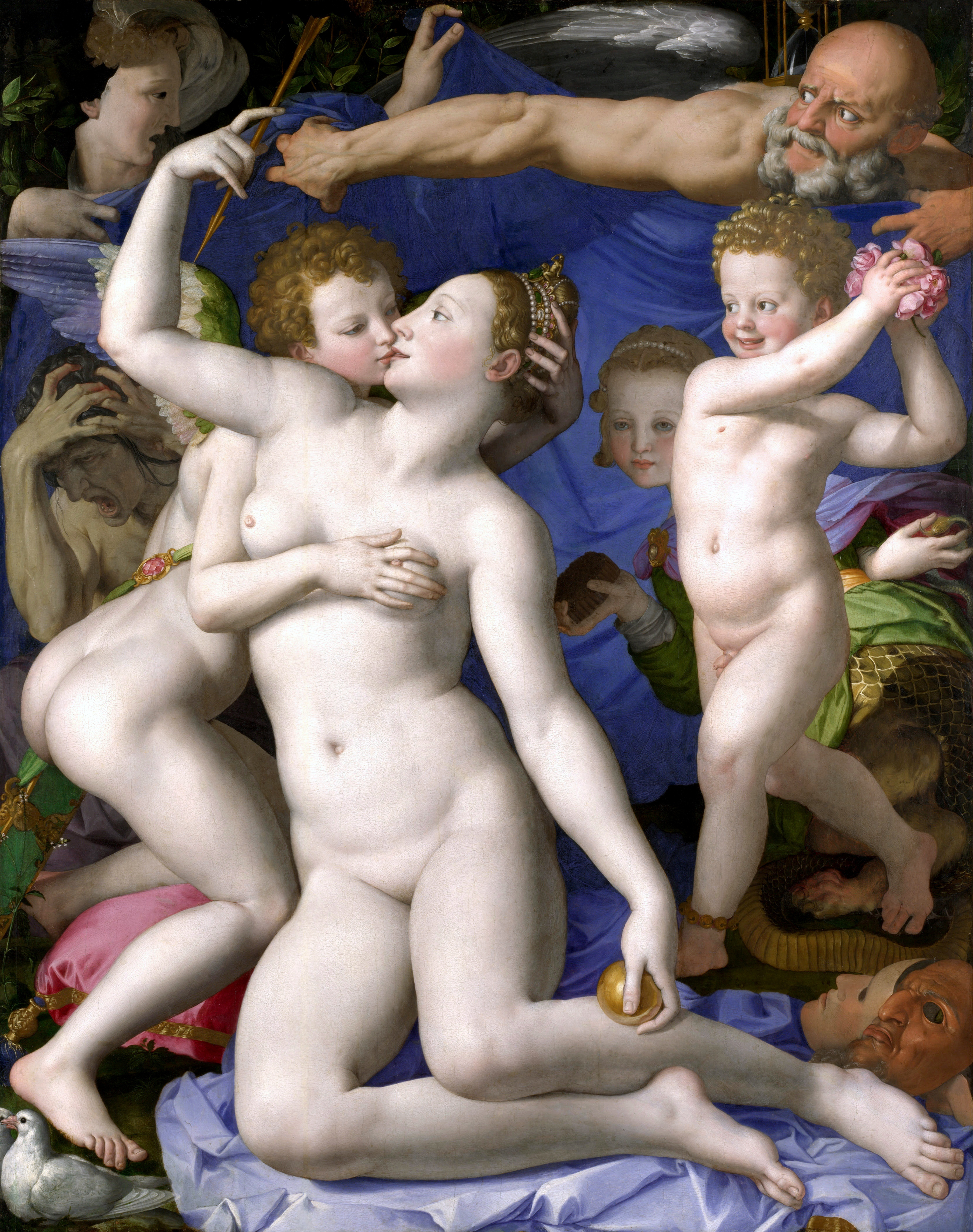 In An Allegory of Venus and Cupid, a 1545 painting by Agnolo Bronzino—often known as Venus, Cupid, Folly and Time—we see the dueling sides of Cupid. He has the face of a cherubic child but the body of a teenage boy; his body is so twisted, all the better to prominently display his ass, that one imagines choirs of Instagram thot-police commenting, "don't break your back!"
The painting is spectacularly modern and surreal, while also being overtly erotic. At its center are Venus and Cupid, mother and son, who (in something of a shock for the viewer) embrace erotically: Cupid grabs her breast, a nipple grasped in his outstretched fingers, as their faces close in for a kiss, Venus' tongue glistening through her slightly parted lips.
It's a very naughty painting! A very strange and dream-like image, eons ahead of its time for its surrealism. Through it, Bronzino attempts to understand and illuminate the complexities of Cupid, as it's a painting about the numerous faces of desire itself. Similar to how modernist painters like Cezanne and Picasso aspired to show multiple perspectives of an object at the same time as to achieve a sort of total vision, Bronzino is attempting to unmask love by showing the elements that compose love and desire by representing all of its aspects at the same time (which jives with Cupid as both baby and adult.)
In his Lives of the Artists, a 16th century series of artist biographies, Giorgio Vasari tries his hand at one of the first allegorical readings of the composition, associating each with an idea conceptualizing the pleasures and displeasures of love.
At the top of the painting, we see Father Time extending his arm, pulling the cloth from behind Cupid and Venus to reveal an array of suffering and monstrous figures, as well as a laughing child about to throw a ball of roses. We wonder, along with Vasari, who these monstrous figures are hiding behind love and beauty; a man holding his head in despair, a sphynx offering with a steely gaze a honeycomb while hiding a scorpion in their other hand, masks on the floor, a golden orb rolled on the skin, and the reminder that all pleasure comes with a little bit of folly.
The allegory for Bronzino becomes that of a painting about love in the face of time itself. At the end of Time's hand, the head of oblivion floats into the void, and if we look closely we see its eyes are hollow, and nothing is behind it. Oblivion is a mask, a fraud. Or love is a mask? Just a human face on nothingness. Is the painting itself is a mask, with meanings hidden behind meanings?
Or maybe it is actually about mother/son incest. As Cupid goes to kiss his mother and grazes her breast, we see lust appear, causing her tongue to salivate, her vision to go a little hazy. Perhaps it's a representation of the moment—told by Ovid in the Metamorphosis—when Cupid kissed his mother Venus and his arrow grazed her breast. In that moment, she pushes the boy away, and—realizing the wound was deeper than it first seemed—she becomes enraptured by the beauty of another youthful male Adonis, thus transferring the erotic impulse.
Many paintings from Bronzino's time render Cupid as a muscular youth, despite the ongoing trend of portraying Cupid as a flock of cherubic children who represent volatile spirits entering and exiting the body and causing desire. For Bronzino, desire is a flight of fancy, something brought on by the beautiful body of the other, by a pinch of the skin and an embrace. But with the rise of romantic love and the bourgeois family in the 19th century, lust and sexuality were transformed in the Victorian era's obsession with the child; the husband was now the only lover, and Cupid became the angel baby, thus erasing the wild adolescent Eros.
In Eros the Bittersweet, Carson lingers on the meaning of the word Eros as "want" or "lack," the desire for what isn't there. The adult baby Cupid is, the,n a metaphor for the desire for what is missing. And isn't it true that one gets to be a baby again when falling in love? Loving only that which is fun and pleasurable, existing truly in the moment to the point of being selfish, foolish, easily charmed? And for all the discussion of Cupid's body, it's in baby mode that we become less aware of the burden of having a body. All bodies are babies and all babies are bodiless (ABAB!) All baby mode all the time! If there's one Valentine worth giving, it's to let the simulation stay on baby mode a little longer.