Lorna Mills 'Yellowhirlaway', 4-channel Animated GIF Installation (2016) Installation view, "Refiguring Binaries," Pioneer Works, New York, February 22-April 21, 2019, copyright Dan Bradica

The New Digital Art is Decidedly Anti-Tech Bro
Isn't it time to debunk the image of tech as a man's world?
Lorna Mills 'Yellowhirlaway', 4-channel Animated GIF Installation (2016) Installation view, "Refiguring Binaries," Pioneer Works, New York, February 22-April 21, 2019, copyright Dan Bradica

Tech has always been framed as the domain of men. Men staying up for hours guzzling soda and perfecting code, men wearing turtlenecks and unveiling innovative products, men running the websites that spy on you when you're not looking. Of course, tech isn't just a man's world—some of the most influential early programmers were women—but maleness tends to permeate it so deeply, it can negatively affect tech's ability to assist and appeal to the marginalized.
Refiguring Binaries, a screening curated by Transfer Gallery's Kelani Nichole currently installed at Red Hook, Brooklyn space Pioneer Works, showcases not only non-male people working internationally in video and tech-centric art, but also people who are using tech-based art practices to subvert traditional Silicon Valley mindsets around technology.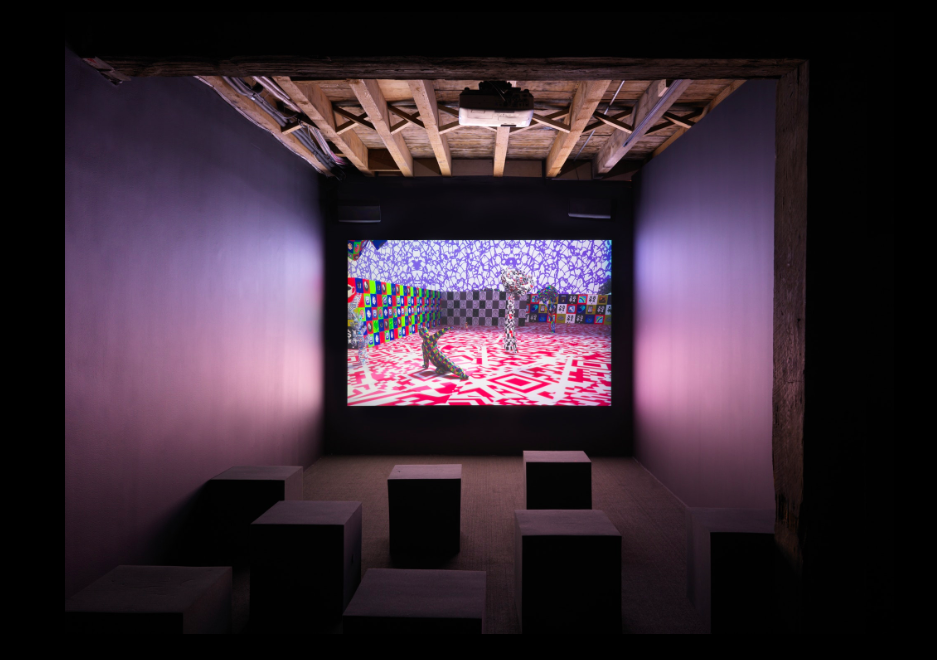 In an interview with GARAGE, Nichole says wielding the tools and narratives of Silicon Valley and big tech in order to imagine alternatives to their often-biased norms is "a crucial role for artists, specifically artists who use technology. I think that these women are offering us some way forward," she continues. "But they're doing that by revealing danger."
The work in Refiguring Binaries isn't just net art; there are animated GIFs, 3D animation, faux reality TV episodes, straightforward videos, and more. Faith Holland's suite of GIFs illustrate sexual pleasure through non-sexual imagery. Their visuals resemble a zine or an old movie, made contemporary and online through their GIF format. Meriem Bennani's comedic reality show Fardaous Funjab takes viewers into an avant-garde Moroccan hijab boutique, placing an unexpected and modern spin on the archaic ideas Western people have about women who wear hijab.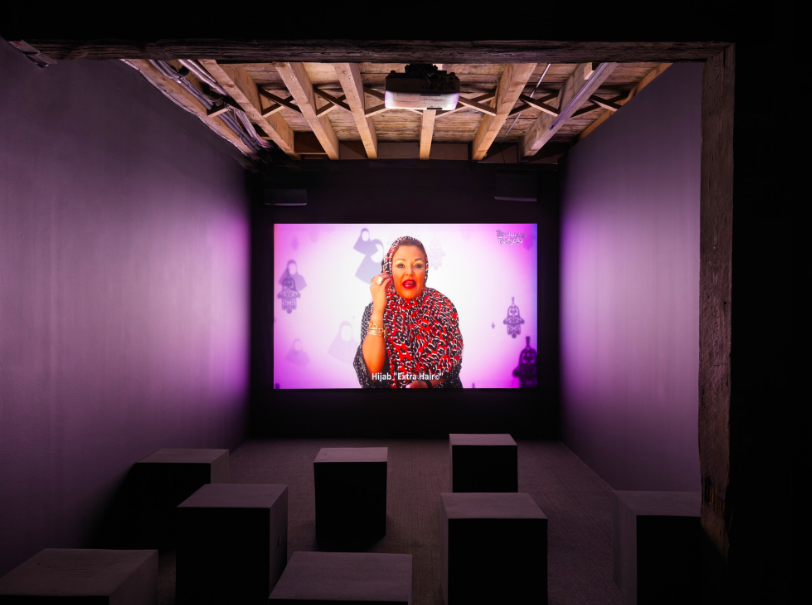 Some of the most relevant commentaries on the troubles with tech and the internet don't draw much from explicitly 'digital' imagery. LaTurbo Avedon delves into the dangerous potential of real-name policies on social media through a serenely-scored short film. Morehshin Allahyari's series exploring the reclaiming of both the natural and technological landscapes from the elites uses 3D printed and scanned depictions of Middle Eastern deities.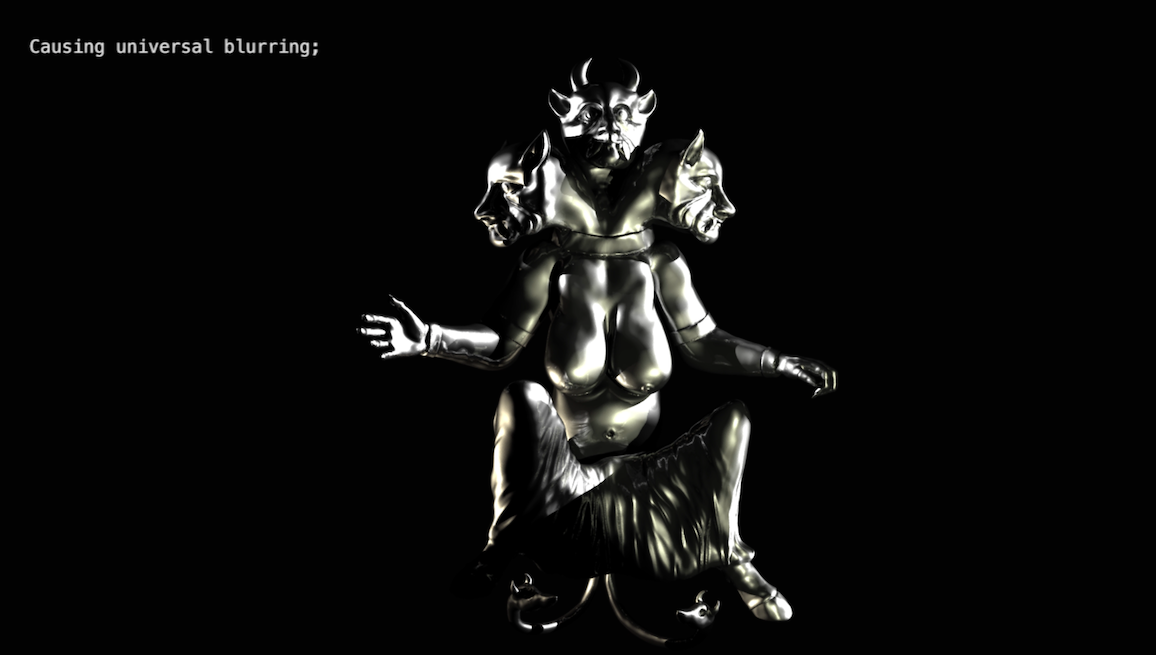 Even the "binaries" in the title has multiple meanings, referring not only to societal binaries but the computer language of binary code. Nichole's curatorial interest, she says, lies in "watching the way that women are trying to soften the hard edges of technology, the cold ones and zeros."
There's always been a layer of fear around technology, from films about robot uprisings to mothers worried their children will be kidnapped if they talk to a stranger online. Not all of this is rational (which the recent Momo hoax has illustrated well), but some certainly is, with the rise of deepfakes (which often exploit women's images), algorithmically assisted right-wing radicalization on sites like YouTube, and artificial intelligence and self-driving cars already proving to hold dangerous racial biases.
Refiguring Binaries artist Tabita Rezaire acknowledges that nefarious uses of tech are far from a new creation. "Our cherished technologies are the results of institutional violence," writes Rezaire in an emailed statement (she told GARAGE she doesn't conduct individual interviews about her work). "We have much to recover in terms of connectivity and its potentialities."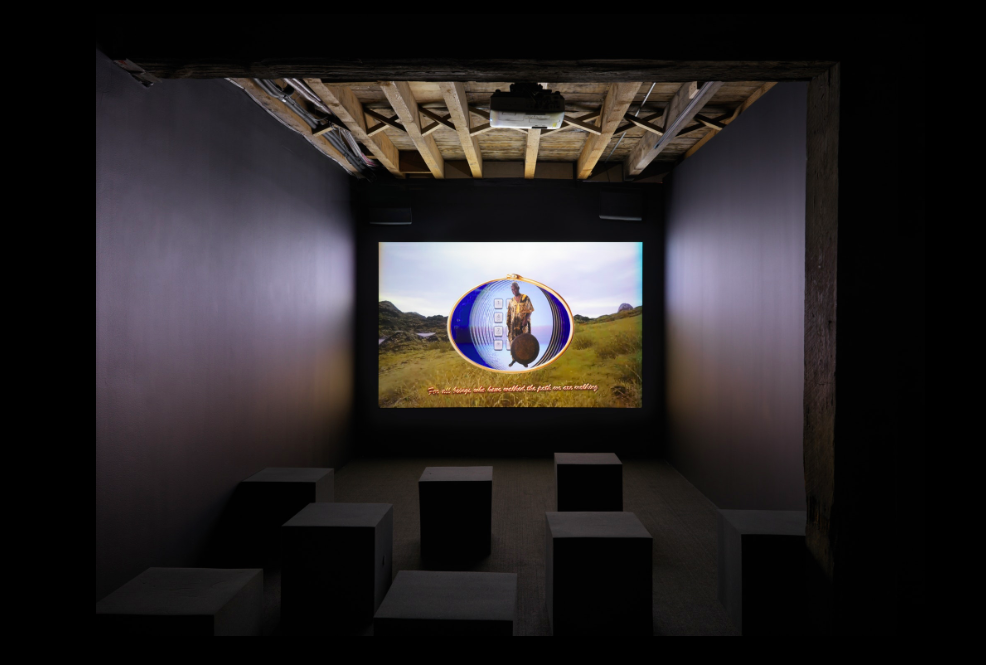 The French Guyana-based artist's 2017 video Premium Connect combines elements of recorded video, found footage, and digital imagery both modern and nostalgic to create a dizzying, compelling exploration of, as Rezaire describes it, "the possibilities of de-colonial technologies." Watching it, you go from talk of colonization's violence to discussion of Facebook-induced loneliness to an African choir to particle physics to The Matrix.
"Contrary to biased, Eurocentric thinking, our information superhighway might find its roots in African spirituality. Significant research attributes the birth of computing sciences to African divination systems such as the Ifa system of the Yoruba people of East Africa, which appears to be the origin of binary mathematics," Rezaire explains.
It's not just tech interrogating tech. Greek artist Eva Papamargariti's contribution to the screening, Always a Body, Always a Thing, illustrates "the ingestion and embodiment of plastic by living beings," and the often disturbing effects it has on the natural world. It pairs, among other visuals, news clips about mysterious environmental happenings with the inner narrative of a tadpole becoming a frog. Frogs are known as "good biological barometers," and can develop abnormalities correlated with environmental damages. This isn't isolated from technology, but rather references how industry and technology can impact the environment and climate—Allahyari's video, too, deals not only in digital colonialism but also global warming.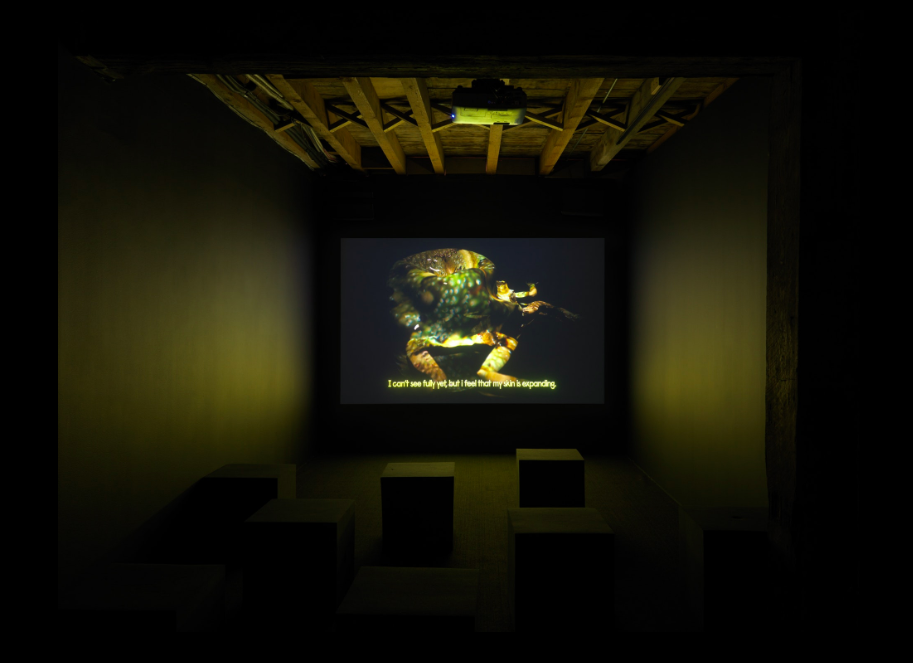 "There is a certain gravity that follows these subjects. It would be catastrophic to minimize their importance or pretend they don't exist," Papamargariti says. Though she's approaching her work from an artistic standpoint, she "believe[s] it is very important to address these issues with boldness, and without beautifying any of the aspects surrounding them."
Art certainly has the potential to be paradigm-shifting, but often in a more indirect way; someone sees a provocative piece, and begins to think differently, which then affects how they treat their work, other people, and so on. Nichole says an important part of this type of work is its accessibility (most of the Refiguring Binaries videos, or at least excerpts, are available for free viewing online), which provides a refreshing alternative to the traditional art world, which she sees as "built around principles of scarcity."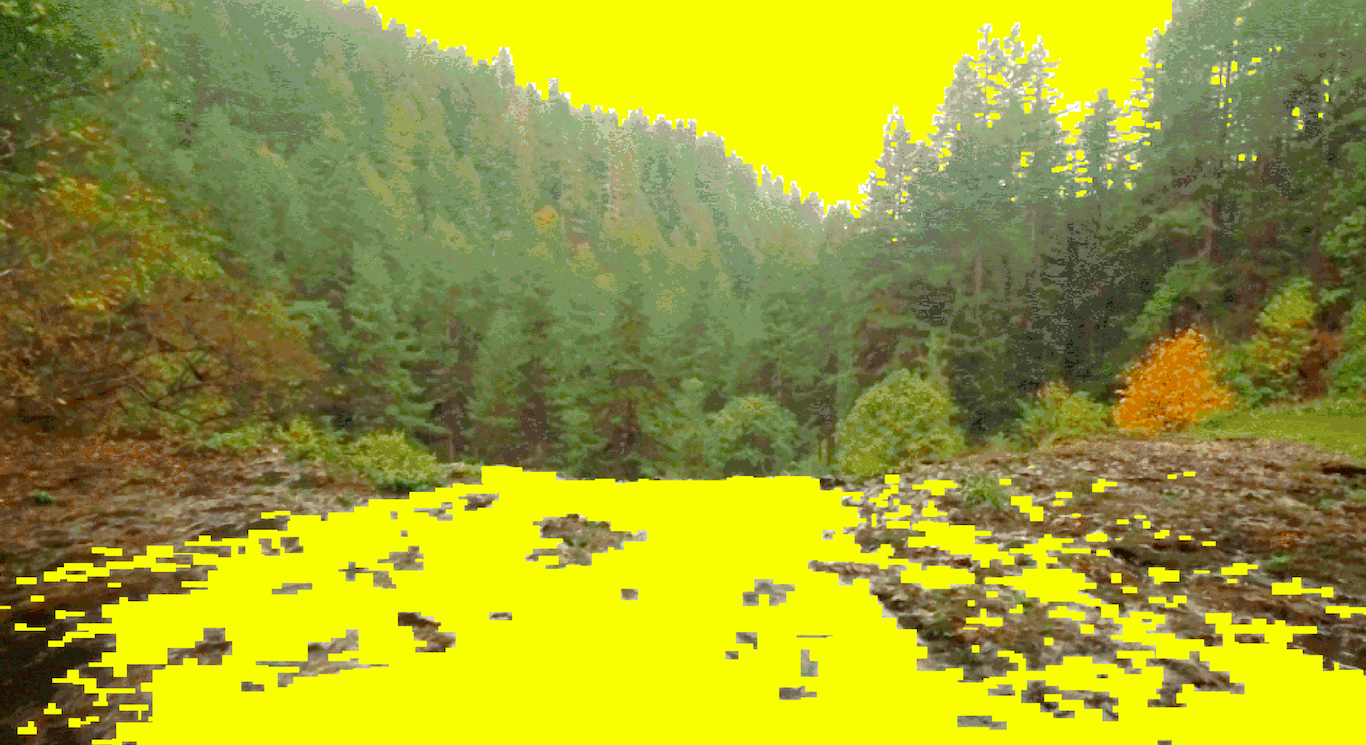 "The thing that I think is the secret to this form really reaching its truest potential is to align technologists with the contemporary art world in a new way," notes Nichole, who works in tech in addition to her curatorial output. "You bring a tech bro down to Pioneer Works, you show him Meriem Benanni's piece, and he's gonna laugh. And that laughter, it expands the perspective in a way."
And while opening the mind of a tech bro can seem inferior to just, say, kicking them all out in favor of a technological future that's genuinely decolonized and diverse, it's better than merely sitting, scrolling, and wondering when a change will come.
Refiguring Binaries, curated by Kelani Nichole, is on view through April 21 at Pioneer Works in Brooklyn.