The Great and Powerful Oz's AV Guy, 2019, (detail) Courtesy the artist and Lehmann Maupin, New York, Hong Kong, and Seoul
Hernan Bas' Finds Beauty in Limbo
History and fantasy mix in the artist's new show at Lehmann Maupin in New York.
The Great and Powerful Oz's AV Guy, 2019, (detail) Courtesy the artist and Lehmann Maupin, New York, Hong Kong, and Seoul
Hernan Bas' paintings linger between acts. "It's not the beginning of the play and it's not the end," he tells GARAGE, from his Detroit studio. "It's literally that intermission where you walk out, take a breath and say let me think about that for a minute before I go finish this." His subjects are all male and young, embodying what he often refers to as "fag limbo," or that purgatory between adolescence and adulthood when "you don't really know what's going on." Queer or not, he finds that angsty half-baked period ripe for storytelling. "A perfect character is a boring character," he says.
In TIME LIFE, composed of seven large-scale paintings showing at Lehmann Maupin through January 4th, Bas renders fag limbo through occult phenomenon, the fringes of gay history, and glow-in-the-dark enthusiasts, with an undercurrent of deadpan humor. In The Great and Powerful OZ's AV Guy, Bas wryly imagines the Wizard of Oz's behind-the-scenes tech guy, who pushes the buttons responsible for the plumes of smoke and fire that power the wizard's pageantry. "People are sort of afraid to laugh at my paintings," he says, "but I think they are really funny."

GARAGE spoke to the 44-year-old Cuban-American artist about his approach to painting, which piece-meals autobiography with stray curiosities, and a strict allegiance to fact.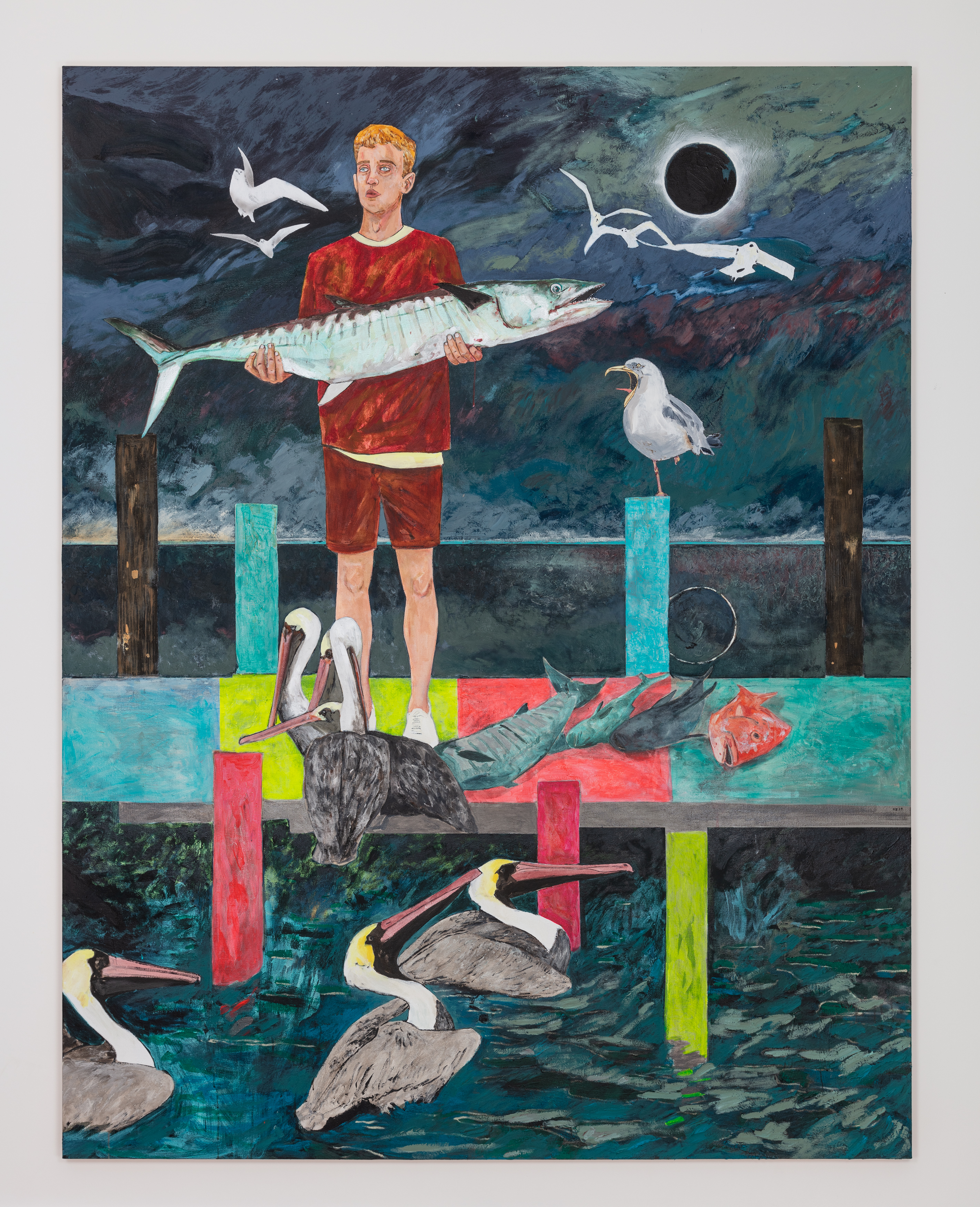 A Moment Eclipsed 1

The boy shows off his biggest catch. As a kid growing up in Miami, Hernan Bas saw versions of the cheesy photo lining the walls of "every shitty seafood place," he says. But so much is off, starting with the boy's face, which looks despondent, as if he's forgotten why he's standing there in the first place holding a giant tarpon. A seagull balancing on one leg appears to yawn, as if unimpressed. Behind him, a solar eclipse simmers, turning everything haunted.
The painting's inception will be familiar to anyone who spends too much time on the internet. One night, he caught himself staring at a taxidermied hammerhead shark hanging in the shadows of his studio and thought A Hammerhead Shark in the Dark would be a funny name for a painting. He ditched the name, but it sent him down a rabbithole of blogs devoted to Hot Guys Holding Fish. "They were decidedly not attractive," he says, "which was the funny part." The eclipse was mostly an excuse to paint pelicans; Bas knew he wanted to depict a night scene, but pelicans are strictly day birds.

"My paintings are built in weird ways," he says. "Masculinity being overshadowed by the greatness of the universe— that's not a theme I would immediately jump to."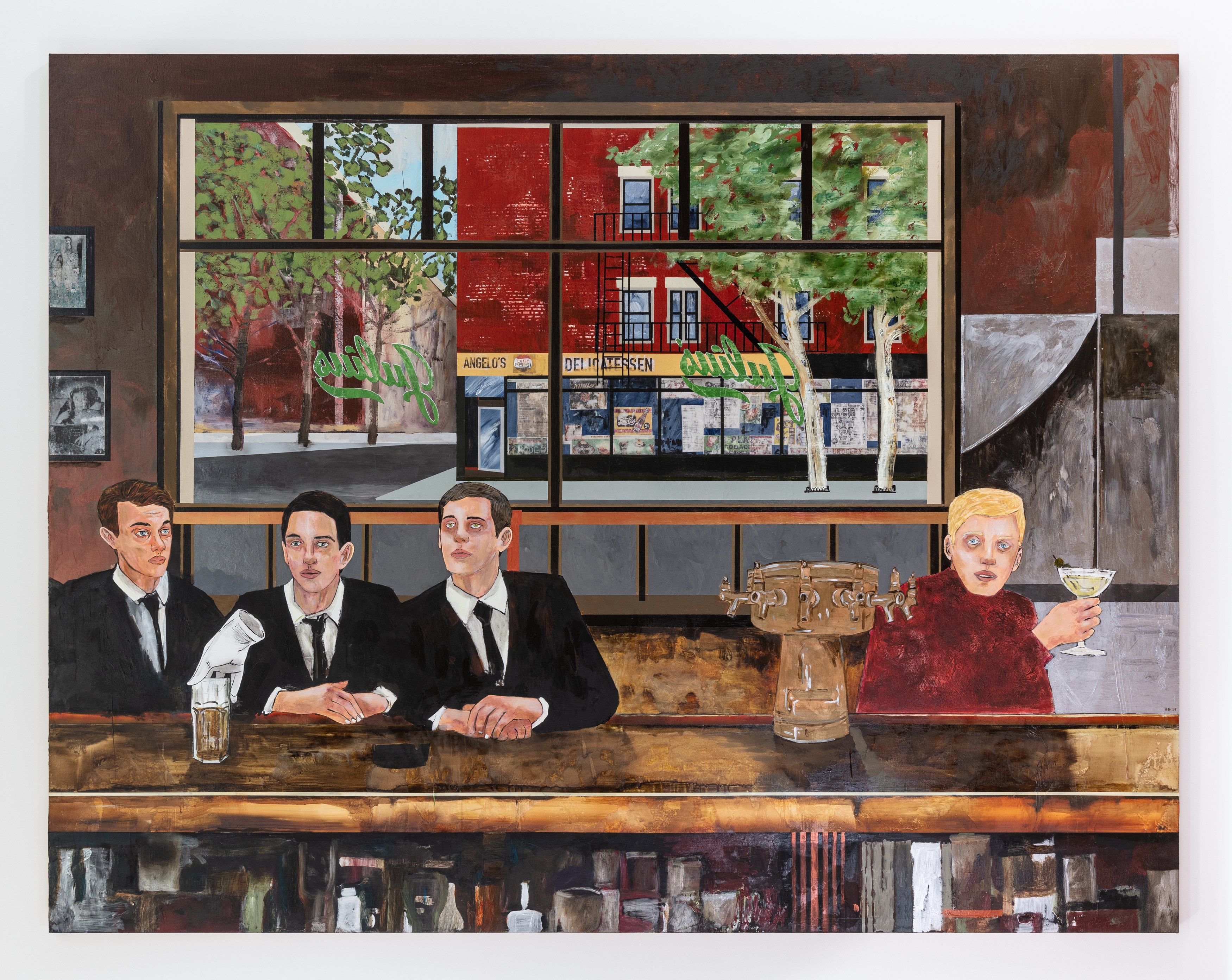 The Sip In
Last year, after finishing "Sorting Out Andy"—his large-scale painting of someone sorting through piles of junk that once belonged to Andy Warhol, a hoarder—Bas searched for another lesser known yet equally important moment in gay history. He discovered "the Sip-In," the day in 1966 when three members of The Mattachine Society held a sit-in, to challenge the discriminatory policies of the State Liquor Authority that revoked licenses of bars that served gay men and lesbians, which in turn meant bars refused to serve them. Bas latched onto one photograph in particular, taken at Julius', then a Greenwich Village dive that was not exclusively gay, of a bartender covering a glass of beer after the activists declared they were homosexuals (deemed "disorderly" at the time under vague regulation).
Bas rotates the composition of the photo and turns the bartender's hand into a white glove, focusing our attention on the refusal, which hovers over the glass like an apparition. By erasing the bartender's body, our attention turns to the men being denied, but the suits seem aloof—a common criticism of The Mattachine Society, an early gay right's groups that struck many activists as being tepidly conformist. Instead, the real confrontation comes from the blonde boy in red, who raises a martini glass, his cold blue stare the only direct eye contact in the frame. He's the Jack to the three Will's, or to quote Clueless, a "disco-dancing, Oscar Wilde-reading, Streisand ticket-holding, friend of Dorothy."
From Detroit, Bas walked into Julius' on Google Earth. A stickler for facts, he spent two weeks researching what business would have been visible from the windows facing 10th street in 1966. He eventually discovered it was a deli called Angelo's by watching old films like Next Stop, Greenwich Village. He finally visited Julius' for the first time on a recent trip to New York. He was struck by its smell—Julius' is known as the oldest gay bar in the city—which he describes as "very distinct." "It was really crowded, so I was there for two seconds," Bas says. "I just wanted to see if my angle was correct, in terms of the position of the bar in relation to the window. It was correct."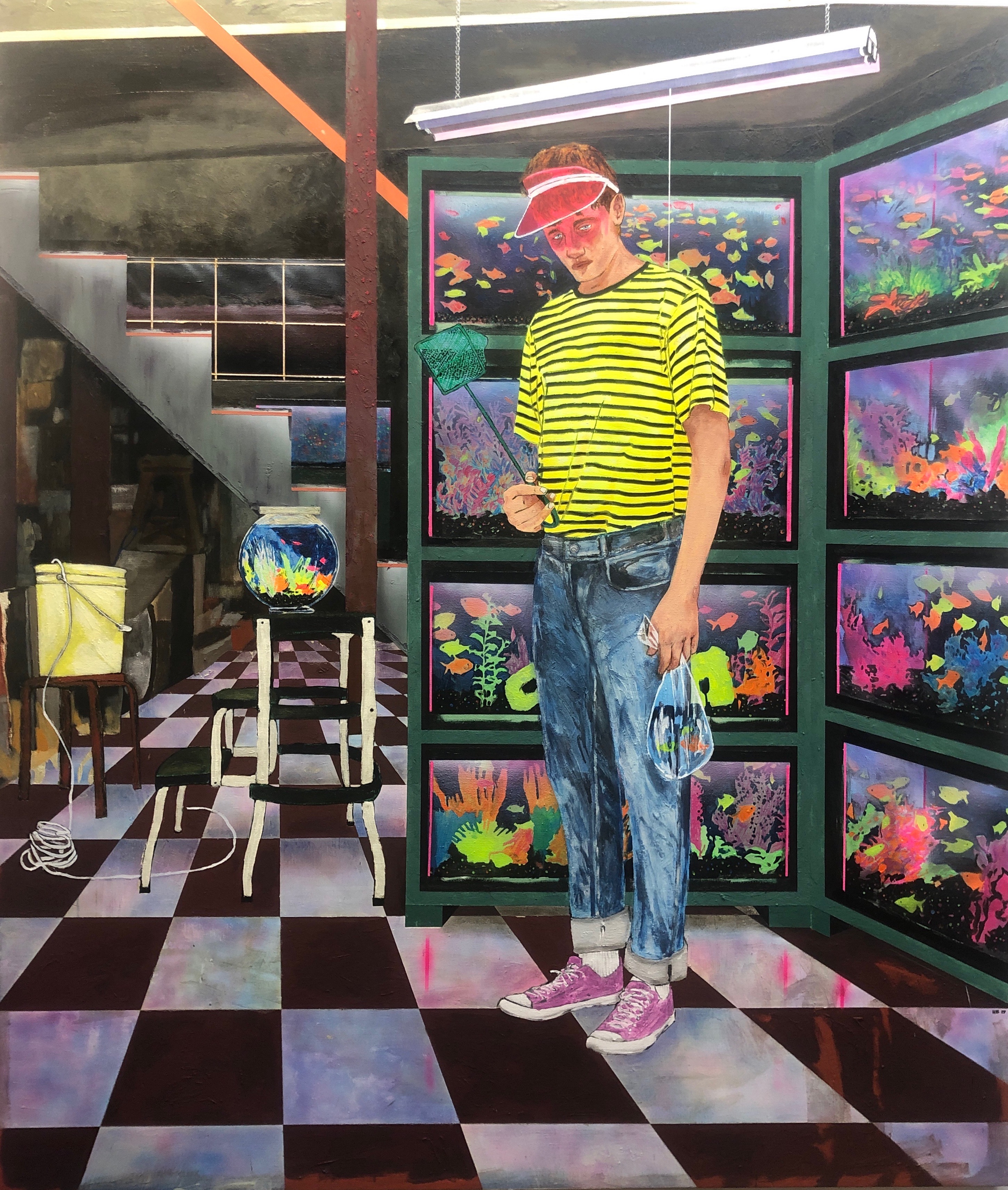 The Glow Fish Enthusiast
After his guppies multiplied and outgrew their pond, Bas' boyfriend of 18 years brought home a glow-in-the-dark fish tank to contain the spill over. The purchase sparked an urge Bas to research the world of GloFish enthusiasts online, where he became particularly fascinated with the idea of glow-in-the-dark fish basements. He imagined a queer enthusiast dressed in a fluorescent T-shirt, acid-wash jeans, and a clear plastic visor, who looks ready for a rave. "It's not just GloFish," says Bas. "It's a way of life for him."
True to form, Bas used glow-in-the-dark paint, "the same thing you would splash on your body at a rave," he says. The flashes of color put into sharp relief the boy's crumpled expression and caved-in posture. "It's never intentional, but if there's a running thread [in my work] it's [a] melancholy that I'm completely unaware of," says Bas, noting that he sources many of his models from fashion magazines, meaning "they're not exactly jumping up and down with joy." "But I don't see him as sad," he says, of his glowfish enthusiast. "He seems like someone I would totally want to hangout with, you know?"

Tagged: