Searching for The Big Pants/Little Shirt Girl
Between Depop and the skatepark, how will we ever get out of this labyrinth?
Say what you will about Greta Gerwig's upcoming Little Women adaptation; those women aren't little. You know what is little? Little shirts, worn with big pants.
While playing with proportionality has long been a tenant of outfit-making, the pairing of oversized pants with a tiny top has given rise to a namesake identity: the "big pants, little shirt girl." And frankly… who is she?
While the combo has become as much a persona as it is a silhouette, there is something elusive about the big pants, little shirt girl. Like a female love interest in a John Green novel, she's hard to define. You've seen her everywhere and nowhere. She's at your local skatepark, in a getup that recalls Debbie from The Wild Thornberrys and also those pixelated Dollz icons from the early web. She's a Hadid sister, waist encircled by an Off-White industrial belt. Most of all, she's on Instagram, inexplicably repping Quentin Tarantino or Danny Devito.
Like many things that are extremely of the internet, the big pants, little shirt girl has a somewhat nebulous origin story. One can cite JNCO's widest-legged jeans and Tripp NYC's goth streetwear (as filtered through, say, a dELIA*s catalogue) as early influences, while the silhouette was perfected by, and undoubtedly blew up in the mid-'90s thanks to, TLC. It was carried into the new millennium by everyone from Aaliyah to Britney Spears to, of course, Avril Lavigne. Indeed, the latter cemented the big pants, little shirt 'fit in the mainstream as a skateboarding-adjacent, uh, sk8boarding, look; in many iterations, it's something of a skate betty uniform, merging the grungy ease of a baggy pant with the flirty femininity of a crop top.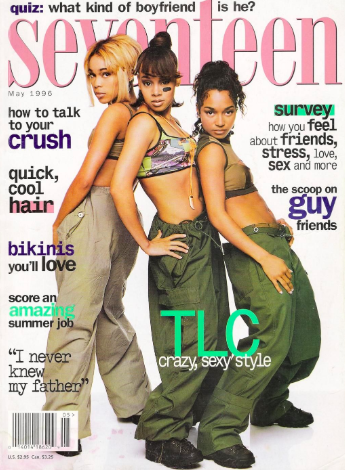 Today, the big pants, little shirt girl is part mall goth (even if, especially if, malls are dying), part e-girl, part Instagram baddie, and part SoundCloud rapper, altogether forming a hazy concoction of sugar and spice in the most Powerpuff Girls sense. Contemporary big pants, little shirt girl icons include pop star Dua Lipa and Depop sensation @internetgirl. (Depop? Incredibly big pants, little shirt girl.) And, certainly, one can also wear a big shirt with little pants.
While the components remain static (1. big pants, 2. little shirt), they are endlessly customizable; emblematic online retailers such as UNIF, Dolls Kill, and O-Mighty all carry endless riffs on spaghetti strap tanks and tube tops, oversized nylon track bottoms, jeans, and cargo pants. Chances are, peering out from underneath the big pants are a pair of Doc Martens, checkered Vans, or bulbous Buffalo London platform sneakers.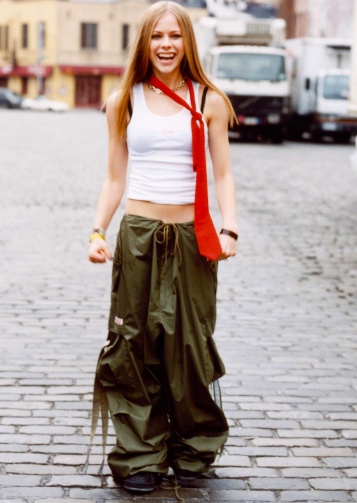 Amid such a vast spectrum of reference points, with all of these digital threads weaving this truly 21st-century ensemble, a marked tension arises. Is wearing big pants with a little shirt a look of power, or a look of meekness? On one hand, it's comfy and badass; on the other, it can appear diminutive and suggestive of a girlish sexuality, one that's hidden behind bangs and refracted through the male gaze at the skatepark, on the internet, and otherwise. Indeed, the operative function of oversized clothing here is to make the wearer appear, well, smol (ugh). Cuteness is, as always, an endless fount of frustration.
And then there's Billie Eilish, who's (heartbreakingly) described her uniform of big pants and even bigger shirts as a commentary on body-speculation and -shaming. "That's why I wear big, baggy clothes," Billie narrates a recent Calvin Klein ad. "Nobody can have an opinion because they haven't seen what's underneath." A statement that's emblematic of all that is 2019, as it grows ever bigger than before.