Untitled, 2019, Graphite and correction fluid on frosted mylar. Courtesy Presenhuber, Zurich and New York
Wyatt Kahn's Intelligence of Hands
The artist's new solo exhibition at Eva Presenhuber Gallery in New York exposes humanity through his process.
Untitled, 2019, Graphite and correction fluid on frosted mylar. Courtesy Presenhuber, Zurich and New York
In a new solo exhibition at Eva Presenhuber in New York this month, Wyatt Kahn uses sheets of lead, oil stick, canvas, and shaped stretchers to construct objects that are neither painting nor sculpture. The three-dimensional works have a formal figurative reference that is rough and vulnerable. Kahn considers these works to be characters based on people from his immediate circle. Assembled from puzzle-like components, the surfaces are sometimes left raw, or thickly painted. The work displays the handiwork of Kahn coloring, mapping, problem solving, and building. For all their industrial character, the new works are satisfyingly human. Subtle imperfections mark the work with vulnerability. During a walk-through of the exhibition one late autumn afternoon in downtown New York, Kahn discussed some aspects of the exhibition with GARAGE.
What are these paintings focused on?
There are two things that I am dealing with. One concerns art as a discipline: how do you push art forward? How do you push each medium's history forward? How do you push its boundaries? The other component of the work addresses questions of love and family. These paintings are about being in love and the desire to have a family and desire to be together. But how do you bring a child into a world which you know is deeply politically troubling and deeply environmentally troubled?
Large questions.
The paintings do not deny the fact that they are dark: they are on lead and they are made of poisonous materials. They are not super beautiful, and yet they are not negating a certain harmony. There is softness in places, but there is also violence and heartache.
The paintings have the feeling of acceptance and also the feeling that there is something that is not solvable.
The work addresses the questions of my life but does not present assertions. I am not looking for my art to offer answers or dictate solutions. I would find that rather problematic. My paintings are about presenting the experiences and moments in my life that are curious or impactful. I believe these experiences are shared and not uncommon. Hopefully, a connection occurs when viewing my work through the recognition of the shared experiences and there is a moment of empathy or solidarity.
This show is installed in a retrospective style with works from various bodies. It looks like a historically mature show.
I would like the exhibition to transmit the excitement of the creative push and the boundaries that you've given yourself that have allowed you bounce off of. I wasn't interested in presenting a single body of work but a year's worth of work where I let my mind wander resulting in variations on a theme.
Do you pre-arrange your exhibition layout?
Yes. In the case of this exhibition, Linda Norden came to my studio and helped with the base layout. She's a friend, my former teacher, and has always been supportive. She asked, "Would it be OK to play with the installation and mix it up a little?" She made the exhibition layout, explaining that the space had very specific sight lines that must be utilized and that it was crucial that each room had a large work to cement it to space. Before she did this my plan was much more conventional, more or less keeping all the similar works in the same room. She mixed everything up allowing the conversation to move from room to room. It wasn't exactly where things are now in the exhibition but there are some aspects from the planning that remain. I was worried about the height of the ceilings, and she was like "Don't be. That work will fit and will give the room power," she was right!
She was! I like when paintings span from the ceiling and to the floor and barely fit. It expands the room, like at Pompeii or murals that are meant to architecturally enlarge the space. What is the construction process with the paintings and drawings?
The paintings are hand-painted. With some, the end finish is rolled, and with some the end finish is done with my fingers. I use paint sticks and then my fingers to get the final marking. All of the supports are canvas or lead on panel. These drawings are done during, before, and after the larger paintings and they are studies done from memory. I'll draw and then erase with correction fluid. I often redo things. It's a really messy, really physical, really intense process. These drawings are as important as the paintings and take as much time to make. The drawings are on vellum. This vellum was sent to me by ULAE, my printmakers to create drawings for lithography. I loved working on it. It hides nothing. Everything stays on the surface. It is the most honest material that I have ever drawn on. Of course, this influenced the paintings as lead has a similar surface to vellum, delicate, smooth and reflecting all mediums, so it wasn't long after that I started painting on the lead surfaces. The prints influenced the drawings which then influenced the paintings, which now through using lead instead of paper on the embossed etched mono-print have influenced the prints.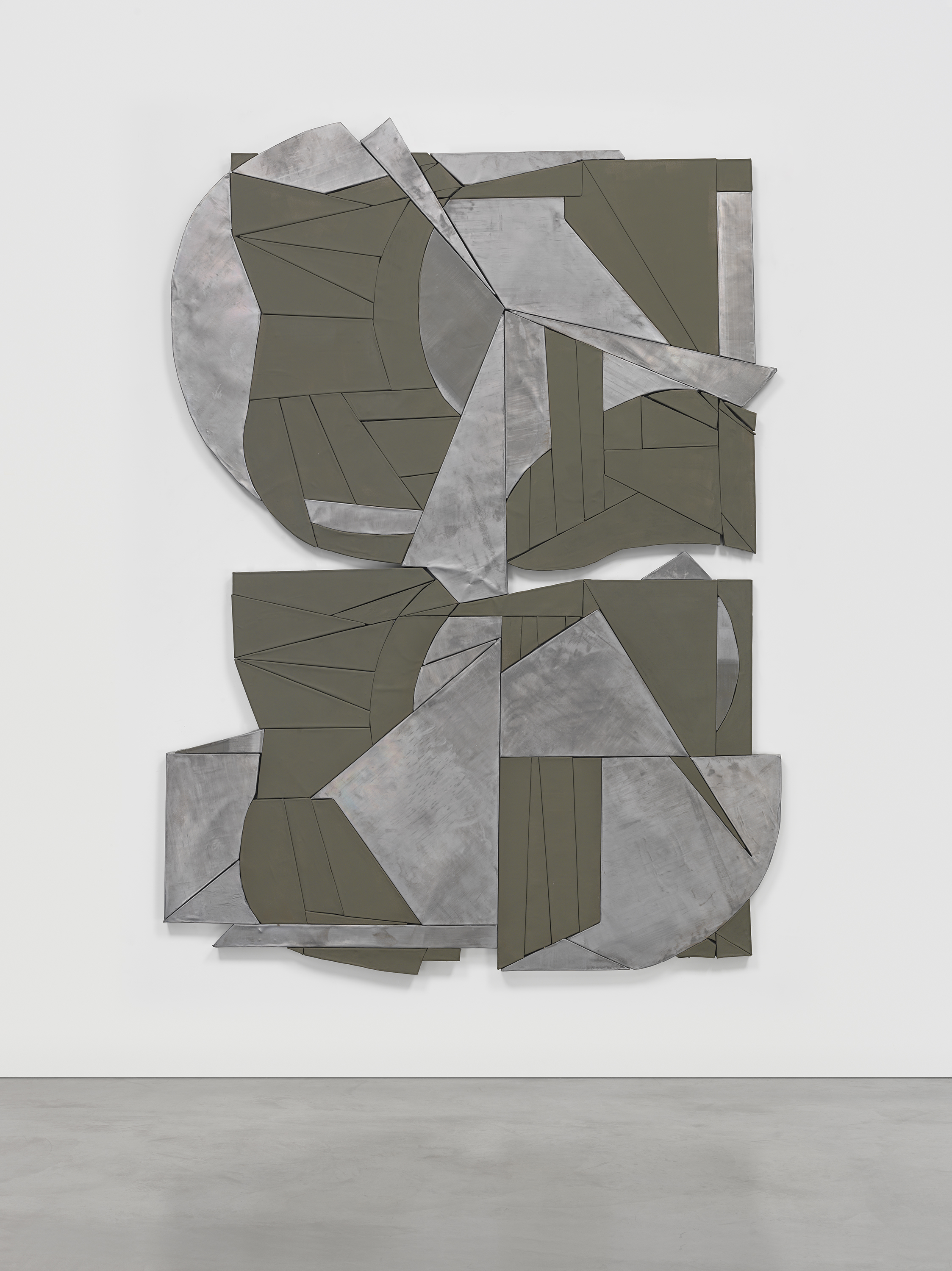 It is clear how these different mediums exhibited: large-scale drawing, painting and printmaking go hand in hand with one another, yet elicit another vantage point or produce a slightly different sentiment. I often feel like I am looking at figurative abstraction in your work. How do you engage the figure and the abstract realm in talking about the paintings?
The paintings originate from representation. They are not non-objective. I'll see a person or maybe two or a group creating a form that is inspiring and I'll start to work with that. Eventually, as I explore it and revise the image on paper it will become fully abstracted. I'm now interested in trying to place the fully abstracted forms within a recognizable representational composition. Basically, I want to take from life, abstract it and present it back in a representational traditional scheme. For example, "You and You," a work in this current exhibition, shares compositional similarities with the classic iconography of the Madonna and child. It is a tricky balancing act but I think my hand is what makes it all work. It is all about expressing and utilizing the intelligence of hands."
The intelligence of hands is a poignant idea.
Robert Bresson used that expression when describing why he decided to make the movie Pickpocket. It describes letting the instincts of hands take over my mind. It is an idea that Maurice Merleau-Ponty develops in his Phenomenology of Perception, in which he talks about a certain knowledge of the body. The back and forth of hand and mind, loose and tight is another tension in my work, as well as the dialogue between abstraction and representation, and painting and sculpture.
Tagged: