Shopping for Meaning (Detail), 2019 © Grayson Perry. Courtesy of the artist and Victoria Miro London/Venice
Grayson Perry's Must-See Super Rich Interior Decoration
The artist's first solo show at Victoria Miro since 2012 perfectly captures the zeitgeist.
Shopping for Meaning (Detail), 2019 © Grayson Perry. Courtesy of the artist and Victoria Miro London/Venice
"I Googled a lot of art collector's houses before I started making art for the show," Grayson Perry recently revealed in an interview about his process for his new exhibition 'Super Rich Interior Decoration,' now on view at Victoria Miro in London, in order to "get an idea of where the work might end up" after it was sold. "Many artists will tell you it can be a horrifying journey, going into a collector's house and seeing how they displayed your great masterpieces," he said, "Me, I can deal with this because my work often fits beautifully into a modern interior decoration scheme."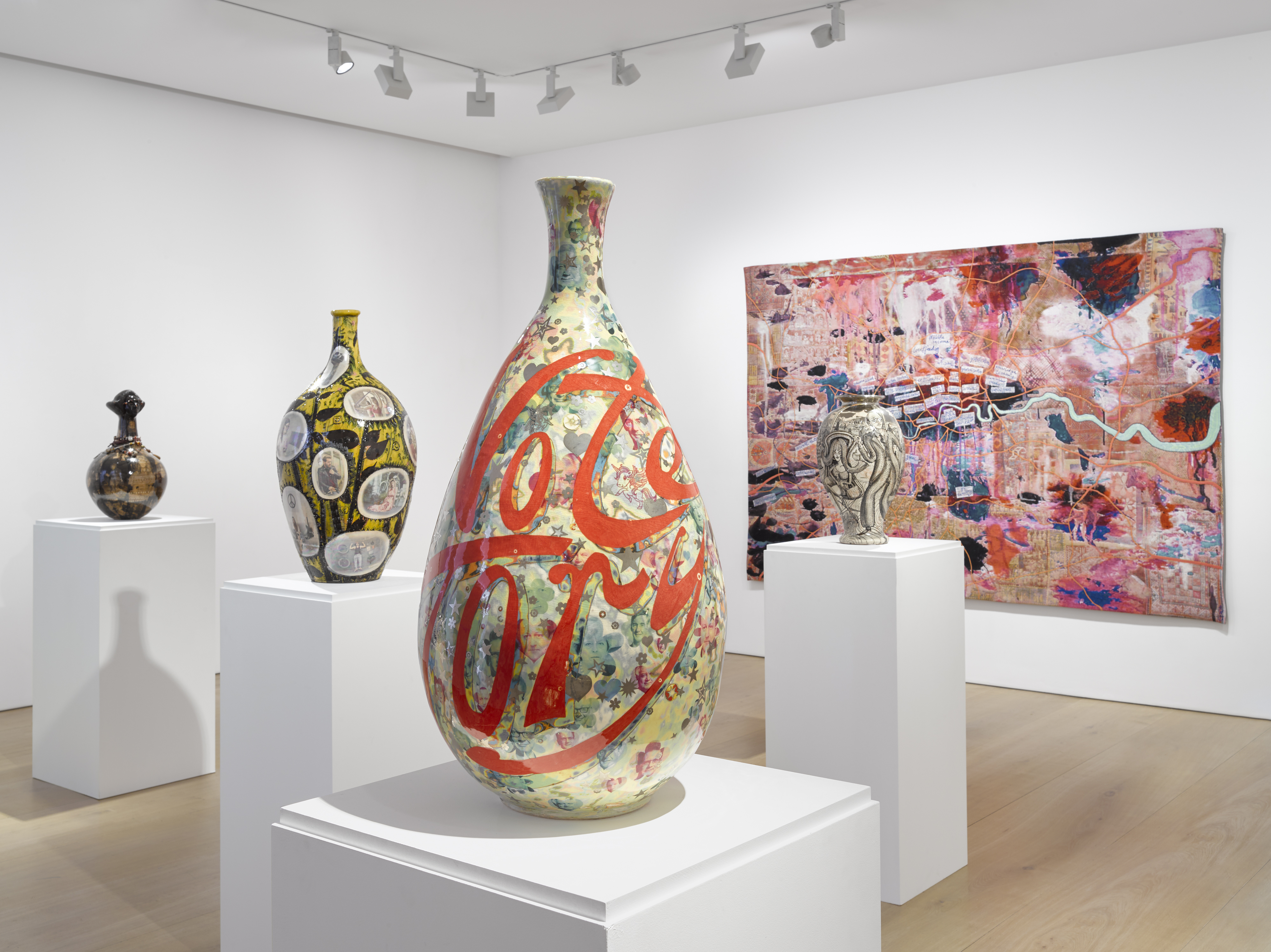 'Super Rich Interior Decoration' is Perry's first solo gallery show since 2012, and in it, Perry was interested in casting an anthropological eye on the consumer choices of the kinds of people that collect art—including his own. Perry is known predominantly for his work in ceramics and textiles—tapestries, embroidery—as well as his dissections of British society and taste, and, particularly the contemporary art world. (The pieces on show were created with Nam June Paik's infamous quote hanging in the air: "the artist should always bite the hand that feeds him…but not too hard.")

The new works saw him collaborate for the first time with Martin Parr, known for his photojournalistic depictions of British society, whose photographs of the super rich adore the Grecian base of a lamp titled Money on Holiday, which features inscriptions of tax havens snaking around them like garish coordinates. Another piece, collaged with Richard Young images of the British elite, is topped with what looks like the head of a viceroy. It is titled Traditional Society, the subtext, Perry told British Vogue, being the source of old money: colonialism.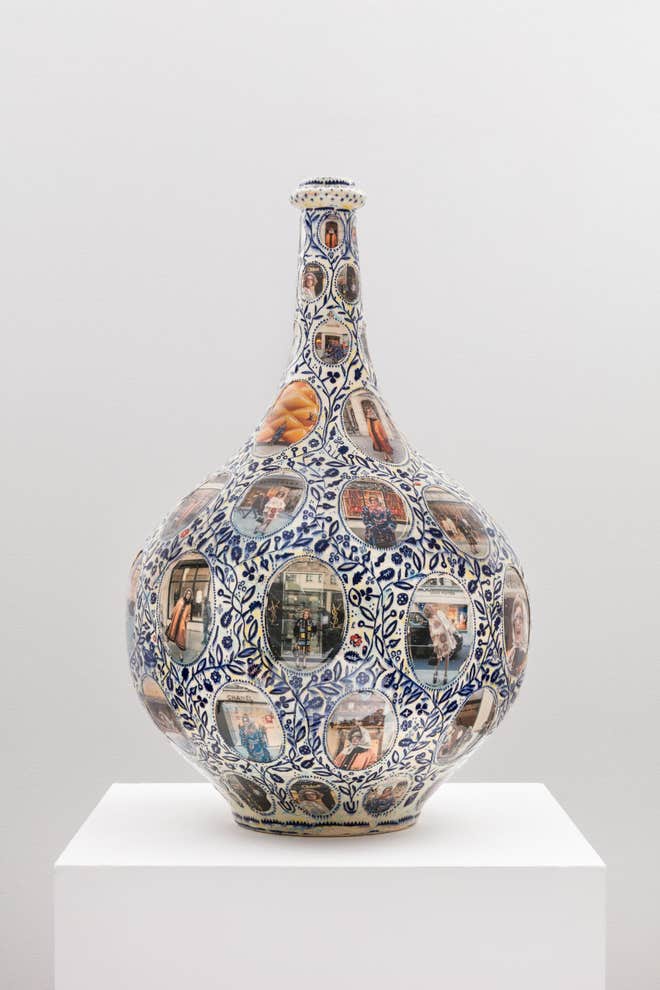 Perry started cross-dressing as a child and his female alter-ego, Claire, who he's variously described as a "19th century reforming matriarch, a middle-England protester for No More Art, an aero-model-maker, an Eastern European Freedom Fighter" appears frequently in his work. He explored the subject of gender in his 2016 book, The Descent of Man, though he has stated that he considers himself "gender rigid," as part of the persona rests on the tension between his masculinity and Claire's female self-presentation. Photographs of Perry's alter ego taken by Eleni Parousi outside the designer shops that surround the Victoria Miro gallery in Mayfair are collaged on a glazed ceramic pot titled Shopping for Meaning. The piece situates the exhibition in terms of class as well as geography, as Claire is shown posing in tasteful ensembles, sometimes with a passerby, under the designer logos—Gucci, Louis Vuitton, Hermès. She wears a particularly ebullient smile outside Balenciaga. Alongside the exhibition, Perry designed a limited series of handbags and bag charms in collaboration with leather goods brand Osprey London. The bags, which have "Vote Tory," and "Capitalism is Cool" inscribed on the reverse of the flap are purchasable for £1800, in ten different colorways, which comprise what I would describe as a "Tory palette."

Perry's occupation with interior design is more than titular. Hanging on the back wall of the main exhibition room is a tapestry called Large Expensive Abstract Painting, inspired by the large expensive abstract paintings that often hang in the living rooms of art collectors. Positioned in front of it is a tall, slim glazed ceramic vase called Thin Woman with Painting. A reference to the classic photographs of thin, rich women posing with their art in Architecture and Interior Design magazines, it depicts a polished woman perched on an armchair in front of an abstract painting and a vase that resemble the very ones on show. It's more than just decorative ekphrasis—the Thin Woman positioned in front of the Abstract Painting like the thin woman on the vase is, Perry transforms the gallery space into a living room, toying with the question at the heart of the exhibition: are these works of art, or is it interior decoration?

In the 70s, architects and theorists Denise Scott Brown and Robert Venturi—famous for coining the aphorism 'less is a bore'— championed (reductively) postmodern design, where form-humour-ornament coexists with, if not supersedes function; against modern (where form follows function). Where Perry seems particularly on the pulse, is that if once the division was between art (ornamental) and object (functional) those categories are now redundant: the new categories are status object (collectible, culturally relevant) or not. Sometimes they happen to be functional; mainly the function is taste itself. To fit, like Perry said, into a super rich interior decoration scheme.

Tagged: