What a gas: Peter Cain's Mobil, 1996. © Peter Cain, courtesy of Matthew Marks Gallery
Peter Cain's Paintings Still Look Like the Future
A lively panel discussion on the late Peter Cain remembers a painter with an peerless take on popular masculine obsessions whose reputation has only grown since his untimely death.
What a gas: Peter Cain's Mobil, 1996. © Peter Cain, courtesy of Matthew Marks Gallery
"Peter was very boy," wrote Jack Pierson of painter Peter Cain in 2005. "He smoked Marlboros, didn't make his bed, only wore Wranglers or Levis cords with a Fruit of the Loom pocket T-shirt and a ski hat. He was a spoiled brat because anybody would do anything for him, and he basically did whatever he wanted, which was not much, besides paint and listen to music. Did I mention he was gorgeous? Pretty, like an angel that you just wanted to slap. So of course he got away with murder."
Cain's paintings are easy to dismiss at first glance. Many people—including several of the late artist's current champions—did exactly that when his oil-on-linen visions of mutant cars first appeared in the late 1980s. "I just thought they were kind of fetishistic of the car as a shiny object of masculine desire," said art historian Richard Meyer at a Tuesday night panel discussion on Cain's work at Matthew Marks Gallery, where three paintings were on display. "I didn't take in fully the uncanny nature of the way he turned the cars on their heads or their tails, all of the inventiveness that was going into them."
The fact that Cain knew how to paint precisely didn't help matters much. His style flirted too much with slick 1970s photorealism—decidedly out by then—for even savvy audiences to notice that his work was neither clinical nor slavishly exact. Artists got it, though. Cain was close with Jack Pierson, Nan Goldin, and Joan Wallace of the artist duo Wallace & Donahoe.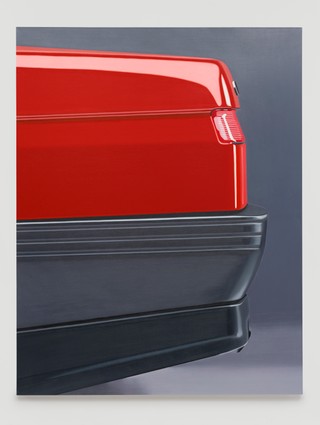 Curators and dealers and curators gradually got behind the unwieldy work and established its importance in the early 1990s. Matthew Marks gave Cain his first solo show in 1992; the curators of the 1993 Whitney Biennial paired his car paintings with Charles Ray's infamously unheimlich sculpture of a naked nuclear family. A loyal following has worked to keep Cain's legacy alive ever since his untimely death from a cerebral hemorrhage in 1997, at the age of 37.
That following was out in force for the Marks panel; undaunted by the monsoon conditions earlier that day, a windswept crowd gathered to hear Pierson and veteran curator Bob Nickas speak with art historian Richard Meyer and moderator Beau Rutland, who contributed the lead essay to a comprehensive new monograph on the artist, at the gallery's West 22nd Street location. (Artist Collier Schorr had been due to participate as well.)
All 50 folding chairs were taken and another couple dozen people leaned against the back wall. Some of them were young enough to be playing with Hot Wheels when Cain was making his car paintings. Artists including Ryan Foerster and Robert Janitz were in attendance, as were Cain's mother, Jean, and his sister-in-law, Amy, who held hands for much of the talk.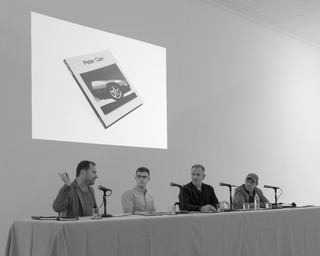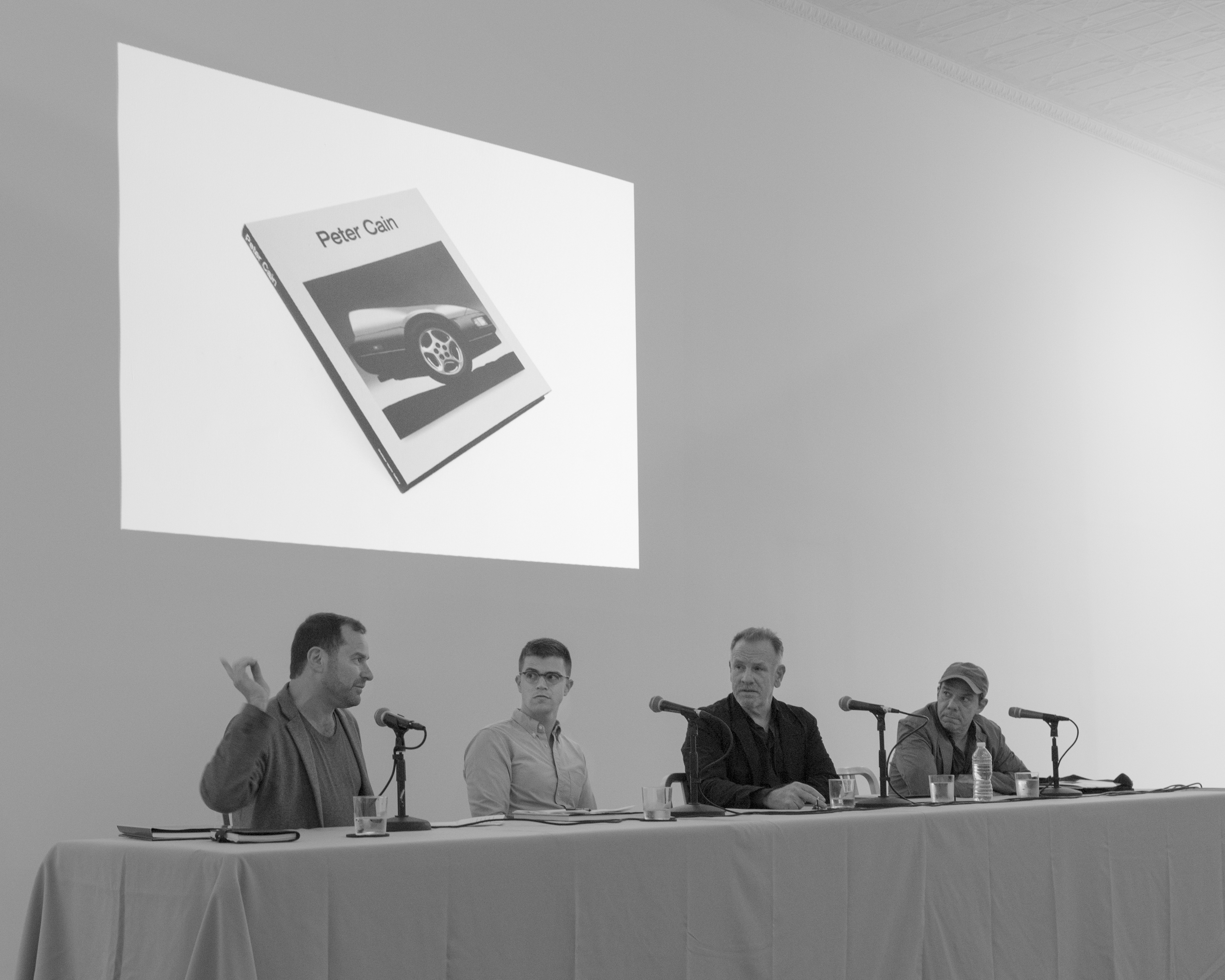 "He was very quiet," said Marks before the panel began. "Not shy, serious." Mobil (1996), a painting of a black gas pump presiding over an eerily empty parking lot hung on a nearby wall. A cantaloupe-sized red circle stared out from the pump like the all-seeing eye of Hal in 2001: A Space Odyssey. Cain redacted the logo from the convenience store in the background, but the telltale red, green, and orange stripes marked it as a 7-Eleven. The piece, like many of Cain's best paintings, exudes an almost post-apocalyptic sense of absence.
Cain's work, said Marks, keeps looking better and better. Why? "It's not something you can explain," he said. Well, it may have something to do with the fact that we now seem to live in the world Cain conjured up in his oddly timeless, pseudo sci-fi paintings: an age of driverless cars and brands that are everywhere even when they're invisible.
Or maybe it's because they somehow feel portentous even though they were painted 20 years ago. As Pierson succinctly put it, "they still look like the future."