Hentyle Yapp, Michael Watkiss, and Michael Parmelee performing in Them. Photo © Rachel Papo, @Performance Space New York, June 2018.
An 80s Dance Piece Brings the Memory of AIDS Epidemic to a New Generation
A new restaging of Ishmael Houston-Jones's collaborative 1986 dance "Them" at Performance Space is a haunting reminder of the decimation of AIDS.
Hentyle Yapp, Michael Watkiss, and Michael Parmelee performing in Them. Photo © Rachel Papo, @Performance Space New York, June 2018.
I like it when things are ambiguous about beginning, like the performance is waiting for you to get a clue, or maybe even sets sail regardless of whether you're on board. Similarly, a show that peters off rather than ending with a flourish is also totally my bag. A man of average proportions and unremarkable attire sways ever so slightly under the staged lighting as Them begins, while people are still filing into the room for a show. The rest of the dancers hang out on the sidelines; so does the author. Revived for the end of Performance Space's East Village series this month, the piece was originally staged at this venue (when it was known as PS 122) in 1986 as a collaboration between dancer and choreographer Ishmael Houston-Jones, musician Chris Cochrane, and writer Dennis Cooper.
Cochrane plays portentous guitar throughout. Cooper intermittently shuffles into a spotlight to read his text, projecting several possible narratives onto the scenes unfolding, but all seesawing between the pits of love/lust and hope/dashed dreams. And choreographer Ishmael Houston-Jones's intricate movement scores for seven dancers are co-credited to every set of performers in the piece since its inception. These three load-bearing tracks run alongside each other without ever wedding. Cooper, best known for his novels and poetry that elevate into literature the brilliant scraps of speech that people incapacitated by pain or youth (same difference) articulate; here he recites memories of touch and admissions of longing that try but can't land on any particular person or place.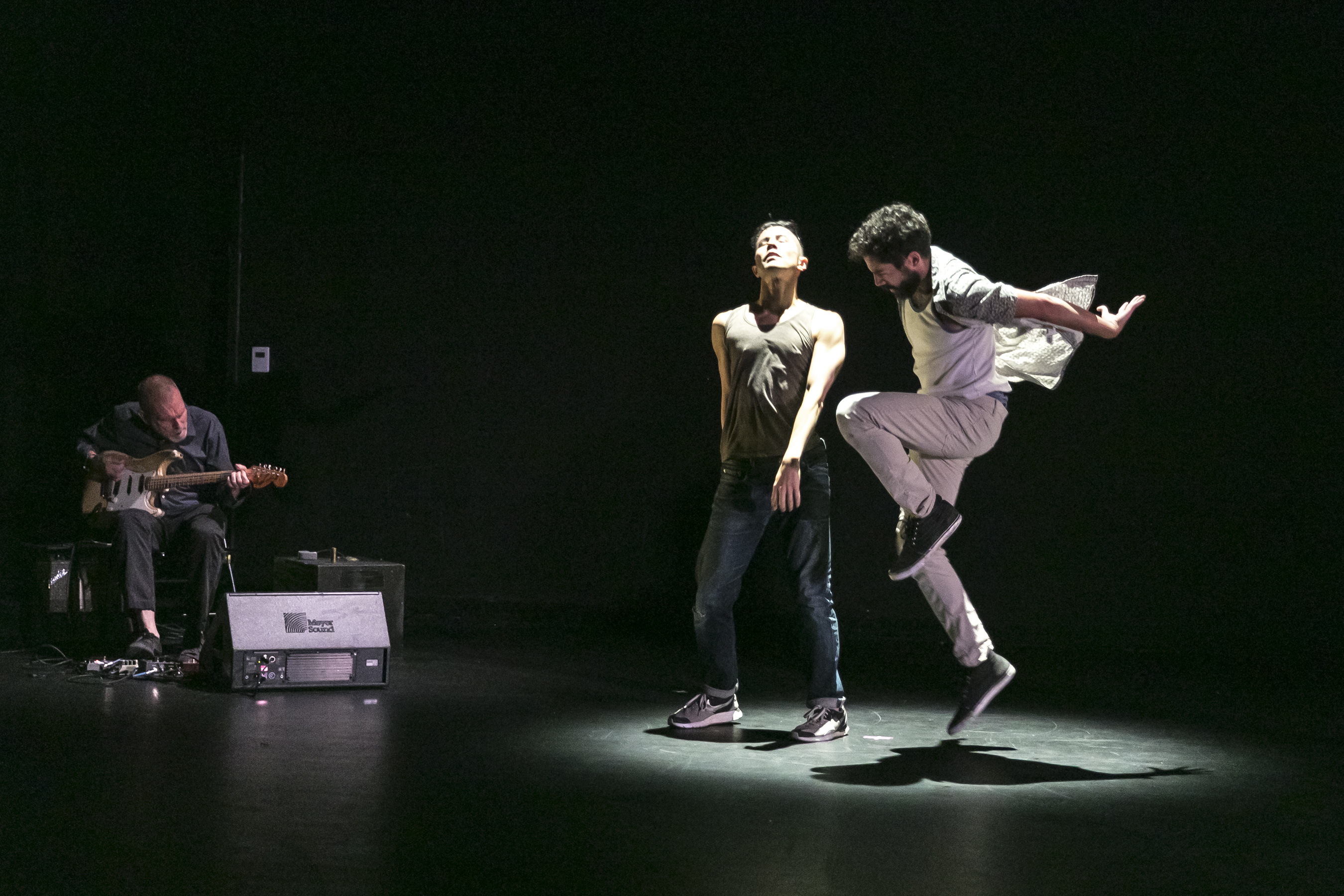 Houston-Jones solos after blindfolding the first young man, and Cooper delivers this: "I saw them once, I don't know who they were because they were too far away. But I remember certain things, like what they wore, which wasn't anything special: pants, shirts, regular colors; stuff I've seen thousands of times since. I want them to know something, I cupped my hands around my mouth and thought about yelling out, but, they wouldn't have heard me, besides I didn't belong there, so, I sat on a rock and watched them. For some reason, it still matters years later. I thought about love, I think I confused what they did with it, but my belief made the day great. I think I decided to make that my goal, to be like them. I put such incredible faith in the future…I can't believe I once felt what I'm talking about, those tangled guys have become an abstraction, a gesture, a recreation. I wish I had taken a photo of them, then I could rip it up, because I'm tired of dreaming what they implied every night of my life or whenever I close my eyes, whichever comes first. I thought it mattered; it does and it doesn't…"
The anonymous "them" digresses or develops, depending on the greatness of your need for revelation, into specifics later in the performance. Cooper's narrator recounts times with boys, the memories of them right before sleeping or in dreams. Names and shy confessions become interludes here, placed between an itching choreography of electrified reach and tremulous pulling back. If you find yourself oriented towards masculinity, there's so much of your yearning reflected here, of desire couched in distance and looking, wishing the subjects of your affection wouldn't come at you flailing and tearing, or hoping that they might. One man wields a plank at times, terrorizing the others, and when another wrestles it from him, the boring wood becomes a bludgeon against a mattress. Against a relief of silence, the fullness of an aggression gets to sound out.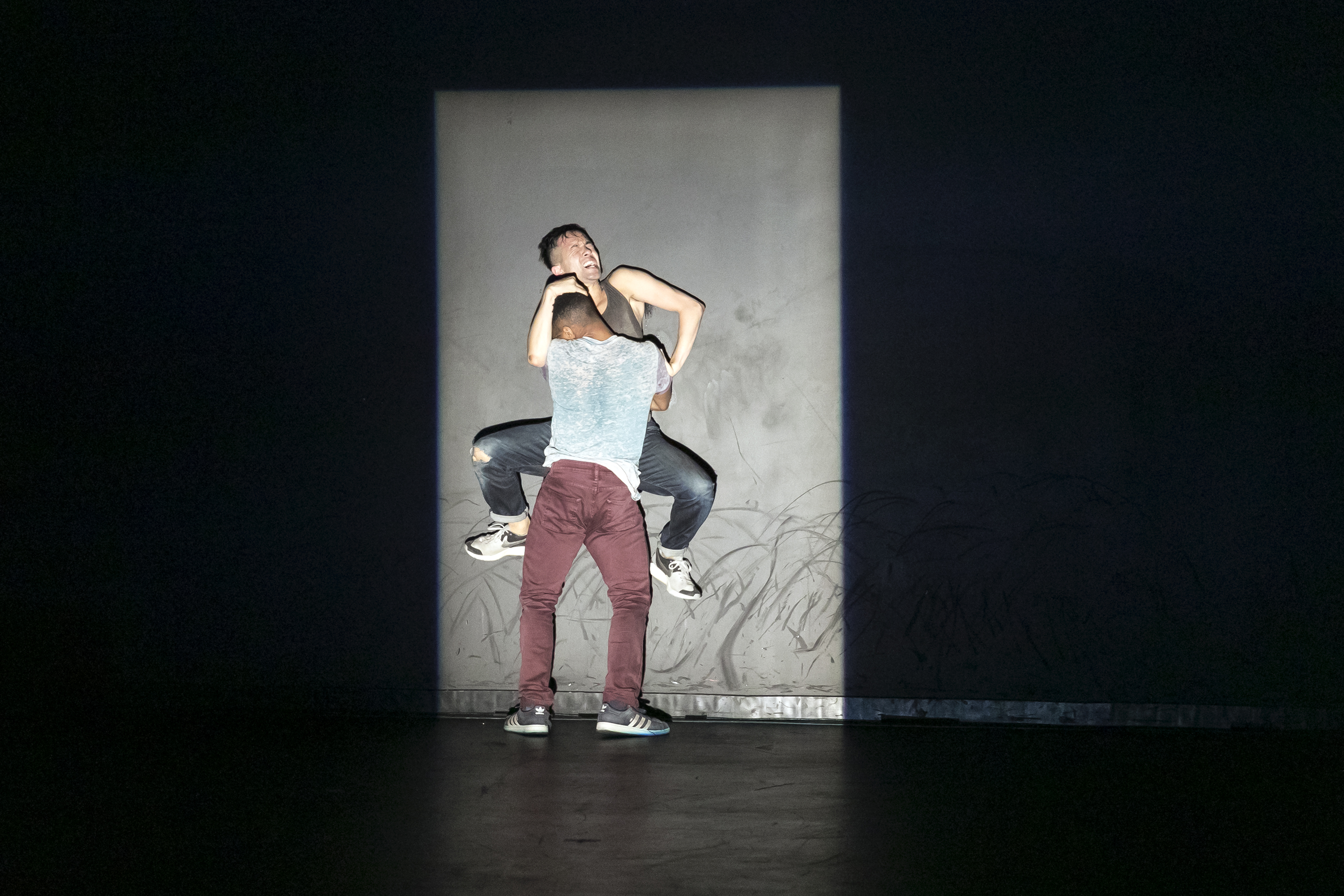 A goat with its neck slit is brought out to the mattress and a blindfolded man in a beautiful white nightshirt dances horizontally with the goat, sometimes getting caught in its wound under a solemnly directed light—a tableau resembling Caravaggio, but live. The animal, Houston-Jones has noted, is a cipher for AIDS.
I went to a funeral when I was a child for someone who died of AIDS, but it wasn't my loss. Instead, there was the presence of absence, and proof that men cried.
The pain isn't about leaving; it's about never coming back.
I'm always either too old or too young to be writing about what I'm writing about, so I can't trace for you this piece through its iterations from 1986 to 2010 to 2018, because I haven't been shell-shocked by time or had all my friends wiped out, yet. Left to hover in respectful ignorance, I recall a poet, late, but that I found as soon as I could: Rene Ricard, specifically the poem "Caravaggio and His Models," and the night as "a museum of living boys." The boys in Them seem so alive, which means to be on the cusp of death, and by end they're mournfully tapping themselves under their arms, near their sex, like inspecting for signs of the plague with the same arms used to reach out and embrace, or worship.
Them runs through June 28 at Performance Space and a conversation with the artists led by Visual AIDS programs director Alex Fialho will take place after the performance on June 27.