Put Your Money Where Your Mouth Is: How Dental Care Went Luxury
From tortoiseshell toothbrushes with silk bristles to "marine bio-active" mouthwash, dental hygiene is going upscale in the age of high-end essentials.
Image via Getty Images.
For years, you could safely pick up any interior magazine and find at least one shot of a spotless bathroom with nothing but two plastic toothbrushes in a mint julep cup. Ah, domestic bliss, to be so wildly in love you don't realize that neither of you are using toothpaste. Forget about stashing it in the medicine cabinet: that's been replaced with an antique mirror from a beloved ninety-six-year-old relative.

But times have changed in the world of dental hygiene. First of all, no magazine worth its salt would consider including mere drugstore toothbrushes in a vignette. And with a bit of repackaging, toothpaste earned itself a spot of honor on the sink. The stalwart Marvis has been in play internationally since the late aughts, but it's only recently that one could easily confuse a tube of toothpaste with a luxury cream. (In my defense, the text was partially in French. The flavor—"mint coriander cucumber"—wasn't much of a giveaway either.) From old world to high tech, oral care products now garner shelf space in boutiques and high end homes. The most boring task in the world has never looked so good.
Not so long ago, toothbrushes and paste could be found alongside Q-Tips and purchased without much thought. But in true twenty-first century fashion, the toothbrush has been targeted for start-up disruption by way of toothbrush subscription services with abstract, four-letter names—Quip, Goby, Boka—that promise to make not thinking about it even easier by regularly delivering brushes to your door. At the same time, Net-A-Porter offers a handcrafted tortoiseshell number that looks, well, ancient. It's currently sold out, but those in a pinch could just try Barneys, Saks Fifth Avenue, or Bergdorf Goodman, since they all now carry high-end dental products.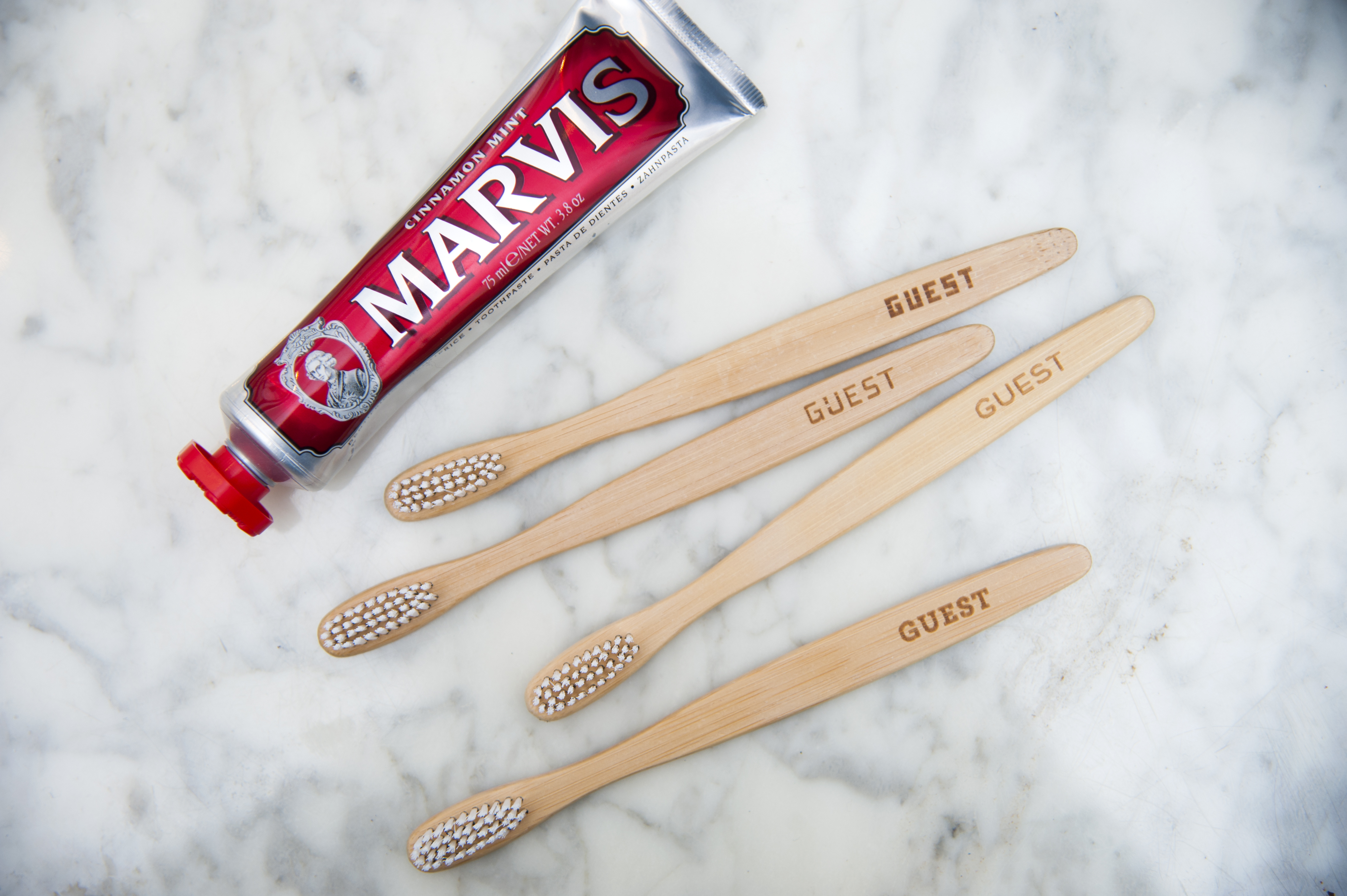 As the European Union falters, Americans have been busy making up miniaturized versions above the sink. We are, apparently, a nation obsessed with Euro-centric dental products. Marvis hails from Italy; Buly 1803's formula gets blended with thermal water from the first accredited French spa town; and Couto's Pasta Dentífrica comes from Portugal. Dental care seems like the one place you don't want to see the words "heritage" or "old-fashioned," but brisk sales prove otherwise.
For a while, the only oral care product Violet Grey sold was mouthwash in a pretty glass bottle. The online makeup store positions itself as the answer to an oversaturated beauty market with intense product vetting and a highly curated selection; when Beauty Director Jayme Cyk joined the team in 2015, she suggested adding dental products. Cyk still remembers the raised eyebrows, but her co-workers' skepticism was mitigated when they saw the sleek white toothbrush with gold hardware she had in mind. It didn't hurt that its maker is the dentist responsible for Uma Thurman's smile. After Violet Grey launched three of Apa Beauty's dental products in early 2016, sales exceeded expectations and customers even started buying multiple toothbrushes to give as gifts.
"The ISSA [toothbrush] fits right into the luxury environment of these stores. But once you get it home, you don't need to tuck it away. It's a conversation starter."
Although it may seems bizarre to drop hundreds of dollars on a tool that removes food gunk from your teeth, high-end oral care fits the latest roundabout way to inspire shoppers. It's something we might call anti-consumption consumerism, which encourages buying if and only if the product is good-looking or essential. Devotees of this idea often cite the nineteenth-century artist, designer, and socialist William Morris, who said, "If you want a golden rule that will fit everybody, this is it: Have nothing in your houses that you do not know to be useful, or believe to be beautiful." It sounds discerning, but beautiful or useful includes pretty much everything someone would conceivably want to buy. (That sentiment itself can now be purchased on a poster, paperweight, or decorative plate.)
With its emphasis on only keeping things that "spark joy," Marie Kondo's The Life-Changing Magic of Tidying Up fits in here too. If your old toothbrush didn't inspire enthusiasm, but having pearly whites does, an aesthetically pleasing toothbrush offers the now-requisite amount of happiness.
Buyers who used to get ugly drugstore toothbrushes and generic paste are being encouraged to buy way pricier dental care products within the beauty aisle or at a luxury department store, both to contribute to their beauty with a brighter smile and to contribute to their home's beauty with attractive products. Toothpaste shouldn't be as cheap as a pack of gum; retailers are now insisting, instead compare the price to a favored face cream. Goop, Gwyneth Paltrow's online marketplace, now offers "marine bio-active" mouthrinse in a bottle size usually reserved for perfume; for comparison, the standard husky Listerine bottle is five times the size and about a fifth of the price.
FOREO's ISSA, which looks more like a Memphis design object than a toothbrush, has shelf space at pretty much every major US luxury retailer. Saks Fifth Avenue picked up the $199 electric toothbrush in 2016, and FOREO reports that sales increased 275% in their second year at the department store. "The ISSA fits right into the luxury environment of these stores," says Beki Hoxha, the Sales Director of the Americas at FOREO. "But once you get it home, you don't need to tuck it away. It's a conversation starter."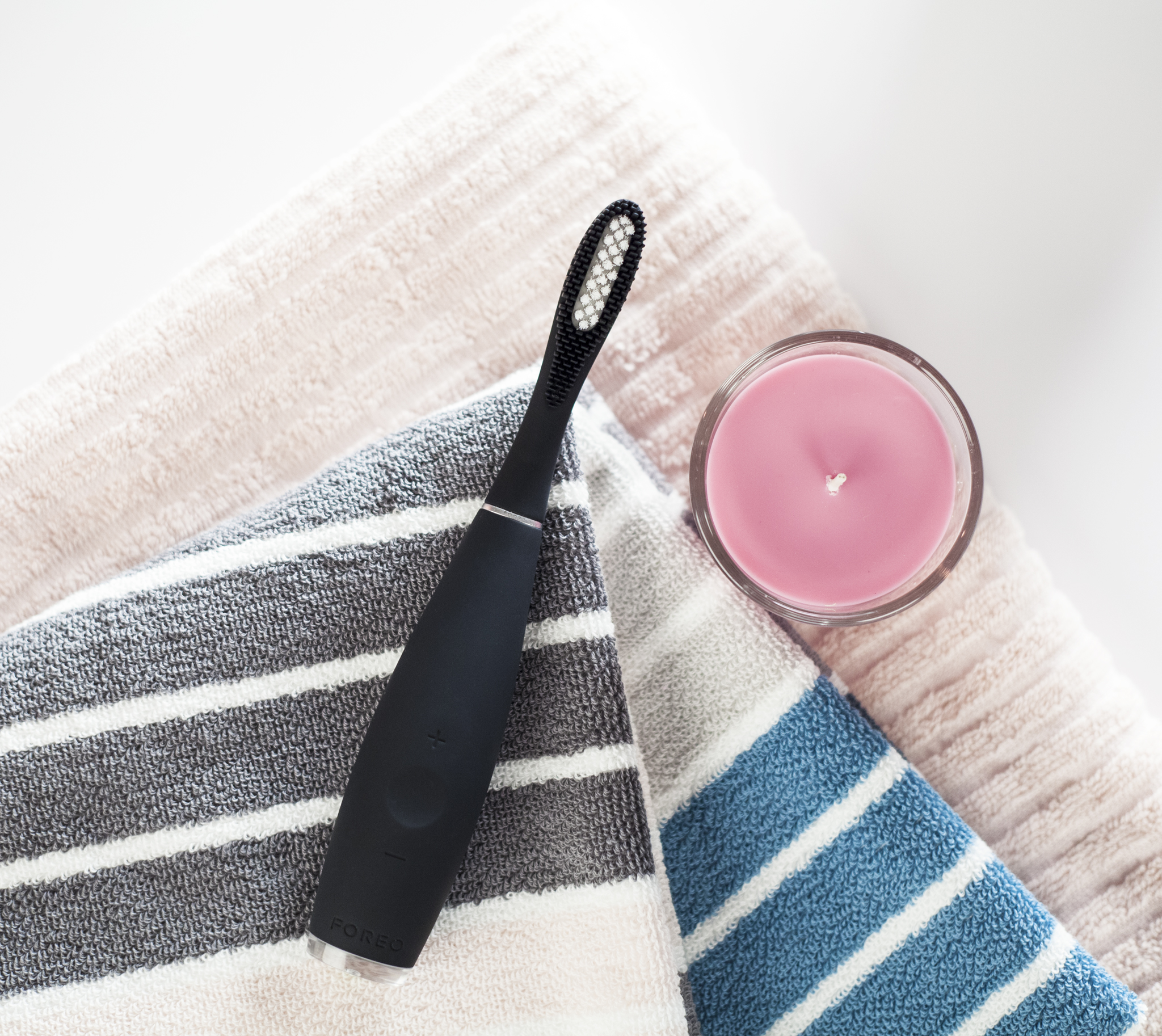 In 2017, Aesop added toothpaste to their shelves for the first time in the company's thirty-year history. Violet Grey has continued to expand their oral care section. "Three years ago, we hardly had anything in oral care, and now we can hardly keep it stocked," Cyk says.
As for color, toothbrushes now come in a whole range of non-primary shades like dusty red, millennial pink, and an Yves Klein-y blue. To set it apart from a typical toothbrush, the ISSA line doesn't come in white, which Hoxha told me they consider too dental; black is their best-selling color. The toothbrushes available at the Apartment by the Line in New York and Los Angeles come in black with black bristles or white with black bristles. The signature color of Cocofloss, the popular $8 floss, is a Tiffany-esque blue. (For comparison, the plastic toothbrush Holly Golightly used while ordering her handsome neighbor to track down a pair of missing shoes wasn't even Tiffany blue, but it was probably the nicest one the prop team could find.)
In today's home, every surface is ripe for a flat-lay, every shelf a potential #shelfie. Now that the shoes kicked off on the carpet and the perfectly disheveled bed have become cliché, why not head to the bathroom? Just dab a bit of orange ginger clove toothpaste on a silk-bristled toothbrush and line up the shot. Four out of five dentists would recommend.